@Galusso provides
Simple Free and Premium WordPress themes!
Compatible with Elementor (#1 page builder), ready with WooCommece (eCommerce system), easy to Use, built-in customizer, premium Support.
Do You Want Your Brand To Have Greater Reach?
Responsive Design
Mobile-first designed with responsive layouts for all devices includes desktop , mobile and tablet.
Theme Customizer
Simple but flexible theme customizer help you controls layout & colors easily.
Performance & SEO
Our code optimized for not only performance but also with SEO (Search engine optimization).
Translation Ready
You can translate any content in our theme with Loco or WPML, it's fully compatible!
Elementor
#1 page builder Elementor use for all themes, experience the power of 100% visual design.
WooCommerce
Sell anything with WooCommerce (most popular ecommerce software), it's ready to use with our product.
24/7 Support
Support is highest priority, we provide fast and dedicated ticket system, we know how the important of your project!
Custom Work
We also provide custom/development service for our products and WordPress in case you need.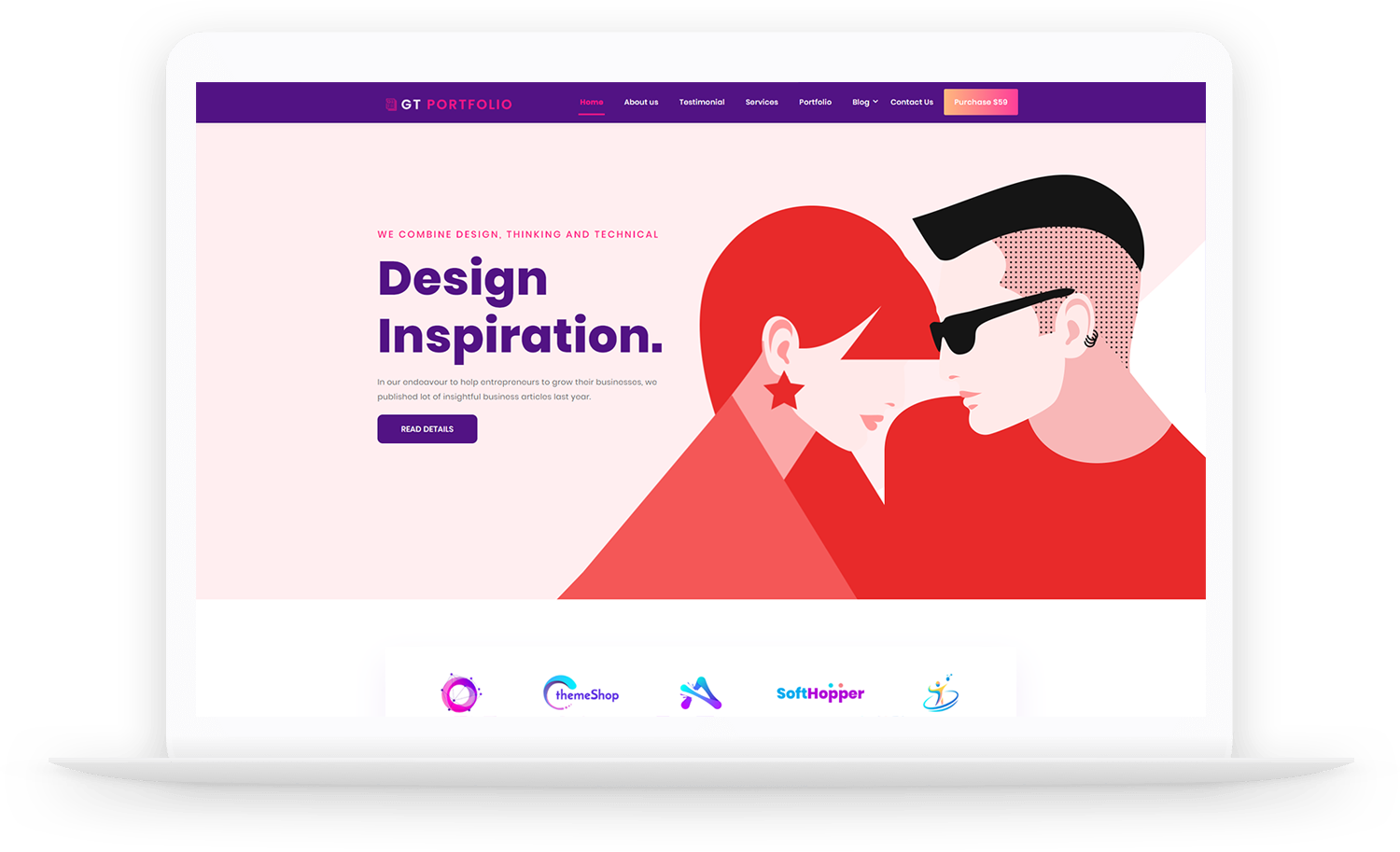 GT Portfolio
GT Portfolio is a suitable theme if you want to create an outstanding portfolio website for technology, art, or photography. This WordPress theme comes with a fully responsive layout with a mobile-friendly design so that your website performs perfectly on any gadgets.
Great theme, keeps things neat and simple. Ideal especially if you don't need a big banner image for your header, though they have that as a premium option too if you'd prefer. Also, excellent responsiveness from the developers on the support forum. Prompt and helpful replies. Well done, and thanks!
Has enough customization choices for most bloggers, while maintaining an ease of use, for the average DIY blogger.
Thanks for the great theme.
Easy to customize and with many features.
As a thanks, I completed the Greek translation.
This theme is very nice for my website, I work with digital marketing and recommend it.
Great Template! It is very user-friendly and got it up and running in no time. For those of you using screaming frog, it had multiple <H2> headings found in the category and comment section. It was pretty easy for me to change it to <H3>. Keep up the great work!
This theme by Viomag is pretty awesome! Great work.
I'm a WP novice and I've learned so much utilizing this theme as my test subject. I enjoy it's flexibility, and my site doesn't appear like every other one out there.
Great for small business! It looks very professional, modern and it's responsive.
I really love this template and bought the pro version. If you like his work (and want continuous updates), I think you should honor the author and do the same. As a bonus you get to learn some Spanish as most function names are written in Spanish. Anyway, great balanced selection of widget area's, colors, fonts. Very easy to extend. A real gem.
Thanks for this template, ive been struggling with other templates but didnt get what i wanted. This one has the right functions to edit and is fairly straight forward for editing. Wish there was some more templates like this one. I'll stick with this one for now, this is my first wordpress website and getting the hang of it !
After fighting with a theme that was over-modularized, and trying to find various bits and pieces of the theme in nested folders, within nested folders, within nested functions, etc… I switched to this theme. Breath of fresh air! Just the right amount of modular parts, without going too far. I was able to create just the look I was going for, within a few hours. I'd spent a week pulling my hair out with the first theme I tried, so this one was a joy to work with.
I'm not a WordPress expert and donate My time to assisting My charities in any way I can. I needed to make sense of a messy site and chose this theme to make a clean start. It's easy on the eyes and responsive. Best of all, whoever picks up where I leave off will have no problems keeping everything organized and uniform. Just wonderful! Love the customization options, too!
After too much fighting with other themes and CSS / php editing to get what I want I settled on this one. My site is a mix of static pages and blog posts, and this really had all the features I needed. (I subsequently upgraded to Pro because I thought developers deserve something for their effort – although the free version was all I needed functionally.).
This theme is just great! It allows me to have a clean but nice layout and customization! This theme also has many nice features, like the automatic scroll up button, drop-down menus and social icons at the top. This also has good style and icons.
I was looking around for a simple theme for use with static pages that was responsive. This theme ticked all the boxes, it is a simple design but that is a good thing. The layout is well designed and the customisation is just right, I am using the free version at the moment. Great theme for WordPress, congrats to the designers.
Interesting with our themes?
Access Membership to download all Premium themes in PRO version.