You are finding some ideas for your portfolio website? This list will help you complete your portfolio perfectly. Top 20 WordPress Portfolio Theme In 20 includes responsive, excellent and creative portfolio themes for you to choose freely. Let's create your own portfolio website with Top 20 WordPress Theme In 2020.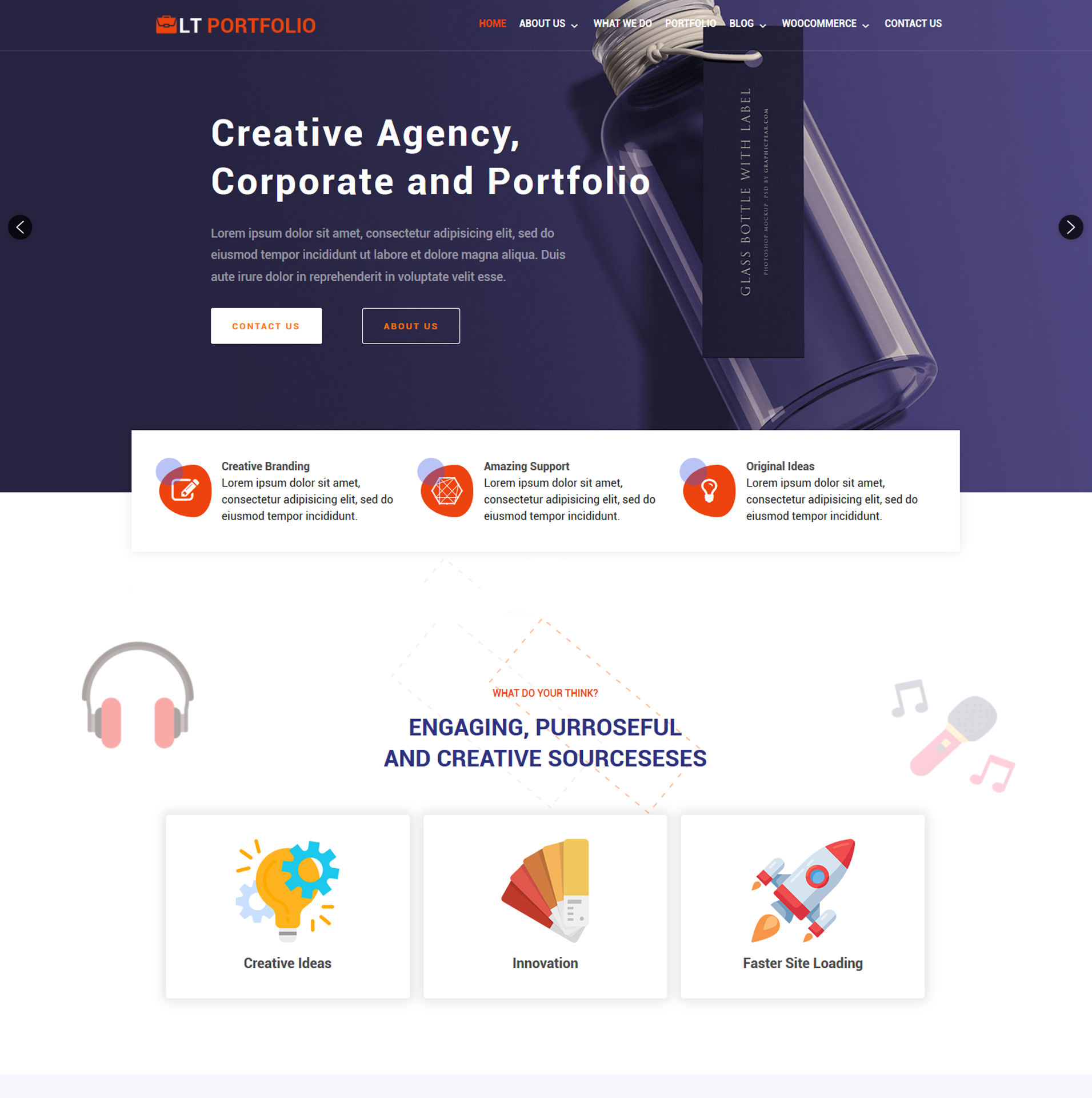 LT Portfolio is a free page. With a modern design, it is possible for you to build an outstanding looking portfolio page for your art, photography, design, blog and more. Portfolio elements in a website are most suitable for business, freelancers who want to showcase their projects. LT Portfolio comes with a fully responsive layout and mobile-friendly design that makes your website look spectacular across all screens, tablets and mobile devices. With this theme, you can expect to find lots of advanced options like strong short codes, highly customizable theme options and a wide variety of gallery and portfolio layouts.
Highlight:
Modern design
Outstanding

LT Blue Services is Responsive WordPress theme for business, portfolio and services websites to showcase your professional services, relationships, business strategies, team members and more. This is a simple and creative theme which makes your idea come to real products. It is adaptable on all kinds of mobile devices with fully responsive layout, so your site can show off every design beautifully in the eyes of mobile users. Furthermore, by building on powerful framework with full bootstrap, drag-drop layout content, your site content will be displayed in the most eye-catching way, without any effort. Plus, Service WordPress theme is highly customizable WordPress theme with unlimited color options and a color picker from the admin panel, therefore, creating an amazing appearance for your site is no longer a problem with you!
Highlight:
Responsive
Professional
Eye-catching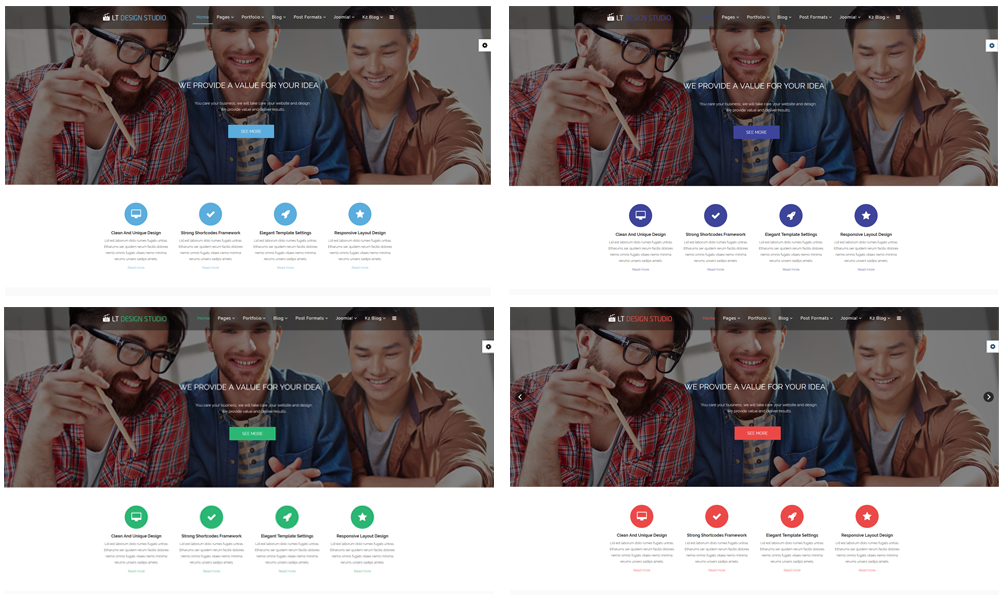 LT Design Studio is a free single page.The portfolio wordpress theme has been designed very well with elegant and modern look, stylish and fancy colors that will be completely well-suited for advertising agencies, design studio or PR management team. Going with LT Design Studio, you can immediately create a stunning look for your studio on the Internet to promote your business to a wide range of customers.
Highlight:
Stylish and fancy
Elegant and modern look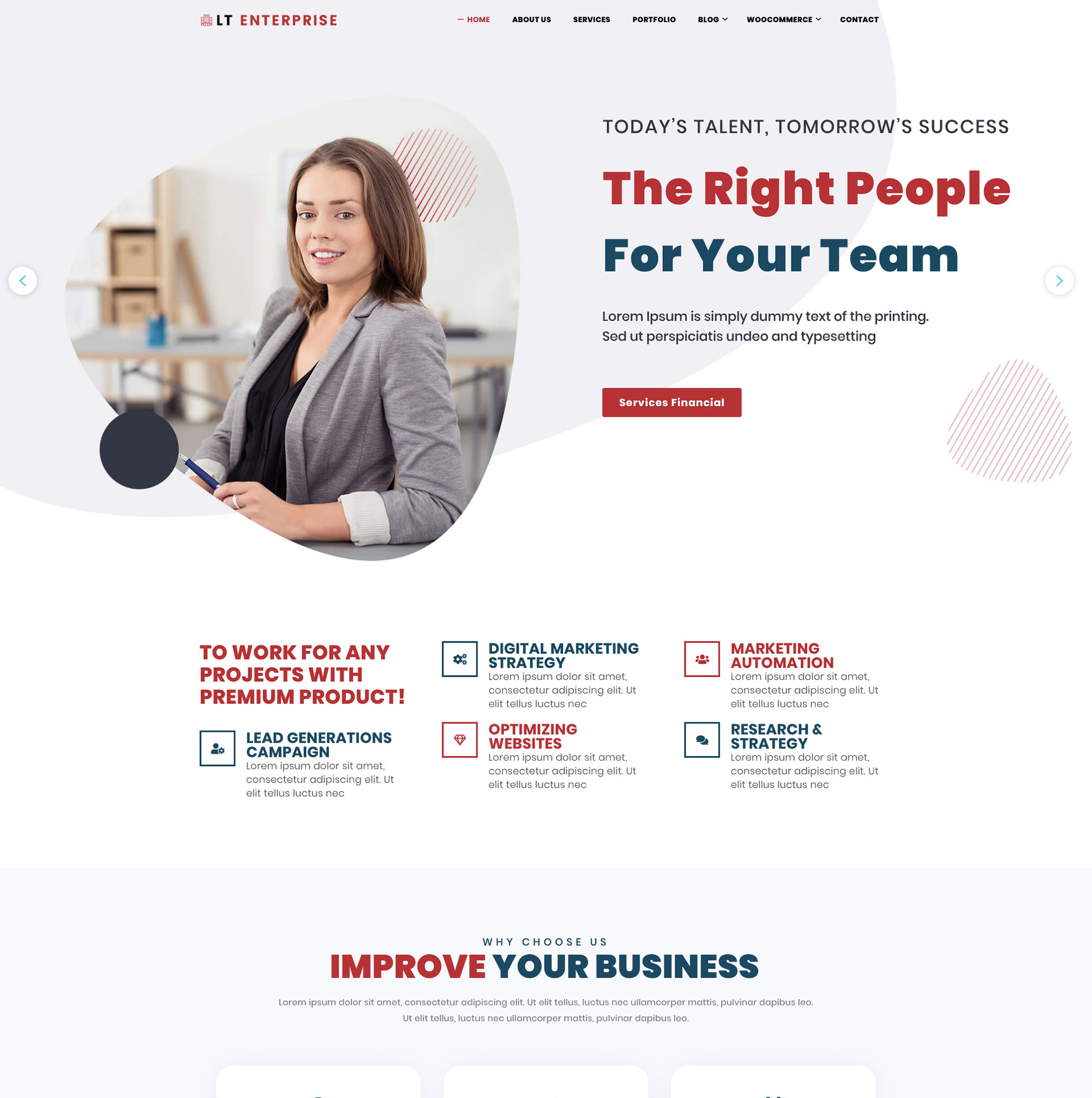 LT Enterprise is a responsive portfolio wordpress theme which is included many eye-catching images designed for enterprise website. Enterprise WordPress Theme invites the viewer to check out your services and products using a professional color scheme and smooth graphics effects. LT Enterprise is 100% responsive, allowing people on mobile devices to find and read your site easily. The installation is extremely easy to do and you don't need to have advanced technical knowledge in order to set up all the required information.The majority of our Enterprise WordPress Theme supports smooth and elegant animation effects that add value and prestige. Don't wait any longer and purchase the Enterprise WordPress Theme for your business today!
Highlight:
Responsive
Eye-catching
Professional color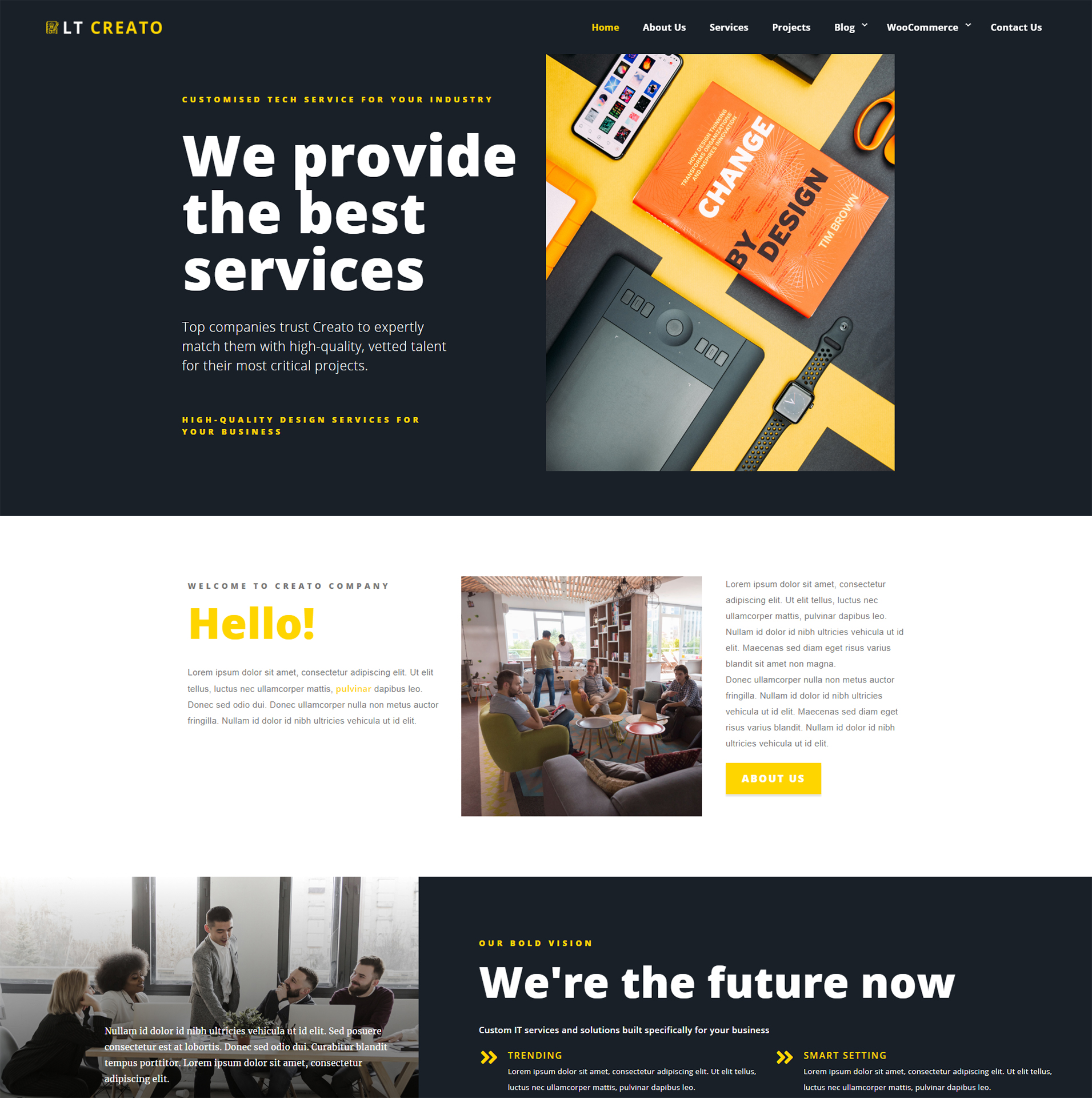 LT Creato is a Free Responsive WordPress theme with professional design that targets for image design websites. Designed in simple but very elegant style, this theme will be a suitable choice if you're planning to build a small creative agency and personal portfolio site. It not only offer you proper ideas to promote yourself but also display it efficiently. Because LT Creato built from powerful framework with fully bootstrap, drag-drop layout content,your site will perform perfectly on any screen of PC and mobile and also fully customizable. By downloading and installing this professional theme, you can instantly create an outstanding presence for your website!
Highlight:
Professional design
Simple, elegant style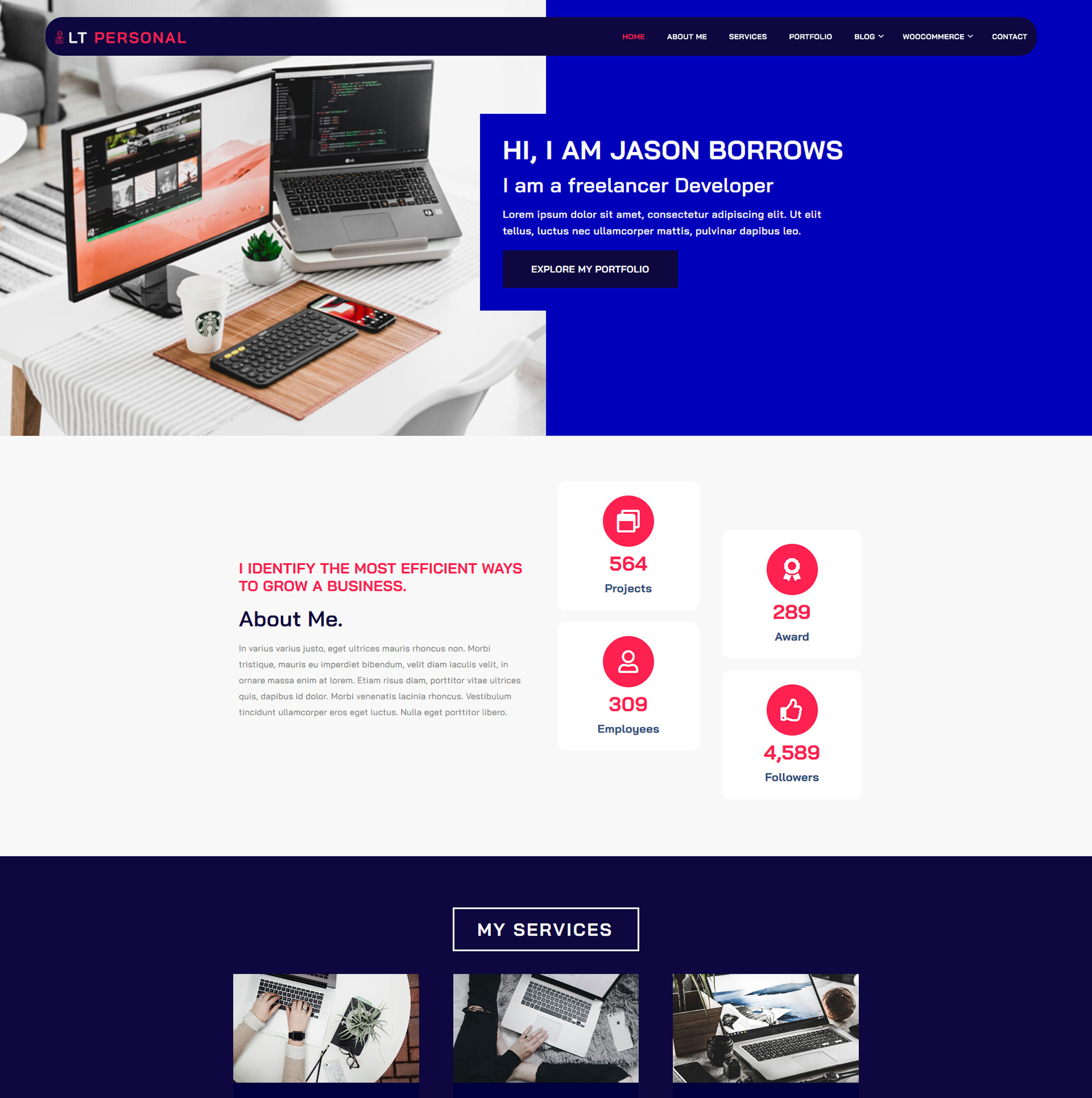 LT Personal is a simple but still professional Responsive Personal WordPress theme that is great if you use it for decorating your Profile or promoting your personal service websites to advertise yourself on your channel. Also, you can display everything you want on your individual website. Sometimes your customers or big recruiters will find their potential person through mobile devices, so it is important to prepare for your site an excellent performance on any kind of mobile devices. Don't worry about that because LT Personal supports you 100% responsive layout in clean and stylish way. Moreover, it has been developed along with many modern web technologies to make sure your site will have the best look with full customization. Choosing this user-friendly personal theme, you can express your own ability and help employers find the human resources!
Highlight:
Simple, professional
Responsive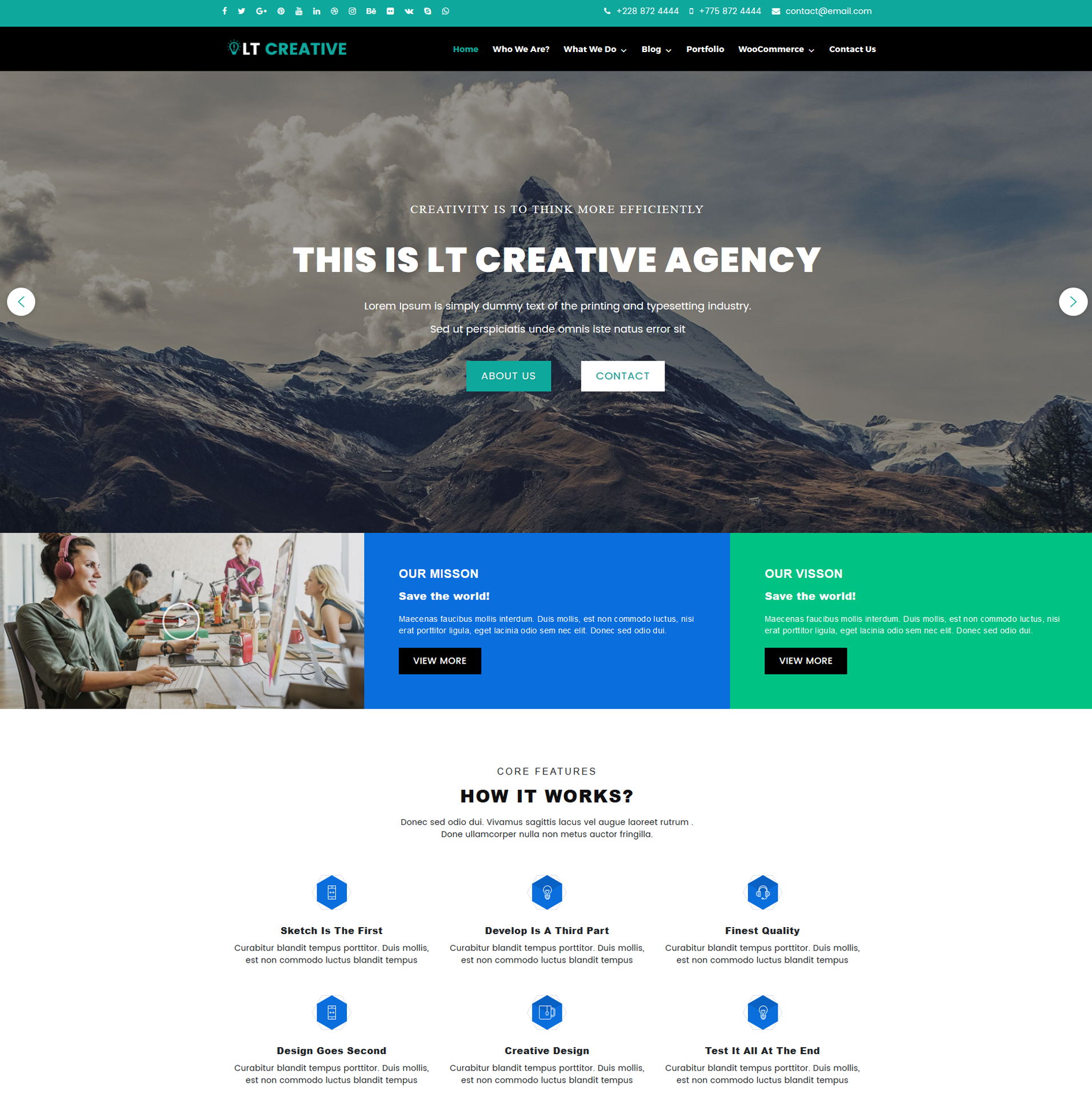 LT Creative is Free Responsive portfolio WordPress theme that intended to photo design websites and creative agencies. This theme has an elegant and simple design but still professional to build a small creative agency and personal portfolio site. It helps you develop your website's look and feel, then promote and establish a brand for your business. Creative WordPress theme supports fully responsive layouts to ensure your website looks great on any screen size, plus it comes with lots of really useful built-in features such as short codes, drag-drop layout content, to help you easily customize the design and give your website that unique look. Notably, it is not difficult for you to build an amazing look for your site with various layouts because LT Creative supports you unlimited color and a color picker in the admin panel.
Highlight:
Creative
Useful
Easy to use
Portfolio Magazine is a portfolio theme with magazine and modern design. It is a free theme with a responsive design. Portfolio Magazine is perfect for your personal blog, portfolio, travel, photography, magazine , news , business , fashion , fitness , shop , education , health , ecommerce or any content-focused website. It is a simple news and magazine design and multi-purpose theme.
Highlight:
Modern design
Easy to use
Career Portfolio WordPress Free theme is an outstanding portfolio theme with responsive and premium quality best for designers, photographers, artists, creative professionals, agencies creative business owners, and anyone else looking to showcase their work in high quality. It comes with advanced theme options, dozens of short codes, various portfolio pages, and much more, for you to build your own unique and professional website.
Highlight:
Online Portfolio WordPress portfolio theme for building personal website. You can take full advantage of the free widgets to create amazing personal website regardless whether you are graphic designer, painters, artists, web designer, web developer, software engineer or photographer. You can customize elements and widgets inside customizer without you having to tweaking any code. The theme comes with Full width layout, easy Logo upload. Online Portfolio is 100% responsive built with HTML5 and CSS3, it is SEO friendly, mobile optimized and retina ready, thoroughly tested by WordPress coding standard. It is a perfect Portfolio theme for Graphic Designers, Web Designers, Web Developers, Artists, Painters and Photographers.
Highlight:
Friendly, perfect
Easy to use
ePortfolio is a free minimalist, SEO optimized multi-purpose WordPress Portfolio theme. ePortfolio is an ideal choice to create portfolio sites for photographers, digital marketers, agencies, graphic designers, video producers, web designers, web developers, professional bloggers and other freelance artistic or creative workers. This theme is compatible with Gutenberg as well as other page builder plugins which helps you to deliver your content smoothly.
Highlight:
Portfolio Way is a simple, modern, powerful and clean Masonry responsive Gutenberg ready WordPress portfolio theme. Portfolio Way best for all kind of a portfolio website whether it's official portfolio page or your personal portfolio. The captivated well-designed styles helps you to enhance your stories and helps to gain readers attention.
Highlight:
Simple, modern
Powerful
Clean and responsive
Captivating
You can use this theme to create a clean, elegant, and fully-responsive portfolio or blog. This theme can be an ideal choice to create portfolio sites for photographers, digital agencies, artists, graphic designers, painters, and other freelance artistic or creative works. You can create an attractive portfolio website with this theme and impress your visitors. You can use this theme freely for both personal and commercial purpose. Furthermore, it is a speed optimized theme which gives your visitors a great user experience and increase user-engagement on your website. You can also enjoy regular updates for free. Elegant Portfolio is also backed with the super-friendly support team to help you when you need assistance.
Highlight:
Gute portfolio is a free responsive portfolio theme. Gute portfolio is very good for personal portfolio because you can show your personal portfolio. Personal details menu is an awesome feature in the Gute portfolio theme. Gute portfolio is editable and super flexible new functionality. The theme has nice, beautiful and professional layouts. Bootstrap Framework based so it's totally responsive. It is the multipurpose theme you case to use for the business, corporate, agency, startup, consulting websites.
Highlight:
GTL Portfolio is a simple, beautifully designed responsive multi-purpose WordPress theme. This theme can be easily customized for business, corporate, portfolios, ecommerce (WeeCommerce) events, yoga, blog, construction, education, portfolio, travel and tourism, news, beauty, fitness and many more websites. It is perfect for agencies and freelancers.
Highlight:
RT Portfolio is a pixel perfect creative multi-purpose WordPress theme.It's clean and modern for any need: portfolio, business, agency, freelance, designer, web designer, developers, marketing, startup, blog, magazine, photography, architect, corporate, event, artist, music, restaurant.If you are searching for innovative WordPress Theme, RT Portfolio is top recommendation. Let's build beautiful, intelligent websites with RT Portfolio
Highlight:
Perfect
Beautiful, intelligent
Portfolio Web is minimalist and sleek WordPress theme designed particularly for a portfolio website. This theme is perfectly fit for both Personal and Corporate Portfolio websites. The trendy and lovely look of the theme will be a perfect one for showcasing your works online in a well-organized and professional manner. The theme can be updated effortlessly with its live customizer. By using its available widgets you can design the homepage and other pages of your site as you desire. It has good adaptability with all the modern electronic devices in the market so if you check your site in mobile phones and tablets it will certainly look good and adjusted. The theme also looks good in all the popular web browsers such as Google Chrome, Firefox, Opera, and Safari etc. The other exciting features of the theme include translation ready, breadcrumb options, background image, colors options, social media integration, copyright text and much more.
Highlight:
Neptune Portfolio is a unique theme that delivers amazing imagery for your blogs and personal portfolio sites, with a standard four column grid supported by masonry , you'll always expect a perfect design no matter which device you are on, be it your iPhone, android phone or desktop. You can use Neptune portfolio to build your photography site, personal portfolio, agency portfolio or travel blog. Neptune Portfolio is already translated to Spanish, French and 100% translatable to any language WordPress already supports.
Highlight:
Aperture portfolio is a free WordPress portfolio theme built for digital agencies, creative portfolio, photography sites, design studio, illustrators & any content creator. Aperture portfolio is freely available, use posts to create portfolio items and display them on a modern responsive grid. Do you want a more professional look? Let's upgrade to the pro version for detailed portfolio pages with video and image galleries. Let's own a modern looking homepage for a portfolio you'd be proud to share!
Highlight:
Modern looking
Responsive
Advance Portfolio is a clean, sleek and creative WordPress theme for building a portfolio website in the easiest possible way. It is the perfect way to display creativity in your respective field with minimum efforts. It has various post formats like image, gallery, video, link to display posts in different styles. The theme is fully responsive and cross-browser compatible to adapt seamlessly on several devices and browsers. With numerous design elements, you can give personalized touch to your site. As documentation is provided with the theme, tweaking anything becomes even easier. To enhance the look of the theme, it is made with banners and sliders. It is made SEO-friendly for getting better user response. Also, it is made light-weight for faster loading of the site. Being built on Bootstrap framework, it is easy to use the theme. It is written in clean and secure code to maintain the coding standards.
Highlight:
Easy to use
Clean
Fully responsive
Conclusion
That's Top 20 WordPress Portfolio Theme In 2020. We hope that you can find out suitable theme for your website. With these outstanding portfolio themes, we believe that your website will become perfect and creative. You can also view more theme at Free WordPress Theme. And if you feel these themes useful, don't hesitate to let us know and share it to your friends.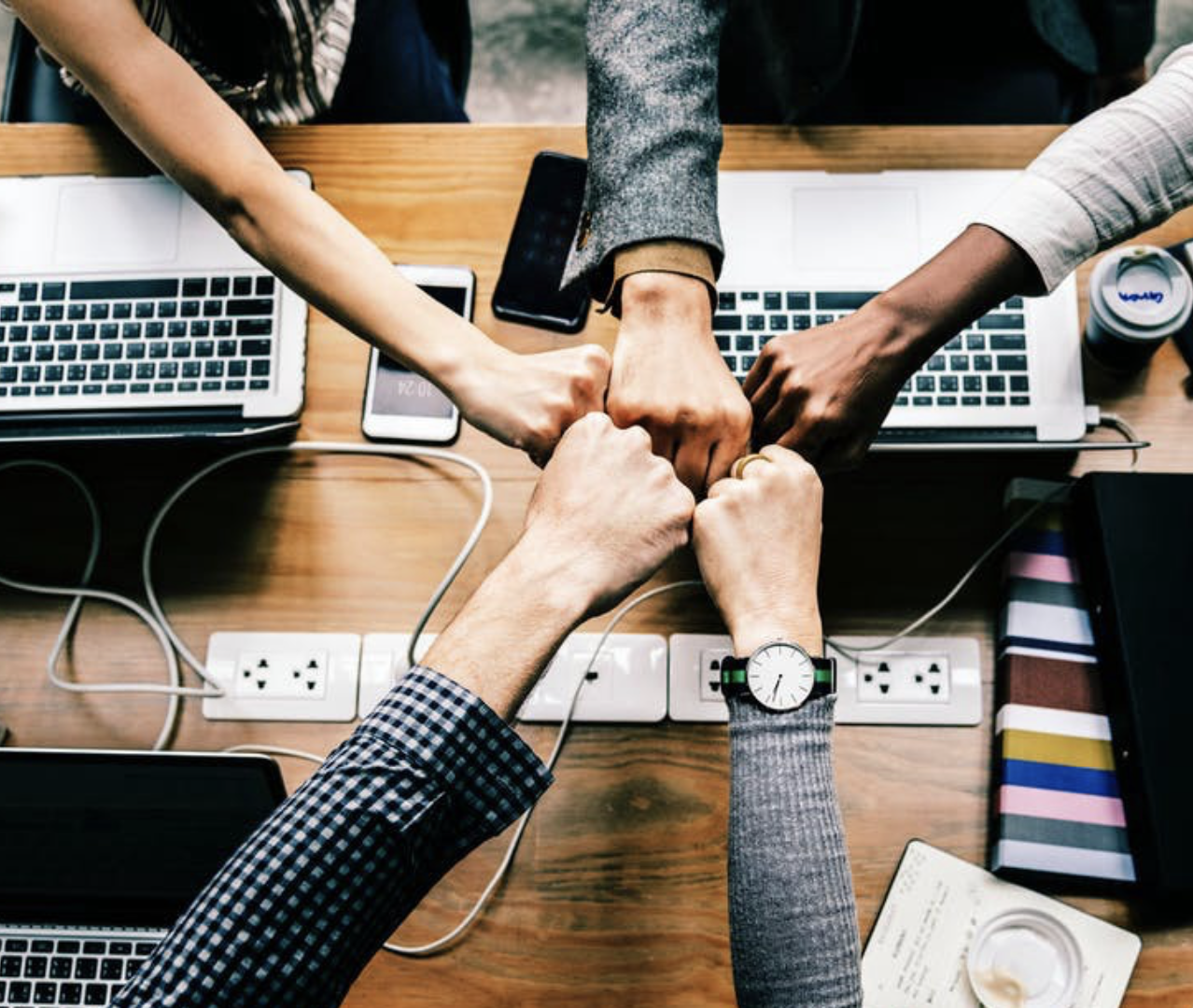 Hello everyone! We're Galussothemes content team, we love to write new blogs for WordPress everyday! Galusso Content Team is a part of IT4GO – The company houses talented young people who hold a strong passion for website development, designing, and marketing.