Are you looking to improve your online store's conversion rate in 2023? If yes, then you're in luck because we've curated a list of the best landing page apps for Shopify that can help take your online store to the next level. Landing pages are a proven tactic to drive traffic and boost sales, so why not give your store the advantage it deserves? In this blog post, we'll take a deep dive into the top landing page apps for Shopify and their features so that you can make an informed decision on which one to use. Now, let's check them out.
The Importance of using landing page Apps for Shopify
Landing pages play a crucial role in the success of an online business, especially for Shopify stores. These pages are designed with one specific goal in mind in order to convert visitors into customers. Unlike a website homepage, a landing page focuses on a single promotion, product, or message, targeting a specific audience.
Using landing page apps for Shopify provides numerous benefits. Firstly, they allow you to create stunning custom-designed pages without the need for coding skills. This means that even if you're not a tech-savvy person, you can still build professional-looking landing pages that reflect your brand. Secondly, landing pages help improve conversion rates. With features like add-to-cart forms and embedded collections, you can make it easier for customers to make a purchase. By streamlining the buying process and providing a seamless experience, landing pages increase the chances of converting visitors into paying customers.
In summary, landing page apps are essential for Shopify stores as they enable you to create visually appealing, conversion-focused pages with ease. They contribute to the overall success of your business by improving conversion rates and providing a user-friendly experience for your customers.
For those reasons, in today's blog, we bring you a collection of 7 trusted Landing Page Apps for Shopify. Now, it's time to read our blog.
List of 7 Best Landing Page Apps for Shopify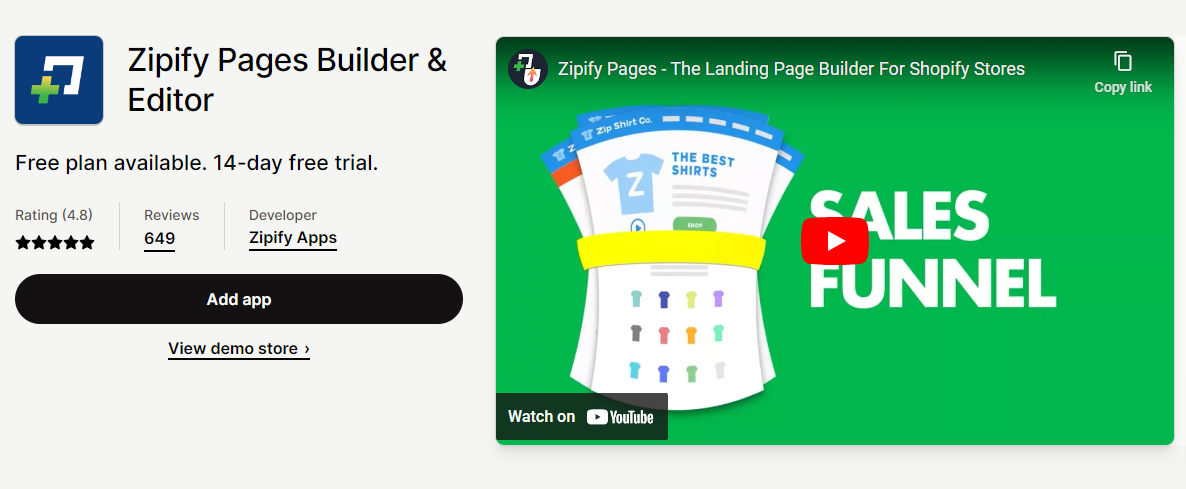 The first remarkable Landing Page Apps for Shopify that you should use is Zipify. By using this app, you don't need to worry about coding or waiting for a developer to create your landing pages. With drag-and-drop functionality and customizable conversion blocks, you can create high-converting pages in just a few clicks. This allows you to test more offers, run more sales, and launch more products quickly and efficiently. In addition, it was developed by experts who have built multiple 8- and 9-figure brands on Shopify that sets Zipify Pages apart from other landing page apps.
Another advantage of Zipify Pages is that it doesn't limit the number of pages you can create, making it ideal for larger brands that value experimentation. Additionally, it offers templates for various marketing campaigns, all of which have been tested with hundreds of thousands of dollars in traffic to improve your results.
Advantages:
Full Page Builder Functionality
Proven Winning Templates
Dynamic Discounts
Live Chat & Email Support
A lot of 3rd party Integrations
Use one template for multiple product pages
Price:
Start from $66/month to $138/month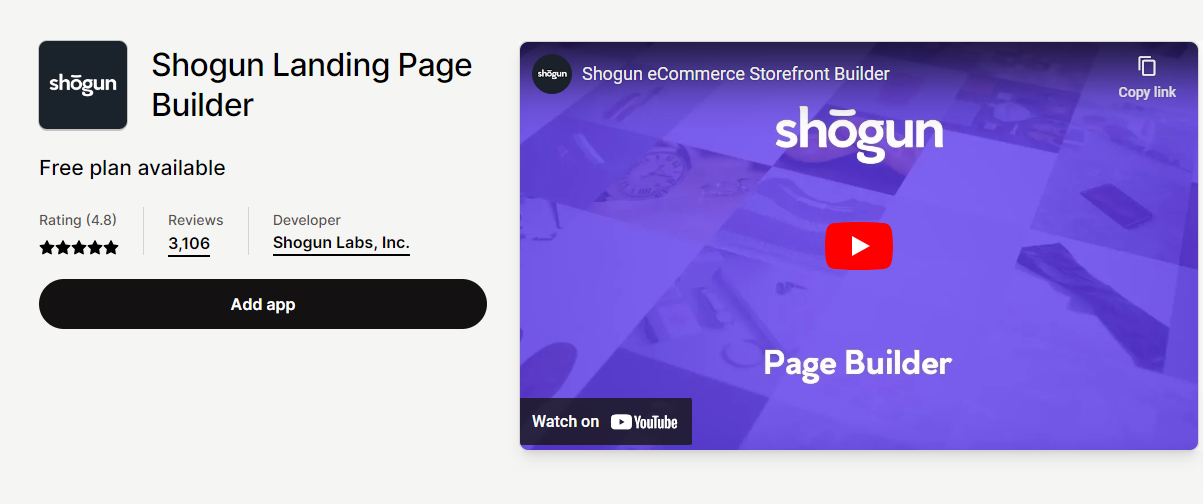 Shogun is a favourite landing page app for most Shopify users because it offers an intuitive and capable user experience. Its drag-and-drop page editor makes it easy for users to design blogs, product pages, landing pages, and theme sections. Especially, Shogun offers a wide range of elements like sliders, videos, countdowns, and product tabs to bring your vision to life, so you can take advantage of these options to create unique landing pages.
Additionally, the app offers highly customizable forms and SEO controls to enhance your marketing efforts. Shogun is the only Shopify Plus Certified Page Builder, giving users access to advanced features like content syncing across stores and user management.
Advantages:
The only Shopify Plus Certified Page Builder
All page types: Blogs, Products, Collections, Homepage & Landing Pages
Editable theme sections to make changes directly to your theme
Drag-and-drop layout control for precise design for all pages types
Advanced Plan features content syncing across stores and user management
Price:
Start from $39/month to $499/month

GemPages is also one of the most excellent landing page apps for Shopify users. This app provides you with a collection of eye-catching templates that are not only visually appealing but also mobile-friendly. With the help of GemPages, you can create high-converting landing pages for various purposes such as boosting sales, capturing leads, and running occasion-based campaigns.
Furthermore, GemPages also offers a range of conversion-driven elements that can help guide visitors towards conversion. From enticing discounts and limited-time offers to customer reviews and customizable forms, you have all the tools you need to build trust and drive conversions. What's more, you can optimize page design for conversion, test different layouts, and link Google Analytics & Facebook Pixel to track and optimize your marketing efforts. With its extensive features and templates, it's no wonder that many merchants have already boosted their sales with GemPages.
Advantages:
All page types: Home, Product, Collection, FAQ, Blog Posts, and Landing Pages
Stunning mobile-friendly templates that work with the latest Shopify themes
Built-in sales boosters: Countdown, Stock Counter, Bundles, Compare-at-price
Minimalized building effort: Turn images/URLs into layouts in seconds with AI
Enhanced productivity: Global Style, Product Assignment, and more
Price:
Start from $29/month to $199/month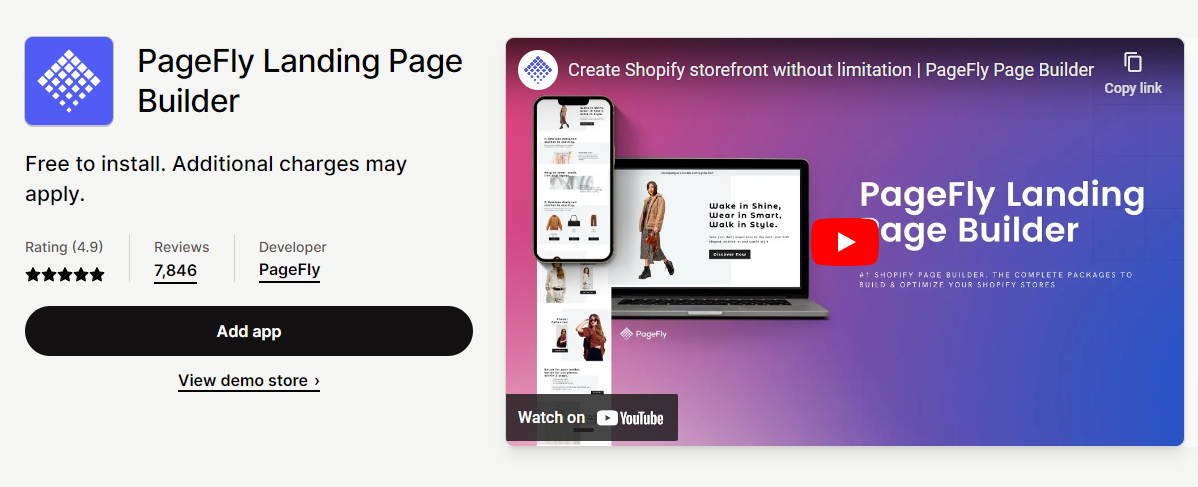 Don't miss PageFly because it has a user-friendly interface and an extensive range of features. This allows you to effortlessly customize the visuals and functionality of your pages down to the smallest detail. With a wide selection of templates and an extensive element library, you can bring your creative ideas to life and design stunning landing pages that captivate your visitors.
In addition to its design capabilities, PageFly also offers SEO optimization. You can create SEO-friendly pages that not only attract more organic traffic but also maximize conversions. The app also integrates seamlessly with Facebook Pixel, allowing you to easily track and analyze the performance of your pages.
Advantages:
Create Shopify landing pages with PageFly templates or custom splash pages
Create SEO-friendly pages without slowing down your store
Maximize conversions with PageFly's drag-and-drop builder and lead capture
Upgrade your Shopify theme with PageFly's flexible design options
Responsive for mobile, tablet display. Customize every screen size individually
Price:

EComposer is famous for its fast and simple drag-and-drop editor. It is suitable for beginners who want to create eye-catching and highly converting pages without writing any line of code. One of the standout features of EComposer is its extensive design library, which offers various page layouts, section templates, and countless elements to choose from. This means you have endless options to create a unique and visually appealing page that reflects your brand.
Besides that, the platform also offers advanced features like Page Analytics, Global Blocks, AI Content Generator, and Lazy Load to further optimize your page performance. With EComposer, you don't have to worry about the speed of your store, as it provides speed-up tools and optimized codes to ensure a seamless user experience.
Advantages:
Build any page type or section you need from landing to homepage, product, etc.
Live drag-drop page builder that is easy to use and instantly previews changes
Design library: various page layouts, section templates, countless elements
Built-in add-ons: Ajax Cart, Color Swatch, Image Optimizer, Cross-selling, etc.
Advanced features: Page Analytics, Global Blocks, AI Content Generator, Lazy load,…
Price:
Start from $19/month to $149/month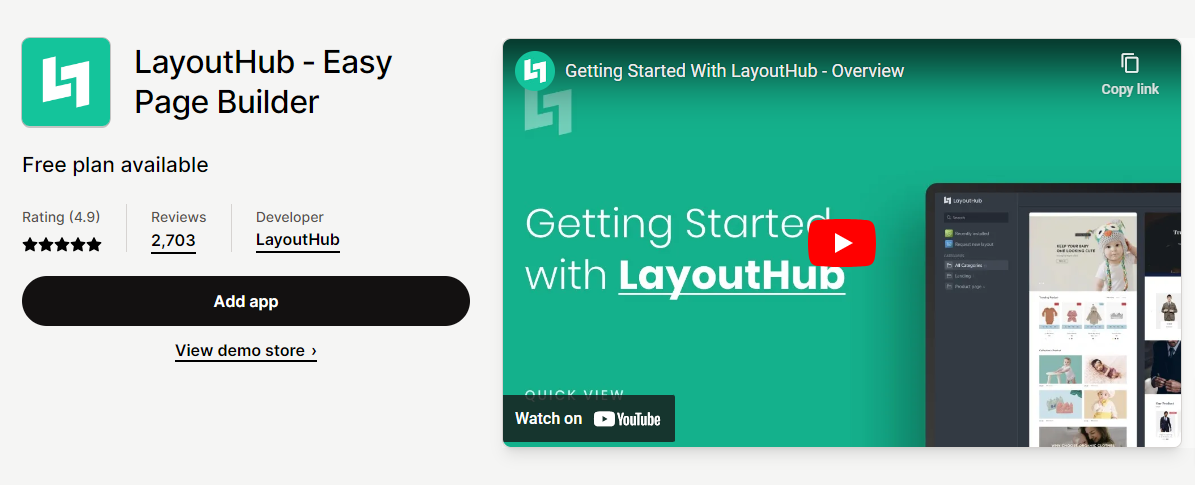 LayoutHub is specially designed to help you easily create various types of pages such as product pages, collection pages, and blog posts. Additionally, it is packed with a gallery of beautiful templates and page elements that allows you to customize, rearrange, delete or add sections to suit your needs. One of the main advantages of LayoutHub is its focus on simplicity, making it accessible to non-technical users who want to quickly build professional-looking pages for their Shopify store.
Additionally, LayoutHub offers affordable pricing plans, including a free plan for users who only need to create a few basic pages. Hence, LayoutHub is a user-friendly and cost-effective solution for anyone looking to create stunning landing pages on their Shopify store
Advantages:
Powerful and direct editor, easy to use for anyone
The library of diverse and professional layouts
Dedicated and professional 24/7 customer support
Compatible with popular Shopify apps
The app is designed with outstanding performance in mind
Price:
Start from $14.99/month to $59.99/month

With the assistance of Tapita, you are able to build stunning home/landing pages, product/collection pages, blog pages, popups, and more without touching any line of code. Moreover, it comes with a powerful library of stunning templates, so you can use one of them instead of building from zero.
Not only is Tapita easy to use, but it also provides a great user experience. The app is designed to be simple and intuitive, allowing you to create pages with ease. And if you ever get stuck, the customer service team is always there to help. With Tapita, you can build your pages faster with over 100 amazing templates and take advantage of AI-generated content for even faster content creation.
Advantages:
Build faster with 100+ amazing templates: blog page, about us, age verification
Widget builder: popups, promotional bars, and Shopify sections
Create blog content 10x faster with AI-generated content from OpenAI/ChatGPT
Responsive pages on any devices: desktop, laptop, mobile
Use different images/sections/content based on different store languages
The bottom line
To sum up, with the assistance of useful Landing page apps for Shopify, you can simplify the process of creating a beautiful landing page without effort. Hopefully, you can choose your favourite apps from recommended apps above.
Moreover, you can visit our website to discover tons of stunning, free E-commerce WordPress Themes that will help you design a beautiful online website.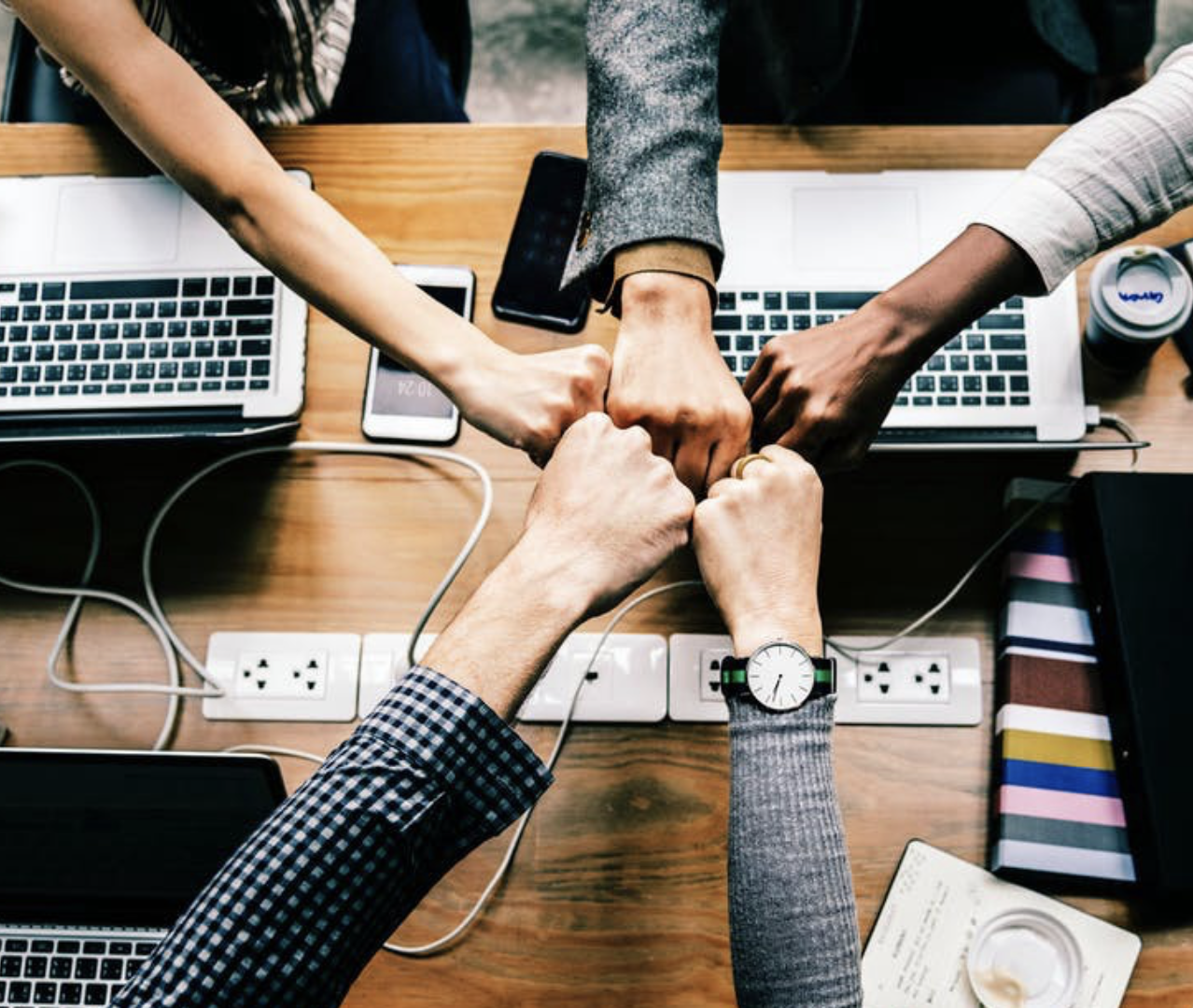 Hello everyone! We're Galussothemes content team, we love to write new blogs for WordPress everyday! Galusso Content Team is a part of IT4GO – The company houses talented young people who hold a strong passion for website development, designing, and marketing.