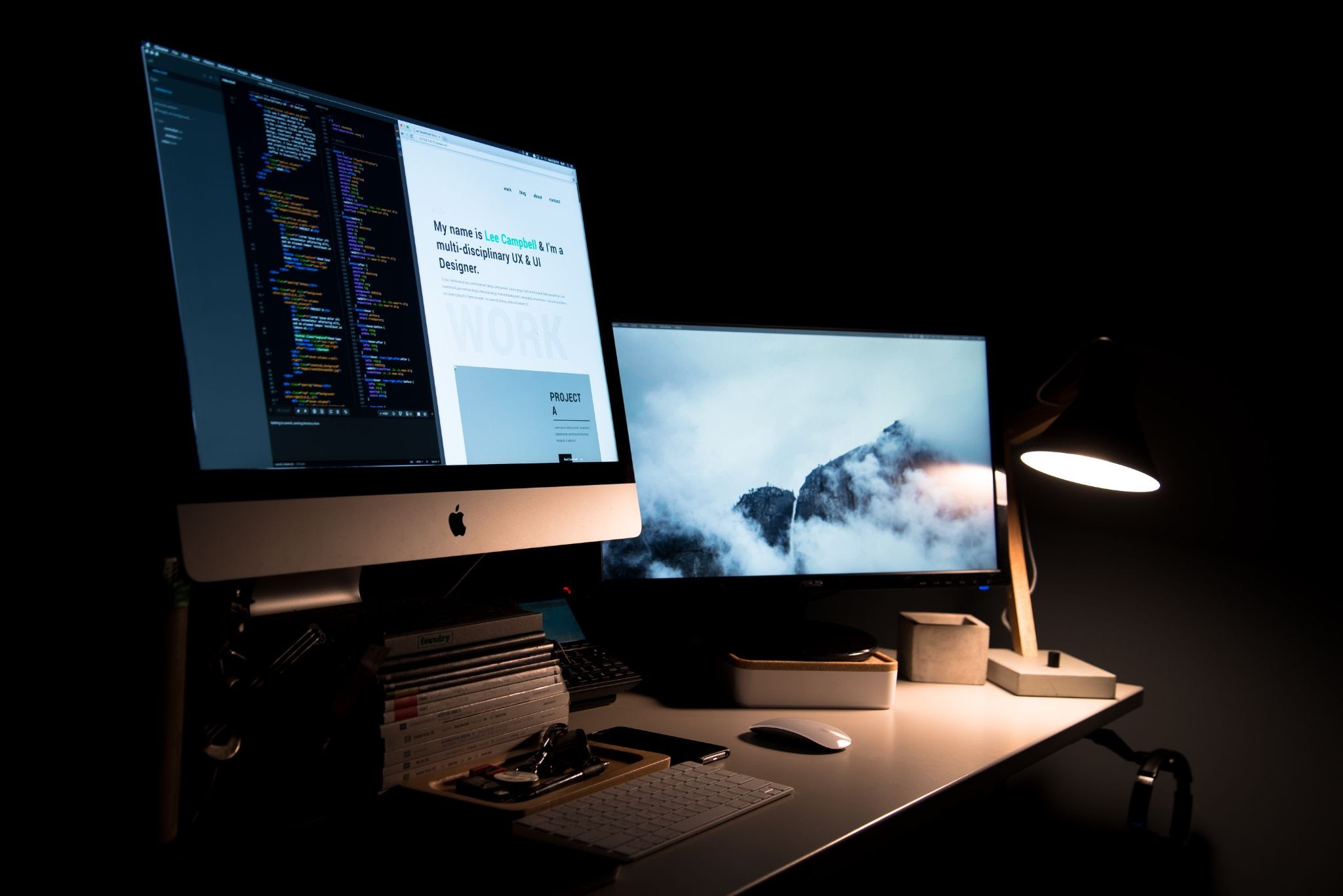 The design of your website can have a huge impact on your conversion rate. An ideal web design is one that is responsive, aesthetically pleasing, and engaging enough that it motivates people to complete your desired action, whether that's making a purchase or signing up to your mailing list.
If your website provides a poor user experience, it's very likely most people will leave your site quite quickly, without providing your company with what you need.
Luckily, there are many ways to create a website design that will appeal to your visitors. In this article, we will be looking at 5 web design tricks that will boost your conversions.
Make sure your calls-to-action attract attention
Calls-to-action are important web design elements you can use to encourage your visitors to perform a specific action. Sometimes people just need to be told what to do, so using a powerful call-to-action (CTA) can help to improve your conversion rate. A good call-to-action should stand out and compel prospective customers to checkout, sign up to your mailing list, or take advantage of your free trial.
To ensure that your CTA really stands out, you should optimize the copy and design. These are two important factors that will determine if your CTA is good enough to convert new visitors.
Most web designers opt for bold colors like red, green, orange or blue. You can use any of these as long as it is bold enough to stand out against the other elements on your page. Also, make sure you are using a clear and legible font because, if users can't read your CTA, then they definitely won't know what action to take.
Now let's look at some examples of brands that use call-to-actions that will attract the attention of their website visitors, so you can pick up some pointers on how to do the same.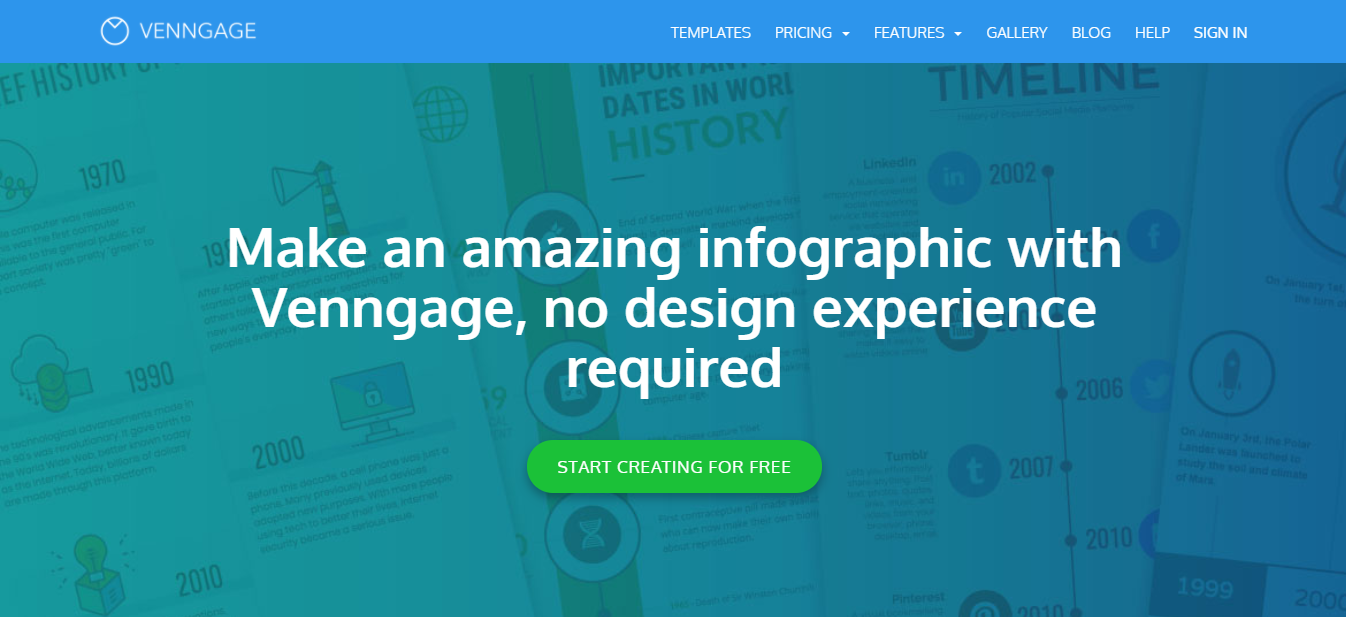 Venngage is a company that offers an online infographic maker. The first thing you notice on their landing page is the bold green CTA button that tells visitors they can start creating their infographics for free! Notice how they use clear and simple words so people are not confused about the action they need to take. The bright green colour also stands out from the blue background so people can notice the CTA button quickly and easily. This is an example of an attention-grabbing CTA that can help boost conversions for their website.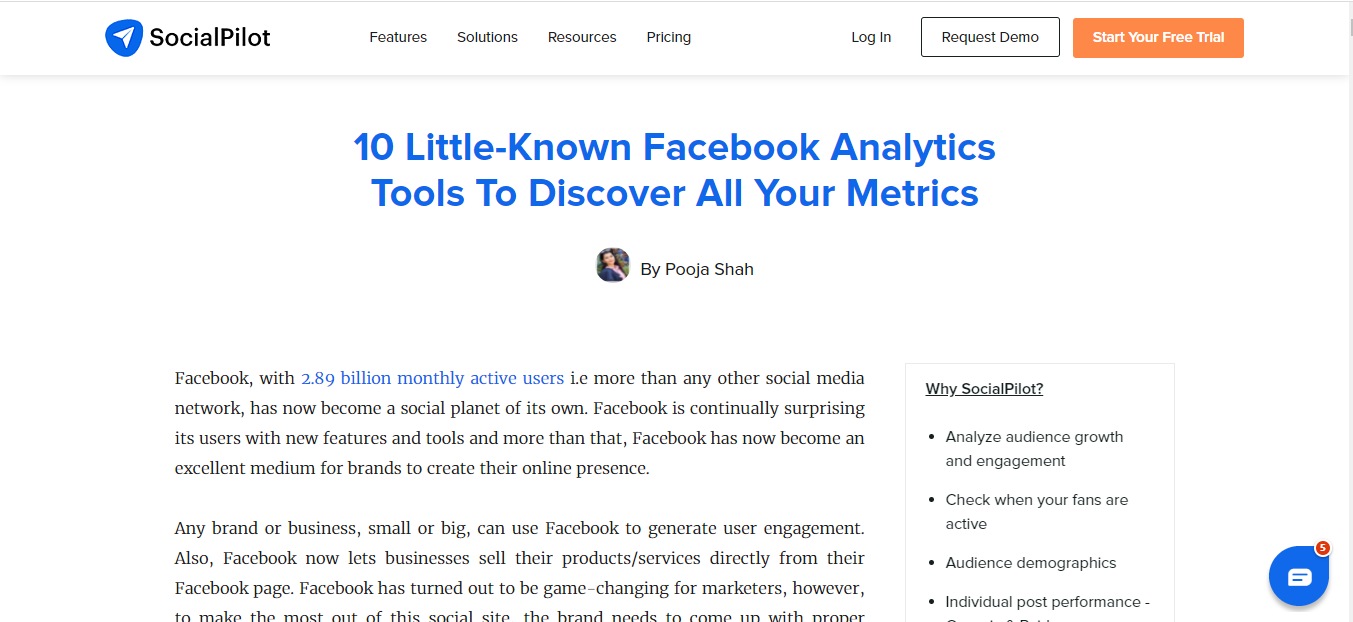 Here's another example from SocialPilot, a social media scheduling and management tool. If you check out any of their helpful content, like their round-up of Facebook analytics tools, you'll see there's a bright orange CTA button that invites you to try out their platform for free.
As you scroll further down the page, you'll also see another CTA but, this time, it comes after a list of benefits that explain why people should use SocialPilot. With its bright orange colour and use of "free" in the copy, this CTA is sure to play a big role in converting their website visitors.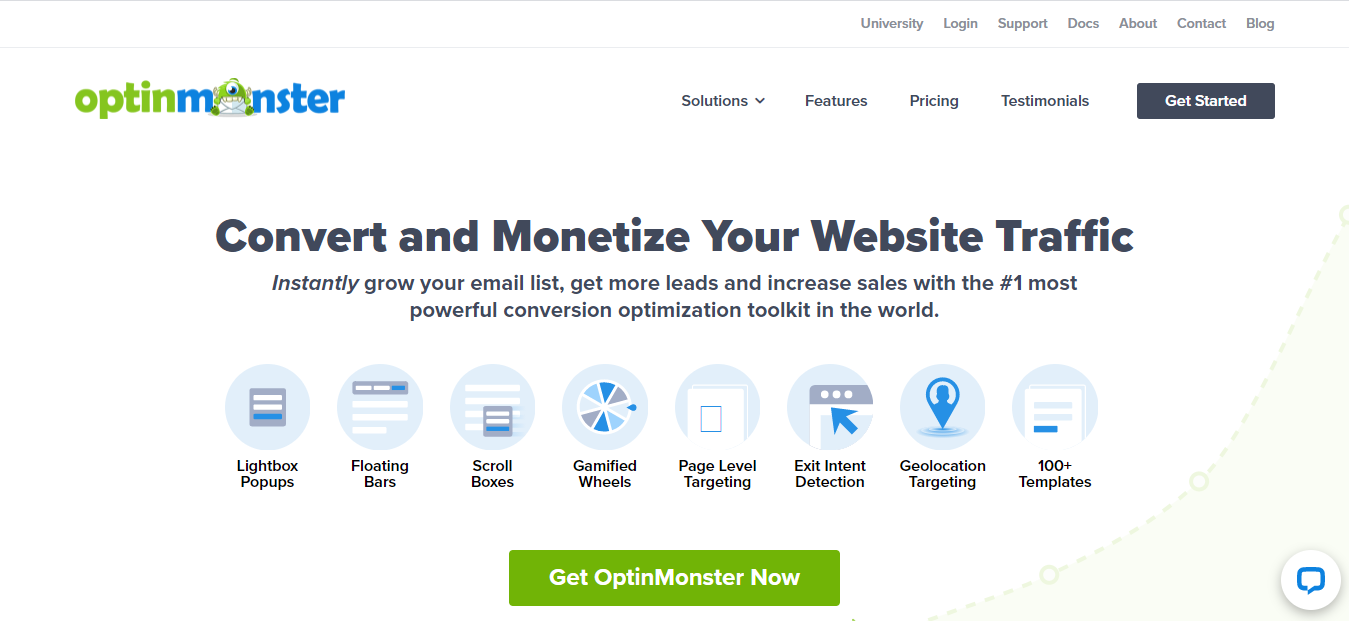 Lastly, let's study an example from OptinMonster, a company that develops tools to help businesses collect leads.
On their homepage, they highlight the different lead generation solutions they offer and, below that, their green CTA button is hard to miss as it stands out from the other elements on the page. They also use the words 'Get OptinMonster now', which creates a sense of urgency and encourages website visitors to take action immediately, thus boosting conversions.
Incorporate reviews into your product or service pages
Reviews act as social proof and are very effective for boosting website conversion rates. This is because they show prospective buyers that other people have bought your products or services and are satisfied with their purchase. They also help improve your brand reputation, as most people will consider you trustworthy if they see positive reviews from others.
One way to collect reviews from customers is by simply asking for them. Many people are always willing to give honest reviews about their experiences with companies. You can request reviews by sending an automated email after people have completed a purchase or creating a review form on your website. You can display customer reviews on any page of your website, but it's always a good idea to add them to your service and product pages, as this is where you'll most want to convince people to make a purchase.
For inspiration, let's take a look at some companies that have done a good job of incorporating reviews into their websites.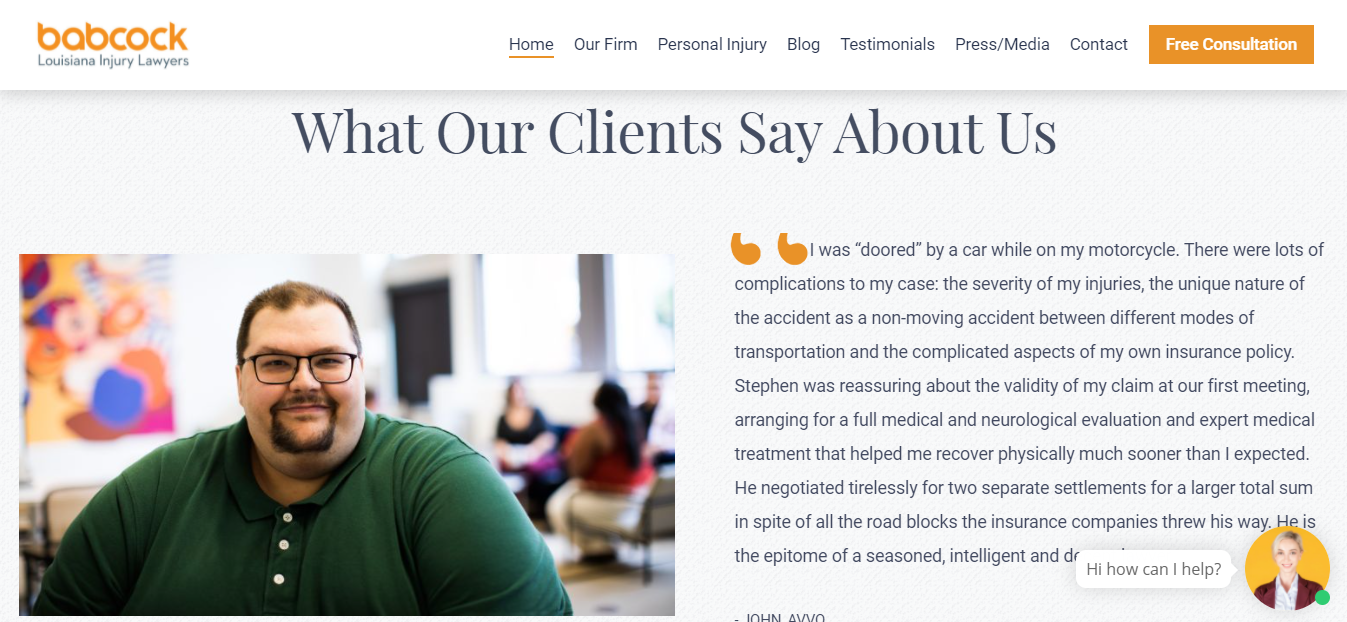 First up is Babcock Injury Lawyers, an attorney firm that handles injury cases for its clients.
On their homepage, they have a section for reviews from customers, which they have named "what our clients say about us". For prospective customers who are still considering their options, these reviews can be the deciding factor for whether they're going to pay for this firm's services. The reviews are also quite detailed, thus giving more information that will encourage potential clients to convert.
The company has also decided to include high-quality images of the previous clients who have provided a testimonial, which helps to humanize them and build trust even further.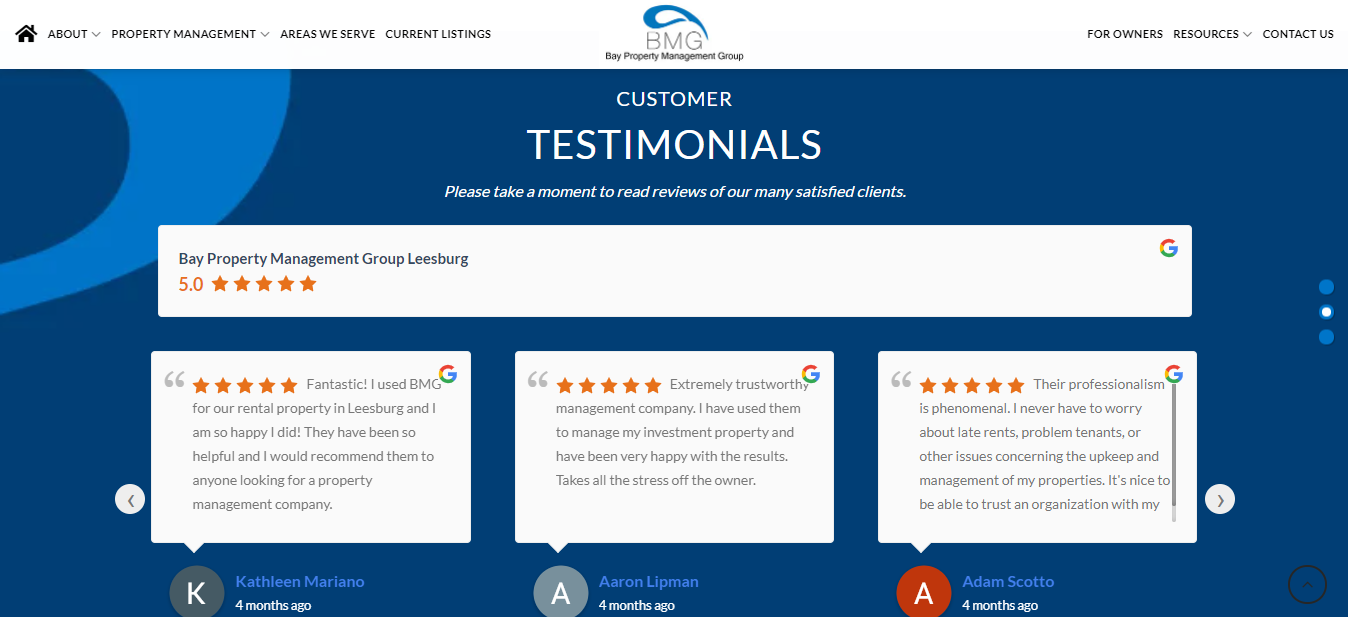 Our next example comes from Bay Property Management Group, a company that helps its clients to rent out their properties.
One the likes of their Leesburg property management service pages, they've incorporated customer testimonial sections that highlight what the company is like to work with. These reviews provide a combination of comments and star ratings from previous customers. They also show the names of the customers and how long ago these reviews were left. This helps to show prospective clients how the company performs and it can also be a highly motivating method of driving conversions.
Consider what kinds of reviews your customers would like to see. Would they like lengthy testimonials that will put all of their concerns to rest, or would they like to see star ratings out of five to get a sense of what your products are like? Incorporate the right option into your service pages and it won't be long before you're reaping the rewards in the form of increased conversions.
Ensure your images are high-quality and persuasive
It's also important that you ensure your website images are optimized, so you can attract the right people, connect with your ideal customers, and boost your conversions. High-quality images will also provide your customers with a more enjoyable shopping experience.
There are many ways you can make sure your customers get excited by the images you use. For example, you could display images that show people who look exactly like your target audience using your products or services. This will make it easier for your customers to visualise themselves benefit from using them, which can really help to boost your sales.
You can also use images that demonstrate the best features of your products or services so customers can see the true value of them from the outset. This will also help to motivate those who are still trying to make a purchasing decision.
Lastly, using images that humanize your business can help prospective customers feel a connection with it. Instead of just showing your products, show them alongside real people and showcase how they're being used in everyday life.
Here's an example of a brand that successfully uses high-quality images to help boost conversions on its website.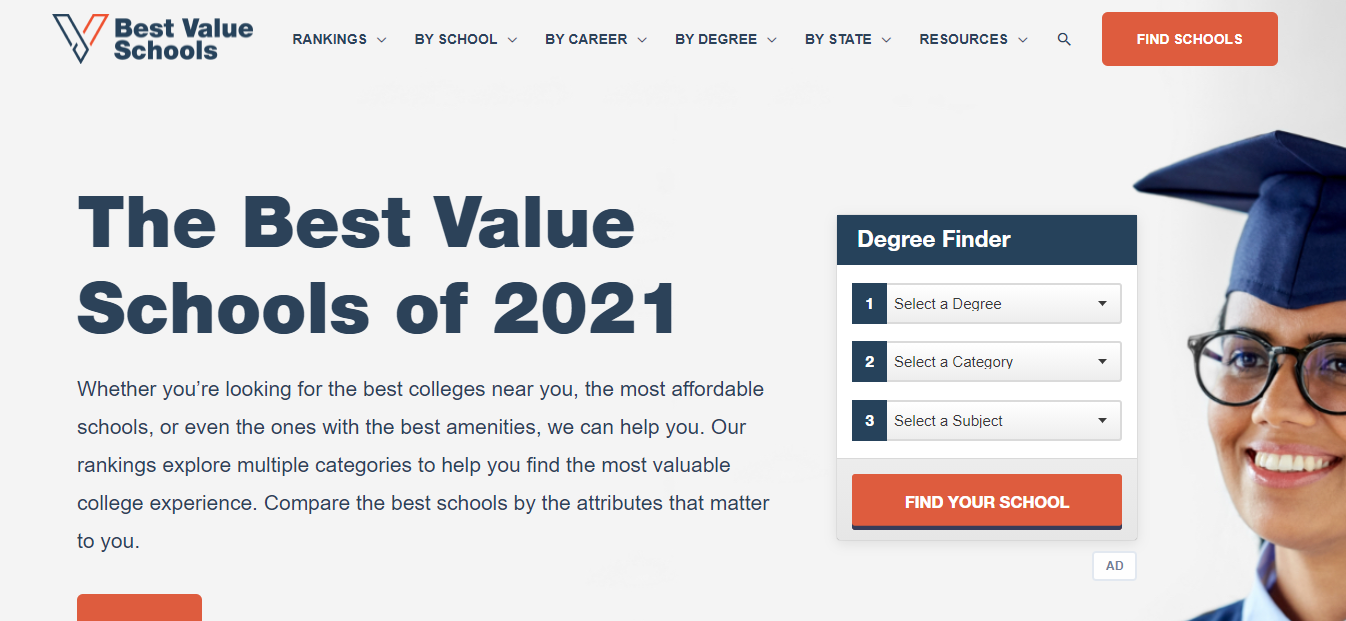 Best Value Schools specializes in providing information on the best choices of schools that offer post-secondary education. To help inspire their website visitors, they use high-quality and aspirational images of students graduating with degrees.
Because this website is focused on helping students find the best colleges, including the image of a fellow student who has succeeded is a great way to get people excited about the prospect of applying to one of these schools.
This kind of image is simple, but its underlying message is still powerful enough to boost conversions for their site. Think about what kinds of images will help your customers aspire to use your products or services, and incorporate them into the design of your site for the best results.
Make sure it's easy to browse your website
If you want to improve your SEO and boost your conversions, you need to ensure your site provides a positive user experience.
One of the most effective ways to ensure this is by creating an effective and clean navigation menu. If people can't find what they want on your site, they won't stick around, and this will signal to search engines that your site provides a poor user experience. Plus, it can lead to you missing out on sales if potential leads are leaving your website before they get a chance to convert.
To make sure your website is easy to navigate, you should opt for a menu layout that allows users to move quickly and easily between pages. This means keeping the navigation bar as simple as possible.
Also, when you link to internal pages to guide users through your website, make sure you highlight the text in a different colour to make it obvious. You can also read this guide from the Daily Egg for more tips on how to make sure visitors find it easy to browse your website.
Remember your site should work on any device
You need to ensure that your site will look great on any device, which means you'll need a responsive design that works just as well on a mobile phone as it does on a desktop computer.
This is especially important now, because Google has implemented a mobile-first index, which means it will prioritize indexing mobile sites before desktop versions. This does not mean your website won't be indexed if you haven't optimized for mobile, but it does mean that websites with a responsive design will be prioritized over yours if you do make this mistake.
You'll want to ensure that your images display well on all devices and use legible fonts in sizes that can easily be seen on both mobile devices and large desktop screens.
Summary
Increasing your conversion rates is a very important goal for any business. While many factors can influence your customers, creating a great web design is one you should pay attention to.
You can optimize your web design to improve your conversion rate by using clear CTAs, showcasing reviews that motivate potential customers, optimizing your images, and ensuring your site has a responsive design that works on any device.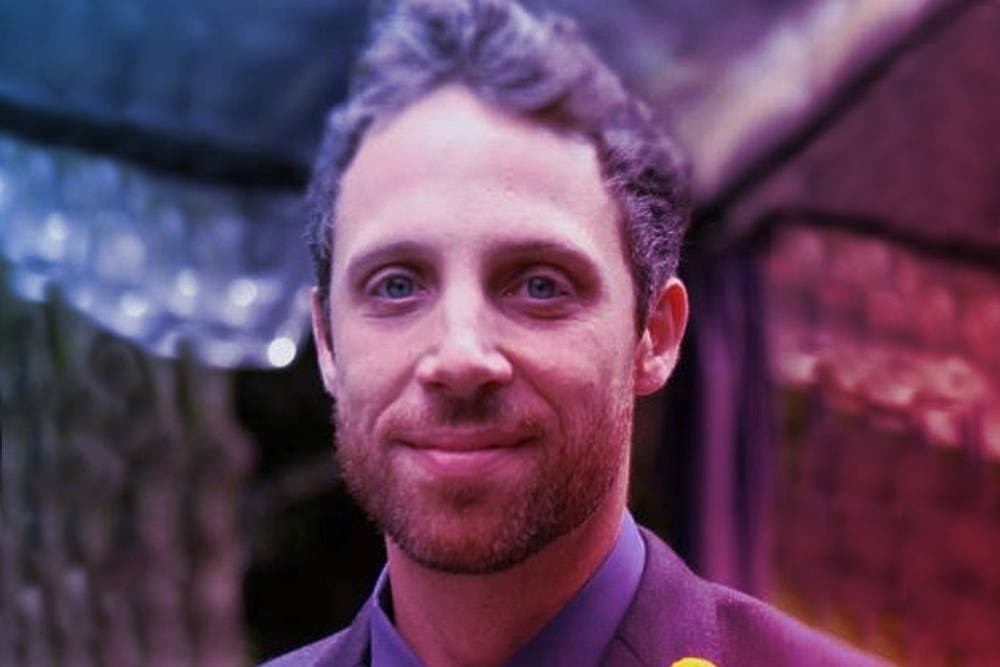 Aaron Haynes is the CEO of Loganix, an SEO fulfillment partner that supports marketing agencies and professionals. The company specializes in helping businesses to improve their online visibility and ultimately make more sales. The Loganix blog has a lot more information and advice, so make sure you check it out if you found this article helpful.