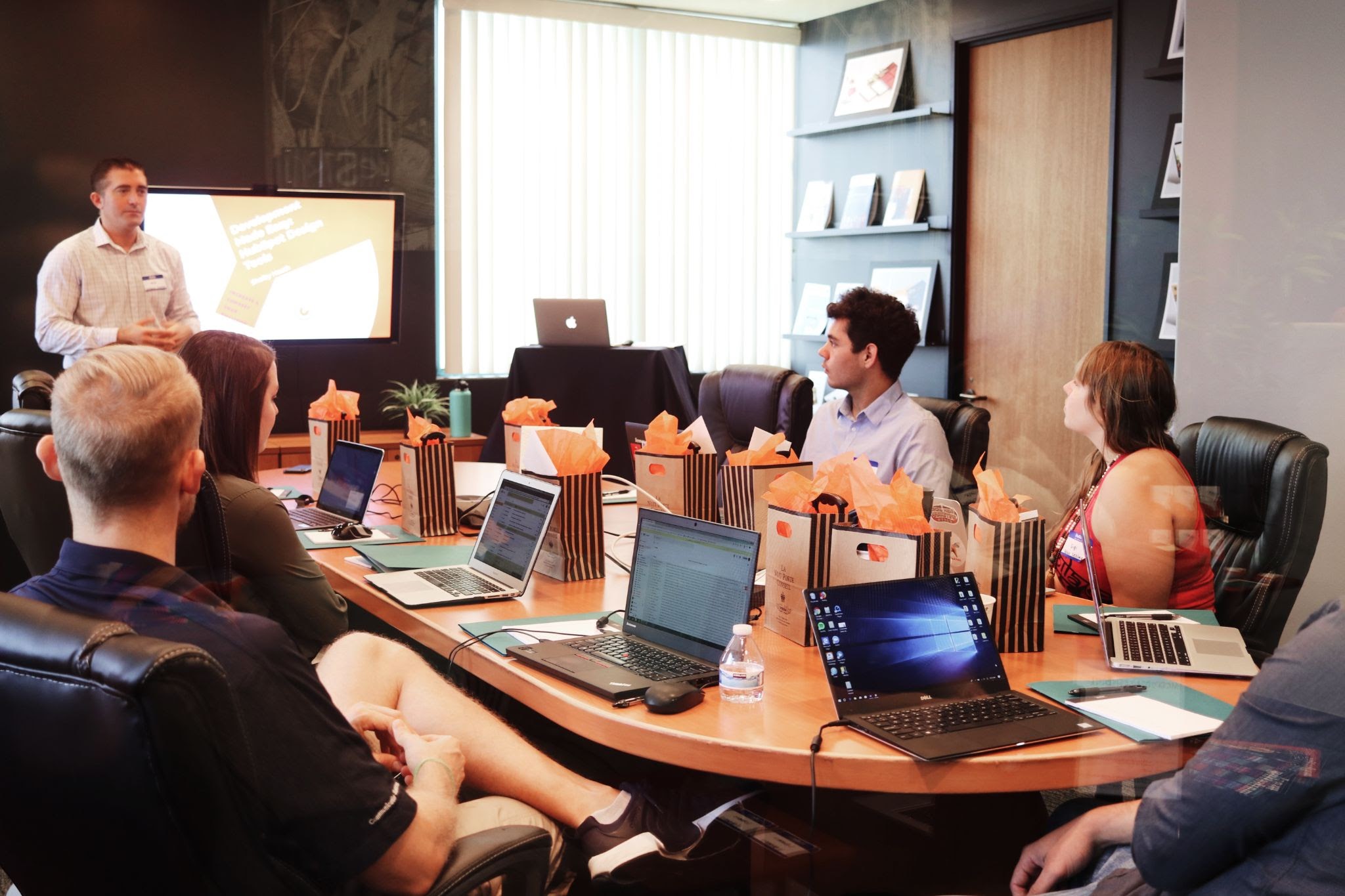 There are several benefits to publishing high-quality content on your website. It helps attract the right audience, captures their attention, and can motivate them to make a purchase with you.
It's not enough to just create any old content and publish it on your website, though — you need to put the work in to ensure that your audience will actually find it engaging. This is what will help to increase the time they spend on your site, so they might just stick around long enough to spend their money.
In this article, I'll take you through 7 tips that you can use to make your website content more engaging. Read on to find out more.
Think about which format will work best
There are different kinds of formats that can be used when creating content. Examples include blog posts, videos, infographics, ebooks, webinars, email newsletters, podcasts, and case studies. Before you set out to create any piece of content, it is imperative that you carefully consider which format will work best for your business as certain formats are more effective than others in some situations.
Your audience consists of a variety of people and the type of content and marketing strategies you use can affect the response you get from different demographics. For example, a study from Forbes shows that younger audiences are more inclined to engage with visual content like videos and images.
You should also identify your content marketing goals. For example, if your aim is to get more leads for your website, then content in the form of ebooks, checklists, or templates would work well. This is because they are very useful so people will have no problem signing up to receive them. And, if you want to convince people to buy your products, you could create case studies or product demonstrations that outline the different features and show how previous customers are benefitting from your services.
Your content format can also depend on the type of topic you are working with. For instance, if you create "the ultimate guide to Instagram marketing", this is likely to work best as a long-form blog post or ebook, as this will allow you to cover a lot of different aspects of this subject. But, if you wanted to show behind the scenes of your business, a video or frequent social media posts would be more appropriate.
Make your content more eye-catching with visuals
Using visuals on your website is a great way to improve your content and make it more attractive. You could include visuals like original photos, infographics, illustrations, and diagrams because these are visually appealing and will make it easier for people to read through your content.
Diagrams and illustrations can be used to break up text so people can easily read and understand your blog posts. And they are very effective for helping people retain information and increasing the time people spend on your page. Most people also find that diagrams are great for explaining instructions or processes in a way that makes them easier to follow.
Original photos will give your brand a personality. When you use photos of your staff or customers, it gives people a chance to connect with you and your brand. You should also make sure you use happy or cheerful photos so people feel more relaxed when on your website.
As for infographics, you can use these to explain complex or technical information or to present statistics or trends in a manner that can be easily understood. If you're not sure where to start with creating these designs, Venngage has an excellent infographic maker that will allow you to create simple and attractive infographics for your audience.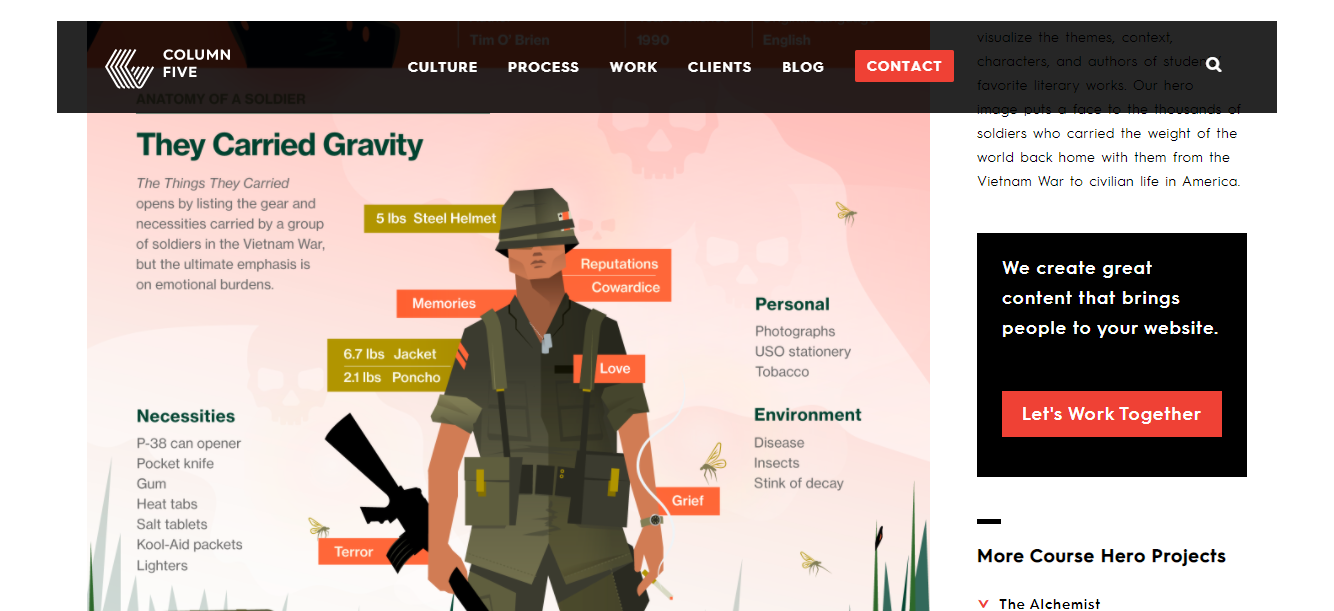 An example of a brand that uses visuals effectively is Course Hero. This is a platform that provides instant access to a variety of educational resources that can help students. With this infographic, they have been able to explain the story of soldiers who survived the Vietnam War.
They also use short bullet points that make it easier to get their point across. With their use of colors and an attractive image, Course Hero has been able to create an eye-catching graphic that can engage their readers and help them better understand the topic being discussed.
Consider creating video content for your website
The use of video content is progressing rapidly and more than 63% of business owners have already incorporated videos into their content marketing. This is because videos are very popular among different audiences, as evidenced by the fact that 85% of internet users in the United States consume online video content on a monthly basis (Oberlo).
Video marketing can help you to build more trust with your audience because it allows you to show off your expertise and forge a stronger connection with them. Also, because videos are easy to follow, they will encourage viewers to keep watching which will reduce the bounce rate on your page and signal to search engines that your site has good content.
There are different video formats that you can use for your content. For instance, if you are trying to launch a new product, you could create a tutorial video that helps people understand how to use it. You could also share news updates or educational information with the use of video.
For inspiration, let's take a look at some examples of brands that already use video content very effectively. Taking a leaf out of their book is sure to make your website more engaging for visitors.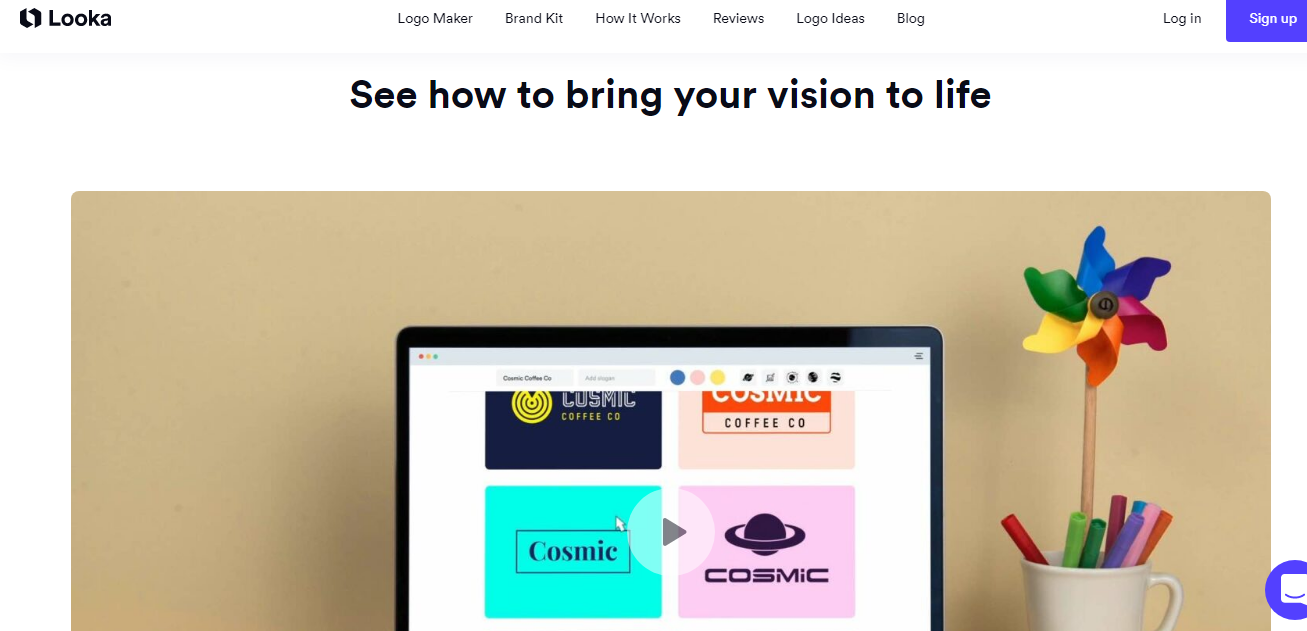 Looka is an example of a company that has leveraged the power of video to create engaging content for its users. They are an AI-enabled graphic design company and they provide logos for different brands. To help their users use their tool effectively, they have produced an explainer video that can guide people through everything they need to know about creating a professional logo for their brand.
In this video, they've broken down the step-by-step process involved, and they've also done it in a very visually appealing way. This allows them to show off that they're experts in graphic design, too, so prospective customers are more likely to trust them.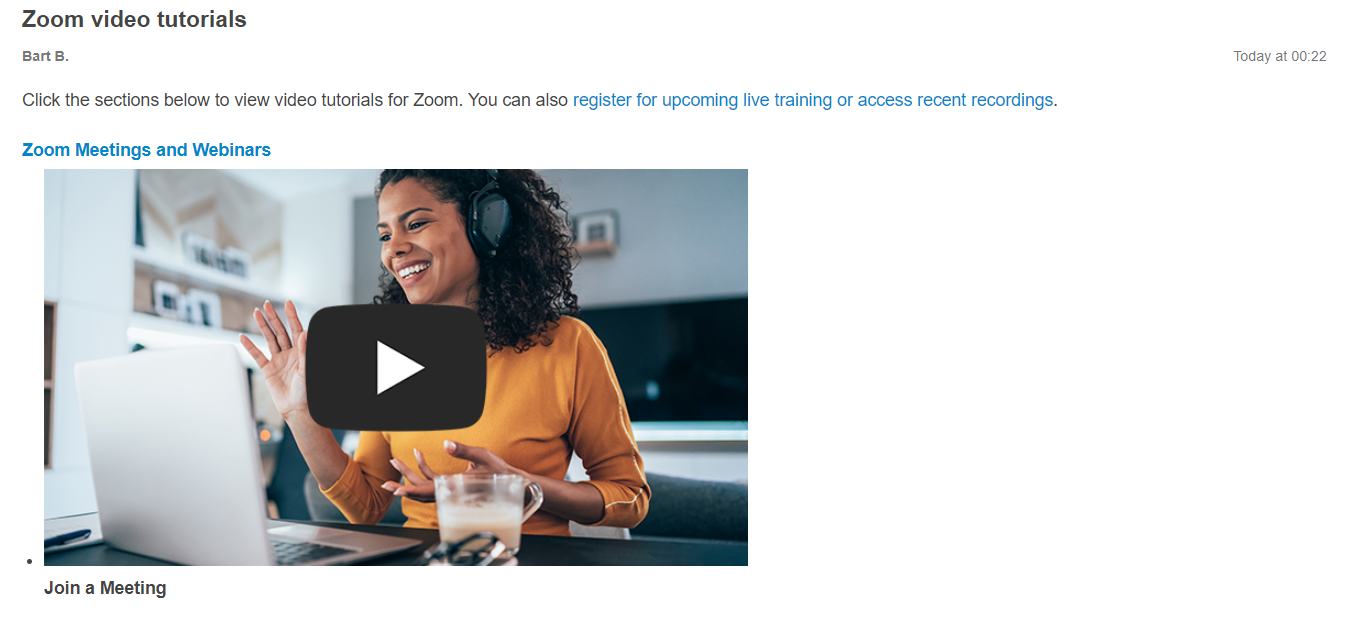 We also have Zoom, a communications platform that allows people to hold audio and video calls, as well as send messages on the platform. They have created an entire page of video tutorials to explain the process of using Zoom for their users.
This page contains everything the average user needs to set up and effectively use the features of Zoom. They have complete tutorials on how to set up a Zoom meeting, schedule a video call, how to use closed captioning, record a Zoom meeting, and more.
Always ensure your content provides value for your audience
If you can provide genuine value with your content, prospective customers will be far more engaged. By positioning your brand as a source of value, you can also make sure you stand out from your competitors and will be more likely to gain your audience's loyalty and trust.
Creating value for your audience can be done in many ways. You could provide useful (and free) tools that make it easy for your users to interact with your website. Or you can create how-to guides that help your audience to understand your products or services.
We also have educational resources and ebooks that can be used to share information about different subject matters. And, if you offer products for sale, you could provide a buying guide that simplifies the buying process and helps your customers make the right buying decision.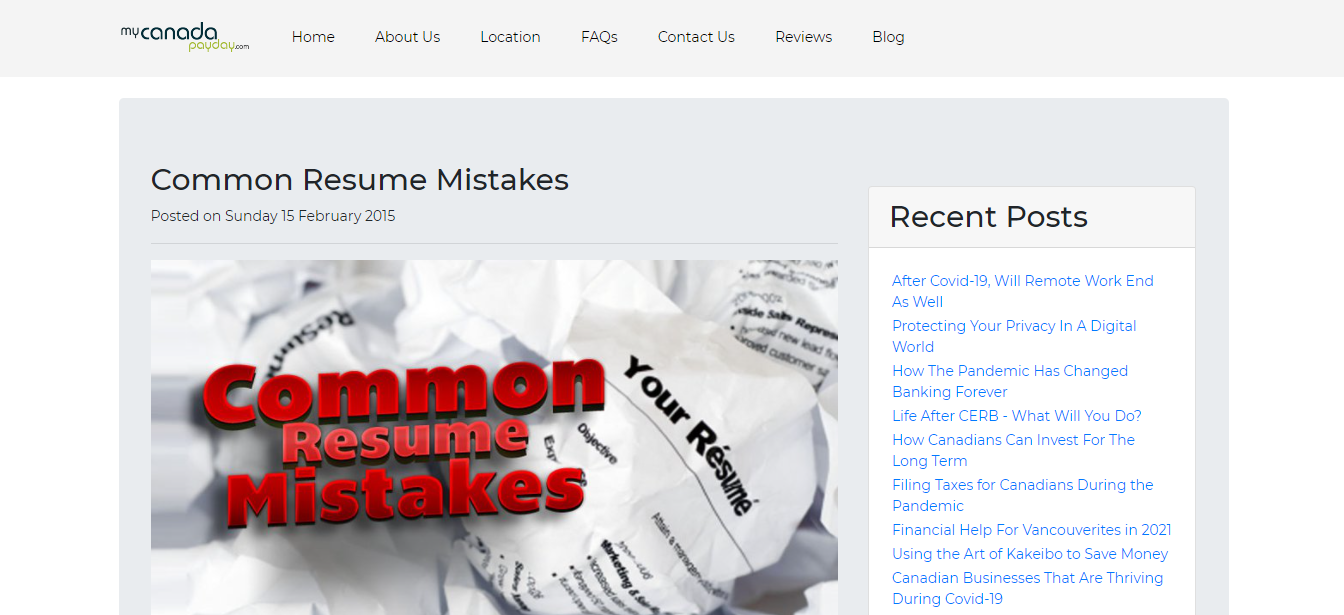 As an example, here is a blog post by My Canada Payday, a loan provider that operates in Canada. They have created a detailed post on common resume mistakes, which helps job searchers to work out what not to do when applying for a job.
A lot of My Canada Payday's customers are likely to be having money troubles and might be looking for a new job as a result. So, this is going to be highly relevant for them and will provide value. Therefore, someone reading this article will be engaged and begin to trust the company so, if they ever need financial assistance, they'll be more likely to return.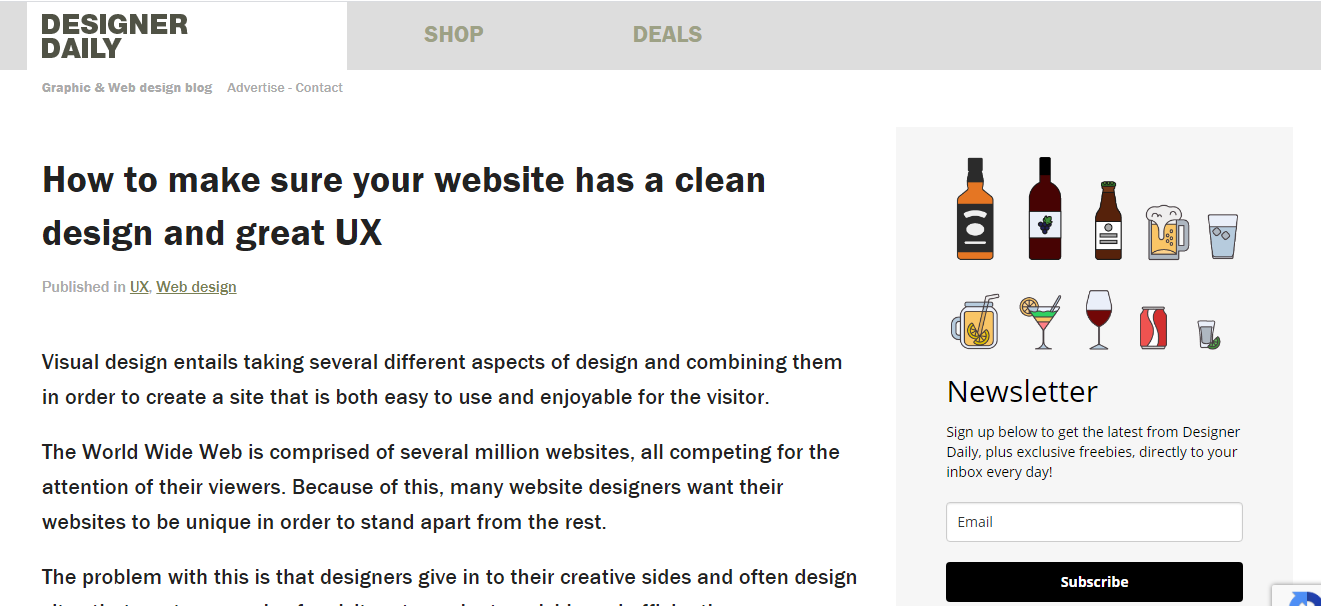 Similarly, Designer Daily publishes a wide range of helpful guides, such as their blog post on how to create a website with a clean design and a great UX. The article is detailed and they have managed to break down the intricacies behind good websites and even better UX for their users. This content is value-packed and is something that can engage people across many career paths like web designers, website developers, and brand owners.
Answer common questions with your content
If your content answers commonly asked questions clearly and concisely, then you'll have a better chance of engaging your readers. It will also help to show that you truly understand your target audience.
A great way to discover what questions your audience would like the answers to is by using keyword research tools that are designed to show you what people are typing into search engines like Google. You can also join forums like Reddit and Quora to find relevant questions and discussions people are having in your niche.
Speaking to your customer service team is another great means of getting questions. By analyzing the common questions they receive over time, you can get insights into what information your audience needs and the kind of content you should be providing to answer their questions.
Let's take a look at some businesses and websites that are already doing a fantastic job of answering common questions with their content. Take inspiration from these brands and you'll be able to attract more of your ideal audience, earn their trust, and ensure that they truly find your content to be engaging.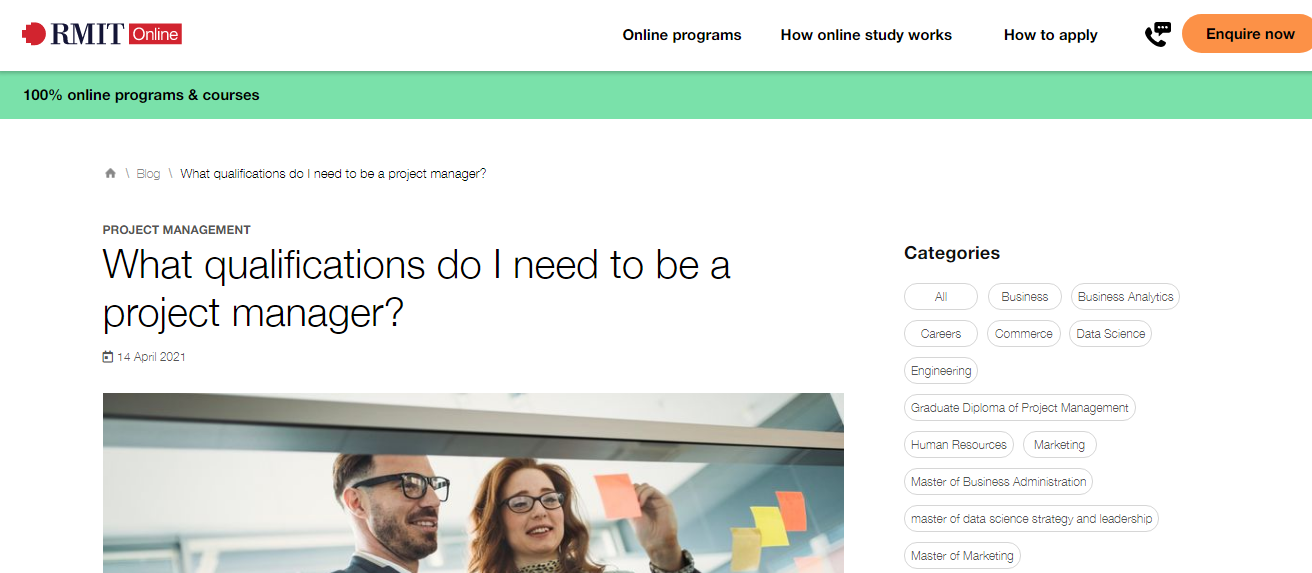 RMIT Online is an example of a website that answers common questions. The platform offers online programs in various fields like Marketing, Business, and Human Resources. So, they have created a blog post that explains what qualifications people need to become project managers.
It's likely that a lot of people looking to pursue a career in marketing or business will want to know this, so it's a very relevant topic to cover in their content. By producing this guide, they've shown that they're about to anticipate their students' questions or concerns. Plus, it's clear that they'll strive to provide their prospective pupils with all of the information they need to succeed in their chosen field. Also, the post is written in an engaging Q&A format and is sure to hold the reader's attention as a result.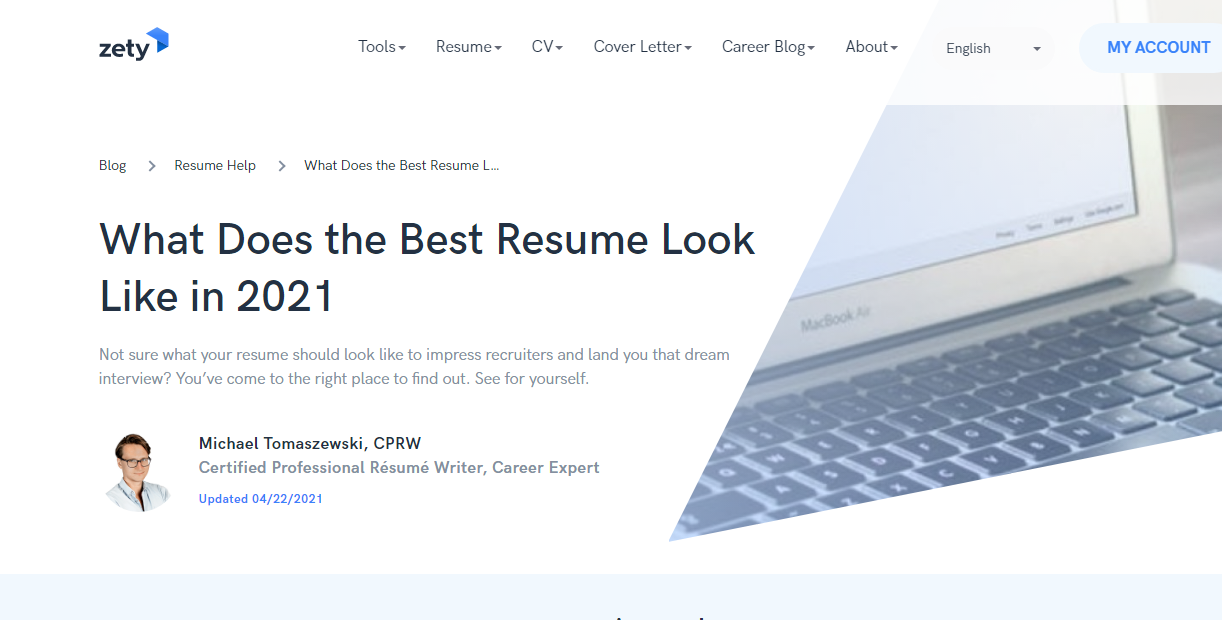 It's also worth checking out Zety's blog post on what the best resume looks like in 2021. Zety is an online tool that helps people build resumes and, since their target audience is made up of jobseekers, this is a really great question to answer. They've also used different images to break up long blocks of text and illustrate their tips in a way that can be easily followed and understood by their audience. This is sure to make it even more engaging.
Cater to different people by repurposing your content
Different people will prefer certain content formats, so repurposing your content and turning it into something new could help you attract new audiences.
For example, you could turn an old blog post into a video for people who prefer more visual content. Or you could tie original research up into an attractive infographic that highlights all of the main points. Creating different types of content for your website and blog can make it a lot more engaging for a wider group of people and will increase the amount of time people spend on your site.
Additionally, you could create short videos or audio snippets from a webinar and share these on social media platforms like Twitter, Instagram, or Facebook. It is important to know that Google does not treat repurposed content as duplicate content, so you don't have to worry about any negative SEO effects if you decide to use this tactic.
Incorporate your brand voice into your content
Your brand voice is the personality that's infused into your brand's communications. It covers everything from the words to the images used when communicating with your audience.
Developing a brand voice requires consistency. If you keep changing your brand voice, your audience will find it hard to understand your business and what you represent. Having a consistent brand voice also makes it easier for people to recognize and identify your business out of the sea of competitors in the same space.
To develop a brand voice, you want to begin by creating effective brand guidelines that contain your brand's core values and mission statement. The purpose of this is to act as a reference point for any content your business creates, regardless of who is behind it. You can also revisit these guidelines periodically as your company grows over time.
When you're starting to think about incorporating your brand voice into your content, you should do an audit of how your current content sounds and train the people who are in charge of communications on the best way to project your brand voice. The goal is to make sure that your brand voice is integrated into everything from your blog posts to your Twitter updates to ensure consistency across all platforms. This will also make your content much more engaging, so people will pay more attention to your business.
Summary
When you focus on creating engaging content, you'll attract the right people to your website and will be able to retain their attention. And, if you play your cards right, they might just stick around long enough to make a purchase with you.
This is why you should implement tips such as choosing the right content format, using eye-catching visuals and diagrams, repurposing valuable content, and creating a consistent brand voice for your business. These are strategies that will surely help you increase engagement levels with new and existing audiences.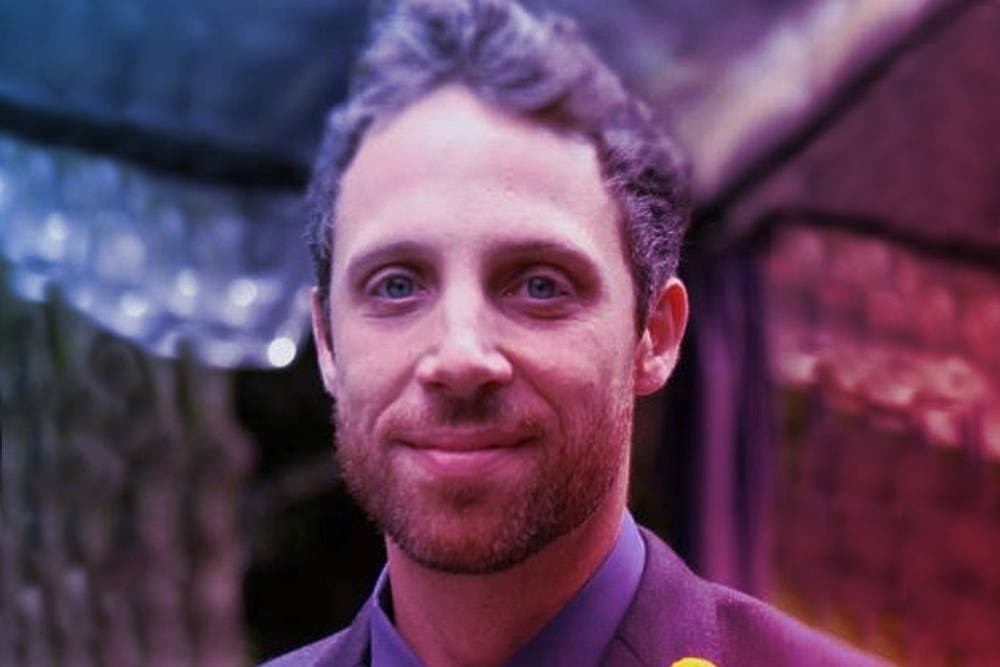 Aaron Haynes is the CEO of Loganix, an SEO fulfillment partner that supports marketing agencies and professionals. The company specializes in helping businesses to improve their online visibility and ultimately make more sales. The Loganix blog has a lot more information and advice, so make sure you check it out if you found this article helpful.