Are you struggling to choose between SiteGround vs GoDaddy to host your website? Luckily, you have landed at the right place. In this blog, we will provide you with a detailed comparison to help you easily make the right decision for your website.
Introduction
When it comes to web hosting, there is a wide range of hosting providers in the market. It will make this difficult for you to find the right solution for your website. Whereas SiteGround vs GoDaddy are the most leading and prevalent hosting providers that have built their reputation among a lot of WordPress users. However, which is the most effective hosting provider for your WordPress? We conducted a survey based on various users to help you find out the exact answer to this question. But we recorded several mixed opinions.
Many users believe that SiteGround is specially designed for WordPress sites because it has necessary features such as one-click installation, automatic updates, and much more. In addition, Siteground offers up to 300 hosting plans with various options that suit your needs. While others are against this argument, they don't satisfied with SiteGround's performance and GoDaddy really has better performance rather than SiteGround. Plus, a lot of users are interested in the amazing features of Godaddy like unlimited domains, and unlimited bandwidth.
If you are wondering whether SiteGround or GoDaddy will be more suitable for your WordPress site, don't miss our blog. In today's article, we give you the differences between SiteGround vs GoDaddy in detail so that you can get an insight into them.
SiteGround Vs Godaddy: Background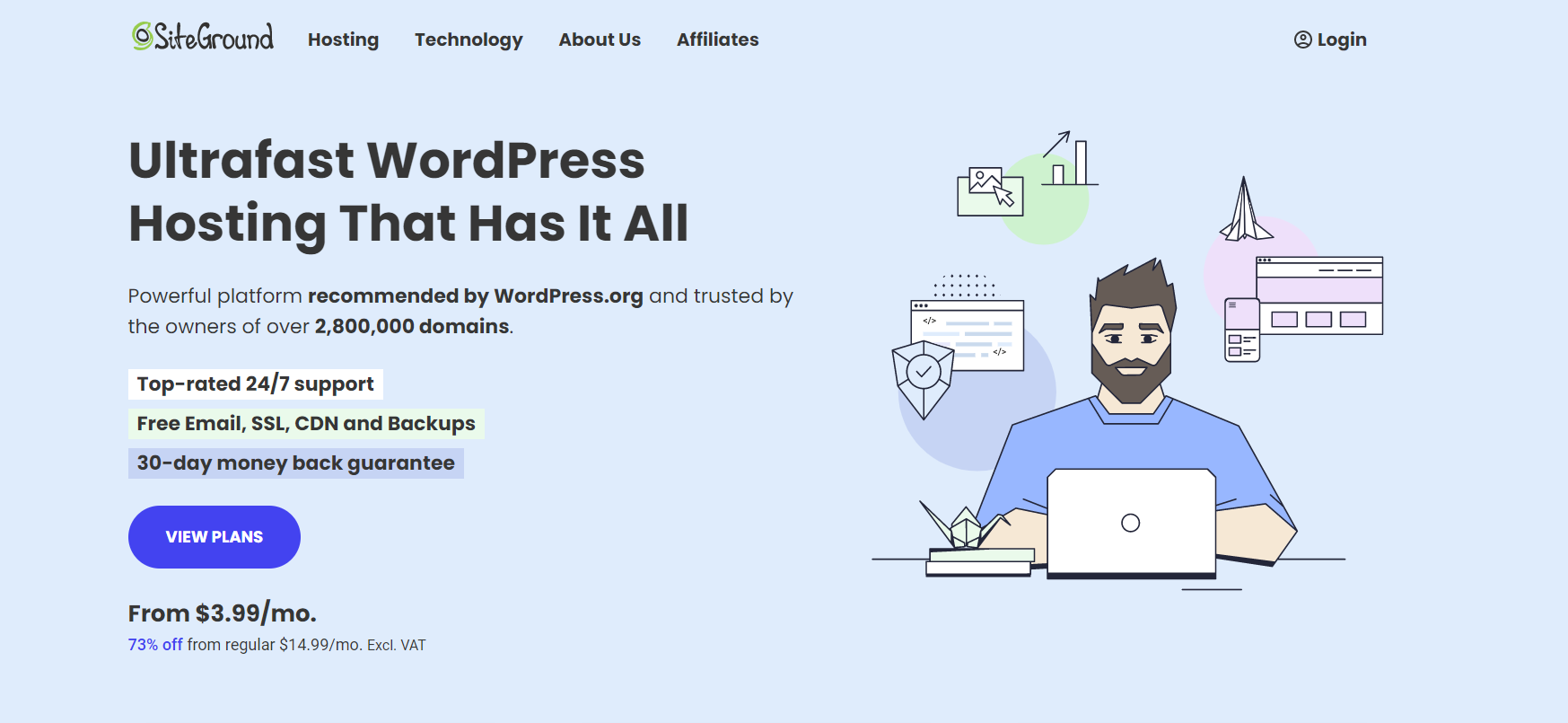 SiteGround is considered one of the most prevalent hosting providers for WordPress websites. They offer unique in-house WordPress speed and security, so your website easily gets faster page loading time and is more secure. In addition, it is packed with a list of robust and unique features such as automatic upgrades, daily backups built-in WP caching, free CDN, free SSL, and much more. Currently, SiteGround servers are located in various areas including the United States, Europe, and Singapore, you can easily choose the server location to sign up.
Godaddy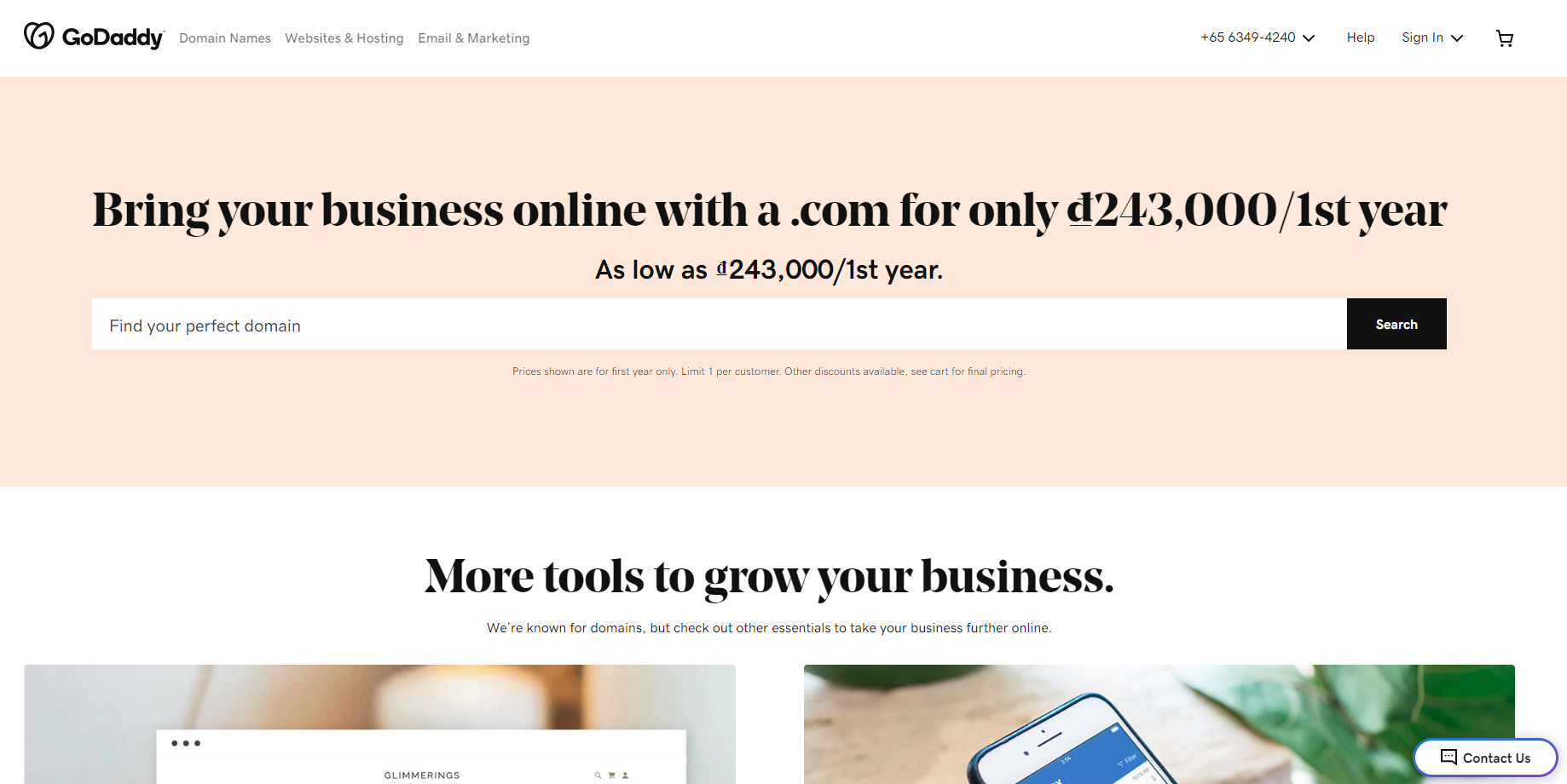 GoDaddy is another serious competitor of SiteGround. This hosting provider which was founded in 1997 helped a lot of businesses build professional websites. It has been well-known as one of the most high-quality hosting and domain providers for the vast majority of companies around the world. Besides that, GoDaddy also provides you with numerous services such as eCommerce solutions, SSL certificates, website builder, professional business email, and much more.
SiteGround vs Godaddy: The differences
Main features
SiteGround
Godaddy

Automatic WordPress updates
Easy WordPress install wizard
Built-in WordPress staging sites (except on the cheapest tier)
Server-level caching for improved performance
Install a free SSL certificate with Let's Encrypt tool
Integrated redirects tool for quick redirection
Cloudflare CDN for sites with a global audience
Unlimited email accounts for your domain
Select from five worldwide data centers on three continents
Performance monitoring and optimization using SG optimizer
Unlimited WordPress migrations with the SiteGround Migrator plugin

Domain registration, hosting, and website building on one platform
100GB – unlimited storage depending on the plan
Low prices
Add multiple domains on one host
Choose between Linux or Windows OS
GoDaddy mobile app for quick access to cPanel
Unlimited bandwidth for great performance
Get a free domain with GoDaddy
125+ applications available with a 1-click install
As you can see in the table, both SiteGround and GoDaddy offer a wide range of excellent features. However, SiteGround provides you with plenty of managed WordPress functions on its cheap shared plans. On the other hand, if you want to access those features with GoDaddy, you have to upgrade to GoDaddy's managed WordPress hosting. It means that you have to pay much more money.
Additionally, if you are using WordPress sites, using SiteGround is beneficial for your website since you completely get free WordPress installation, auto-updates, migrator tool, daily backups, free shopping cart, and much more. Once you purchase SiteGround's higher value packages, you are able to access more advanced features such as speed boosting, site staging, and even add collaborators to your website.
In contrast, GoDaddy also comes with a wide range of features for your website like free While-Label Clients, dedicated support, pre-installed Got, and access to more server resources. In fact, GoDaddy is not only a hosting provider but also they are a perfect place to get your favorite domain and build your website. At present, GoDaddy's hosting plans are packed with a free domain and a fairly excellent website builder, so you can get all services from one provider.
Performance
Performance is one of the most important factors that you should pay attention to when buying a web host for your website. Because a slow website can cause negative effects on your visitors' experience of your website. In addition, it also affects your website's ranking. Therefore, it is necessary to choose a hosting provider that offers maximum performance regardless of the type of website that you are hosting on it. Below we will compare the performance of SiteGround vs GoDaddy to help you figure out which one has a better performance.
| | | |
| --- | --- | --- |
| Locations | SiteGround server | Godaddy server |
| US(West) | 53ms | n/a |
| US(East) | 1ms | 223ms |
| London | 224ms | 277ms |
| Singapore | 646ms | 270s |
| Sao Paulo | 276ms | 340ms |
| Bangalore | 748ms | 317ms |
| Sydney | 589ms | 282ms |
| Japan | 729ms | 174ms |
We used the GTmetrix tool to test our website's loading speeds after using both hosting providers. The result shows that GoDaddy seems to be slightly faster than Siteground in terms of performance. While GoDaddy only takes a maximum of 340ms to load on any location, SiteGround needs up to 748ms to load, which is almost twice as much as the time taken by GoDaddy.
Customer support
SiteGround
According to various surveys, the customer satisfaction rate of SiteGround is 98% and they have also received plenty of positive evaluations for its dedicated customer services. Currently, SiteGround offers 24/7 phone, support, live chat, and ticket-based support, so it is easy for you to make a call, send an email, or use live chat by creating a ticket. The enthusiastic and knowledgeable support team of Siteground will give you a lot of tips and effective solutions to handle your issues quickly.
In addition, if you use the GoGeek plan, you are automatically connected to professional technicians of Siteground that will help you tackle your difficulties without effort. Another good point of the support team is that they have a friendly, helpful, and great attitude. In other words, they always address customers' issues with utmost care. As a result, they can build good relationships with their clients.
GoDaddy
In case you need assistance, you can reach GoDaddy via live chat or phone. However, there is a pity that the customer service of Godaddy is worse than you expect. We conducted a survey about the customer service quality of Godaddy and the results show that the vast majority of users are not satisfied with their support team. First of all, the support team of Godaddy wastes your hours resolving your issues, even a tiny problem.
Another disappointment we would like to mention is that GoDaddy's live chat support is so darn unreliable. Some customers said that they frequently met with a "connection unavailable" error once they tried to access the live chat service of GoDaddy.
Pricing plans
SiteGround
Godaddy

Startup: Start at $19.99/a month
GrowBig: Start at $29.99/a month
GoGeek: Start at $44.99/a month

Basic: $9.99/a month
Deluxe: $14.99/a month
Ultimate: $19.99/a month
Ecommerce: $24.99/a month
Let's look at the pricing comparison table above, we have to admit that the price of GoDaddy is slightly cheaper than SiteGround.
Moreover, both SiteGround and GoDaddy provide you with a 30-day money-back guarantee, so there is a low risk of getting tied into a contract if their services are not satisfied with your requirements.
Pros and cons
SiteGround
Pros
Cons

Impressive Page Load Times
Excellent support for WordPress user
Special services designed for WordPress website
Free CDN Service
Daily backups and restore
Affordable price and a 30-Day, Money-Back Guarantee
Free Website Transfers
Ecommerce Features Included
Proactive Server Monitoring
Automatic WordPress Plugin Updates
Free CloudFlare CDN

Low & Limited Web Storage for Websites
Higher Renewal Costs
No free domain
GoDaddy
Pros
Cons

Strong uptime rates
Fast loading speed
Easy to install and configure
Data Centers are placed In 3 Major Regions
Bandwidth is not limited

Basic features not included
Customer support is bad
Not many functional freebies
High Renewal Fees
Not-So-Guaranteed Money Back Guarantee
SiteGround Vs GoDaddy: Which hosting is better?
In general, SiteGround vs GoDaddy has its own strengths and shortcomings. However, from our personal standpoint, we think that GoDaddy slightly overshadows SiteGround in terms of diverse features. In the premium plans of GoDaddy, you can unlock plenty of excellent, all-in-one features for hosting, website building, domain registration, and much more.
On the other hand, Siteground has a lot of better aspects compared to GoDaddy such as the quality of customer support, daily backup, and restoration. One of Siteground's significant disadvantages is that its performance is weaker than Godaddy's. While GoDaddy also provides users with a wide range of hosting options from shared hosting to VPS and dedicated, SiteGround only offers shared hosting.
To sum up, you should choose a hosting provider that is suitable for your website's requirements. We definitely recommend using SiteGround for WordPress websites. Because SiteGround comes with many necessary features that are designed for WordPress websites such as one-click installation, automatic updates, and plenty of advanced features. In addition, the support team of SiteGround is dedicated, and friendly, so they will support you in handling various troubles related to WordPress.
And what's your point of view? Which is your favorite hosting provider? Let us know your favored solution by leaving a comment below. Hopefully, our SiteGround vs GoDaddy blog gave you useful information that contributes to your right decision.
Moreover, you can drop by our website to discover a wide array of stunning, eye-catching, free WordPress Themes that help you quickly achieve a beautiful website without touching any line of code.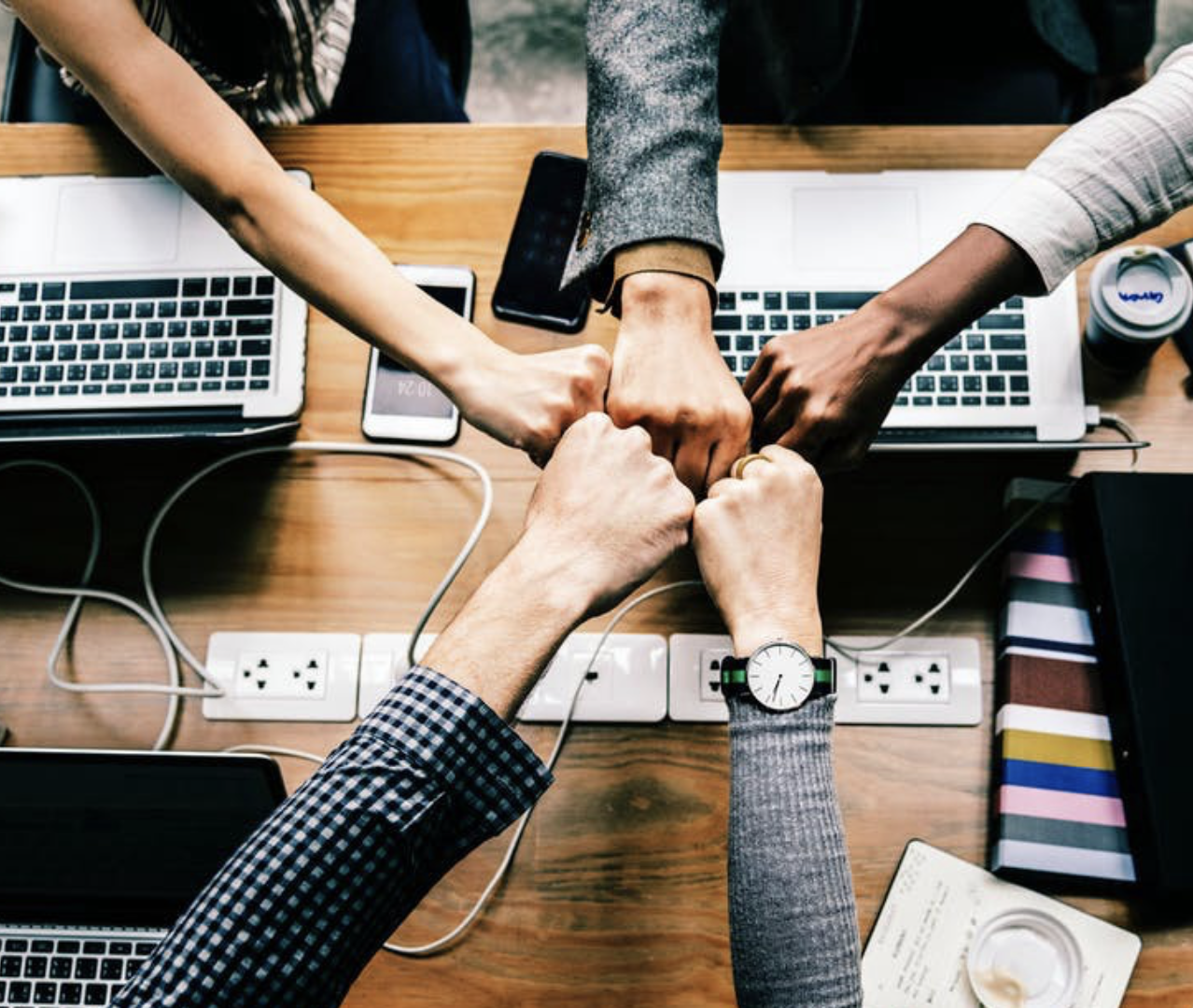 Hello everyone! We're Galussothemes content team, we love to write new blogs for WordPress everyday! Galusso Content Team is a part of IT4GO – The company houses talented young people who hold a strong passion for website development, designing, and marketing.