Are you looking for a reliable web hosting service but don't know which one to choose? If so, you've come to the right place! In this blog post, we'll be comparing two of the most popular web hosting services, Bluehost vs Hostinger, to help you decide which one is best for you. We'll be looking at features, pricing, customer service, and more, so you can make an informed decision. So, let's get started!
Introduction
In the world of web hosting, Bluehost and Hostinger are two popular hosting providers that offer a range of features and benefits for website owners. Both hosting providers have their own strengths and weaknesses, making it important to compare and contrast them to determine which one is the best fit for your website.
In this blog, we will provide an in-depth comparison of Bluehost and Hostinger in terms of pricing, performance, ease of use, customer support, and more. By the end of this blog, you will have a better understanding of the differences between these two hosting providers and be better equipped to make an informed decision for your website.
BlueHost Vs Hostinger: Background
Bluehost

Bluehost is one of the most prevalent web hosting providers that was founded in 2003 and is based in Utah, United States. It is one of the largest web hosting companies in the world, hosting over 2 million websites. Bluehost offers a wide range of hosting services including shared hosting, WordPress hosting, VPS hosting, dedicated hosting, and more.
One of the reasons why Bluehost is popular among website owners is due to its easy-to-use control panel and one-click installation process for WordPress, which is the most common content management system (CMS) in the world. Additionally, Bluehost also offers a wide range of tools and resources to help users build and manage their websites, including a drag-and-drop website builder, free domain registration, and marketing credits for search engines and social media platforms.
Bluehost also places a strong emphasis on security, offering features such as SSL certificates, SiteLock security, and automatic backups to ensure that their customers' websites are secure and protected from hackers and cyber threats.
In addition to its hosting services, Bluehost also provides excellent customer support through 24/7 phone, email, and live chat. The company has won numerous awards for its customer support and is known for its quick response times and helpful support agents.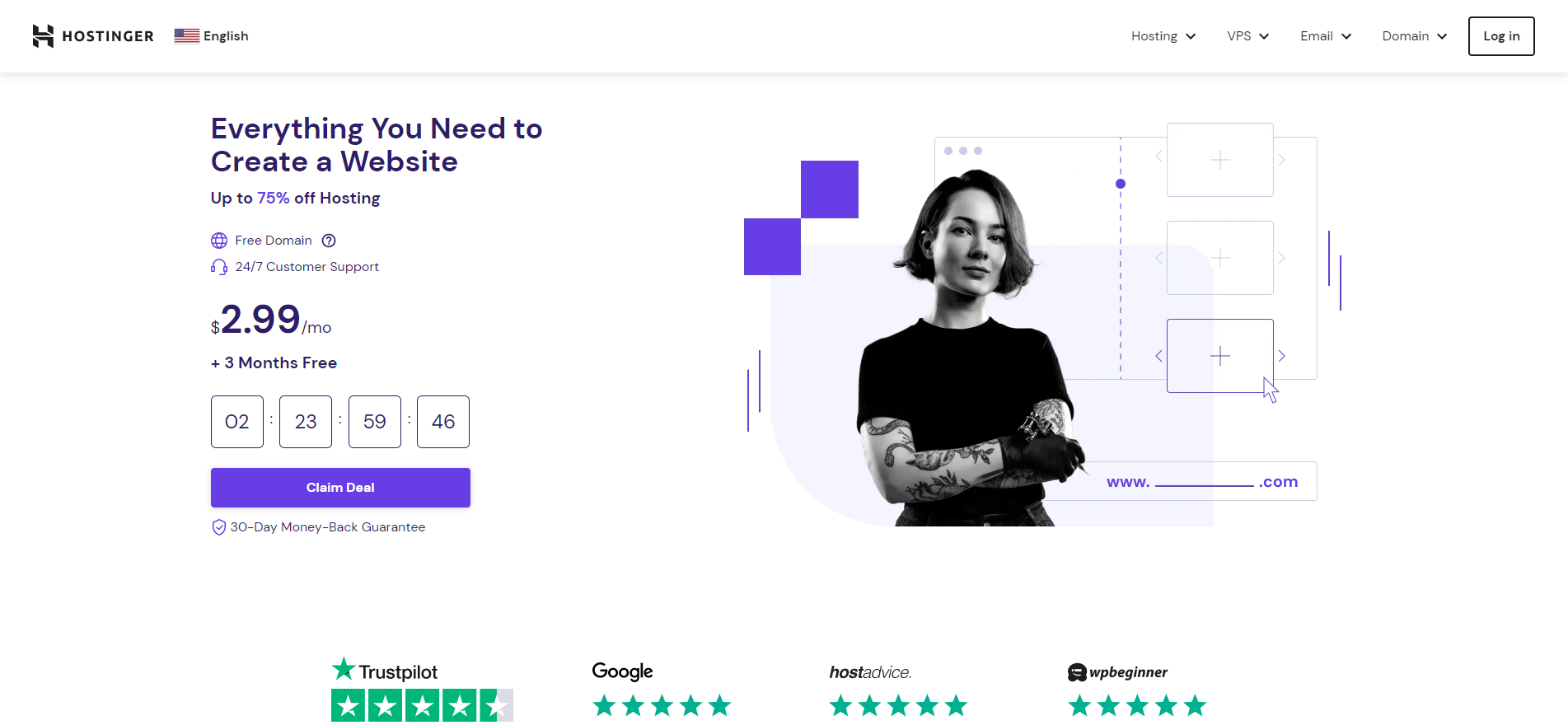 Hostinger is a powerful component of Bluehost that was founded in 2004. It has since grown to become one of the biggest hosting providers, serving millions of customers in over 170 countries. Hostinger's primary focus is on affordable hosting plans without compromising on quality. It offers shared, cloud, VPS, and WordPress hosting plans. Hostinger claims to have a 99.9% uptime guarantee and provides users with a free domain, SSL, and website builder.
Besides that, Hostinger places a strong emphasis on user experience, with a simple and intuitive control panel that makes it easy for users to manage their websites. It also offers a wide range of tools and resources to help users build and customize their websites, including a drag-and-drop website builder, free domain registration, and access to over 100 pre-built website templates.
Bluehost vs Hostinger: Types of Hosting
When it comes to comparing Bluehost and Hostinger, one of the most important factors to consider is the type of hosting each provider offers.
Bluehost
Hostinger

Shared hosting
WordPress hosting
Woocommerce hosting
VPS hosting
Dedicated hosting

VPS Linux hosting
Shared Web hosting
Cloud hosting
WordPress hosting
cPanel hosting
Minecraft hosting
CyberPanel hosting
On the one hand, Bluehost stands out from Hostinger with its dedicated hosting plans. On the other hand, Hostinger offers multiple cloud hosting plans to cater to different businesses. Both providers offer shared hosting and VPS hosting, with Bluehost also providing WordPress hosting.
Generally, the choice of hosting type depends on your business needs, budget, and technical expertise. While Hostinger may seem like a better choice with its more diverse range of hosting options, Bluehost's dedicated hosting plans may be more suitable for larger businesses with high traffic volumes. So, when deciding on a web host, be sure to weigh the advantages and disadvantages of each type of hosting to choose the one that aligns with your specific business requirements.
Price comparison
Bluehost and Hostinger are both well-known web hosting providers that offer various hosting plans at varying prices.
Bluehost's pricing starts at $2.95 per month for the Basic plan, which includes hosting for one website, 50GB of SSD storage, unmetered bandwidth, a free SSL certificate, and a free domain name for the first year. Their Plus and Choice Plus plans offer more features and resources, such as unlimited websites, unmetered SSD storage, unlimited domains, and more advanced security features. These plans cost $5.45 and $5.95 per month, respectively.
In contrast, Hostinger's pricing starts at $0.99 per month for the Single Shared Hosting plan, which includes hosting for one website, 30GB of SSD storage, 100GB bandwidth, and a free SSL certificate. Hostinger's Premium Shared Hosting and Business Shared Hosting plans offer more resources, such as unlimited websites, unlimited SSD storage, unlimited bandwidth, and daily backups. These plans cost $2.89 and $3.99 per month, respectively.
There is no denying that Hostinger has cheaper starting prices for their shared hosting plans compared to Bluehost(with shared hosting starting at just $1.99 a month). However, the final cost depends on the features and resources needed for a specific website, so it's essential to compare the plans and features in detail to determine the most cost-effective option for your needs.
Bluehost vs Hostinger: Ease of use
It is obvious that both Bluehost vs Hostinger provides users with easy-to-use interfaces and user-friendly tools to manage their website. Here's a comparison of their ease of use:
Bluehost
Bluehost uses cPanel as its control panel, which is a popular and widely used hosting control panel that is easy to navigate and customize.
Bluehost also offers a custom dashboard that allows users to manage their hosting account, domains, email accounts, and other features.
The website builder is beginner-friendly and allows users to create professional-looking websites with minimal coding knowledge.
This hosting provider offers a 24/7 customer support team that is available to help with any technical issues or questions.
Hostinger
Hostinger uses its own custom control panel that is straightforward and easy to navigate.
The interface is user-friendly, and the dashboard is well-organized and easy to use, making it ideal for beginners.
This hosting provider also offers a drag-and-drop website builder, which is a great tool for users who don't have experience in coding or web development.
Hostinger has a knowledge base and support team available 24/7 to help users with any questions or issues they may encounter.
When it comes to ease of use, Bluehost is the winner with a score of 4.5 out of 5, compared to Hostinger's score of 4.4. Bluehost is known for its simplicity and intuitive design, making it easy for beginners to navigate. Meanwhile, Hostinger provides a clean and modern dashboard that allows users to easily access features and settings. Finally, the ease of use depends on your preference and experience level.
Bluehost vs Hostinger: Performance
Website performance is critical to a website's success, and it is important to consider when choosing a hosting provider. A website's loading speed, uptime, security, and scalability are all impacted by the hosting provider you choose. A fast-loading website that remains available and secure can lead to a positive user experience, improved search engine rankings, and ultimately, greater business success. Therefore, it is essential to choose a reliable and high-performing hosting provider to ensure that your website performs well and meets your business needs.
In order to help you find a hosting provider that has excellent performance, we used the Pingdom tool to test the loading times of 2 websites, one of them using Bluehost and another using Hostinger. The results will be shown in the table below.
| | | |
| --- | --- | --- |
| Locations | Bluehost | Hostinger |
| Washington D.C | 2.75s | 0.829s |
| San Francisco | 2.86s | 1.06s |
| London | 3.43s | 0.484s |
| Sydney | 3.73s | 2.26s |
| Tokyo | 2.87s | 1.92s |
As you can see from the result in the above table, it is clear that Hostinger significantly offers faster loading times than Bluehost. Since Hostinger utilizes solid-state drives (SSDs) on their servers, which can deliver faster loading speeds compared to traditional hard disk drives (HDDs) used by Bluehost. Additionally, Hostinger offers a global network of servers, which can help reduce latency and improve website speed for visitors located in different regions.
With regard to uptime, both Bluehost vs Hostinger offers impressive uptime guarantees. Bluehost offers a 99.9% uptime guarantee, whereas Hostinger offers a 99.99% uptime guarantee. This means that both hosting providers are reliable and can ensure that your website remains available and accessible to users.
When comparing the security, both hosting providers have robust security measures, so they have the ability to protect your websites from malware as well as other security threats. Additionally, Bluehost is packed with free SSL certificates, which can assist you to secure your website and keep your sensitive user data safe. On the other side, Hostinger supports plenty of security features, such as DDoS protection, daily backups, and an AI-powered anti-spam system.
Customer support comparison
In this regard, both Bluehost vs Hostinger offer a wide range of support options such as live chat, phone, and knowledge base articles. Nevertheless, there are some differences in the quality of customer support that these hosting providers offer.
Bluehost is known for offering excellent customer support, with 24/7 phone and live chat support available for all customers. Moreover, Bluehost also offers an extensive knowledge base with helpful articles and tutorials to help customers troubleshoot common issues on their own. Additionally, Bluehost offers a ticketing system for customers with more complex issues that require further assistance. Thanks to that, you can handle your problems timely.
Hostinger also offers 24/7 customer support via live chat and email, but phone support is only available for higher-tier plans. It is also one of Hostinger's weaknesses because it may be difficult for users if they have an issue that needs immediate assistance and wants to contact a real person. However, Hostinger's knowledge base is extensive, with detailed articles and video tutorials to help customers with a range of issues. Furthermore, Hostinger also offers a community forum where customers can ask questions and get support from other users.
In terms of the response time of their support team, Bluehost has a faster response time compared to Hostinger. This may be important for those who need immediate help with a technical issue. Another point worth noting is language support. Bluehost's support team is known to be multilingual, offering assistance in different languages, whereas Hostinger mainly provides English language support.
Bluehost Vs Hostinger: Who is the winner?
Choosing between Bluehost vs Hostinger depends on your specific needs and budget. If you're looking for affordable and fast hosting, Hostinger is your best bet with lower starting prices and fast speeds. On the other hand, Bluehost offers superior VPS hosting and dedicated hosting options for those looking for more advanced features. Additionally, both providers offer good uptime and customer support, making them solid options for entry-level hosting. In the end, it's best to consider your specific needs and compare the pricing and features of both providers to make an informed decision that suits you.
Which is your favorite hosting provider? Let's show your point of view by writing down a comment below. We are happy to listen to your opinion. Hopefully, through our Bluehost vs Hostinger comparison blog, you can get more valuable information for your selection.
By the way, we are excited to introduce tons of stunning, responsive, SEO-friendly free WordPress Themes on our website. Don't hesitate to explore them.
If you want to compare Dreamhost vs Bluehost, you can read our blog to get an insight into them.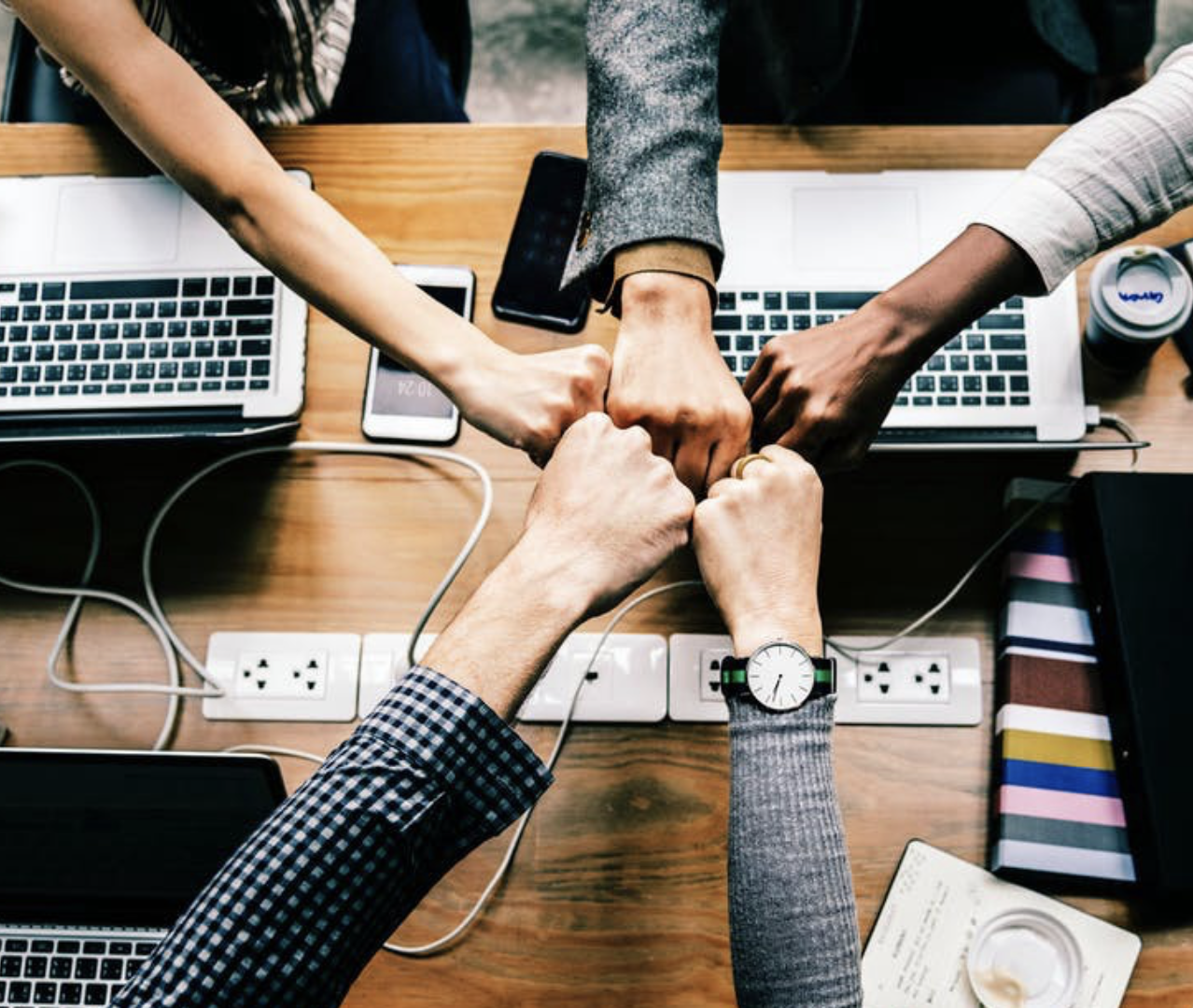 Hello everyone! We're Galussothemes content team, we love to write new blogs for WordPress everyday! Galusso Content Team is a part of IT4GO – The company houses talented young people who hold a strong passion for website development, designing, and marketing.