Supporting you to host auctions on your website easily by using WordPress Auction Plugin!
Why should you choose WordPress Auction Plugin?
Today, anyone can open an online store to do business and make money. However, the process is not as simple as many people think. If you don't use the right tools to drive the competition on your website, then your business will have a problem. Therefore, we will recommend for you the Top 9 Wonderful WordPress Auction Plugin In 2021.
Top Best WordPress Auction Plugin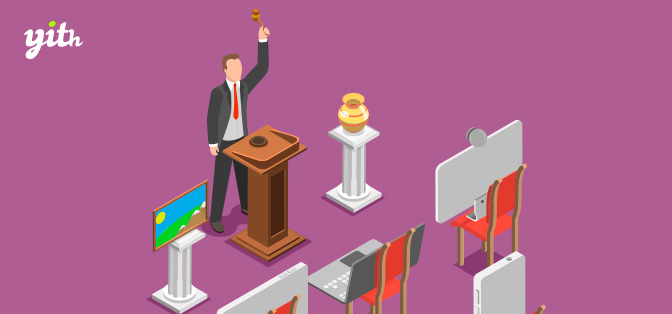 Firstly, we would like to suggest for you YITH WooCommerce Auction. Above all, this plugin is a member of WooCommerce family. Besides certain feature for a basic online auction, it also gives special useful functions for a successful auction business. So, you can see its features below.
Features:
Display the auction product right in the site
Set the start price and reserve price
Set date and countdown in product page
Complete view of bids for users
Automatic email for auction status
And more
Highlights:

The second plugin you need to experience is Auction Nudge. Instead of displaying your products on other auction sites like eBay, you can create your own one with this plugin. Besides, it lets you add your eBay profile to your website. Thus, famous and reputable accounts on there may find this plugin useful.
Features:
Show eBay account (list of products, feedback)
eBay category filter
Modify the layout with CSS or JavaScript
Highlights:
Highly customizable
Show up to 100 products on each page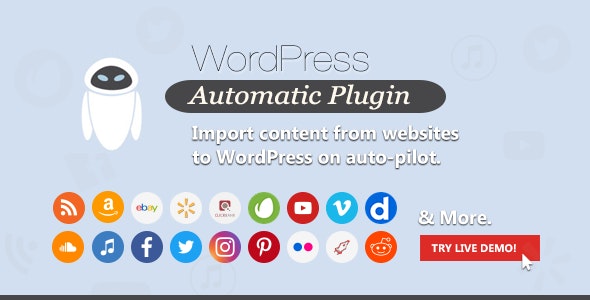 The third plugin you should try is WordPress Automatic Plugin. In other words, you can import everything from other website (eBay, YouTube, blog, etc.) to your own site. That's mean you can completely add your auctions on eBay then your site will update automatically. So, all you need is installing WordPress Automatic Plugin and it will do everything for you!
Features:
Auto post and price auctions from eBay by keywords
Realtime update
Product gallery
Highlights:
Time-saving
13 languages supported

Another choice for an online auction site is WP Auctions. Above all, this plugin supports you to run your business like eBay with basic and extend features without participation of third party. So that, you can keep your entire profit when users buy the products.
Features:
3 levels of security for auction area
Add the intitial price
2nd chance offers
Email notifications
Set date, time for each bidding
Image for auction
And more
Highlights:
Easy to set up and use
Responsive

Fifthly, WordPress Auctions Plugin is one of top suggestion for you. That is to say, you can choose one of different kinds of bidding. In addition, your clients have many shopping options so that they will get great experiences in your site.
Features:
Various type of auction (Raffle and seat, smallest unique bid, reserve,…)
Publish your app on mobile phone
Account for user
Certain aution tools (Start price, buy now price, reserve price, etc.)
Highlights:
Compatible with other themes
Regular support and update
Many gateway options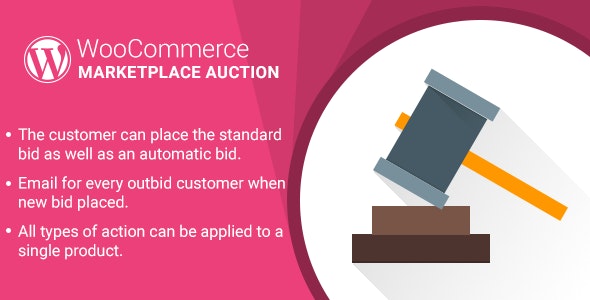 The next plugin that you shouldn't miss is WordPress WooCommerce Marketplace Auction Plugin. In other words, this plugin has all features of an actual auction site. So, you are able to set up the bids and users can customize to fit with their needs.
Features:
Ability to create 4 diffrerent types of auction for admin and sellers
New bid email to customers
Show or hide users and their price
Manual email noti when there's an outbid or when the big's end
Highlights:
User-friendly interface
Good support

Ultimate WooCommerce Auction Plugin is another plugin we want to mention. It's a simple and feature-rich enough for an auction page, with various fexible options. Furthermore, it assists you to manage your bid activities quickly and effectively.
Features:
Accounts for users when joining bids
Ajax Admin panel
Notify email to users about placing bids, payment alert,…
Set bid increments
Show bids in users' timezone
And more
Highlights:
Easy to set up
Nice support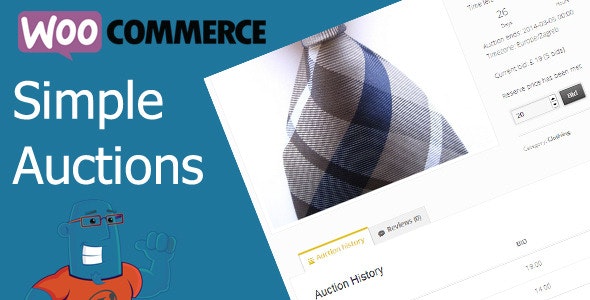 If you're seeking for a lightweight plugin to run your online auction business, then WooCommerce Simple Auctions is for you. That is to say, It has basic but crucial functions for an auction website. So, you can read its features below.
Features:
Tweak the start/reserve/buy now price
"Auction history" for products
Auction icon on product thumbnail
Ability to set starting and ending time
Editable email templates for notifications
Auction filtering and sorting
Highlights:
Plenty of flexible shortcodes
Useful

Finally, Woo Auction requires few minutes to install and it's easy to use. This plugin permits you to add many auction functions which work well with WooCommerce. Additionally, it contains a great number of widgets to make your auction work comfortable.
Features:
Set base price and deposit fee
Product status (old, new)
Notify users for bids, auction winners, auction activities,…
Set begin date and finish date
Ability to set time limit for winners to get the product
And more
Highlights:
Simple to use
Flexible options
Wrap Up
In conclusion, this is the collection of Top 9 Wonderful WordPress Auction Plugin In 2020. So, we believe that these plugins can support you and your site effectively. Moreover, you can have more engaging designs for your site with Free WordPress Themes here.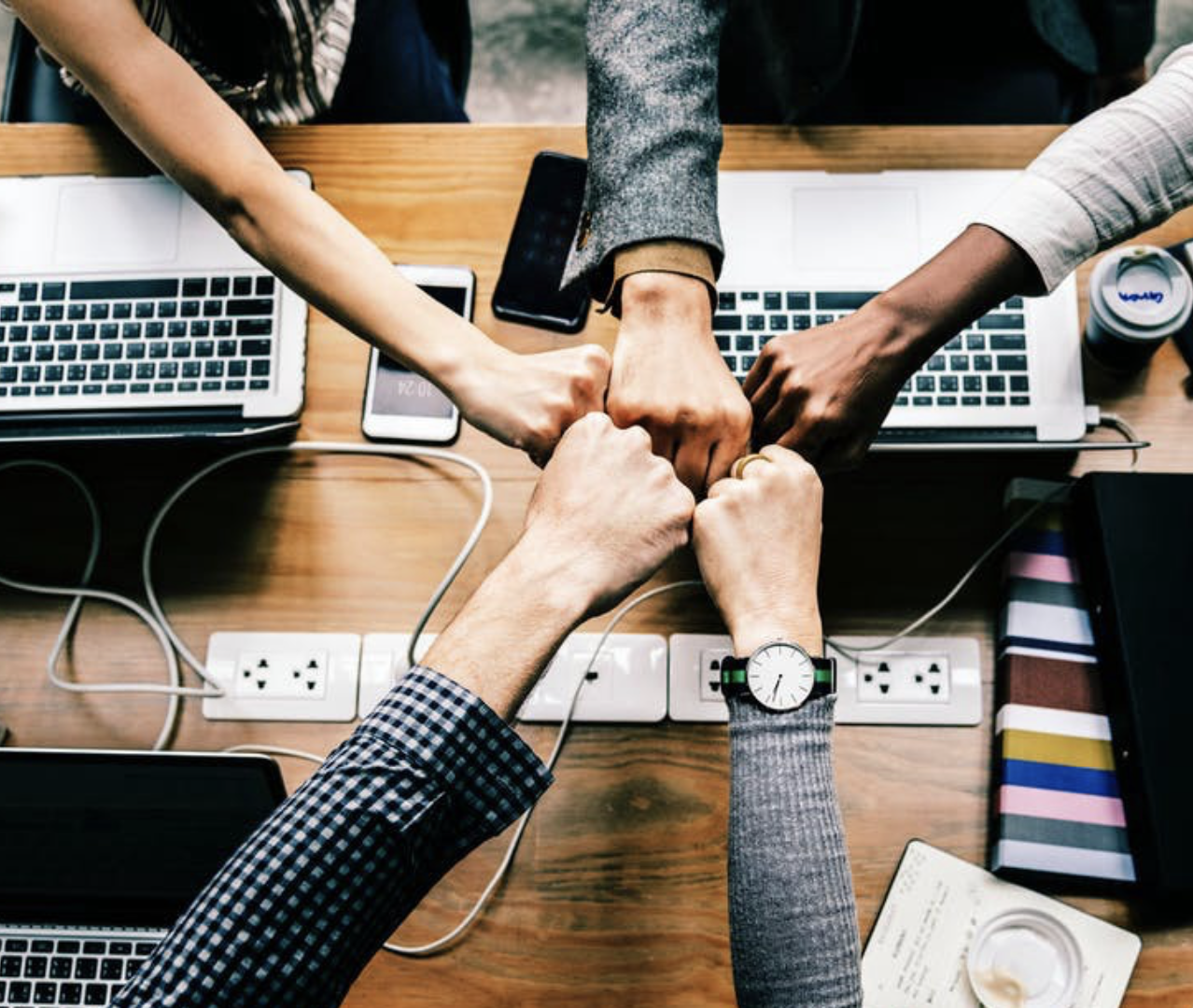 Hello everyone! We're Galussothemes content team, we love to write new blogs for WordPress everyday! Galusso Content Team is a part of IT4GO – The company houses talented young people who hold a strong passion for website development, designing, and marketing.