Honestly, it is difficult to start building a professional e-commerce website, especially when it comes to choosing the right e-commerce platform. With countless options available, it can be overwhelming to decide which one suits your business needs. In this blog post, we will be comparing two popular e-commerce platforms – Wix vs WooCommerce. Both have their own unique features and advantages, but which one is better for your online business? Read on to find out the key differences between Wix vs WooCommerce and make an informed decision on which e-commerce platform to choose.
How to choose the right e-commerce platform?
In the rapidly evolving world of e-commerce, having a robust and user-friendly platform helps you easily achieve the success of your online business. Two popular options that often come up in discussions are Wix vs WooCommerce. Wix is a comprehensive website builder that offers e-commerce functionality, while WooCommerce is a plugin for WordPress that transforms your website into a fully functional online store. However, which one is a better e-commerce platform? In this blog post, we will compare Wix vs WooCommerce in various aspects to help you determine which platform is better suited for your specific business needs.
Recommended WooCommerce themes:
Wix vs Woocommerce: General Infor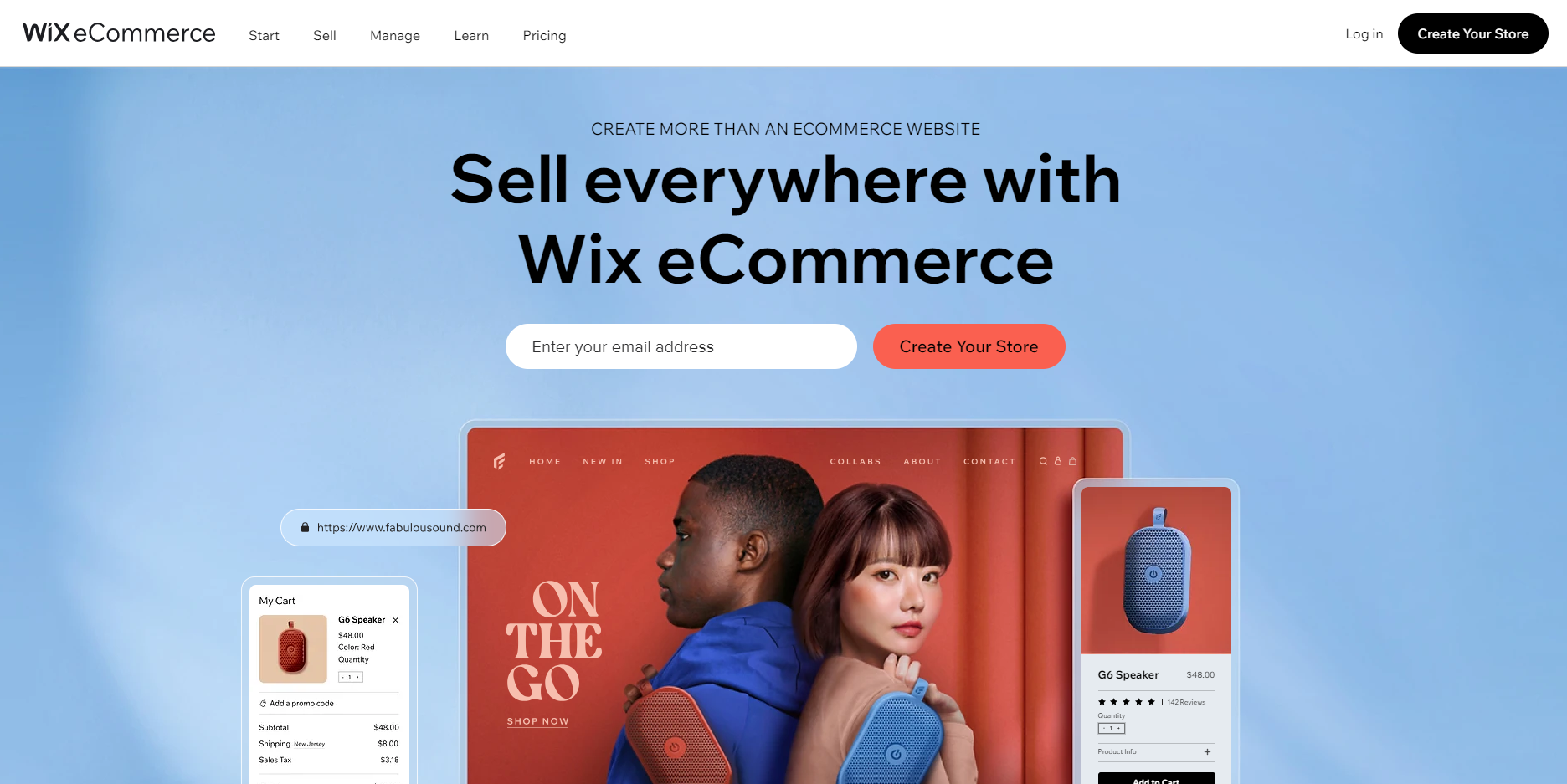 Wix is well-known as a website builder, however, it is also an all-in-one e-commerce platform that allows you to create a professional eCommerce website without technical knowledge or coding skills. Wix was founded in 2006 by Avishai Abrahami, Nadav Abrahami, and Giora Kaplan. It quickly gained popularity for its user-friendly interface, allowing individuals and businesses to create professional-looking websites quickly.
This platform offers a comprehensive suite of tools and features to help you easily showcase and sell your products and services effectively. Further, Wix seamlessly integrates into its website-building framework, so you can combine your online with other website elements such as blogs, portfolios, or business information pages. Notably, Wix is a hosted solution, so you can use its own hosting on cloud servers instead of using any external hosting plan.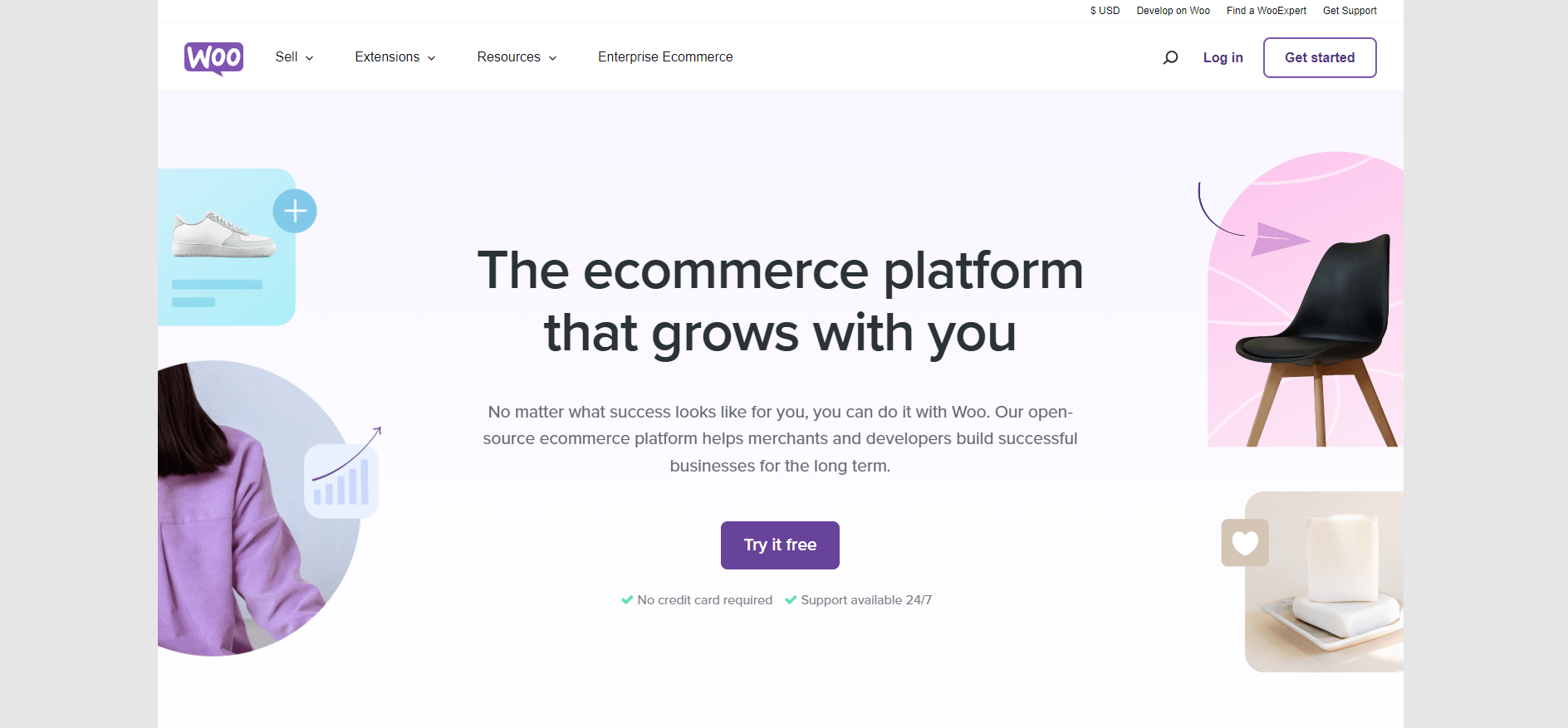 Woocommerce which is an open-source e-commerce platform built is another strong rival of Wix. Woocommerce was developed by Automattic, the same company behind WordPress.com, and was first released in 2011. It offers complete control and flexibility to create complex e-commerce websites. With WooCommerce, users have access to a wide range of features and functionalities, such as product management, inventory management, payment gateway integration, and more. Therefore, it becomes one of the most prevalent e-commerce platforms in the world.
Additionally, it integrates seamlessly with WordPress, leveraging its robust content management system capabilities and a vast library of plugins and themes. It also has a user-friendly interface to help you easily set up and manage your online stores efficiently. Especially, it is a free WordPress e-commerce plugin, so you can easily install it from the WordPress repository to create your online store.
Wix vs Woocommerce: Features comparison
Ease of use
When comparing Wix vs WooCommerce in terms of ease of use, it's important to note that they are different types of platforms serving different purposes. Wix is a website builder that offers an all-in-one solution for creating and managing websites, while WooCommerce is a WordPress e-commerce plugin, specifically designed for building and managing e-commerce stores.
Wix provides a drag-and-drop interface that helps users easily customize theirs by simply placing elements where they want them. Especially, it doesn't require users to have any coding. Hence, it is really useful for beginners. In addition, the process of getting started with Wix is also straightforward since you will get a short setup guide to help you learn the basics about the Wix platform as well as available options in the dashboard of Wix.
Besides that, the Wix editor allows users to see their changes in real time, so you can get a visual editing experience that simplifies the design process. Especially, Wix offers the Editor X which is specially designed for advanced web designers and developers who require more advanced features and capabilities. By using this editor, you can create complex website designs for any device without using code. Notably, it lets multiple users work simultaneously on the same without overriding people's actions. All users' changes will appear in the editor within seconds. Thanks to that, you are able to minimize conflicts and collaborate with other members effectively.
On the other hand, Woocommerce is a plugin for WordPress, which means you need to install WordPress first before setting up your WooCommerce store. Woocommerce has a much steeper learning curve and requires a bit more technical knowledge compared to Wix. Since you can have to learn how to build a website and run an e-commerce business as well. In addition, with its extensive range of plugins and themes, you have to take a lot of time to customize your store to meet specific needs.
However, after installing and activating the Woocommerce plugin, you will easily use Woocommerce since it integrates seamlessly with the WordPress dashboard. Further, Woocommerce also comes with a collection of useful tutorials to help you complete the process effectively.
Theme selection
Currently, Wix provides you with a collection of pre-designed templates that can be customized to create unique and professional websites. Wix's pre-built theme collection has over 800 templates across various categories, including over 100 available for e-commerce websites. Hence, you can choose one of them to start creating your own beautiful online website instead of building it from scratch.
Additionally, the Wix editor also gives you full control over the appearance of your site as you want. You are able to add, remove, rearrange sections, make changes to the layout, customize different page types, change the colors and much more.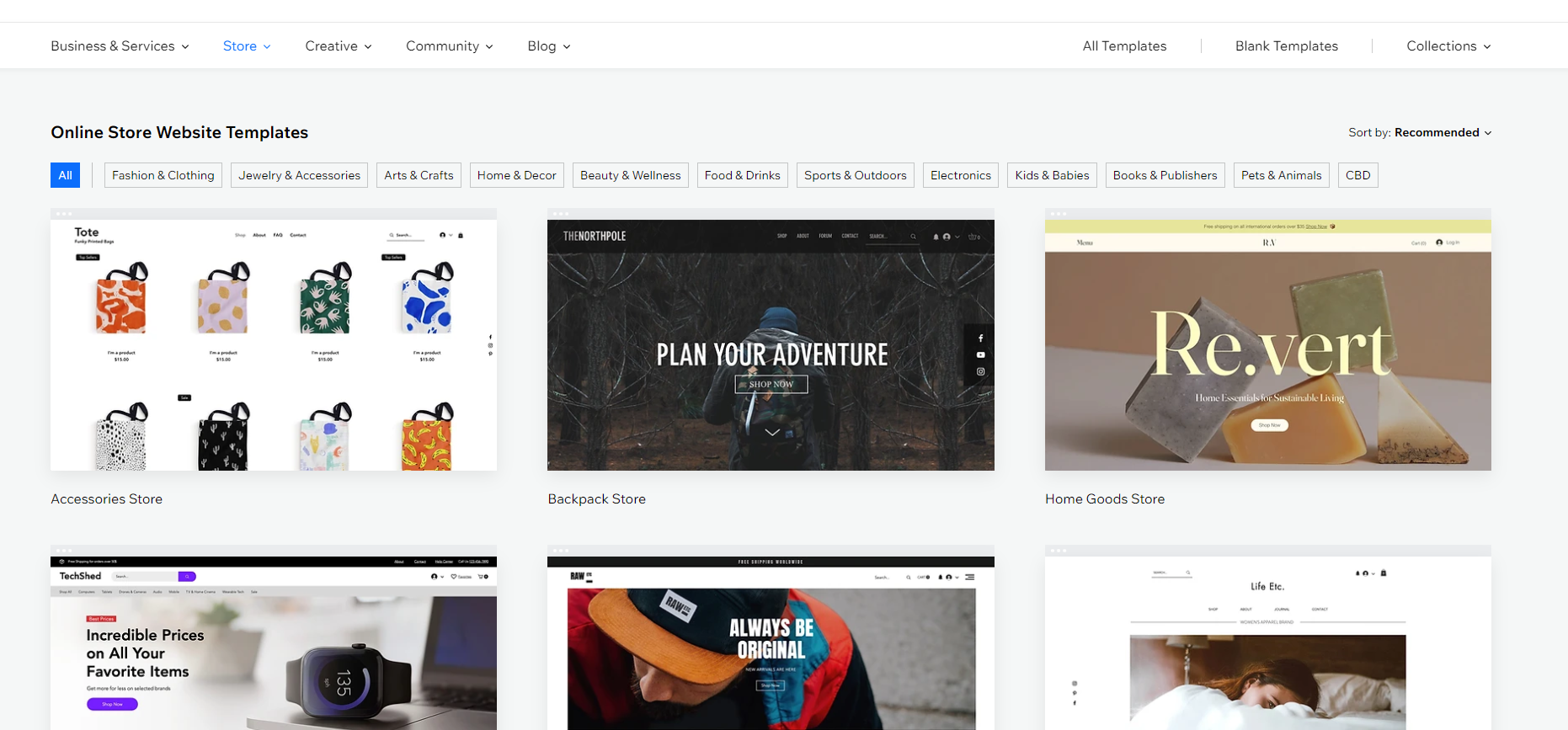 On the contrary, Woocommerce itself doesn't offer its own themes but this platform integrates seamlessly with WordPress. Hence, you can take advantage of the vast selection of themes available within the WordPress ecosystem, both free and premium. The WordPress theme directory alone contains over 7,000 themes, and numerous third-party marketplaces offer even more options.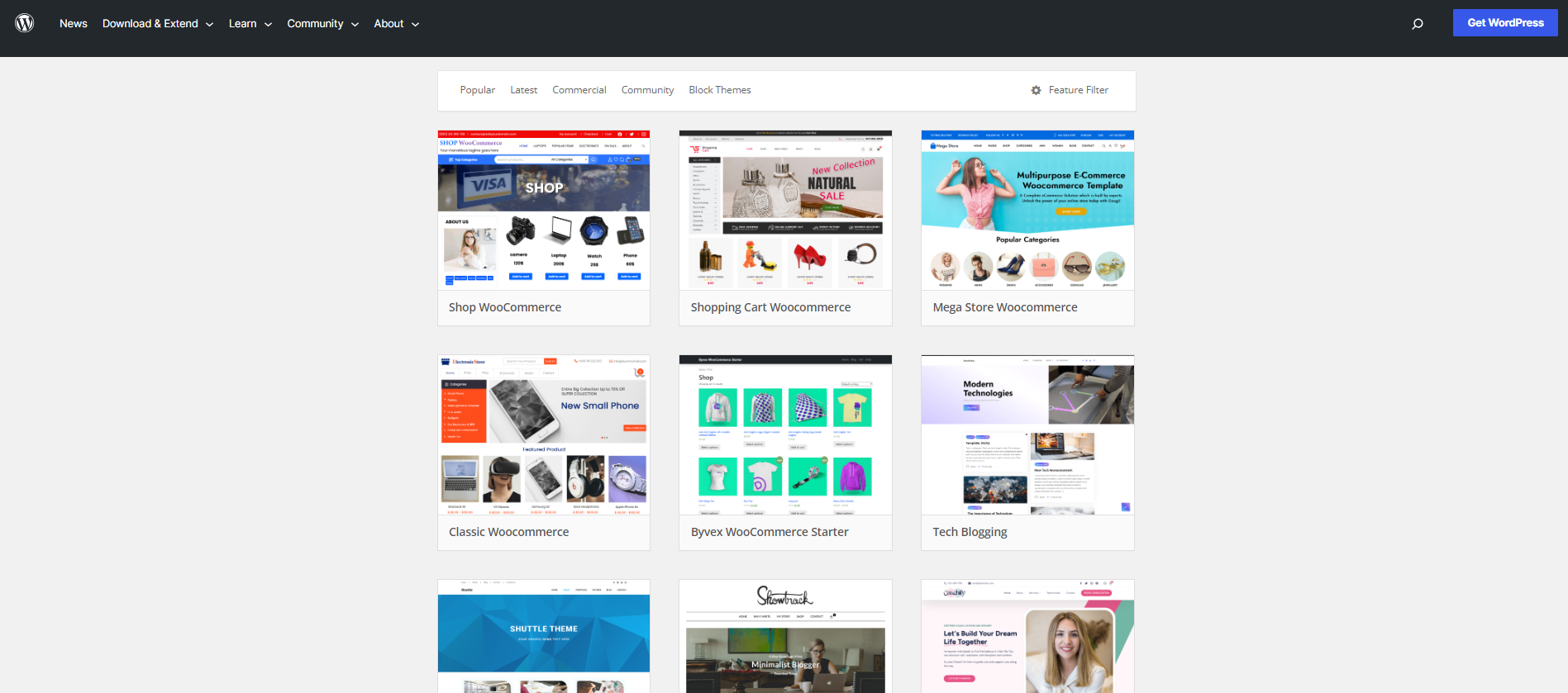 It is admitted that Woocommerce completely overshadows Wix in terms of the diversity theme section. However, a significant disadvantage associated with WooCommerce themes is that customization options may vary depending on the theme developer. This means that design options may be limited. Anyway, they also allow people with knowledge of HTML and CSS to access and customize themes to their liking using the source code.
Plugins and Apps integrations
Regarding third-party plugins and app integrations, there are outstanding differences between them.
On the one hand, Wix has a dedicated App Market that offers a wide range of third-party apps. This marketplace includes apps for e-commerce, marketing, bookings, social media, customer support, and more. Wix offers essential integrations with popular third-party services such as PayPal, Google Analytics, Mailchimp and much more.
Nevertheless, the number of available apps is less than the number of plugins available in the WordPress ecosystem. Besides that, you will get some limitations in terms of customizability and flexibility.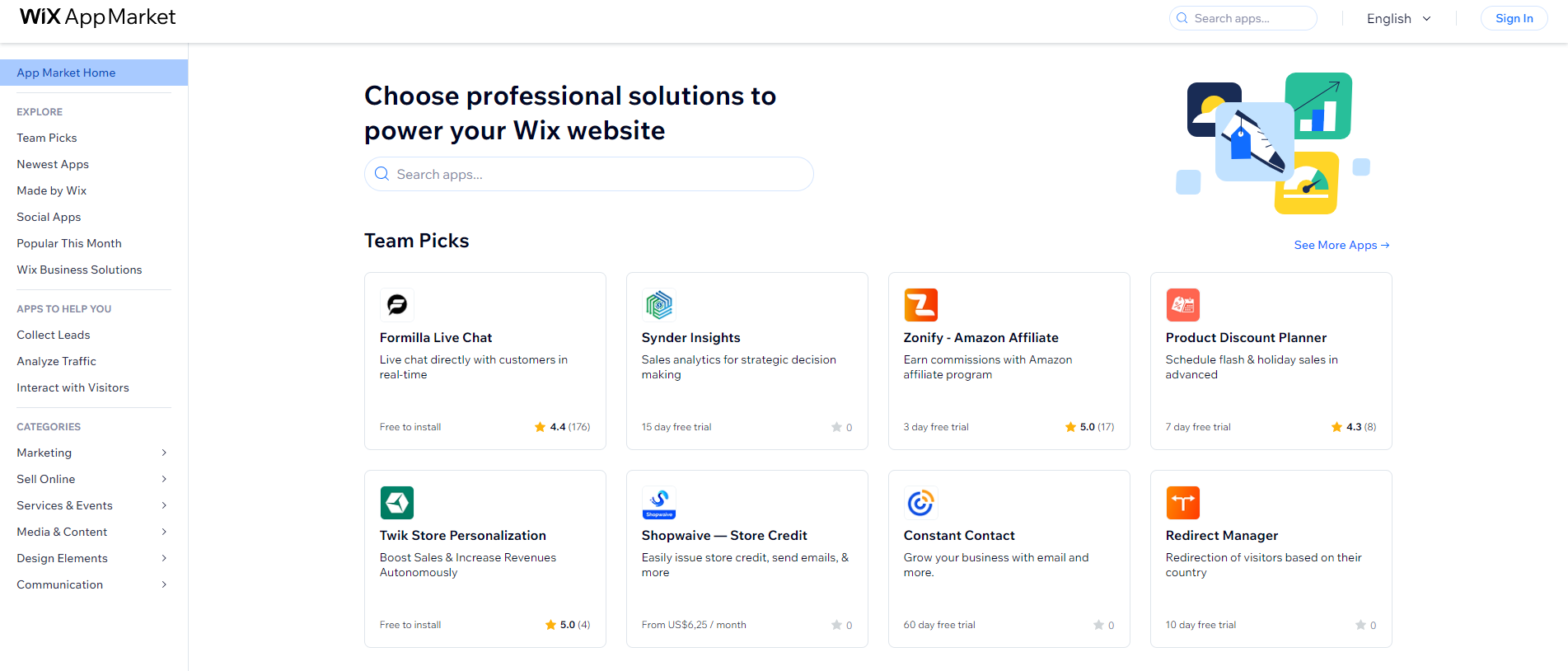 On the other hand, if you install the Woocommerce platform, you will have the opportunity to access a collection of over 60,000 plugins. These plugins will help you to extend the functionality of your WooCommerce store in various ways, including payment gateways, shipping options, marketing tools, inventory management, and much more.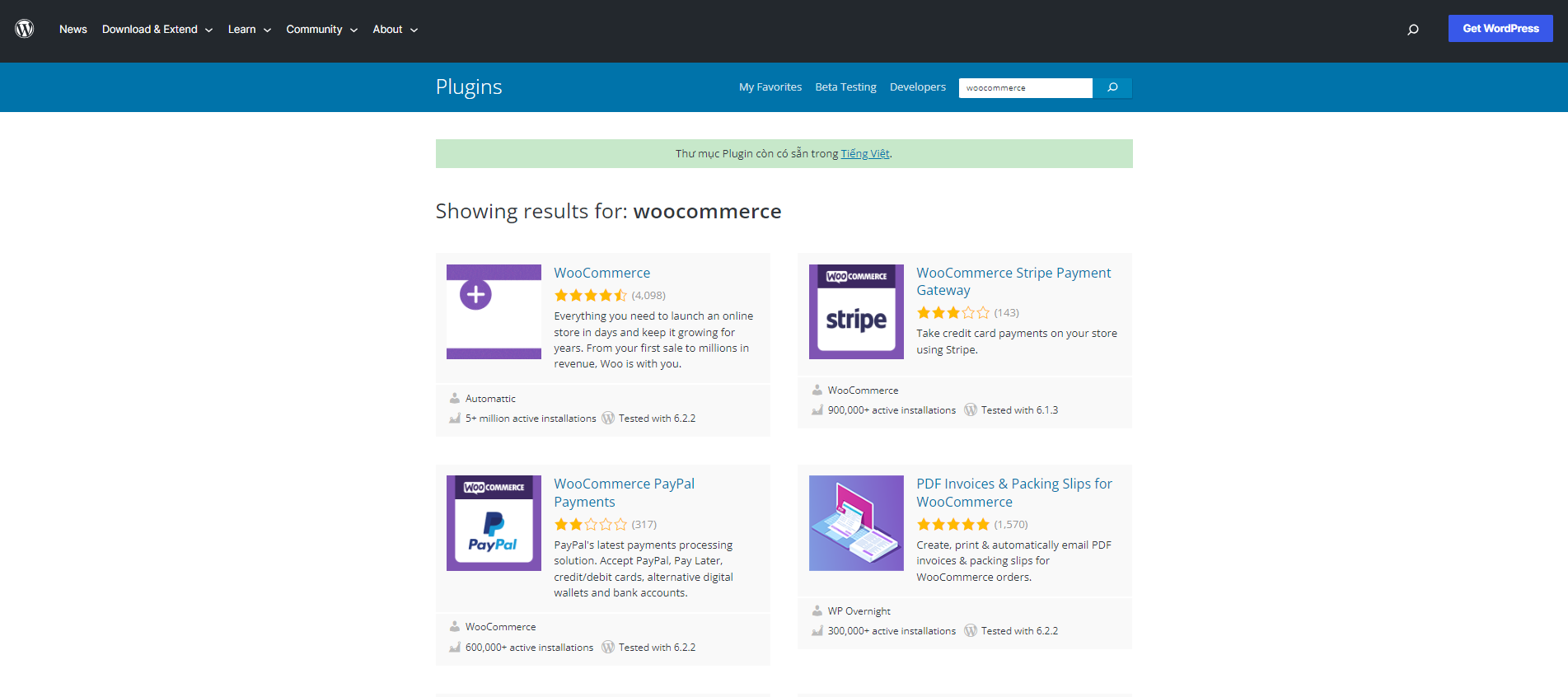 Furthermore, they also allow you to customize your store to meet your specific requirements and integrate with numerous third-party services and platforms. Last but not least, Woocommerce is a popular e-commerce platform, so it benefits from an active community of developers and users who regularly create and update plugins. As a result, you can easily find plugins that cater for your needs.
Scalability
As you know, Wix is a hosted website builder, which means your website is hosted on Wix's servers. While Wix does offer scalability, it has certain limitations. As your website grows and requires more resources, you might experience performance issues or need to upgrade to higher-tier plans to handle increased traffic. Additionally, Wix has a specific architecture and infrastructure that may not be as flexible for highly complex or custom requirements.
Whereas, WooCommerce operates within the WordPress framework, which provides excellent scalability. Since WordPress is an open-source platform, you have the flexibility to choose from a wide range of hosting providers to match your website's scalability needs. You can easily upgrade your hosting plan or migrate to a more powerful server as your store grows. Another notable advantage is that WooCommerce can handle small online stores, and it is also capable of supporting large-scale e-commerce operations with thousands of products and high traffic volumes.
Support
For new users, it's important to consider the level of assistance, response times, available channels, and overall customer satisfaction. Because a platform offering good customer support will help you handle your issues quickly.
Because of being a fully hosted platform, Wix offers 24/7 support through various channels including live chat, email, phone, and a comprehensive knowledge base. They also have a community forum where users can interact with each other and find answers to common questions. Moreover, Wix also provides step-by-step guides and tutorials to help users navigate the platform. Hence, Wix has received a lot of positive reviews for the quality of customer service. Besides that, some users have reported that it takes a lot of time to receive the assistance from support team for difficult and complex issues.
In contrast, the majority of Woocommerce's support relies on community support, official documentation and third-party developers. While direct and personal support from the Woocommerce team may be limited as it is an open source. The only way to get assistance is to buy a premium plugin or theme but you then only get support for what you bought, not the site as a whole. Nevertheless, you can still get plenty of useful guides available on the internet that will help you easily set up or do things within the platform. Further, there is a community forum on WordPress in which you can ask questions (just don't expect an immediate response) and also find answers to questions.
Wix vs Woocommerce: Pricing & Plans
Wix
Wix is a paid platform, so you need to purchase one of Wix's packages to use. At present, Wix offers three pricing plans for business and e-commerce websites including Basic, Unlimited, and VIP. The plans range from $17 to $35 per month. You can get a free domain and unlimited bandwidth for all e-commerce packages.
In addition, Wix also provides a 14-day trial for their business and e-commerce packages, as well as a free plan for life. However, the free plan has fewer features and does not allow for the use of the Wix Stores app on the visible portion of your website.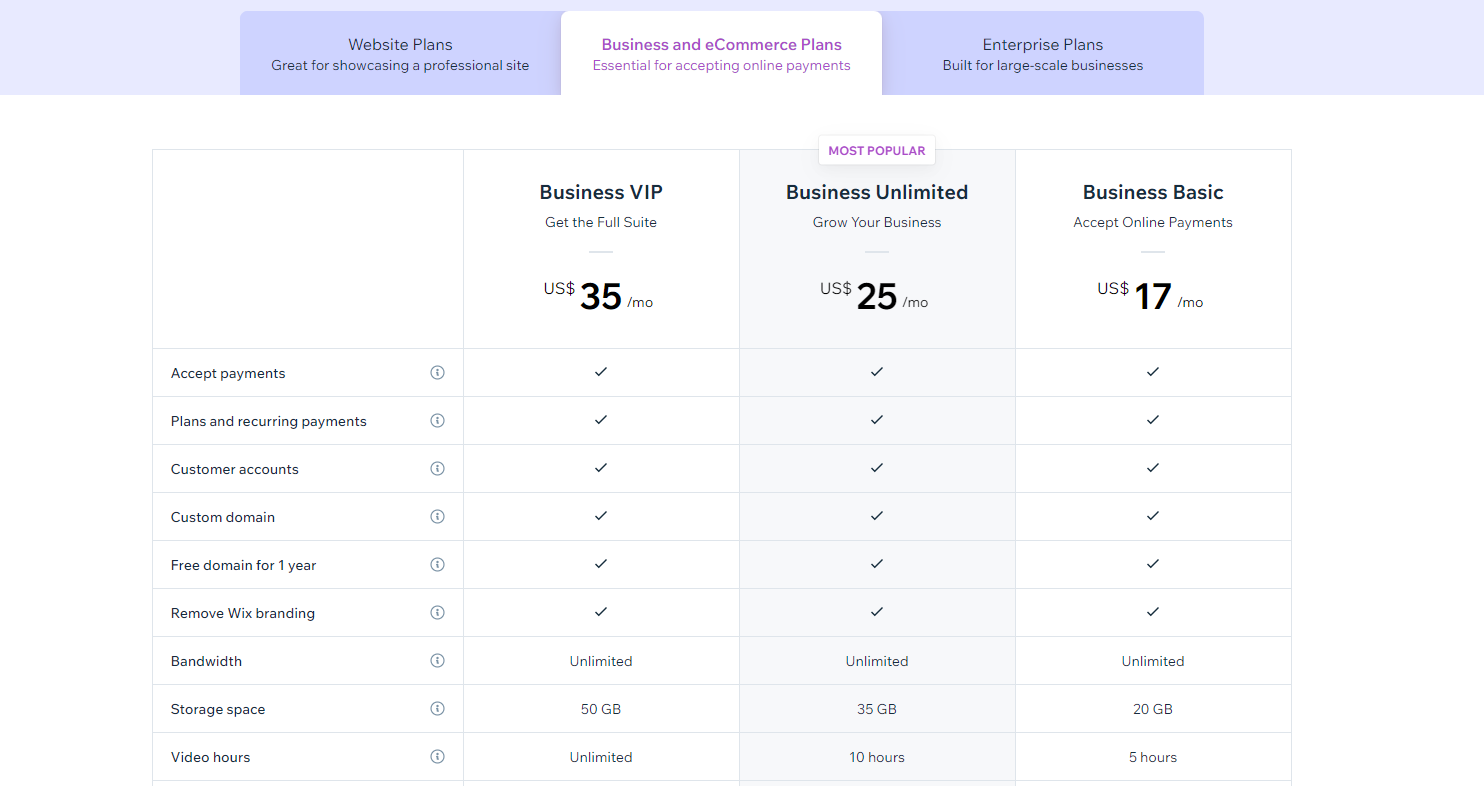 Woocommerce
With Woocommerce, the core plugin is completely free, but you need to consider the cost of hosting, domain, premium theme and plugins. It may cost you from a few dollars to thousands of dollars per month to maintain your hosting, and premium theme and use additional extensions, which depends on your requirements. Besides that, if you want to try out WooCommerce, you won't be given a free trial period. Instead, you'll need to purchase inexpensive hosting and install both WordPress and WooCommerce in order to determine whether or not it meets your standards.
Pros and Cons
Wix
Pros
Cons
Intuitive and drag-and-drop interface

Lots of help and support

200+ App integrations available

Easy to use

Templates not interchangeable

The free plan forces Wix branding

Premium Plans are single-site only

Ads on Free Plan

Depend on Wix as it is a hosted platform

Scalability Limitations
Woocommerce
Pros
Cons
Completely free and open source

100% customizable

Huge WordPress Community

Robust E-commerce Functionality

Wide Range of Integrations

Flexibility and Customization

Learning Curve

Additional Costs

Self-Managed Support

Responsibility for Hosting and Maintenance

Complexity for Non-Technical Users
Trendy WooCommerce themes that you must try, it's FREE!
Wix vs Woocommerce: Who is the winner?
To sum up, each platform has its own strengths and weaknesses, so the winner in this battle depends on your specific requirements. If you need a simple and easy-to-use website builder with basic e-commerce functionality, Wix can be a suitable choice. On the other hand, if you require advanced e-commerce features, extensive customization options, and a WordPress-based website, WooCommerce would be the better option.
What is your selection? Which one do you think is better? Let's discuss this with us by leaving a comment below. We always welcome your reviews.
By the way, if you are going to build an online website, don't miss a list of beautiful, free Ecommerce WordPress Themes on our website. Let's check them out.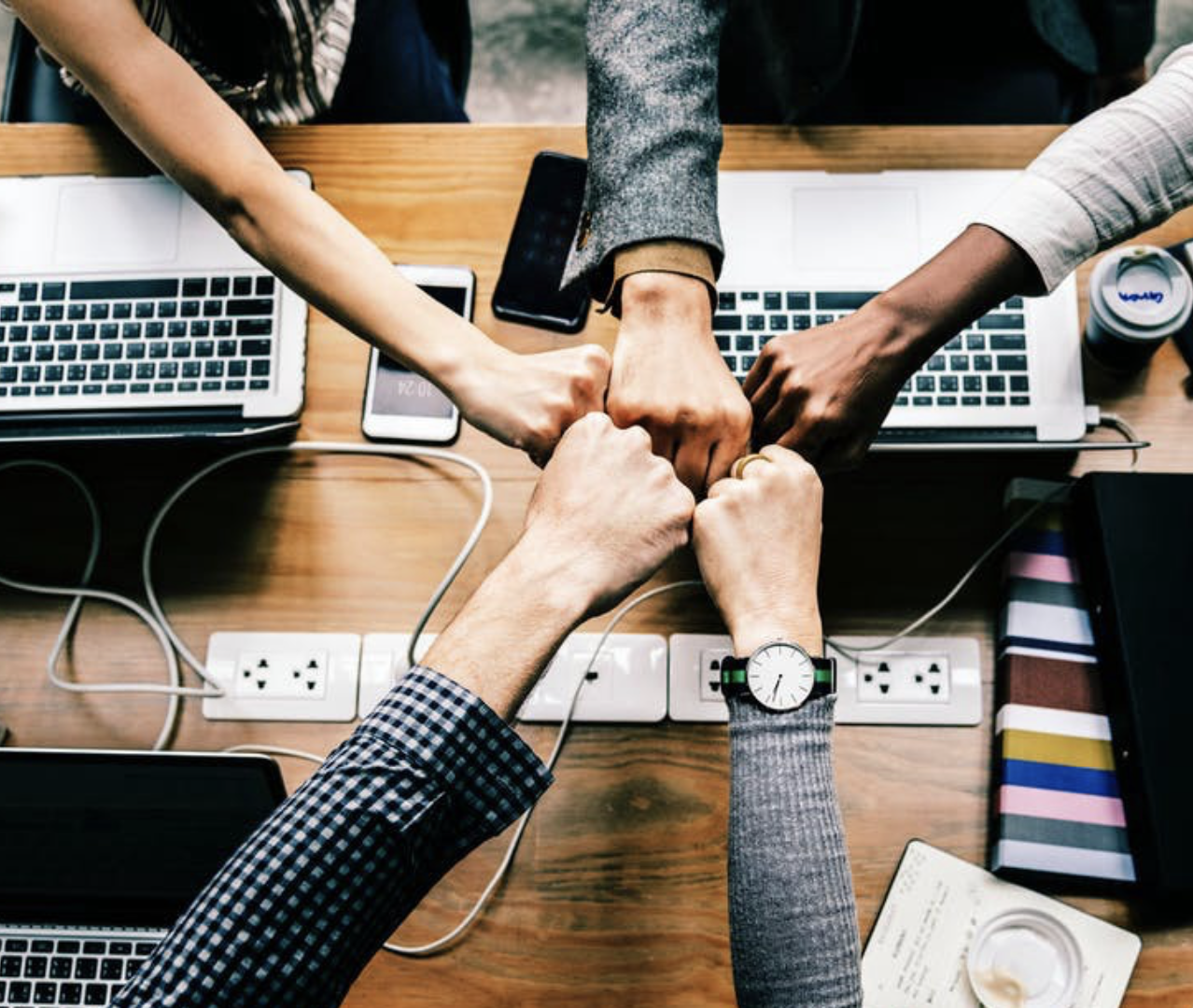 Hello everyone! We're Galussothemes content team, we love to write new blogs for WordPress everyday! Galusso Content Team is a part of IT4GO – The company houses talented young people who hold a strong passion for website development, designing, and marketing.