If you are looking for a perfect plugin that helps you optimize the speed and performance of your WordPress site, there are several tools and plugins available in the market. Two of the most popular ones are Nitropack and WP Rocket. Both these plugins work towards streamlining your website's performance, but which one should you choose? In this article, we will compare Nitropack vs WP Rocket and explore their features and benefits to help you make an informed decision about which one is right for your website. So, let's dive in and see what each of these plugins has to offer!
Introduction
In this blog post, the reader gets an introduction to two popular plugins for website performance optimization: NitroPack vs WP Rocket. The post also covers the common and different features and side-by-side comparison. NitroPack mainly focuses on improving page speed while WP Rocket enhances overall web performance by providing additional features. Both solutions provide caching and performance optimization.
By the end of this comparison, you should have a better understanding of the strengths and weaknesses of NitroPack vs WP Rocket and be able to make an informed decision about which plugin is right for you.
Let's get started with a closer look at the NitroPack vs WP Rocket comparison blog.
NitroPack Vs WP Rocket: General Background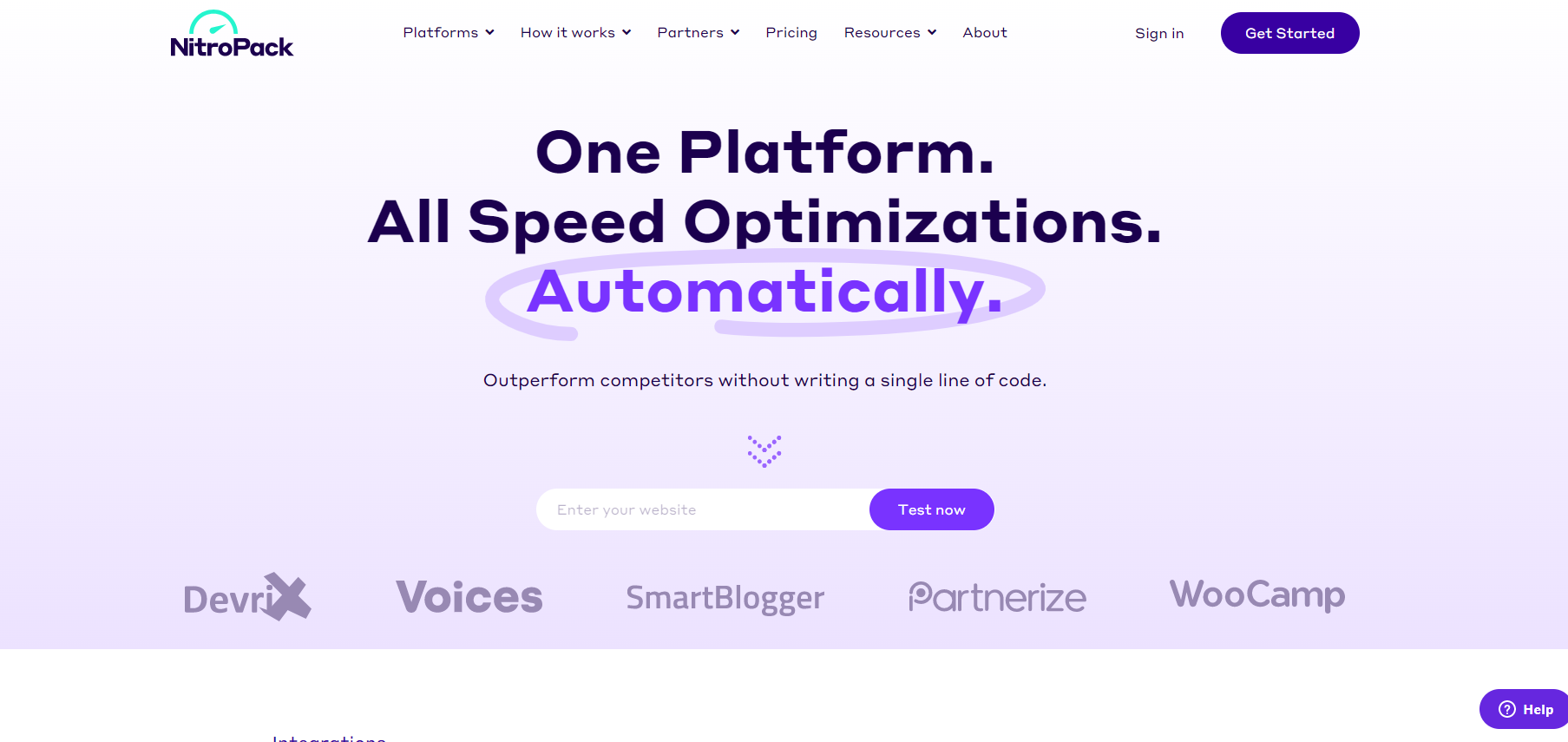 NitroPack is one of the most outstanding free optimization plugins that helps improve website speed and performance for better user experience and SEO ranking. It is a cloud-based service that uses advanced caching techniques and optimization algorithms to deliver lightning-fast website performance.
With NitroPack, you can accelerate your website by optimizing images, minifying HTML, CSS, and JavaScript files, lazy loading resources, and leveraging browser caching. NitroPack also uses CDN (Content Delivery Network) technology to distribute website content to users from the nearest server location, reducing latency and improving website speed.
The plugin is compatible with various website platforms, including WordPress, Shopify, and Magento, and it can be installed easily without any coding skills. NitroPack also provides real-time performance analytics and monitoring tools that help you track your website's performance and identify areas for improvement.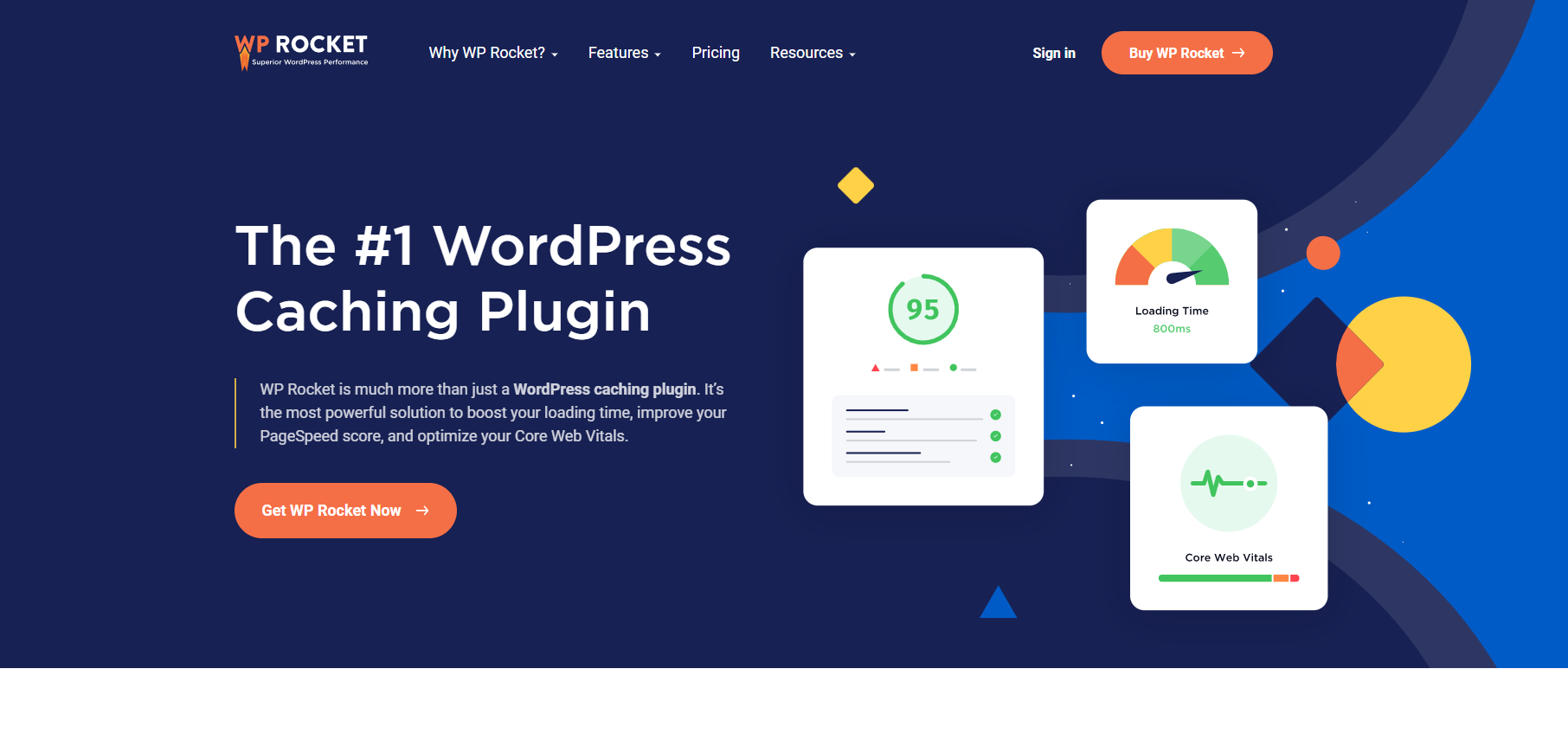 In contrast, WP Rocket is a premium caching plugin for WordPress that helps improve website speed and performance. It uses a variety of advanced caching techniques, such as page caching, browser caching, and object caching, to optimize website performance and reduce load times.
WP Rocket also includes plenty of robust features like minification of CSS, JavaScript, and HTML files, lazy loading of images and videos, and database optimization to further improve website speed. The plugin is also compatible with various hosting providers and CDNs, and it works seamlessly with popular WordPress plugins like WooCommerce and Yoast SEO.
The plugin is easy to install and use, with a user-friendly interface that allows you to customize and configure various settings to suit your website's specific needs. WP Rocket also provides real-time performance monitoring and optimization tools that help you identify and fix any issues that may be impacting your website's speed and performance. For more details, you can read our WP Rocket review blog.
Main features
Caching
Both NitroPack and WP Rocket offer caching features to speed up website load times. First of all, the biggest difference between Nitropack vs WP Rocket is that NitroPack utilizes server-side caching while WP Rocket uses client-side caching.
In addition, WP Rocket offers dynamic caching, cache preloading, and cache purging features, but it requires manual configuration.
In contrast, NitroPack's server-side caching approach can be more efficient since the cached files are served quickly from NitroPack's servers rather than being generated on the website's server for each user request.
Additionally, NitroPack offers dynamic caching and cache exclusion features, which allow users to exclude certain pages or sections of the website from caching, providing more flexibility and control. Furthermore, NitroPack's automatic cache purging ensures that the cache is cleared when the website is updated, which saves time and effort.
Especially, using NitroPack, you can enable the warm caching option, which prepares site pages even if they are not being loaded by users.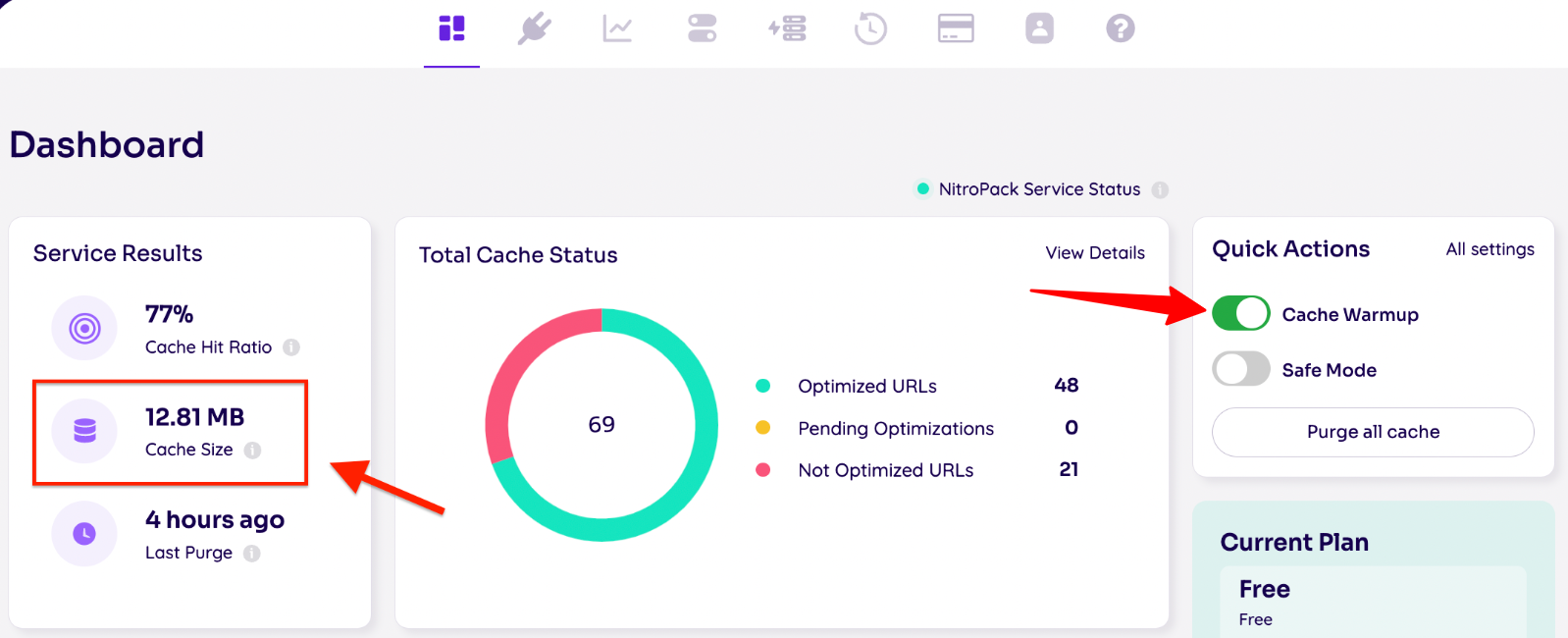 CDN
This is one of the most important features to help you improve your website's performance by storing your site content on multiple servers across the internet.
On the one hand, NitroPack offers its own built-in CDN powered by Cloudflare, which allows website files to be served quickly from servers around the world. This means that users don't need to configure a third-party CDN provider and can take advantage of NitroPack's seamless integration.
Additionally, NitroPack's CDN settings are easy to use and can be configured with just a few clicks. NitroPack also provides CDN analytics, which can help users track website traffic and performance.
On the other hand, WP Rocket doesn't offer a CDN built into it, but it has RocketCDN which is an add-on powered by StackPath. In addition, WP Rocket integrates with third-party CDNs such as Cloudflare and BunnyCDN, and all major CDN service providers, so you can use any of those if you prefer.
However, RocketCDN is a separate product from the WP Rocket cache plugin. As a result, you will need to purchase a monthly subscription, which costs $7.99/month – unlimited bandwidth.
Image optimization
Indeed, if your pages contain a lot of images that lead to heavy pages and slow loading time issues, then you need image optimization to handle this issue and improve your users' experience.
Luckily, NitroPack offers an automatic image optimization feature that compresses and resizes images to reduce file size and improve website speed. The optimization process is done on NitroPack's servers, which means that it doesn't use the website's resources.
Moreover, NitroPack also offers lossless and lossy compression options in its standard mode, as well as WebP support.
Plus, this plugin is packed with plenty of image resizing features, automatically, resizing image file sizes to fit their containers which assisted you to fix one of Google's page speed error messages.
On the contrary, WP Rocket does not have built-in image optimization or compression features, but this plugin integrates with third-party image optimization services such as Imagify and ShortPixel. This allows users to optimize their website images and reduce file size, which can improve website speed.
WP Rocket also offers lazy loading for images, which can improve website loading time by loading images only when they are visible on the screen.
Ease of use
It can not be denied that NitroPack offers a more straightforward and intuitive interface compared to WP Rocket, which may require more technical knowledge to configure. In addition, NitroPack's setup wizard makes it easy for users to get started, and its automatic optimization features eliminate the need for manual configuration.
Although WP Rocket's interface is also user-friendly, it is suitable for those who have a bit of technical knowledge to configure. Plus, its setup wizard is easy to use, but some of its optimization features may require manual configuration, which can be more time-consuming. WP Rocket also offers a more extensive range of features compared to NitroPack, which may make it more overwhelming for users who are not familiar with website optimization.
Preloading
In general, NitroPack vs WP Rocket offers similar preloading features for pages and images. NitroPack offers automatic and customizable preloading options for both pages and images. It can preload pages that are linked from the current page and can also preload images based on the user's browsing behavior. NitroPack's preloading options can significantly reduce page load times and improve website performance.
Similarly, WP Rocket also offers preloading features for pages, posts, and images. It can preload pages that are linked from the current page and can also preload pages based on user behavior. Moreover, this plugin provides sitemap-based preloading, which can improve page load times for search engines and users.
Nevertheless, WP Rocket's sitemap-based preloading and more extensive customization options may be beneficial for advanced users who require more control over their website optimization.
Compatibility
NitroPack is compatible with a wide array of tools, platforms, and content management systems such as WordPress Magento, Shopify, and Opencart. Besides that, this plugin also works well with various hosting providers and server configurations, making it a versatile optimization solution for different website setups.
WP Rocket also works well with most WordPress themes and plugins. However, it may not work with some more complex website setups or custom themes. WP Rocket also requires a compatible hosting provider, as some hosting providers may not allow certain optimization features.
Pricing plans
Here's a side-by-side comparison of NitroPack vs WP Rocket in terms of their pricing plans. Now, let's check a look at the pricing plans of NitroPack in the screenshot below.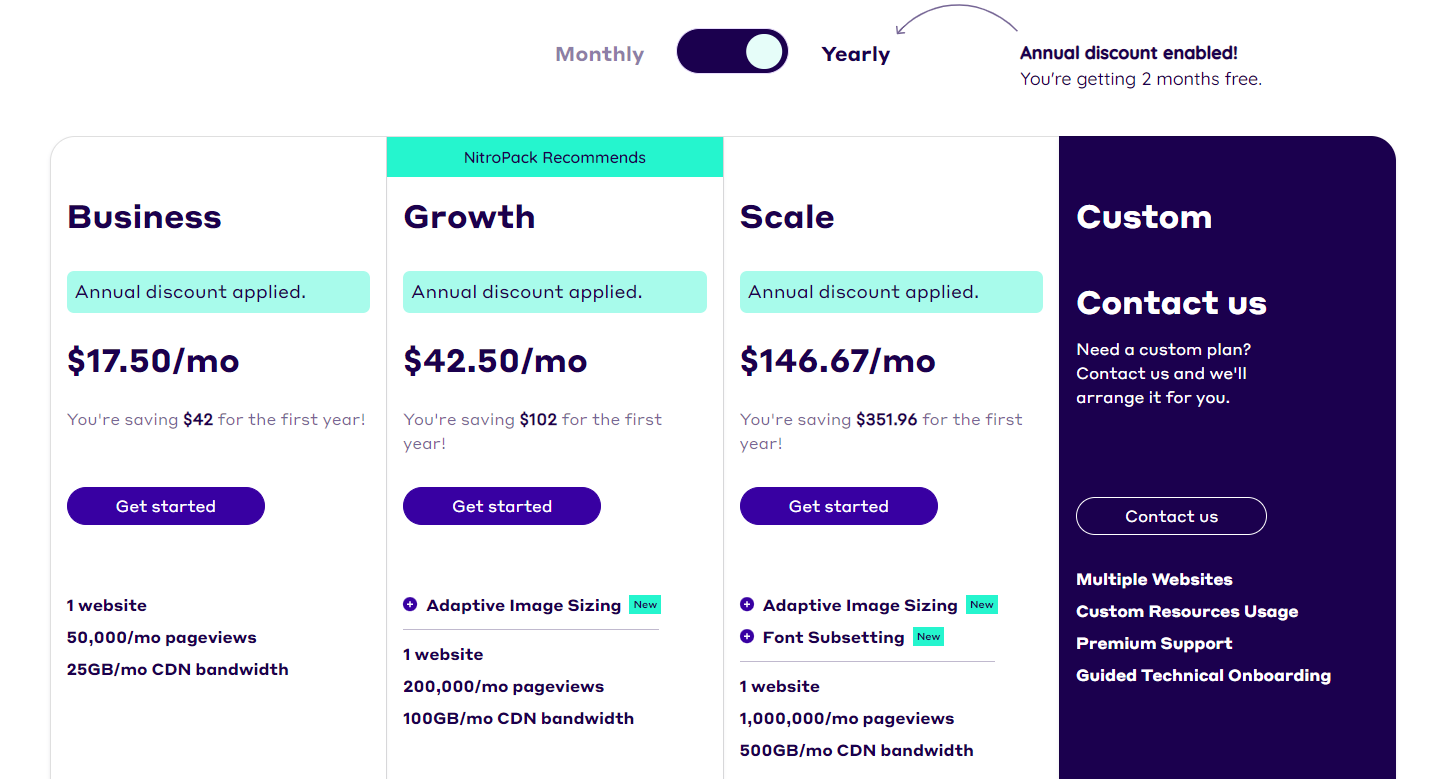 Here is what you will pay for Rocket:

In terms of pricing, WP Rocket has a one-time fee that starts at $59 for a single website license, whereas NitroPack has a subscription-based pricing model that starts at $21 per month for a single website. The pricing for both plugins varies depending on the number of websites and monthly page views.
WP Rocket offers a 14-day money-back guarantee, whereas NitroPack offers a 14-day free trial and a 30-day money-back guarantee. WP Rocket also includes one year of support and updates with purchase, while NitroPack offers ongoing support and updates with their subscription model.
Although WP Rocket does not offer a free version, the pricing plans of WP Rocket are cheaper compared to Nitropack. Additionally, WP Rocket's pricing is more straightforward and affordable, while NitroPack's pricing can quickly scale up, especially if you want to optimize many pages.
Ultimately, both NitroPack and WP Rocket offer flexible pricing plans that cater to different types of users, so it's up to you to decide which pricing plan best suits your needs and budget.
Customer support
The quality of customer support is a crucial aspect to consider when choosing a website optimization plugin between NitroPack vs WP Rocket. As with any software product, users may encounter technical issues or have questions about how to use the product effectively. In these situations, having access to timely and helpful customer support can be essential to ensuring that the product works as intended and that users can achieve their optimization goals.
NitroPack provides you with several customer support channels including email, live chat, and a knowledge base. Additionally, the enthusiastic team of NitroPack also provides personalized assistance to users who need help with setup or technical issues.
WP Rocket also offers the same support system as NitroPack. Further, this plugin provides a ticket-based support system and knowledge base that are sufficient for users who have some technical knowledge and prefer to troubleshoot issues independently.
What's more, both NitroPack vs WP Rocket has active user communities and support forums where users can ask questions and receive help from other users. These communities can be a valuable resource for users who want to learn more about the product and optimize their website performance.
Pros and Cons
NitroPack
Pros
Cons

Good CDN
Automatic optimization for HTML, CSS, and JS
Comprehensive image optimization toolset
Tons of minor tweaks to improve site speed and pass CWV.
More page speed equates to more conversions.
Less cost for high-speed hosting/CDN
Support eCommerce plugins such as WooCommerce or Magneto
It helps in passing CWV and better ranking

Some settings are too aggressive and may conflict with other plugins
Customer Support is not impressive
Audit tools show issues, but you can tweak them to adjust
Bandwidth outrage for larger sites
WP Rocket
Pros
Cons

Easy to install and configure
Automatically configure best practices for page speed improvements
Excellent support and useful documentation
14-Day – Money-back guarantee
WordPress Database Optimization
Google Fonts optimization helps you minimize HTTP requests

WP Rocket's preload bot can cause CPU overload on some (shared) servers
No free-trial period
Manual download
NitroPack Vs WP Rocket: Which one should you choose?
After comparing NitroPack and WP Rocket, it's safe to say that both plugins have their strengths and weaknesses. NitroPack is very focused on improving PageSpeed scores with aggressive settings, while WP Rocket is designed to improve overall website performance.
Generally, they both offer similar caching and optimization features, but NitroPack has a more comprehensive all-in-one approach. When it comes to file and code optimization, WP Rocket offers more customization options. We highly recommend using WP Rocket, if you are looking for a solution that gives you faster web pages, and a better user experience. On the contrary, NitroPack is a perfect choice for users who have a tight budget. If you don't satisfy with WP Rocket, then you can refer to the list of WP Rocket alternatives.
Ultimately, the choice between NitroPack and WP Rocket will depend on your specific needs and preferences. It's important to weigh the pros and cons of each to make the right decision for your WordPress website. If you have had your selection, let's share your opinion about your favorite plugin in the comment section below.
By the way, we would like to introduce plenty of stunning, free WordPress themes on our website. If you want to change your website's look, don't miss our website.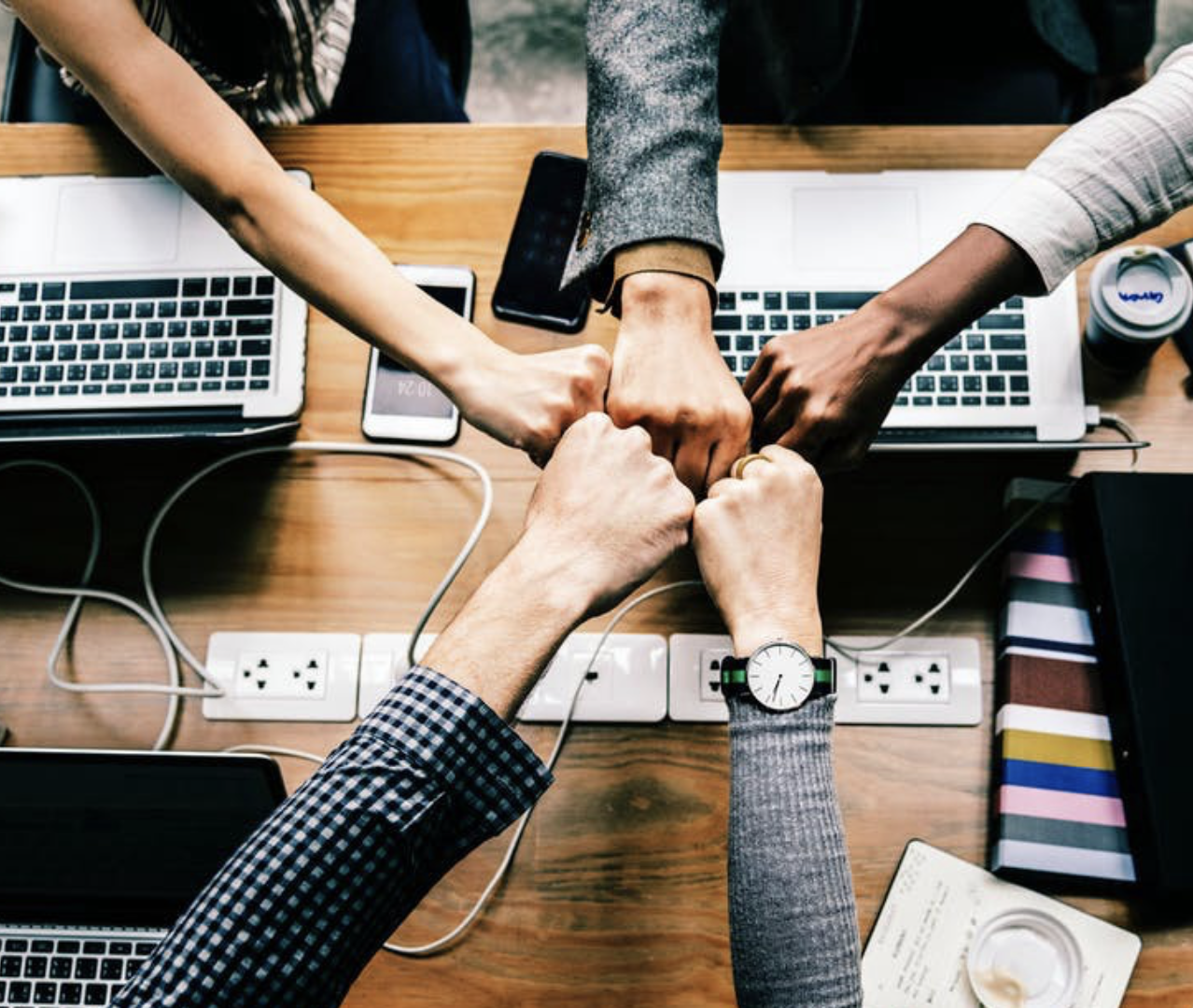 Hello everyone! We're Galussothemes content team, we love to write new blogs for WordPress everyday! Galusso Content Team is a part of IT4GO – The company houses talented young people who hold a strong passion for website development, designing, and marketing.