There are many beautiful, unique and particular share icons that help you to connect and share the content widely. Let's consult the list of Share Button Plugins below and consider what best suited for you.
Why are the WordPress Share Button Plugins important for your site?
It is exciting if your valuable content is shared and spread around the web and a lot of social media platforms such as Facebook, Twitter, Instagram, and much more. Thanks to that, your website will attract more visits' attention, and as the result, you improve the traffic and engagement for your site. With mentioned benefits, let's take a look at the listing below to choose the best one.
Top Best WordPress Share Button Plugins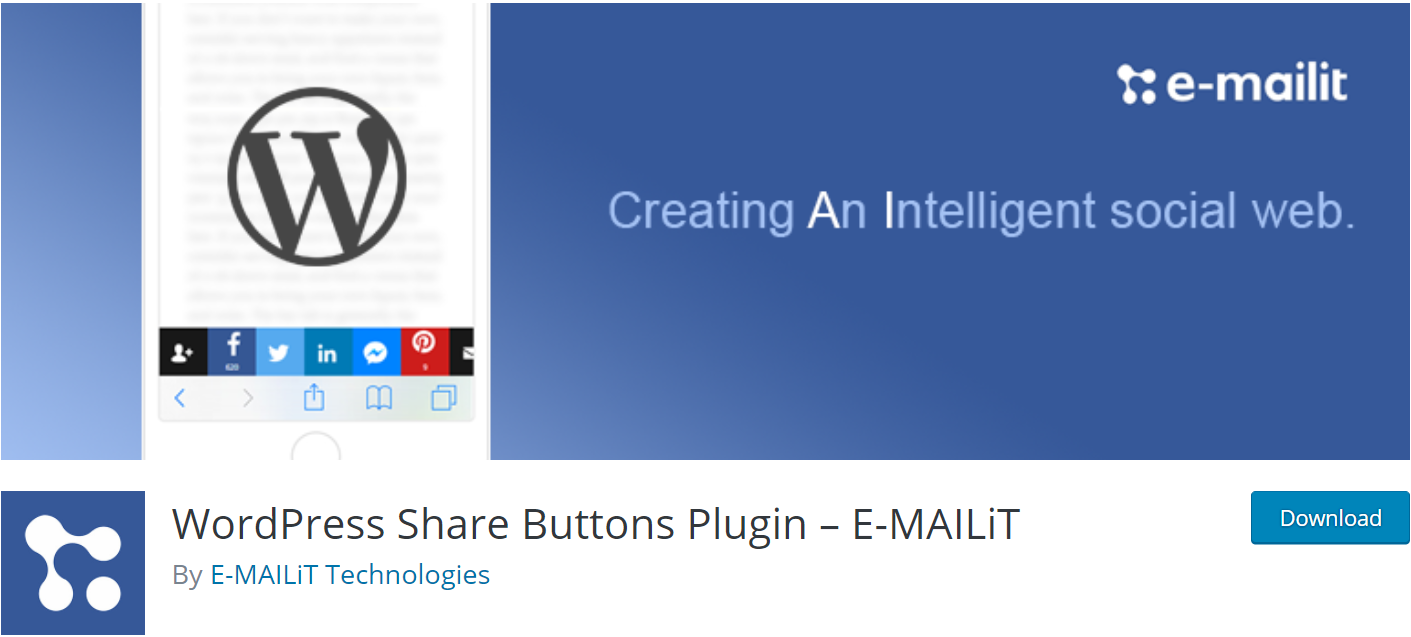 The first plugin is E-MAILiT that is creating a new experience, growing site owners' audience and their revenue, faster, by re-inventing Share Buttons. Once installed, visitors to the website can share any content on the Web with friends using a variety of services, such as Facebook, WhatsApp, LinkedIn, and over 160 other social networking sites and messaging apps.
Provided Features:
100% Customizable
Universal Share Menu
Floating share buttons
Individual share links and custom share icons
Highlights:
Artificial Intelligence & Machine Learning
GDPR Compliance Tool
Remove Branding Tool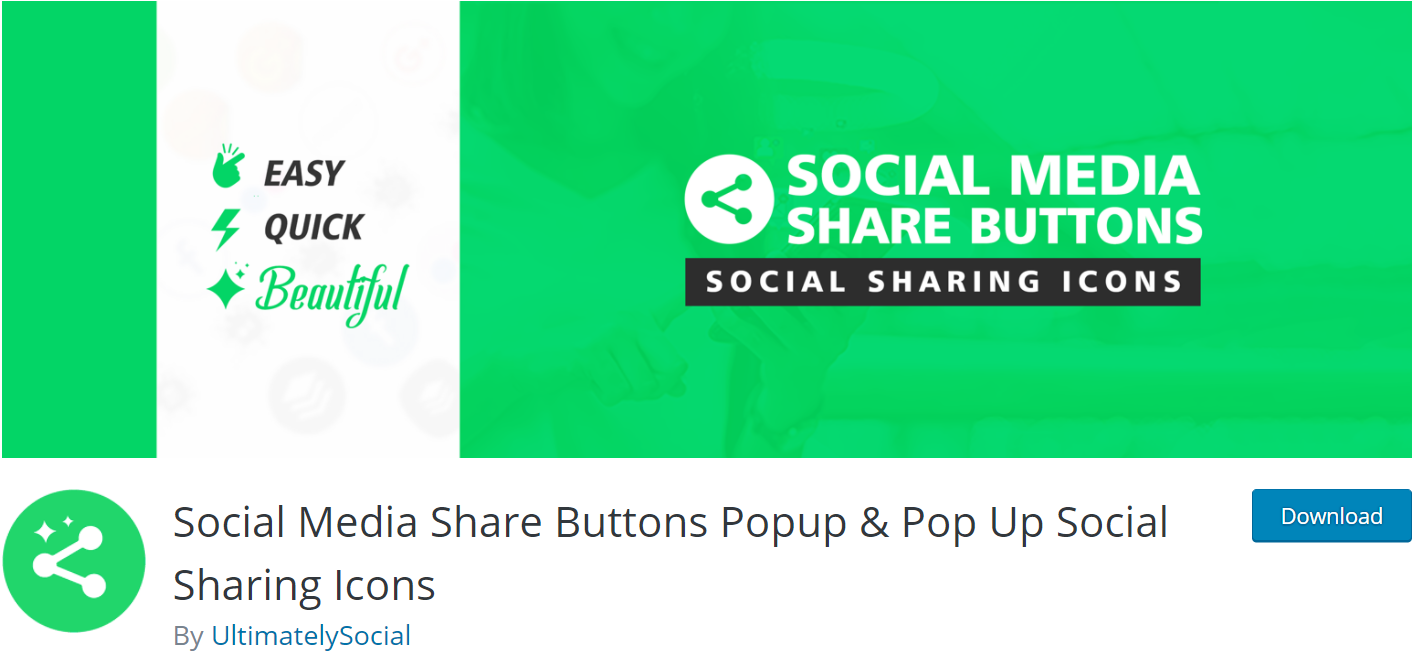 The second one is Social Media Share Buttons which lets you add share icons for RSS, Email, Facebook, Twitter, LinkedIn, Pinterest, Instagram, Youtube, and 200+ other social media platforms. Besides, you can upload custom share icons of your choice.
Provided Features:
Give several actions to one social media share icon
Decide to give your social media icons an animation
Allow visitors to subscribe to your blog by Email
Decide to display a pop-up
Highlights:
More pop up options
Social media counters optimized
Position the social icons by anchor and margins

The third plugin we want to mention is The AddToAny Share Buttons. This plugin for WordPress increases traffic and engagement by helping people share your posts and pages to any service. Services include Facebook, Twitter, Pinterest, WhatsApp, LinkedIn, Tumblr, Reddit, WeChat, and over 100 more sharing and social media sites & apps.
Provided Features:
Standard share buttons
Image sharing buttons
Programmatically with template tags
Custom share icons
Highlights:
Google Analytics integration
WordPress Optimized
Free AddToAny without signup, login, or accounts to manage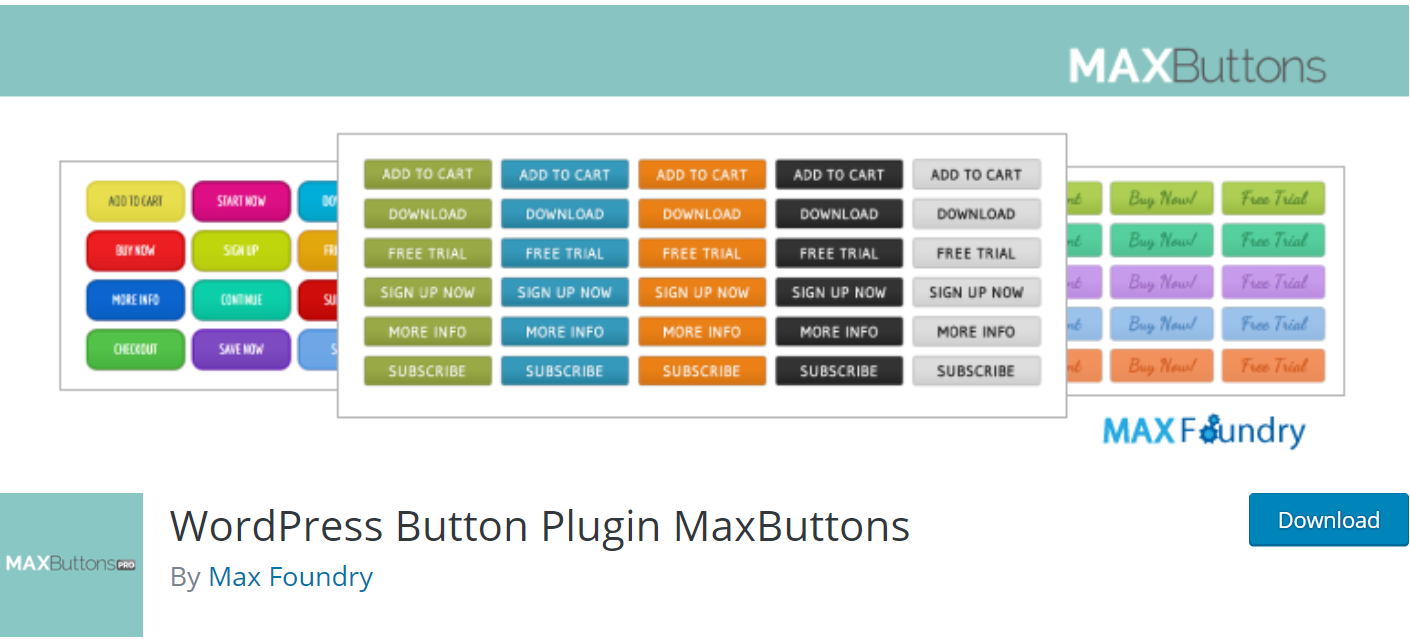 Fourthly, MaxButtons is a powerful WordPress button, share button, and social icon plugin. The button editor with live preview makes it a snap to generate awesome responsive buttons in very little time. Additionally, the social share buttons and social icon features allow you to add social options to your website in minutes.
Provided Features:
No coding, the plugin takes care of everything
Button shortcodes for ease of use
Color picker for unlimited color combinations
Works with all modern browsers
Highlights:
Multi-line text
Include images in buttons
Button Search

The fifth is Free WordPress Share Buttons Plugin which makes it easier than ever for your audience to spread your content around the web. This plugin lets you connect to over 200 social channels including Messenger, WhatsApp, Facebook, Twitter, Pinterest and many more.
Provided Features:
Expanding share buttons
Inline share buttons
Expanding share buttons
Highlights:
Adjust coloring to match your brand
Fully customizable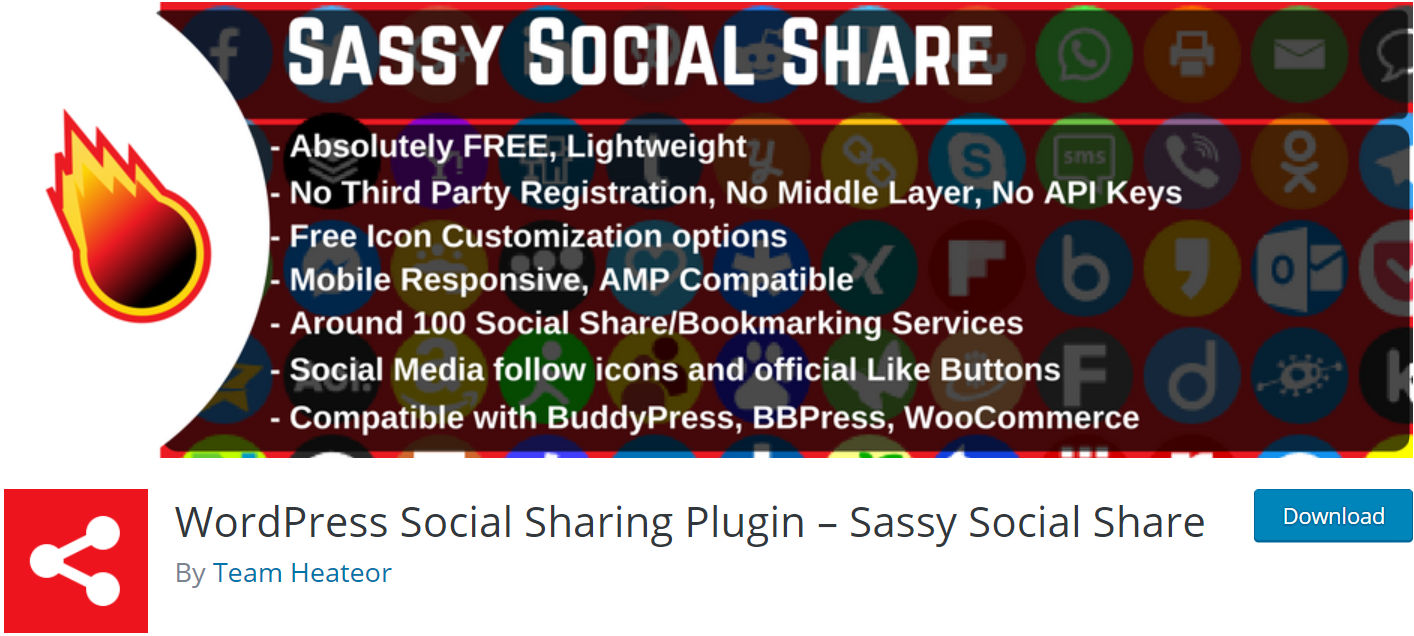 The sixth one is Sassy Social Share. This is one of the simplest and Smoothest Social Sharing plugins with optimized and great-looking vector icons. It enables your website users to share the content over Facebook, Twitter, Google, Linkedin, Whatsapp, Tumblr, Pinterest, Reddit, Parler, Gab, and over 100 more social sharing and bookmarking services.
Provided Features:
GDPR Compliant
Compatible with Gutenberg editor
Compatible with myCRED
Options to specify sharing icon background color and logo color
Highlights:
URL Shortening Service integration
Compatible with BuddyPress, BBPress, WooCommerce
Multisite Compatible

The seventh plugin that increases traffic to your website with our GDPR compliant, lightweight, and responsive social media share buttons and social media follow buttons for WordPress is Superb Social Media Share Buttons and Follow Buttons. It is compatible with cache plugins and works with most common eCommerce, page builder, and affiliate plugins such as WooCommerce, Beaver Builder, Elementor, Page Builder, and Easy Digital Downloads.
Provided Features:
Multiple designs
Only show icons
Works with Short URLs
Gutenberg Compatible
Highlights:
Lightweight code and smooth design
Customize the order of your social media buttons
Hide on Mobile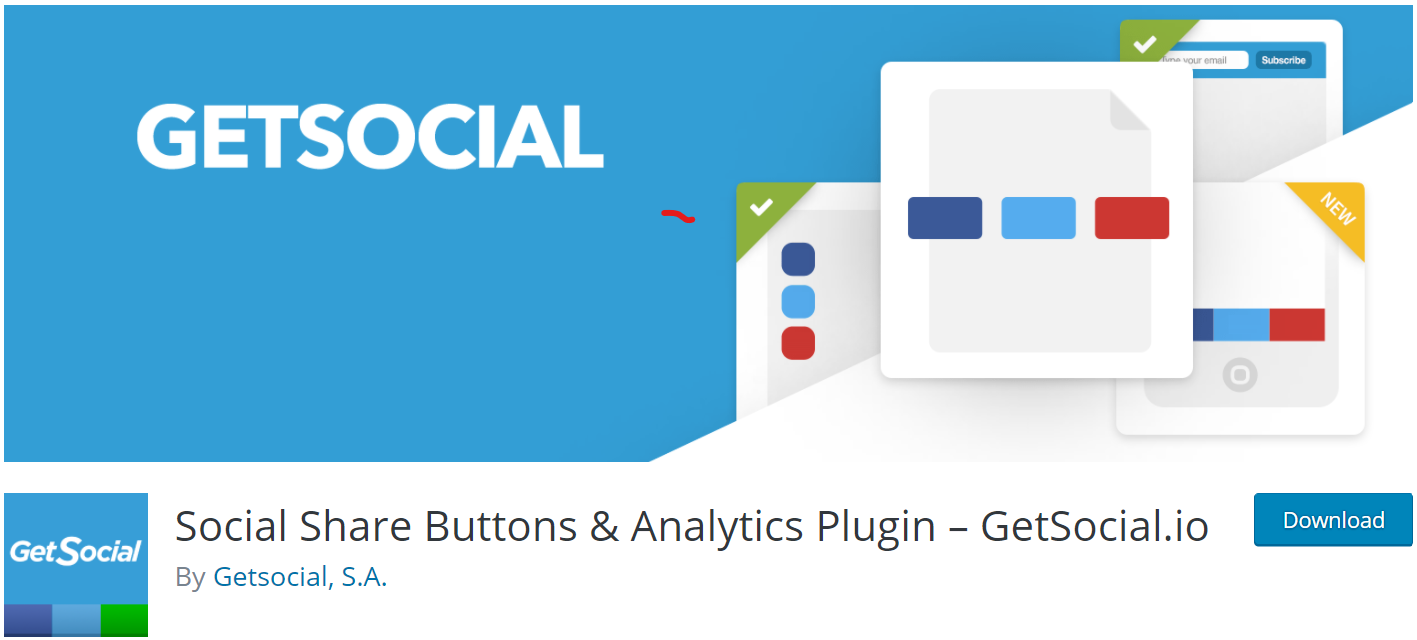 The eighth one is Social Share Buttons & Analytics Plugin. With this plugin, you can have beautiful share buttons on your website for over 30 social networks, including Facebook, Twitter, WhatsApp, Email, and more. Social share buttons are a great way to encourage your users to share content on social media, helping you increase your reach and boost your traffic.
Provided Features:
Horizontal and Floating Share and Follow Buttons
Native Social Sharing Buttons
Reaction ButtonsReaction Buttons
Highlights:
Mobile Share and Follow Buttons
Image Share Buttons
Customizable Share Buttons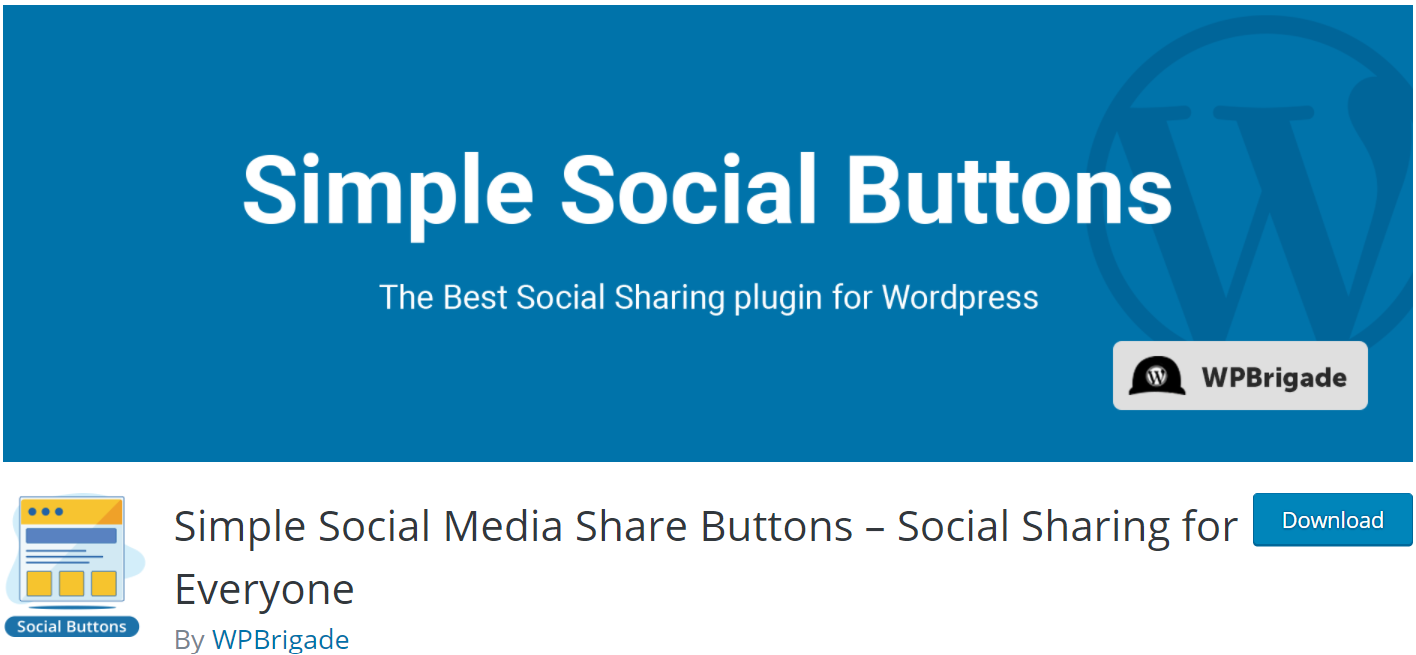 Simple Social Buttons is the ninth plugin which adds ( with lots of options like Sidebar, inline, above and below the content of the post, on photos, popups, fly-ins ) an advanced set of social media sharing buttons to your WordPress sites, such as Facebook, WhatsApp, Viber, Twitter, Reddit, LinkedIn, and Pinterest. With a rich set of features, it is one of the most flexible Social Sharing plugins.
Provided Features:
Social Share buttons on left & right sidebars with Animations
Display Total Share counts
Upgrade to Pro for customizing the colors
Stunning Animations
Highlights:
Settings for customizing the colors
Hide Social Share buttons on mobile devices
Apply Social Share buttons on Specific Custom Post Types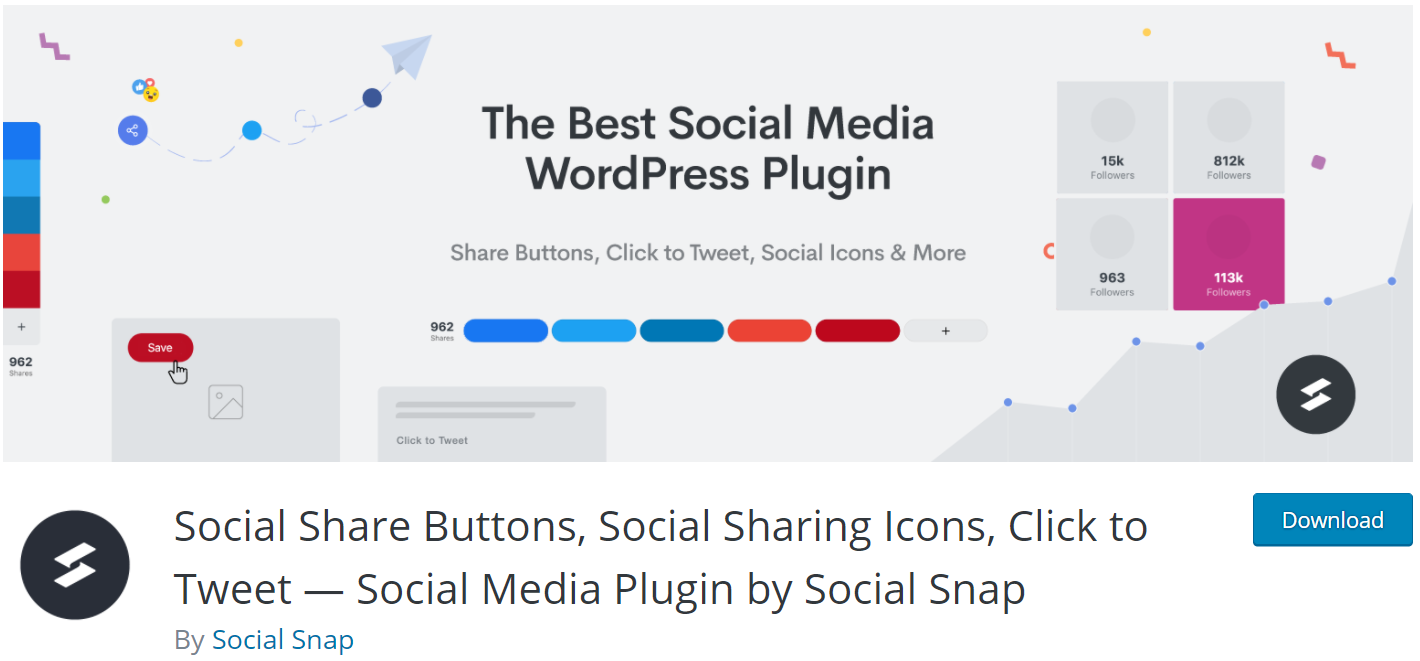 The tenth plugin on the top list is Social Snap. This plugin is the leading WordPress social sharing plugin that helps you drive more traffic and increase engagement by leveraging the power of social media.
Provided Features:
Easily add beautiful and highly customizable social share buttons
Display individual and/or total share counts
Easily edit share button labels and maximize engagement
Unlock 30+ social share buttons and actions
Highlights:
Change share buttons order
Change share buttons labels
Loads asynchronously so it doesn't slow down your website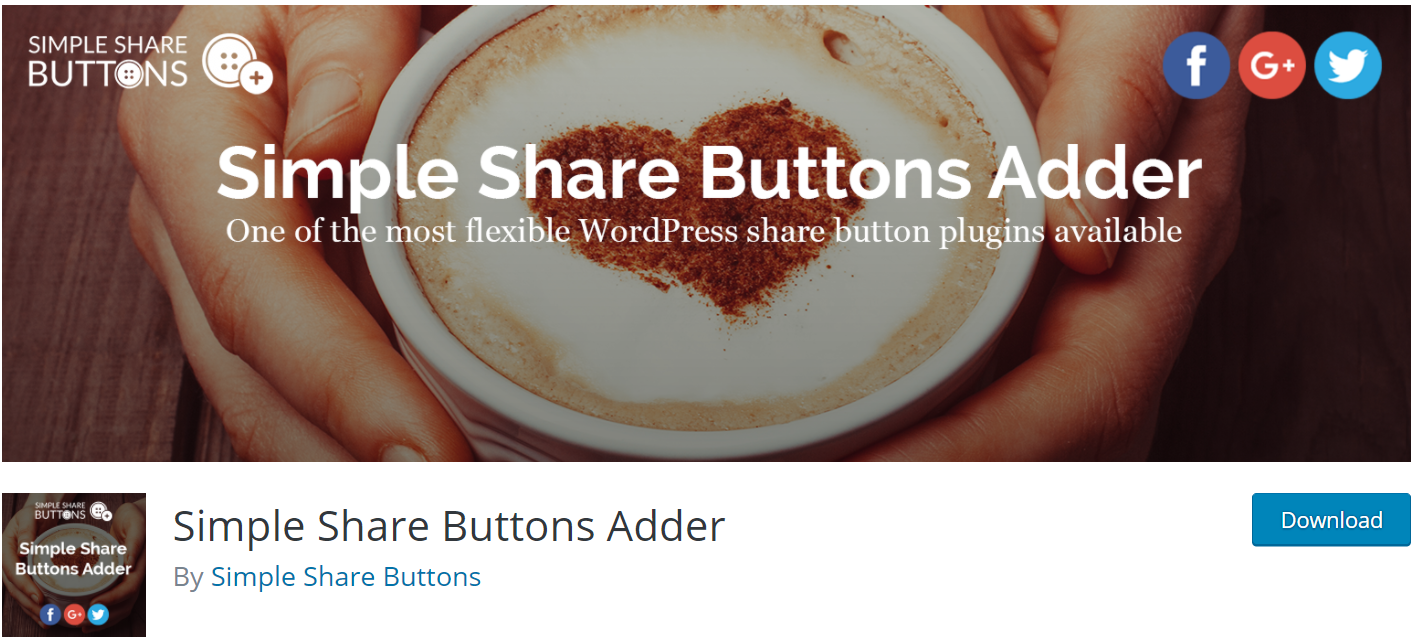 Eleventhly, the Simple Share Buttons Adder adds share buttons to all of your posts and pages simply. You can even upload and use your own custom images if you wish. A self-explanatory administration screen will have you showing your Share Buttons on your posts and pages in no time!
Provided Features:
Modern Share Buttons
Simple Share Buttons
Provides 1 block
Highlights:
Adds share buttons to all of your posts and pages
Customizable Share Buttons, Icon, and Icon Hover colors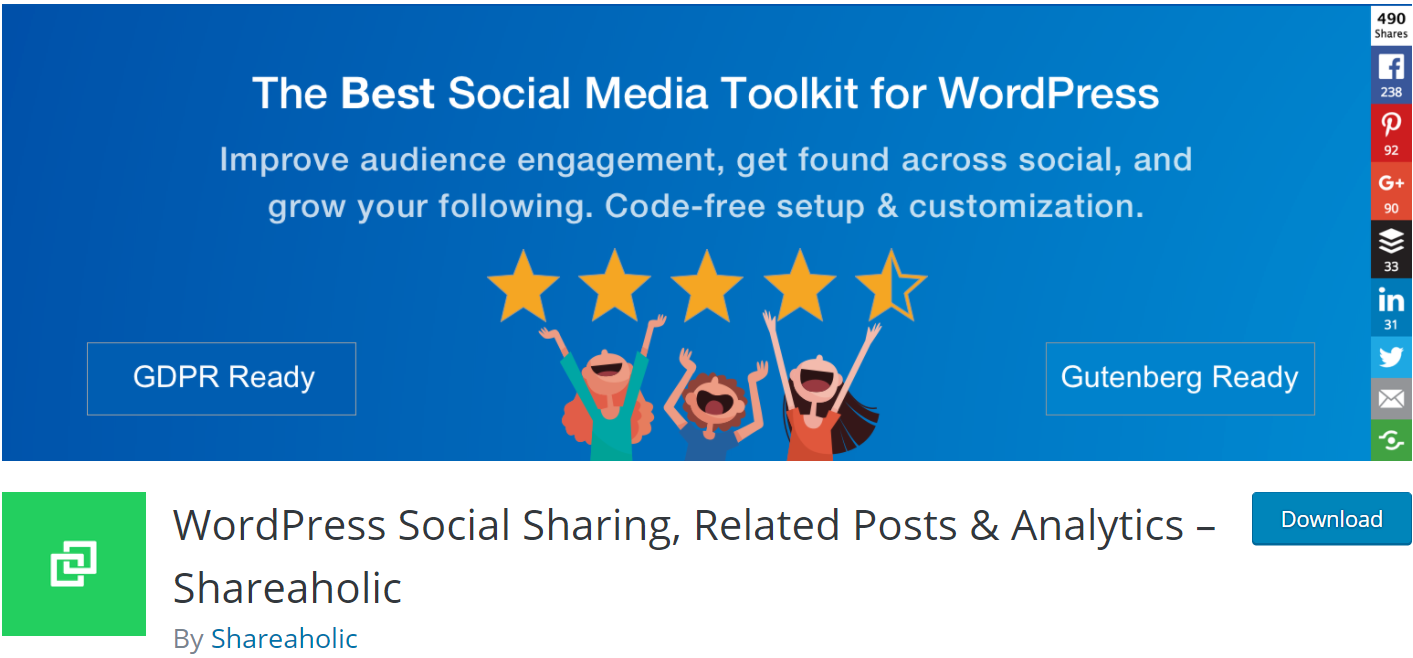 Shareaholic is one of the world's leading suite of Audience Growth & Engagement tools. It allows you to add Award-Winning Social Share Buttons, Related Posts, Content Analytics, Ad Monetization, and more to your website.
Provided Features:
Official integration with Google Analytics
Official Share Counters and Share Buttons for Facebook, Pinterest, and more
Vector share buttons and follow buttons
Highlights:
Share counts recovery
100% Customizable
Mobile-Optimized
MashShare – The Social Media Share Buttons Ecosystem is a free Social Media Share Buttons Plugin on the list of WordPress Share Button Plugin today. It is professional, and highly customizable. There is no IP data or any other personal data that is sent to third parties or collected at all.
Provided Features:
High-Performance and easy to use Social Media Share Buttons
Shortcodes
Speed of Social Media Share Button Icons
Extensible with many Add-Ons
Highlights:
Shortcode option to disable share counts
Complete rewrite of CSS for easier modifications
Multi-language capable, *.po files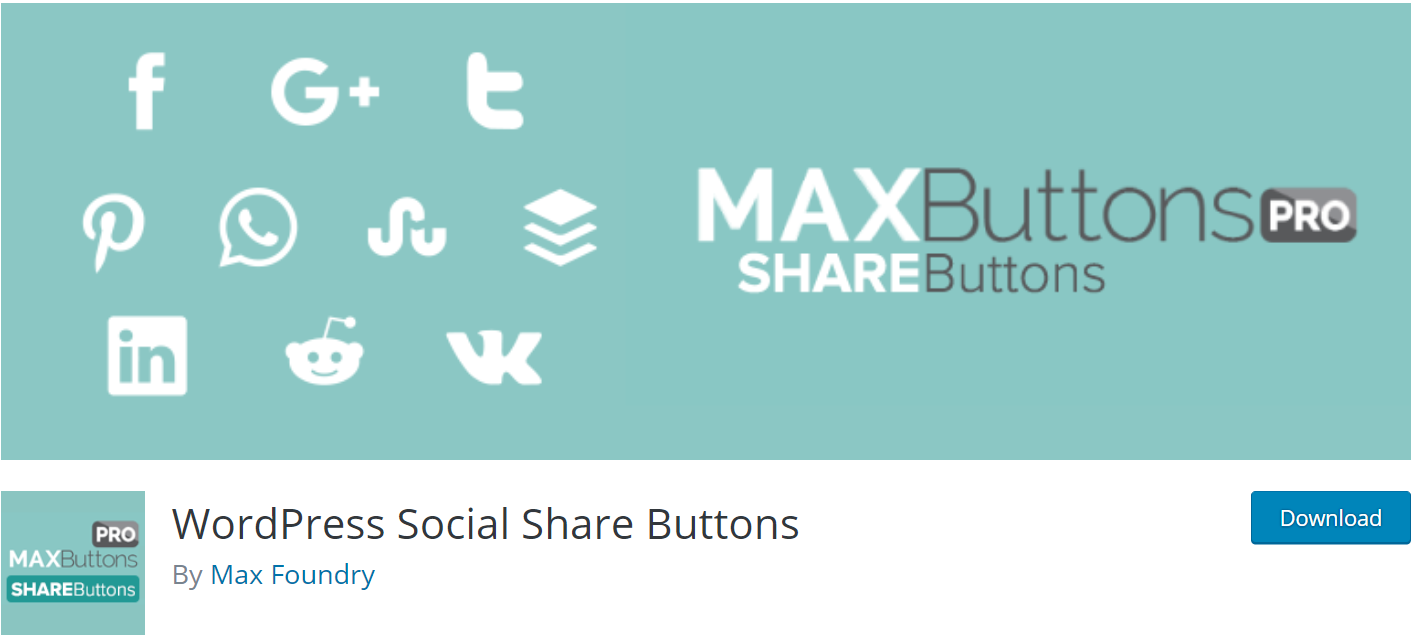 Another one of the top list WordPress Share Button Plugins is WordPress Share Buttons. It allows you to easily set up and use social buttons on your home page, pages, and posts. This plugin supports all popular networks such as Facebook, Twitter, Instagram, Pinterest, Linkedin, Google+, YouTube, Pinterest, VKontakte, StumbleUpon, Reddit, Whatsapp, Buffer, and more.
Provided Features:
Customize layout
Customizable Tweet options
Layout and Style options
Display share count and Total share count
Highlights:
Network editor
More Networks
Define Twitter Hashtags per post or pages
And the last one is Social Share Icons & Social Share Buttons.
It allows you to add social share icons on your website with just a few clicks. This plugin also has been translated into various languages.
Provided Features:
Numerous social share platforms
16 design styles for your social share buttons
Subscription service
Rearrange Order of social share icons
Highlights:
More social share buttons
Better sharing & following features
More functions for email icon to connect with you
Conclusion
We just have already given you some recommendations about the collection of 15 WordPress Share Button Plugins In 2021. Let's boost your on-site engagement with the best-suited plugin. Besides, consulting other plugins at Free WordPress Themes. If you have any questions, don't hesitate to contact us or leave your comments below. Thanks for reading!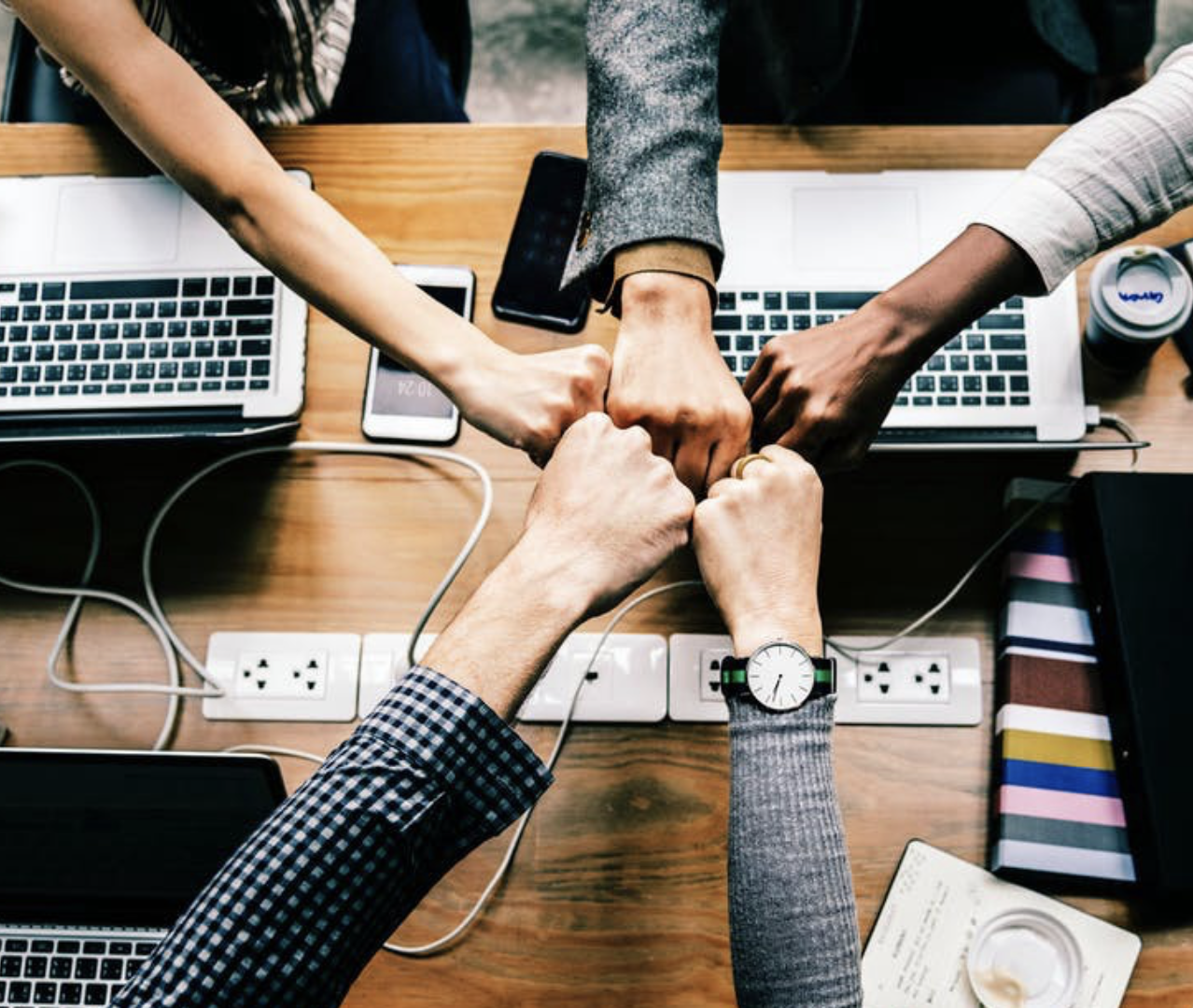 Hello everyone! We're Galussothemes content team, we love to write new blogs for WordPress everyday! Galusso Content Team is a part of IT4GO – The company houses talented young people who hold a strong passion for website development, designing, and marketing.