Nowadays, once we are living in the 4.0 era, online learning is becoming more popular among youngsters. Online learning provides us with plenty of opportunities than traditional education. It is a reason why many developers have released plenty of LMS plugins to help you easily build an online learning website.
Nevertheless, choosing the right LMS plugin for your website may be a difficult task for most users. And Tutor LMS is a reputable name that is widely used by a wide range of users around the world. But, if you are wondering whether this plugin is excellent as you have heard about it. In this Tutor LMS review blog, we will help you have an overview of this plugin. Now, let's check our Tutor LMS review out
How are WordPress LMS Plugins useful for your WordPress site?
With the dramatic development of technology and the negative effect of the Covid-19 pandemic, online education is gradually becoming familiar to most students. There is obvious that online learning brings students plenty of benefits compared to traditional education. Indeed, students can retain 20%-50% more material to serve their learning once learning online, whereas, the majority of students only acquire 8-10% of knowledge when they go to school.
In addition, online learning requires you to spend less time learning than in a traditional classroom setting since students can start learning at their house on any device they have such as computers, smartphones, or tablets. In addition, they don't have to waste a lot of time moving from their house to their school.
It's a reason why nowadays you should build a website to create and sell online courses that bring convenience for any learners without going to the classroom. However, how to easily create, and manage multiple online courses if you are a beginner? Luckily, there is a wide range of powerful WordPress LMS plugins in the market. And many users believe that the Tutor LMS plugin is one of the most excellent LMS plugins. But it is curious whether Tutor LMS is really powerful as it is promoted.
Today, we will together examine the quality of this plugin via our Tutor LMS review blog. We will analyze different aspects of this plugin including outstanding features, pricing, customer support, and much more. This valuable information will help you make the right choice for your website. Now, let's check them out.
Tutor LMS-Background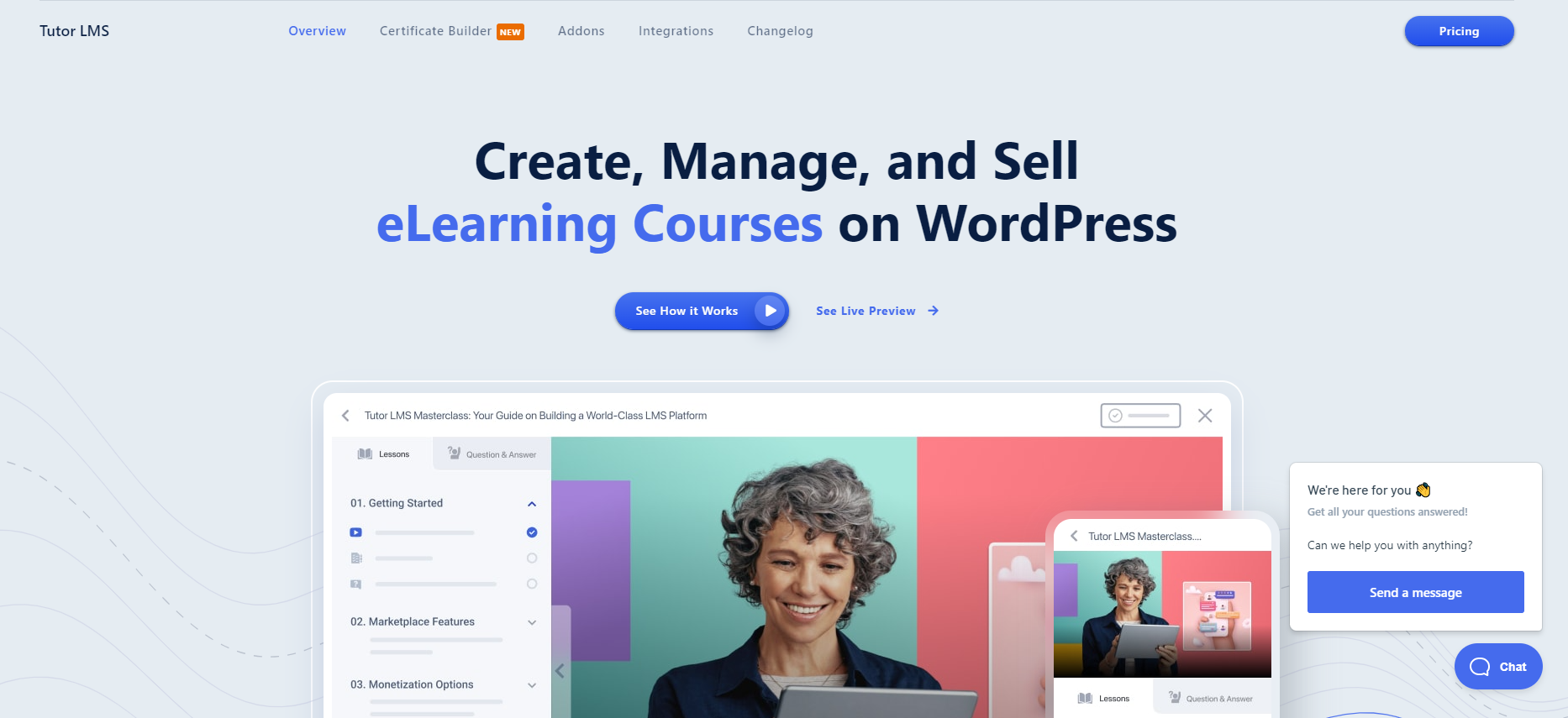 Tutor LMS is one of the most prevalent WordPress LMS plugins that has been trusted by plenty of users around the world. Currently, this plugin has over 50,000 active installations and 383 5-star ratings. This plugin is packed with a collection of useful features that allow you to create, manage and sell multiple courses, quizzes, and much more. Additionally, there are tons of add-ons such as certificates, emails, course reviews, multi-instructor, reports, assignments, and much more. Further, you can integrate the plugin with Woocommerce and Easy Digital Downloads, which allows you to accept multiple payment methods.
Tutor LMS-Main features
Front-end drag-and-drop course builder
Tutor LMS comes with a drag-and-drop course builder that allows you to create unlimited courses, quizzes, assignments, and lessons without having design skills. In addition, this feature helps you easily rearrange any of the lessons and the courses as you want.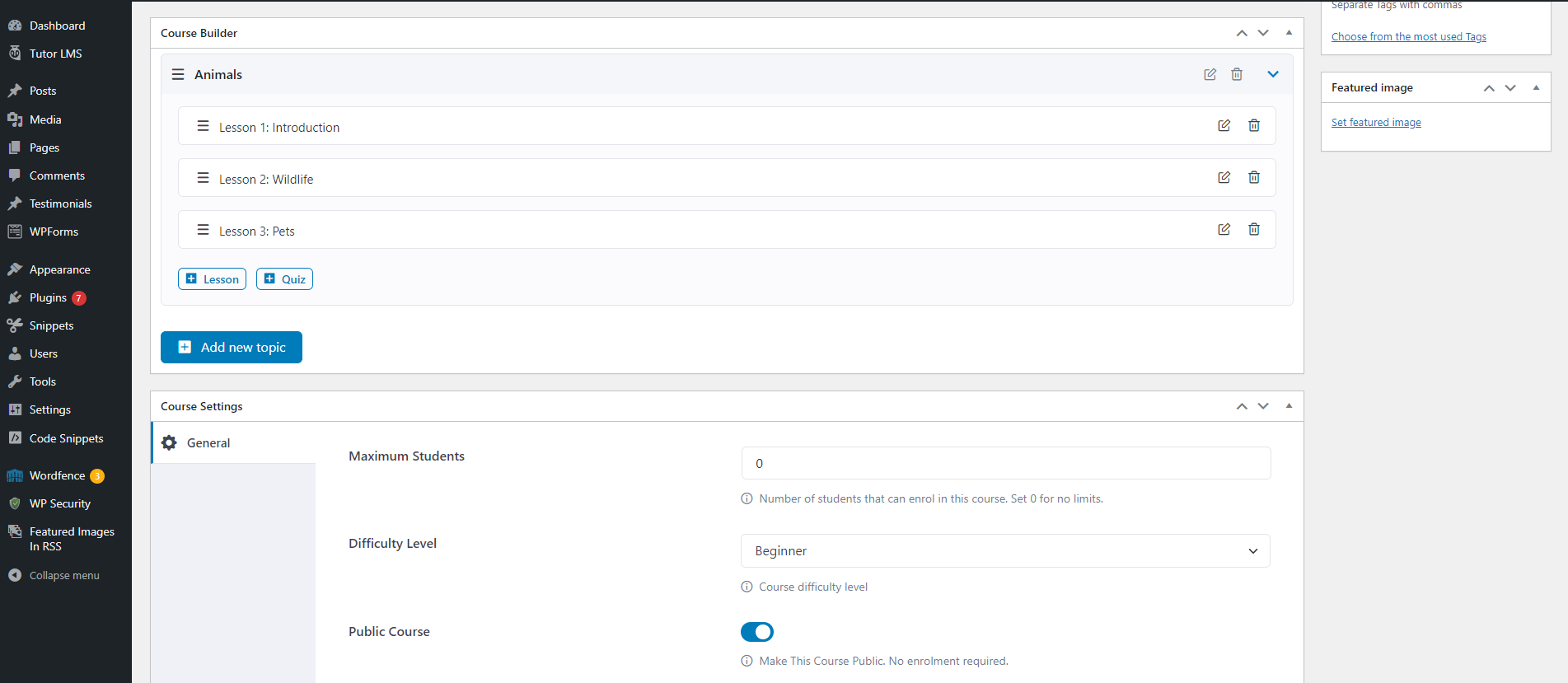 Additionally, the intuitive frond-end builder provides you with live editing results. Thanks to that, you can see exactly how your courses look so that you can make any changes without publishing them.
Powerful quizzes creator
If you want to create dynamic online courses, it is necessary to create interesting quizzes. Since it only helps students effectively practice what they have learned before but also helps them more concentrate on what they are doing. Moreover, completing quizzes also brings learners a lot of fun since they will feel that practicing knowledge is also like playing a game. Thanks to that, students can remember knowledge more thoughtfully rather than reading from materials. Luckily, Tutor LMS also allows you to generate unlimited quizzes with many useful features.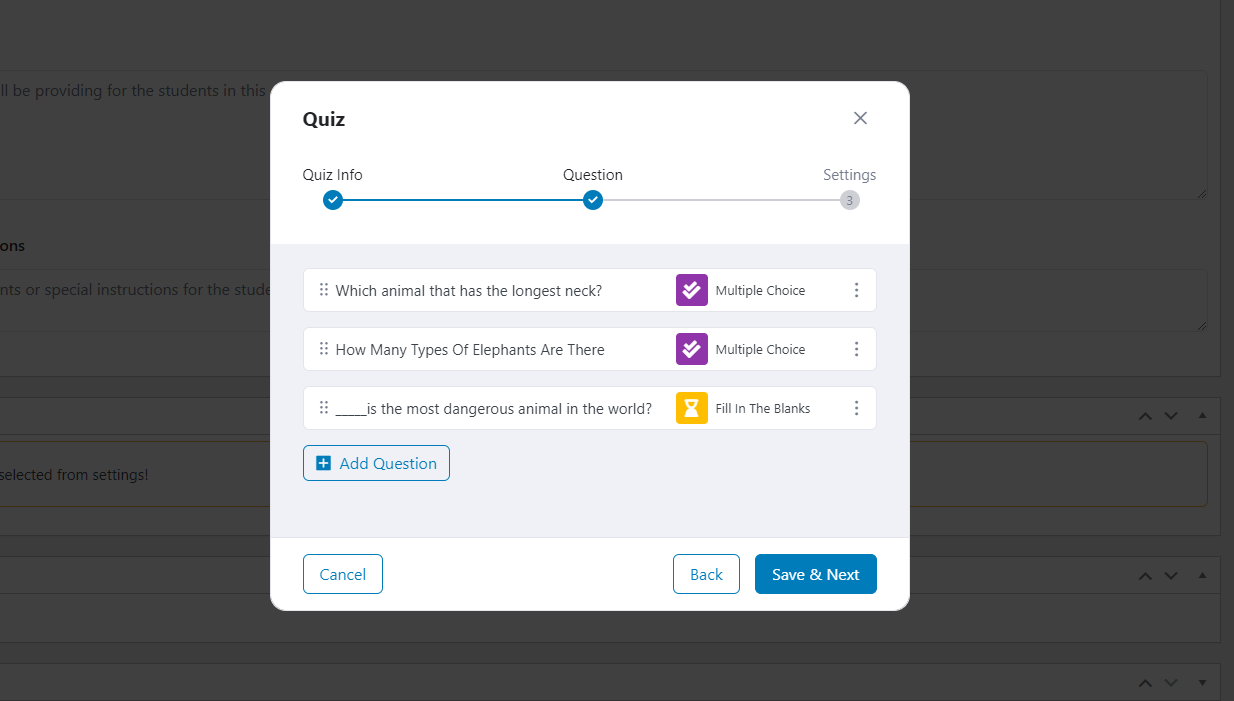 For example, you can create quizzes from different types of questions including True/False, Single Choice, Multiple Choice, Open Ended, Fill in the Blanks, Short Answer, Matching, Image Matching, Image Answering, and Ordering.
Additionally, you are able to set up the time limit and restrict the number of attempts, passing grades, and much more. What's more, this plugin also allows you to limit the number of questions available for students to complete.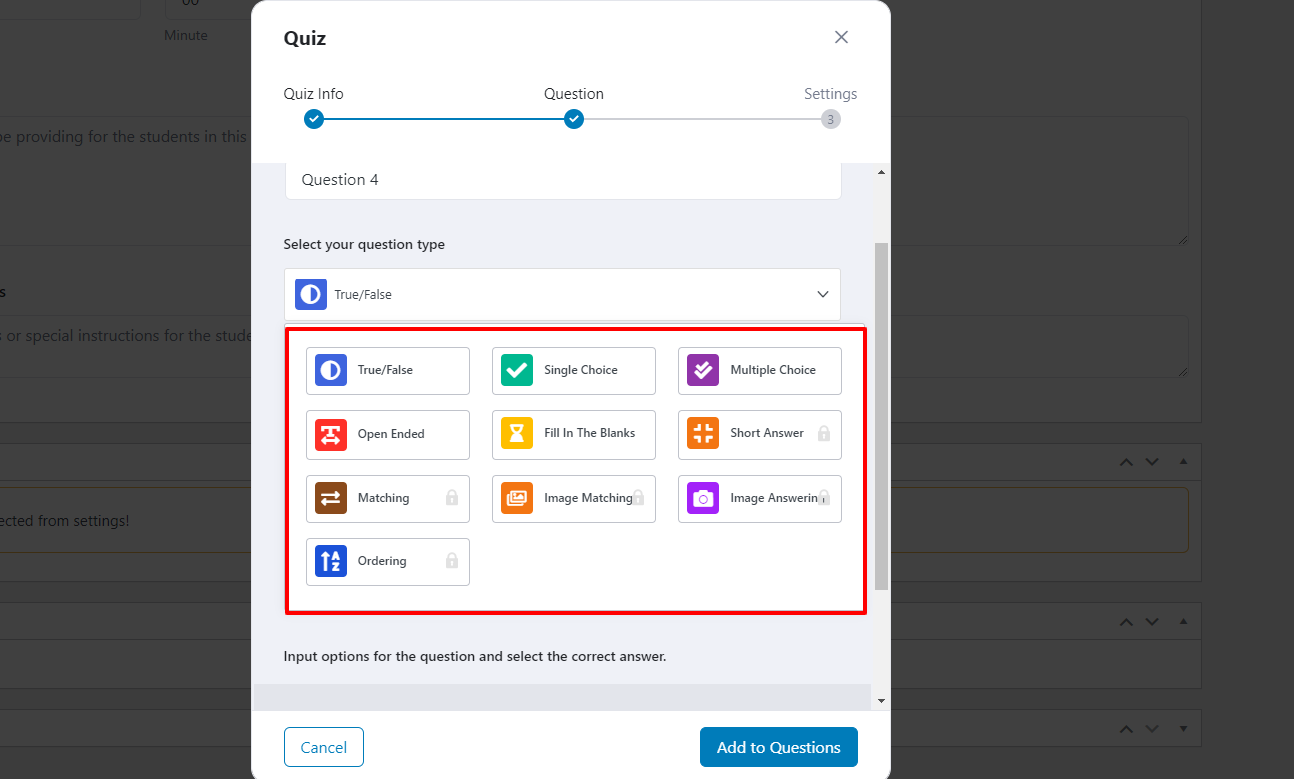 Tutor assignments
Using a tutor assignments addon is a great way to assign tasks to students. Additionally, there are a bunch of fields that assist you to assign a task as you want in a conventional classroom.
What's more, to help students complete their assignments perfectly, the plugin offers some useful options in the assignment section such as giving the assignment deadline, showing the total mark and passing marks, defining the time duration for each assignment, and much more.
You can also provide the assignment title, description, and instruction to assist students to know what the assignment is about and what they need to do in their assignments.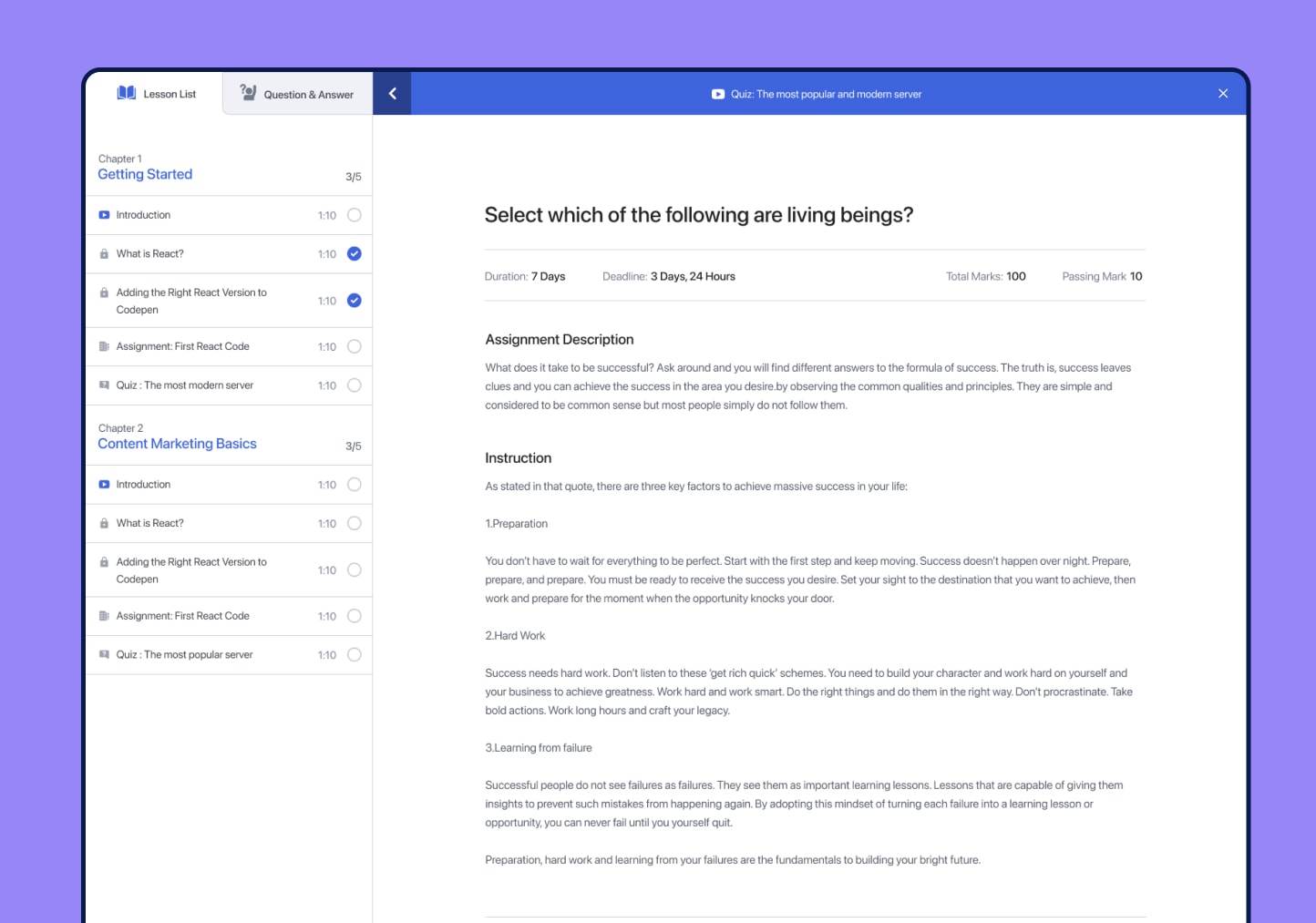 Automatic emails
It is also an important pro feature since this helps you automatically send notifications to students and teachers timely. As a result, they can keep up with the latest things. For instance, once students fail their quiz or complete their course, the email system will send a notification to them.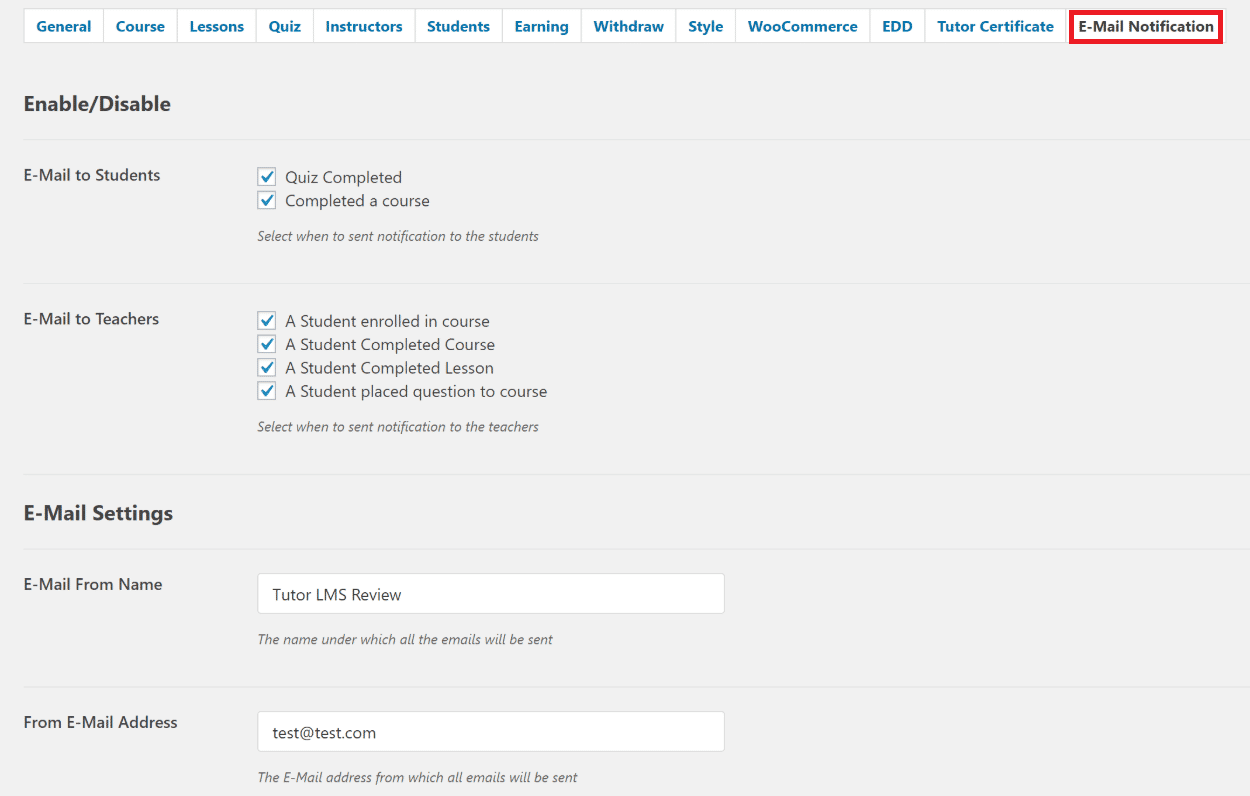 Besides that, you can utilize customizable email templates of the plugin to enhance user engagement. The plugin allows you to customize the email templates from the settings and send a test mail with the email template editor.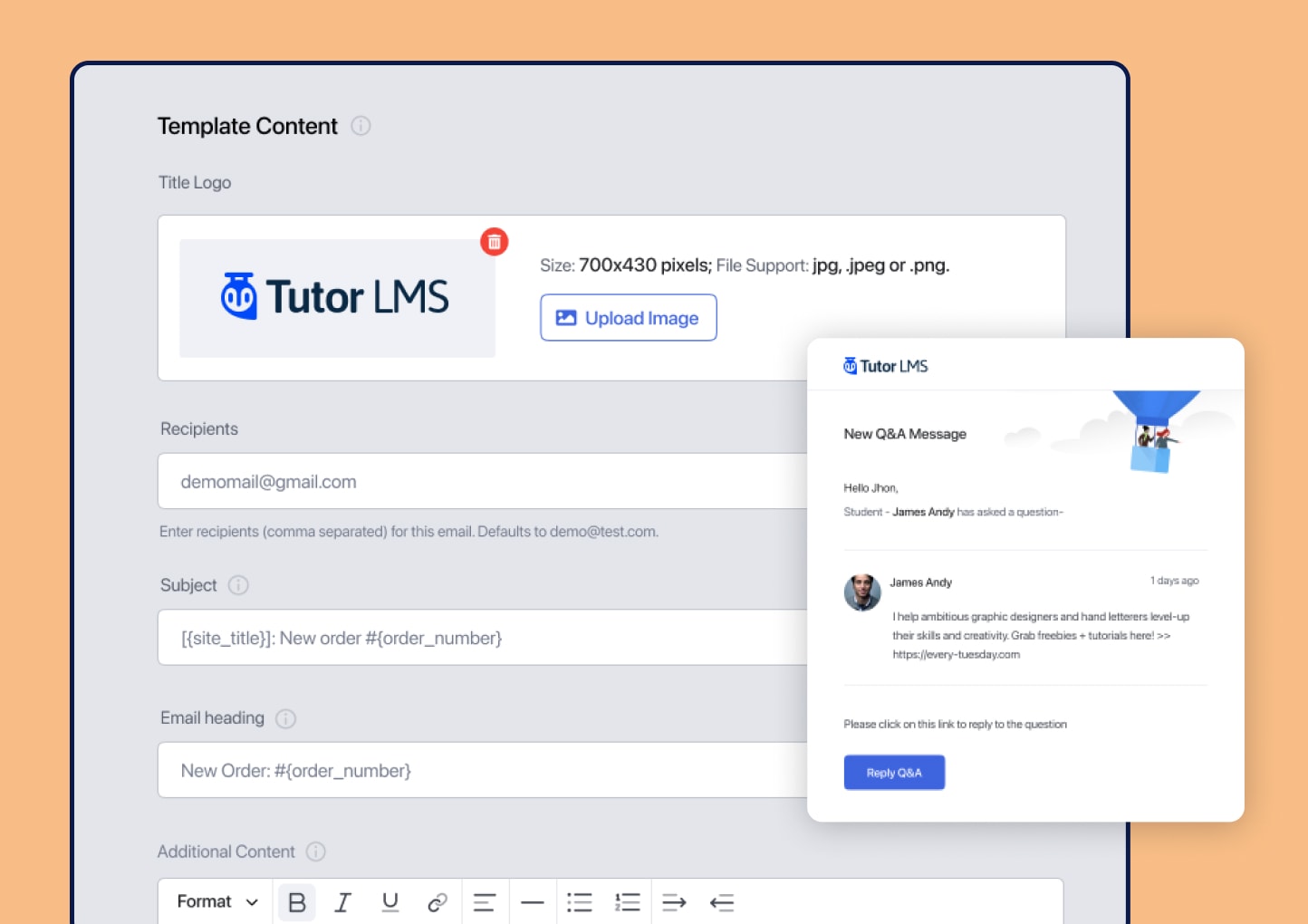 Certificates
This is a notable feature that allows you to provide students with plenty of beautiful certificates after they have completed their courses. The Tutor LMS plugin gives you plenty of stunning pre-built designs, so you can use them and customize them to suit the actual information of your company.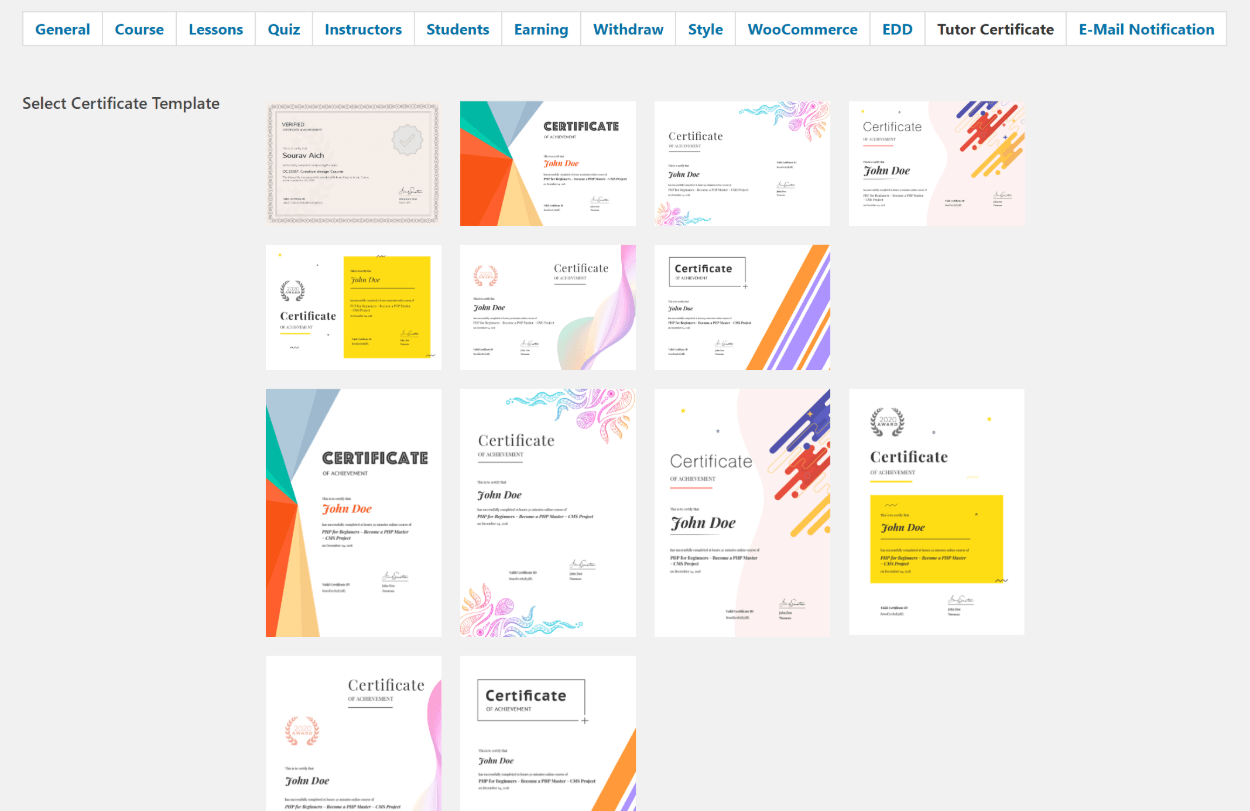 Reports
To help you have an overview of your course performance, Tutor LMS offers a reports feature that allows you to generate in-depth statistics of courses, lessons, quizzes, students, and much more on your online learning website. Then, you can use these statistics to have suitable solutions that help improve your website efficiently.
Plus, the plugin also creates reports based on a number of parameters. You are able to find course analytics by predefined time filters or search for the number of courses enrolled on a particular date.
To sum up, this feature is useful for offering a wide range of data to analyze your course performance.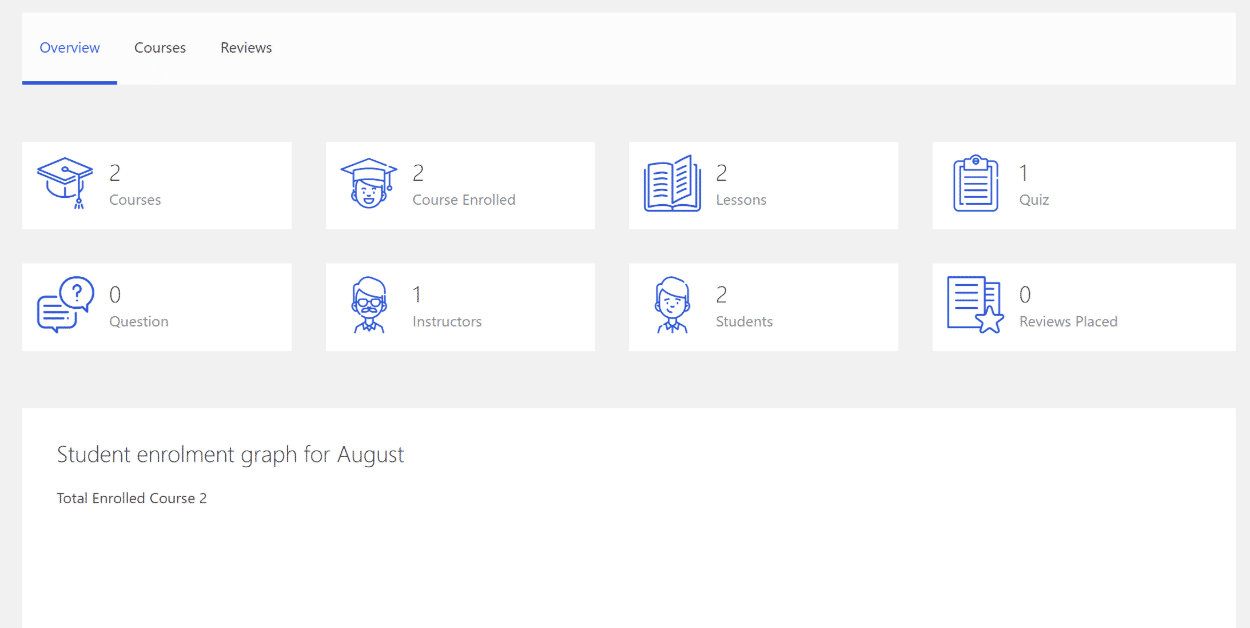 Prerequisites
Another unique feature of Tutor LMS that you should use is the Prerequisites. This feature allows you to add the required course prerequisites from the available list, which let students know that they have to complete prerequisite courses before enrolling in other courses.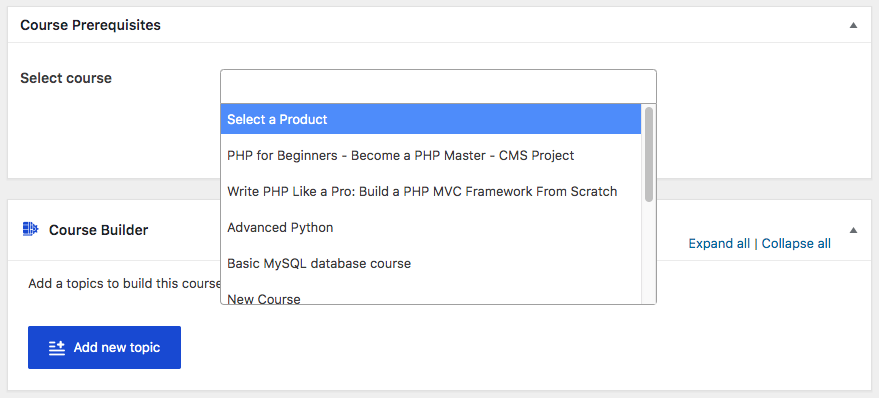 Course preview
By using the Course Preview addon, you can permit the unregistered or unenrolled users to preview your courses without having to enroll them. In this way, you will encourage more students to officially register for your online courses in the future.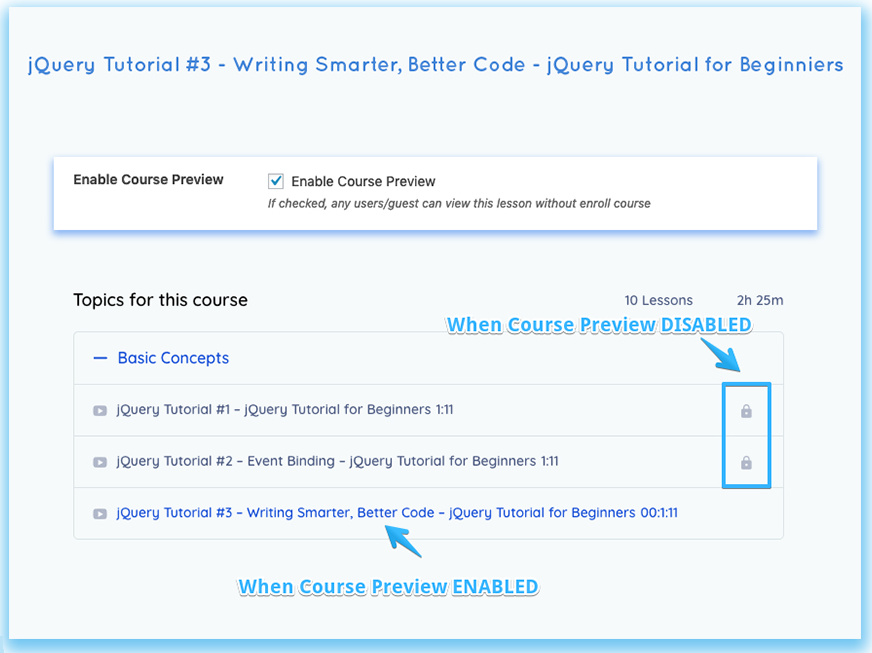 Multi instructors
You can enable this add-on once you want to add more instructors to the same course to improve collaboration. This feature will help keep students engaged while completing your courses successfully.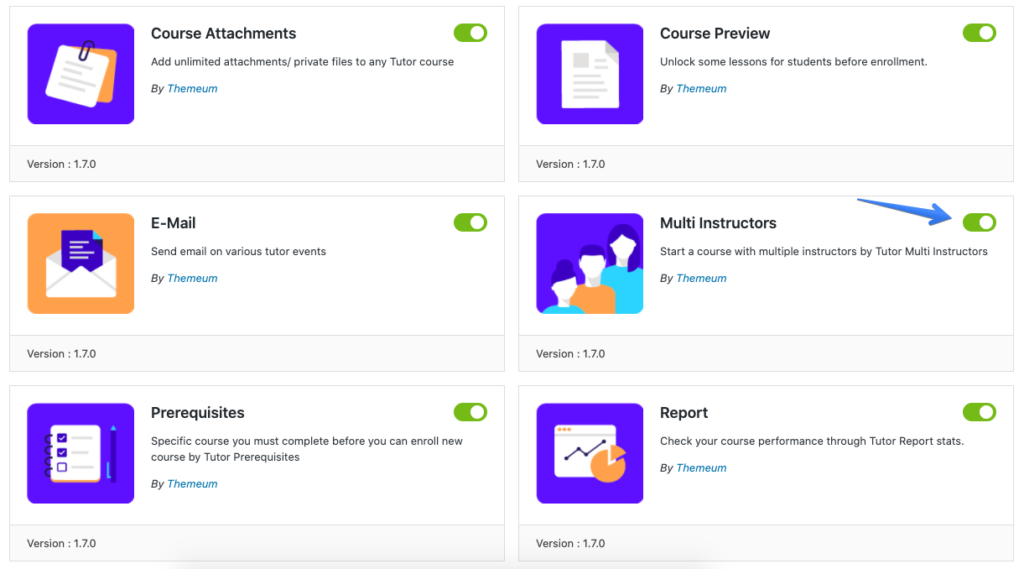 Tutor LMS-Customer support
According to plenty of feedback, the quality of the customer support service of Tutor LMS is highly appreciated. Currently, the plugin provides users with a collection of valuable documentation that is available on its website. You can take advantage of these resources to handle your problems.
In case, the trouble that you are facing is not mentioned in the documentation or the tutorial videos, then you can get in touch with its support team by filling up the contact forms or emailing them.
Furthermore, if you use the paid version, you can get dedicated support via live chat service by clicking the Help button on the plugin's homepage.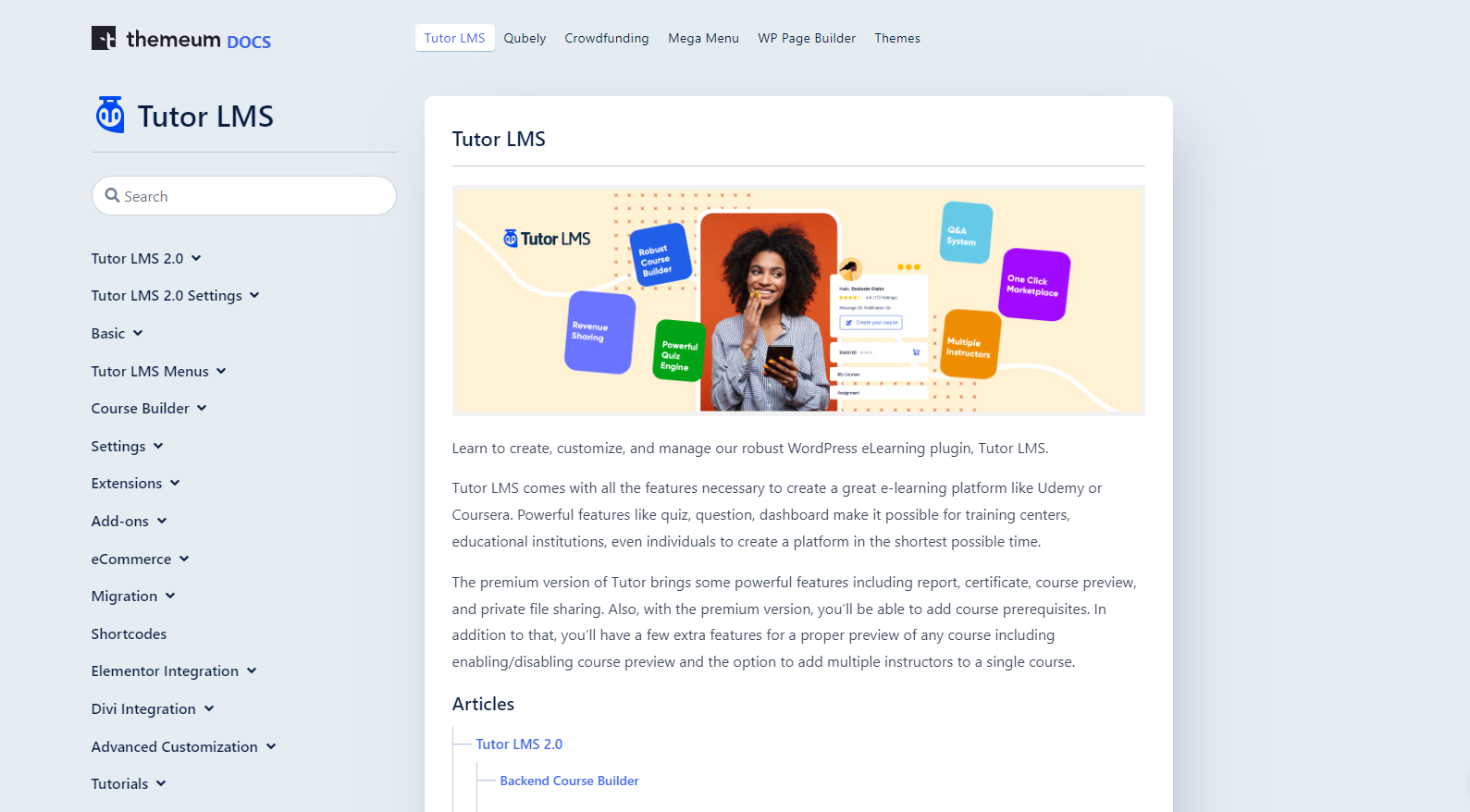 Tutor LMS-Pricing
Now, it's time to get knowledge of Tutor LMS's pricing. Currently, Tutor LMS provides you with both annual and lifetime plans that are divided into 3 different packages including:
Individuals: This plan costs you $149 annually if you choose the lifetime plan, you will have to pay $399(one-time payment). You can use it on one site license and get free updates for a year. And on the contrary, the lifetime plan will offer lifetime updates. In addition, this package also includes all add-ons, one free installation service, and many useful third-party integrations.
Freelancers: With $1999(annually), you can use this plan on 5 site licenses. In contrast, you will get it at $599(one-time payment). This plan offers free updates for a year, all add-ons, two free installation services on the annual plan, and five on the lifetime plan.
Agencies: This plan is priced at $299(annually) and $999(one-time payment). By using this package, you are able to get free updates for a year, all add-ons, five free installation services on the annual plan, and ten on the lifetime plan. In addition, you can get live chat support. If you purchase the lifetime plan, it will offer an exclusive 1-hour customization service.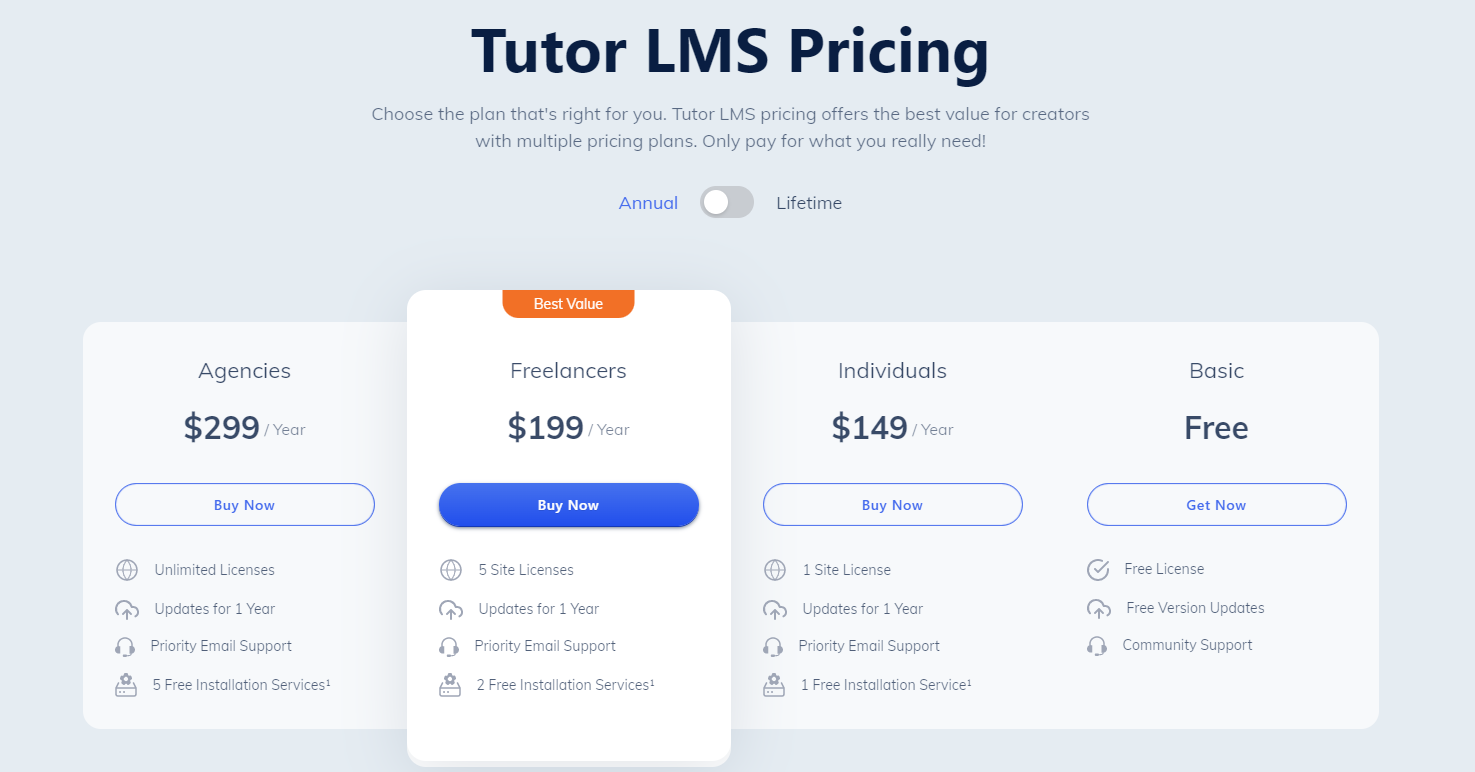 Pros and cons of Tutor LMS
Pros
Cons

Easy to use and set up
Cheaper than other rivals in the market
Many beautiful pre-built templates
Some useful integrations with Woocommerce, and Elementor for free
Intuitive drag-and-drop page builder
Advanced quiz creation
Allow creating unlimited courses

Not compliant with SCORM
Lacks gamification
Less number of add-ons
The free version lacks some necessary LMS features such as Evaluations, certifications, etc
No support for the free version
The quiz models of the pro version are very limited
Tutor LMS review: is the Tutor LMS plugin worth it?
To sum up, We have to admit that Tutor LMS offers diverse features and an intuitive interface. In addition, Tutor LMS is actually an excellent and robust WordPress LMS plugin which is a reason why you should give it a try to start an online learning business.
Moreover, this plugin is a perfect choice for those who have a tight budget since the free version of this plugin allows you to create difficult quizzes, interactive lessons, advanced reports, and statistics without touching any line of code.
And what is your point of view? Do you like this plugin? Let's share your thoughts by leaving a comment below. We really welcome your opinions. Finally, we hope that this Tutor LMS review will give you a large of handy information and help you choose a perfect solution for your website.
By the way, if you want to create a new appearance for your website, you can visit our website and refer to a list of beautiful free WordPress Themes.
30+ Free Free Joomla templates, support Visual Page Builder, compatible with Joomla! 4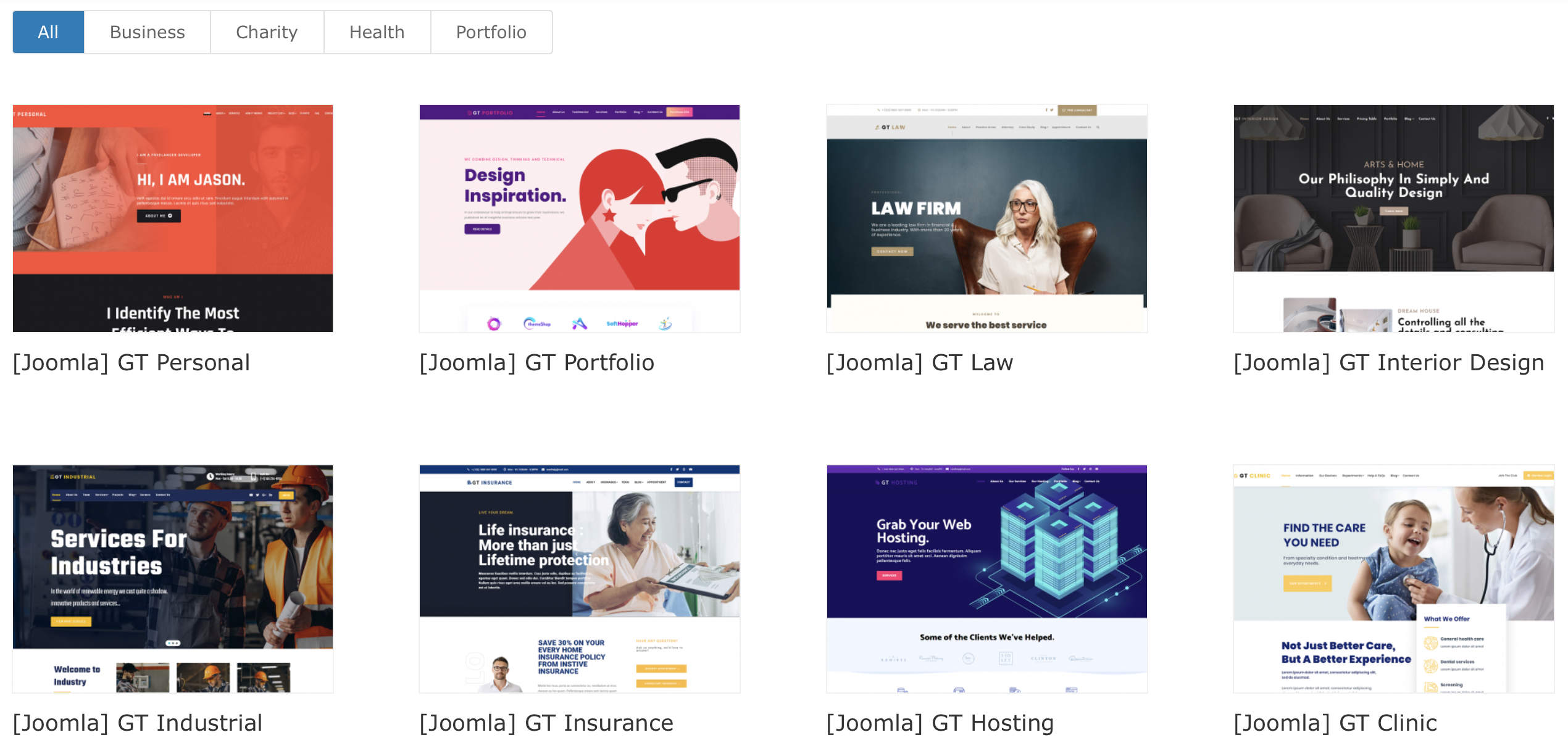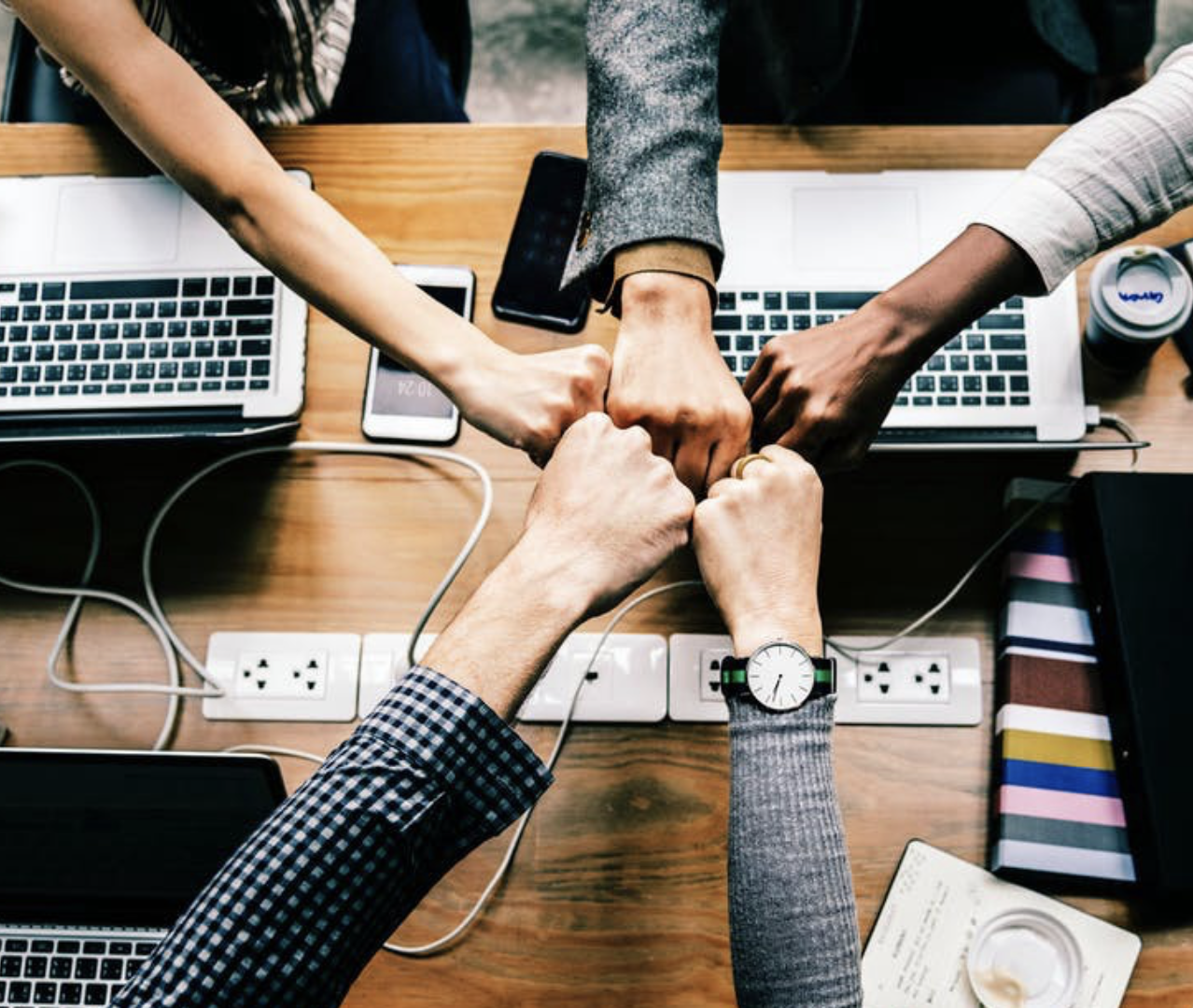 Hello everyone! We're Galussothemes content team, we love to write new blogs for WordPress everyday! Galusso Content Team is a part of IT4GO – The company houses talented young people who hold a strong passion for website development, designing, and marketing.