WPForms is well-known as the most high-quality WPForms in the market, but the majority of users don't know whether the rumors about WPForms are completely true. To answer your queries, in today's blog, we will give you a detailed WPForms Review. This blog will help you easily decide on the right solution for your WordPress site.
How are WordPress Form Builder Plugins useful for your website?
It is obvious that using online forms is a great method to allow your website's visitors to get in touch with you as well as collect a lot of useful information effectively. However, if you are not good at HTML knowledge, creating forms via HTML is also challenging for you.
Fortunately, the release of WordPress Form Builder Plugins can help you handle this difficulty. By using the Form Builder Plugin, you are able to create unlimited types of forms without touching any line of code. In addition, creating a form via form builder doesn't require you to implement any complicated steps. And there are plenty of benefits once using a form builder plugin. However, which is the most effective WordPress Form Builder Plugin in the market? While there are a bunch of available form builder plugins on the internet such as WP Fluent Form, Gravity Forms, WP Forms, Contact Form 7, and much more.
Many users think that WPForms is the best WordPress Form Builder plugin that offers plenty of powerful features to help you create standard forms. But it is wondered that this tool is really powerful and excellent as what you have heard about it. To help you answer this query, in today's blog, we will provide you with the detailed WPForms Review that will include the truths about this plugin. It will help you choose the right solution for your website. Now, let's dive into our blog.

WPForms is considered one of the most high-quality WordPress Contact Form Plugins in the market. This plugin has been trusted by over 5 million customers around the world. It is famous for many advanced features such as drag and drop form builder, beautiful form templates, responsive mobile friendly, smart conditional logic fields, and much more. By using this plugin, you are able to build unlimited forms such as contact forms, online surveys, donation forms, and order forms in just a few minutes without touching any line of code.
In addition, WPForms also integrates with plenty of prevalent page builders and plugins like Gutenberg, Classic Editor, Elementor, Divi, Paypal Commerce, Mailchimp Forms, and much more to help you extend the functionality of the plugin.
WPForms-Outstanding features
Drag and drop form builder
This is one of the most significant benefits once using WPForms for your website. The drag-and-drop builder allows you to easily build any type of WordPress form in a few minutes. Especially, you don't need to touch any line of code.
Additionally, you are able to effortlessly add and move form fields to the position you want. If you want to re-order fields according to your requirements, you can completely use the drag-and-drop interface to handle it.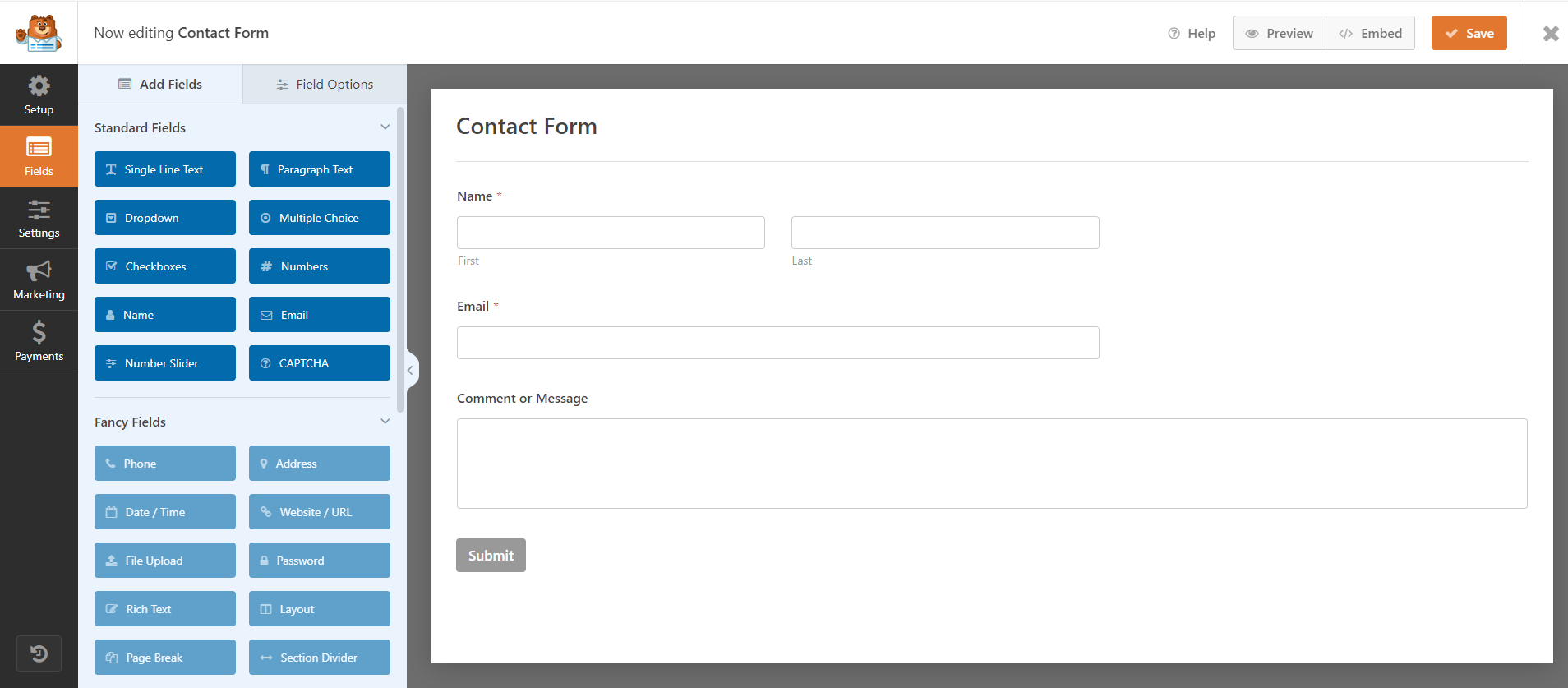 Pre-build templates
Currently, WPForms provides you with a collection of 400+ stunning pre-built form templates that cover different niches and industries such as newsletter signup forms, suggestion forms, billing/order forms, request quote forms, and much more. Hence, instead of starting from scratch again, you can take advantage of pre-made templates to create your own form quickly and save much time.
However, with the free version, you can only use 26 available pre-made templates. It is necessary to upgrade to the Pro version of WPForms, it allows you to unlock access to all types of forms in their library.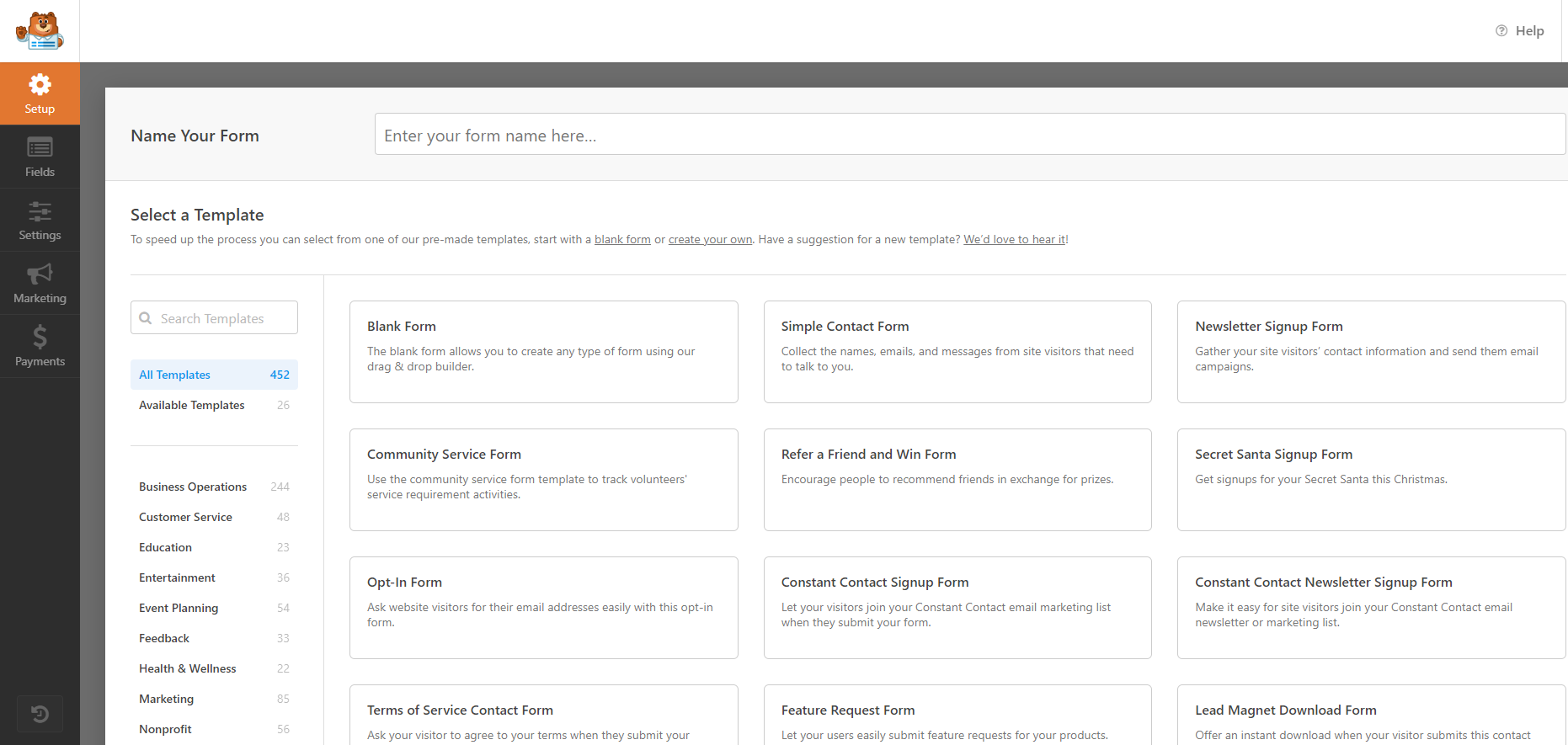 Smart conditional logic
Smart conditional logic is one of the unique WPforms' features. This feature allows you to generate intelligent dynamic forms that assist you to gather the most relevant information. In addition, adding conditional logic also gives your website's visitors a better experience thanks to hiding unnecessary information based on visitors' behaviors.
Nevertheless, this is also a premium feature, so you need to upgrade your version to access this amazing function and create various professional forms for your website.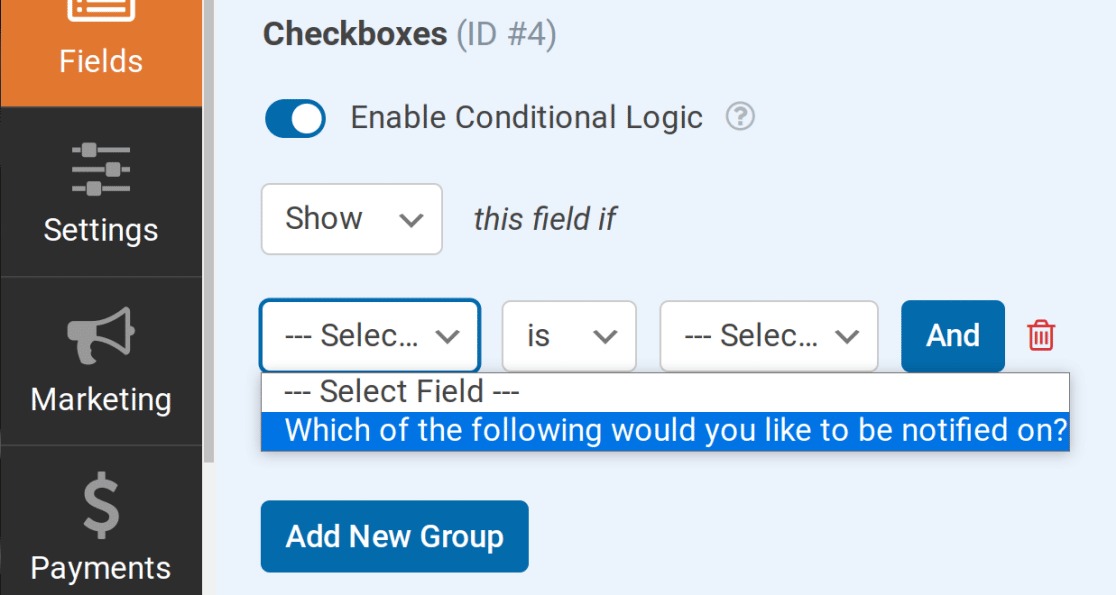 Surveys and polls
The paid version of WPForms allows you to create effective online surveys and polls without having to write any code. Moreover, you are able to build a stunning report with the best visualizations chosen for each type of question. The plugin allows you to customize the reports and export all those survey data and report for your presentation or showcase the clear results to your customers.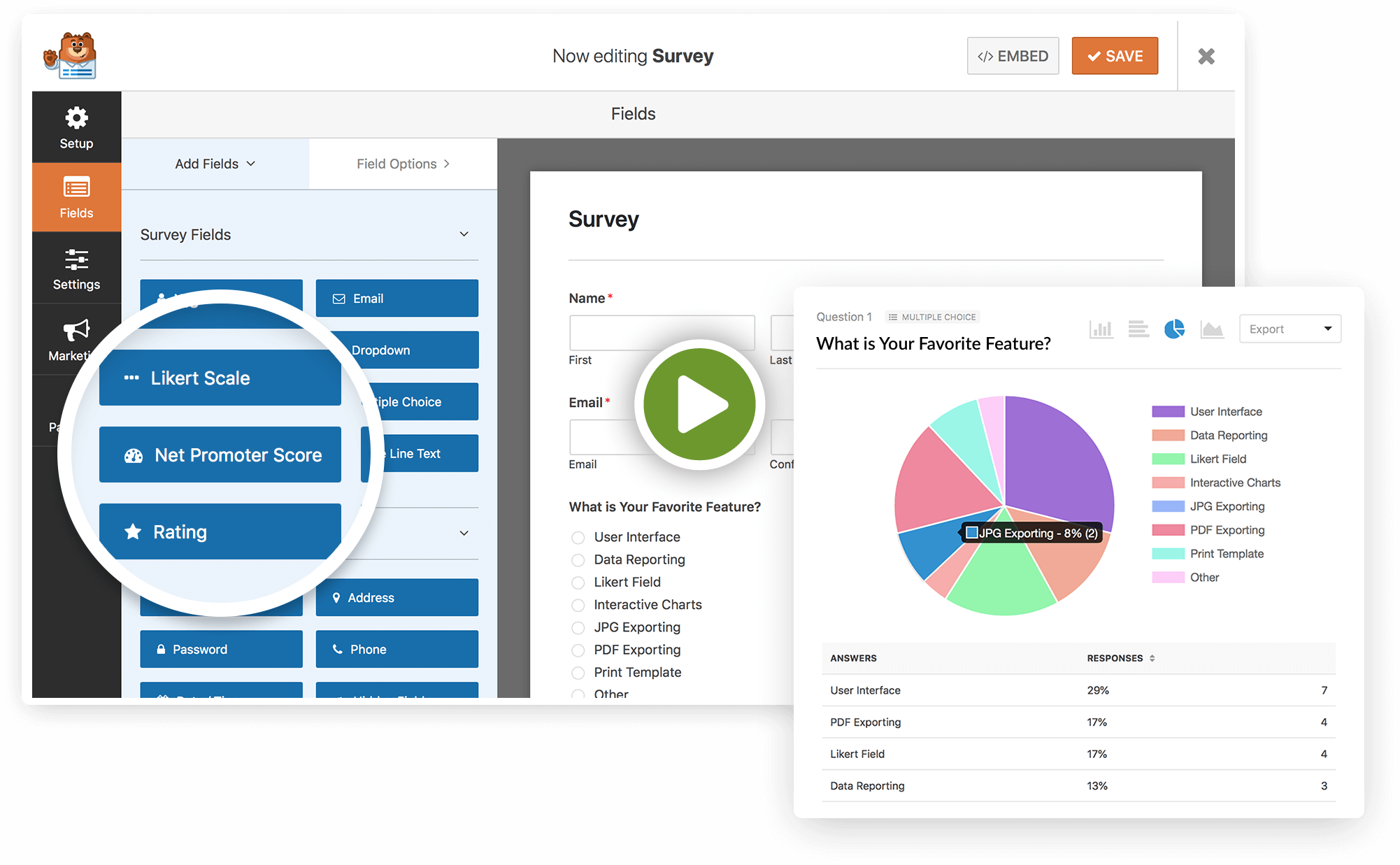 Form landing pages
If you don't want your WordPress form layouts to be controlled by the WordPress themes, then you use the Form landing page of WPForms. This addon allows you to create a landing page for any WordPress form. Further, you can customize your form as you want including adding your logo, selecting your favorite high-converting form styles, and a color scheme.
With the support of form landing pages, it is easy to increase conversion rates for your form. Besides that, it also helps your users focus on what they are doing and complete filling out your form.
Spam protection
As you know, online forms are most targeted by spammers. To stop online form spam, WPForms gives you an anti-spam feature that will help you prevent your form from spam automatically. In addition, this plugin also permits you to add a CAPTCHA to your online form. Currently, WPforms supports two popular services including Google ReCaptcha and hCaptcha.
Once you use Google reCaptcha, it will prevent spam by requiring your website's visitors to confirm that they are human. For example, the original Captcha requires users to retype random strings of letters or numbers that appear as a distorted image or a text box. This method will make it difficult for spambots to bypass. Thanks to that, you can lessen spam in online forms.
Additionally, you are able to use hCaptcha, which is an alternative solution for Google ReCaptcha. It will help protects users' privacy and reward websites.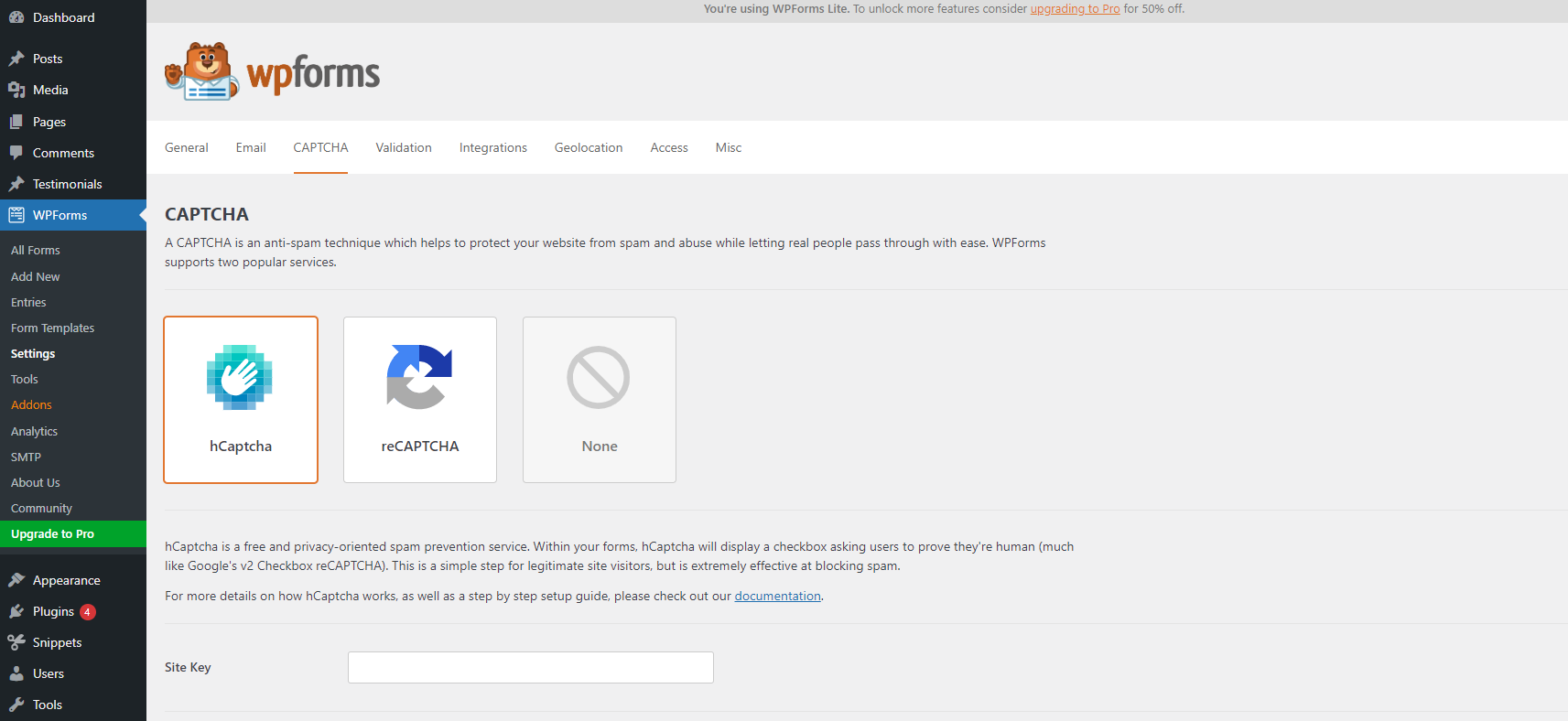 Email marketing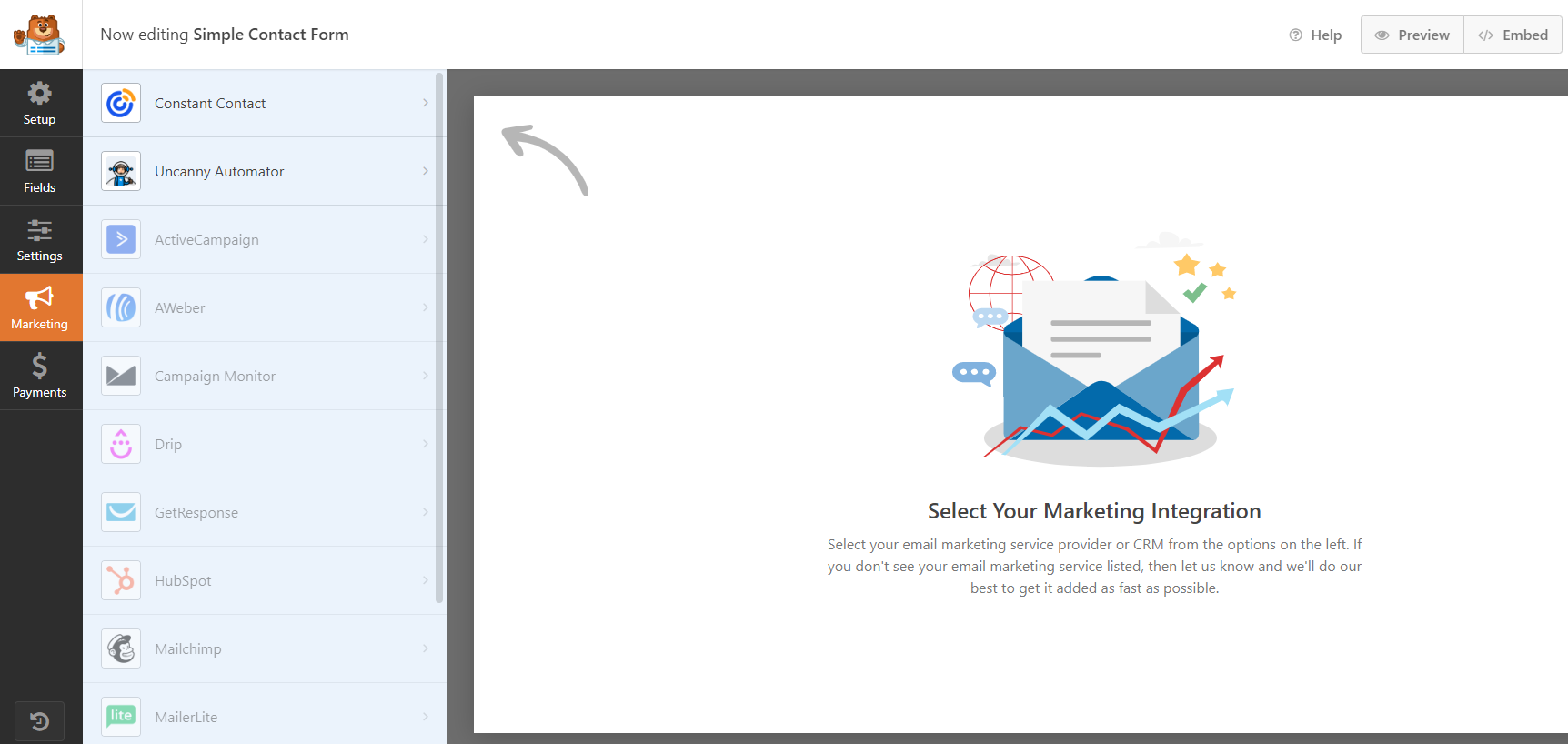 If you want to improve your email marketing campaigns, a list of WPForms' mailing list integration below will be extremely useful for your website.
Mailchimp
Sendinblue
GetResponse
Constant Contact
ActiveCampaign
Drip
and much more
The handiest integration is WPForms Zapier which allows you to connect your forms with over 5000+ web apps, involving email marketing services.
Order and payment forms
Another excellent feature of WPForms is that this allows you to create credit card payment forms, order forms, and collect payments for bookings and orders once you upgrade to the Pro version of WPForms. You can integrate WPForms with a lot of stripe payment plugins such as PayPal, Stripe, Square, and Authorize.Net. In case, you are using SSL, you are able to utilize Stripe, Square, or Authorize.net to accept credit card payments directly on your website.
Plus, WPForms allows you to use the PayPal Commerce add-on to accept payments through PayPal or credit card on your forms.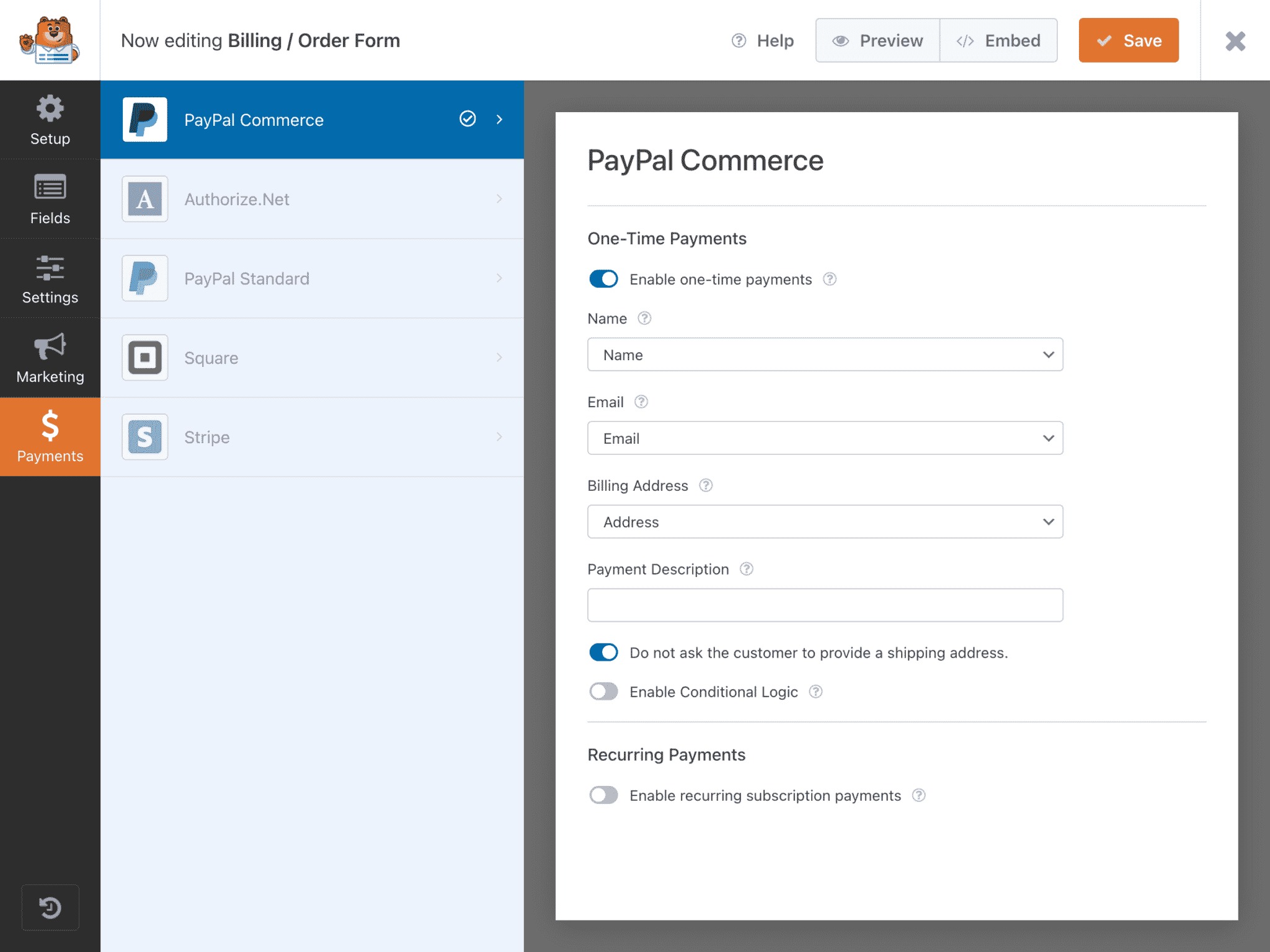 Easy file uploads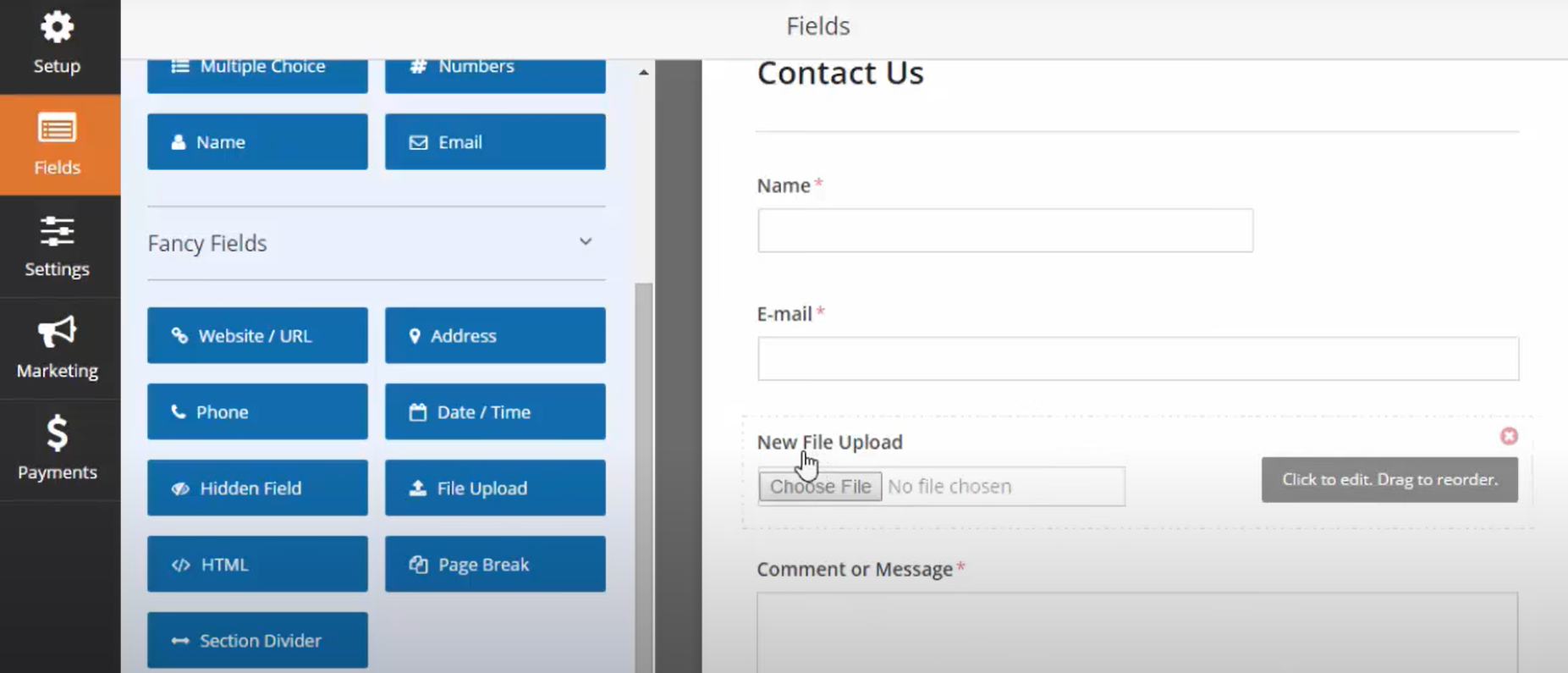 Do you want to allow users to upload files to your WordPress online form? This function will assist you to collect various types of files and media such as images, videos, Word documents, PDFs, and much more.
You can effortlessly add this field to your online form by using the drag-drop online form builder feature. Besides, this feature can limit unsafe files and have a maximum upload size to save your storage space.
Instant notifications
The instant notifications feature of WPForms allows you to reply to your customers in a timely manner. Once users submit their forms, the plugin will immediately send you notifications via email.
You are able to set up and customize your form notifications by navigating Settings > Notifications in the WPForms form builder. You can choose to notify just yourself or other members of your support team to ensure that you quickly provide your customers with a useful response.

WPForms-Dedicated customer support
One of the most important reasons that make WPForms become the best WordPress Form Builder Plugin in the market is its excellent customer support service. The average response time is 60 minutes for each request. In addition, for the WPForm lite version, the support team of WPForm frequently supports customers' issues in their Community via the WordPress.org forum. Hence, they can win their customers' trust and satisfaction and they have got plenty of positive reviews and over 11,000 5-star ratings on WordPress.org.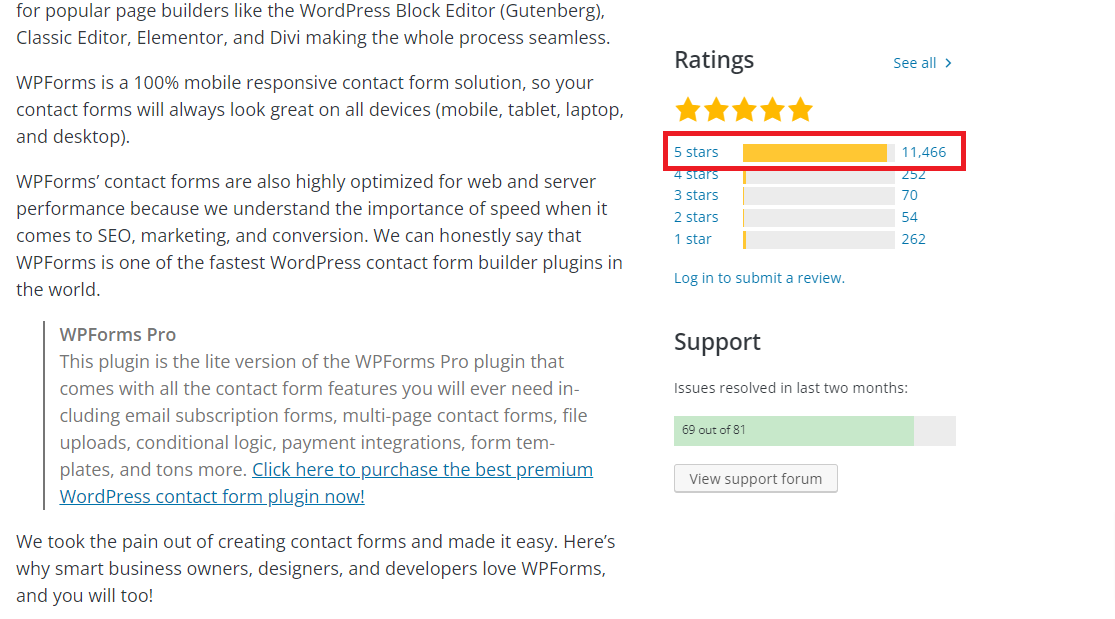 Additionally, WPForms also offers a collection of valuable and easy-to-read documentation, reference materials, and tutorials on its website. You can refer to them to handle your troubles.
What's more, you can get priority support via the ticketing system once using WPForms' pro packages.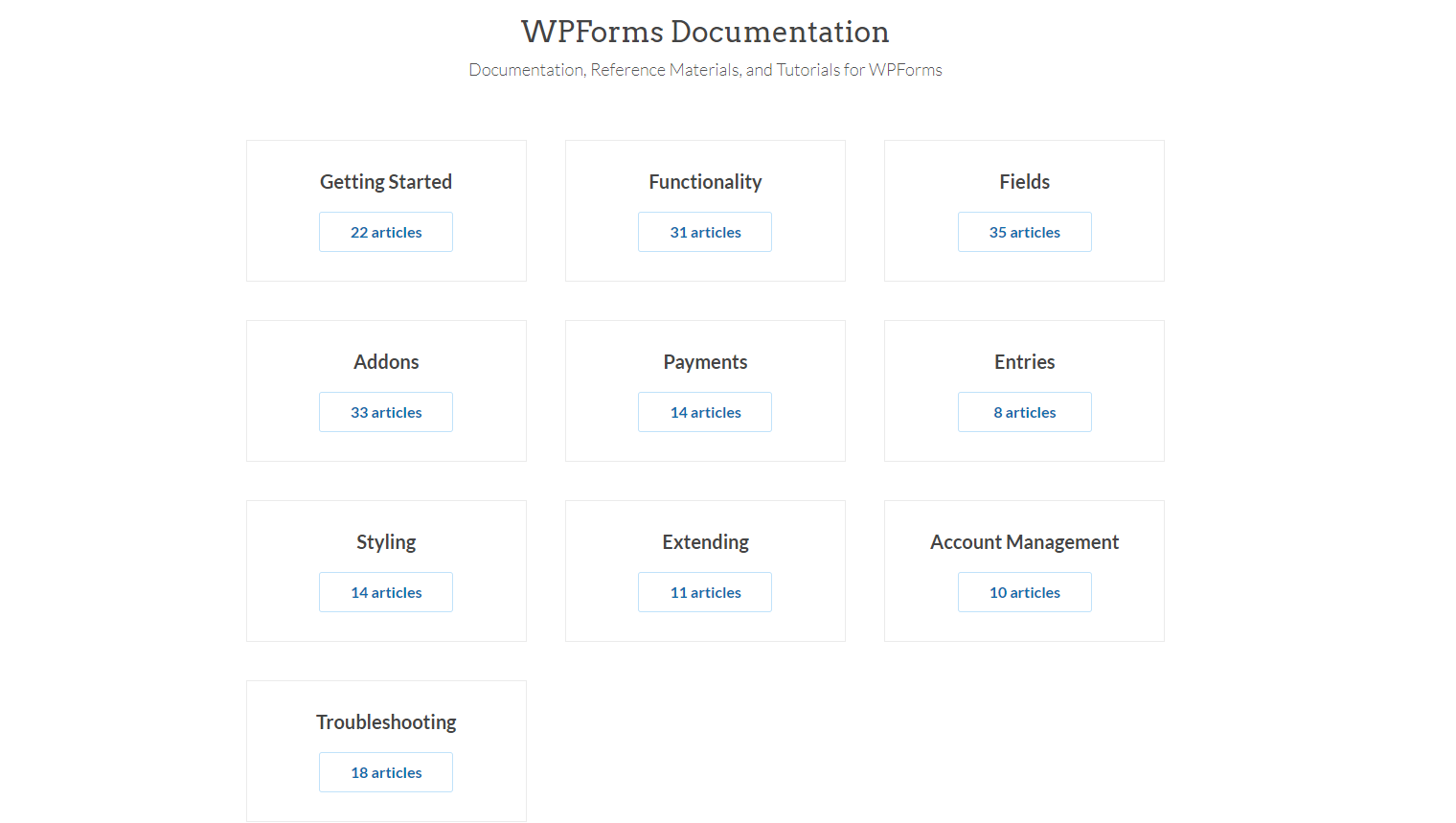 WPForms-Pricing
In addition to the free version, WPForms also offer 4 flexible packages including:
Basic: With this plan, you can only use the plugin on a single site. You can create unlimited forms, submissions, and users. This package is suitable for small businesses that want to build online forms.
Plus: To use this package, you have to pay $99.50/year. The plus plan will include all features of the basic package. However, it still lacks a lot of advanced features such as a payment gateway, signatures, offline forms, and much more. Hence, the plus plan is a perfect choice for small or middle-sized businesses.
Pro: This package costs you $199.50/year to use on 5 sites. The most advantage is that you can get more powerful features such as various payment options. This plan is highly recommended using for both individuals and businesses. Because it can meet almost all requirements that you need for your work.
Elite: This is the highest plan at $299.50/year and can be used for unlimited sites. This package provides you with full features, especially premium integrations with prevalent platforms such as Hubspot, Activecampaign, and so on. It is a perfect solution for large-sized businesses.
In fact, the paid packages of WPForms are not cheap compared to alternatives. In addition, it doesn't offer a free trial to allow customers to try out the paid version before buying it.
Although there is a 14-day money-back guarantee, it still requires you to pay upfront. Once you request a refund, you will not get your money back immediately. It will take over two weeks for the money to return to your bank account.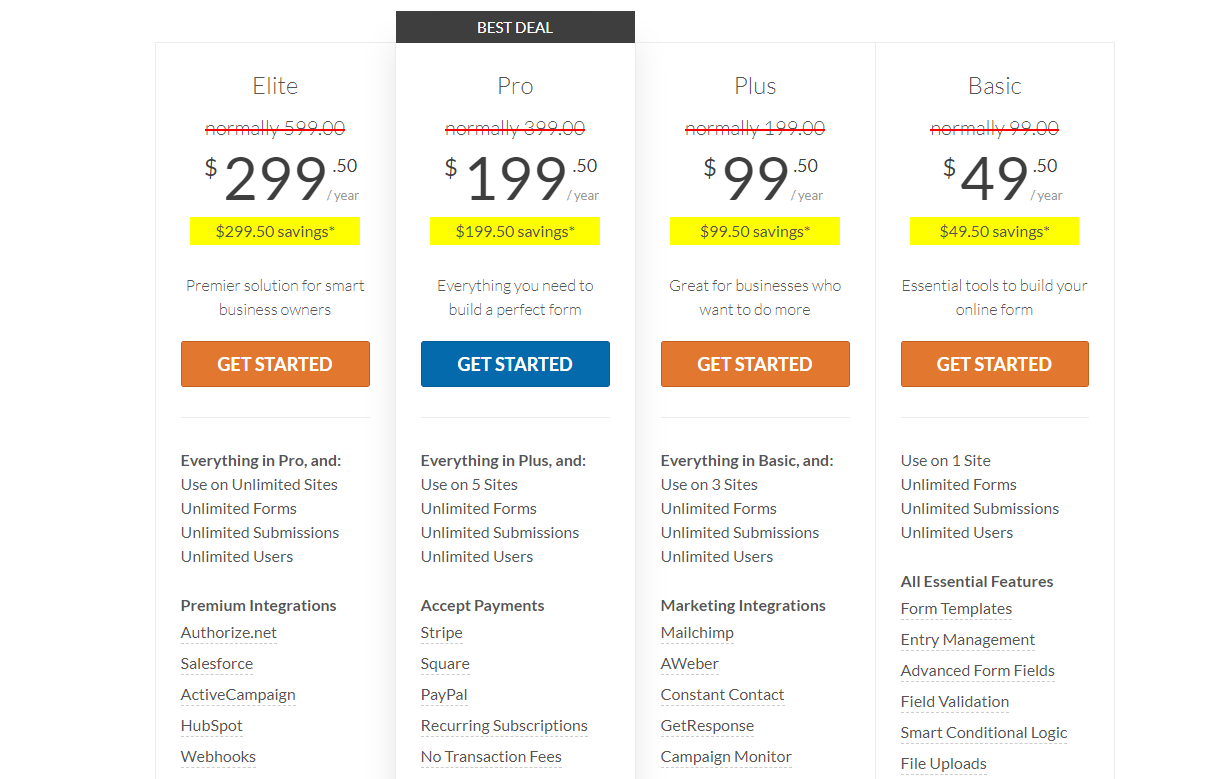 WPForms-Pros and cons
Pros
Cons

Easy to use and lightweight
Intuitive and simple interface
Many useful pre-built form templates
Plenty of advanced fields
Allow creating an unlimited number of forms
Video tutorials and documentation are available

It is minimal for the free version
There is no trial provided to try out the premium version
You are not able to upload files at the same time
The paid version is more expensive than other rivals that offer the same features
WPForms Review: Is WPForms the best WordPress Form Builder Plugin?
In spite of that WPForms's prices are pretty expensive compared to other competitors that provide you with similar features, we have to admit that WPForm is really the best form builder for WordPress. However, it's disappointing that the free version of WPForms is quite limited or even its lower-priced packages are limited too.
Hence, if you are struggling to choose the free version or the paid version for your website, we highly recommend using the free version in case you only need to create a simple form for users to fill up. On contrary, if you want to create professional forms that include signatures, payment methods, and smart conditional logic, then you should upgrade your WPForms plugin to the premium version to access full advanced features.
And what's your point of view? Are you satisfied with this plugin? In addition, if you know other excellent alternatives, don't forget to mention them in the comment section below. Hopefully, this WPForms review blog will give you plenty of useful information so that you can choose the right option for your website.
By the way, are you going to decorate your current WordPress website? If yes, please visit our free WordPress Themes to discover a wide range of amazing designs for your website.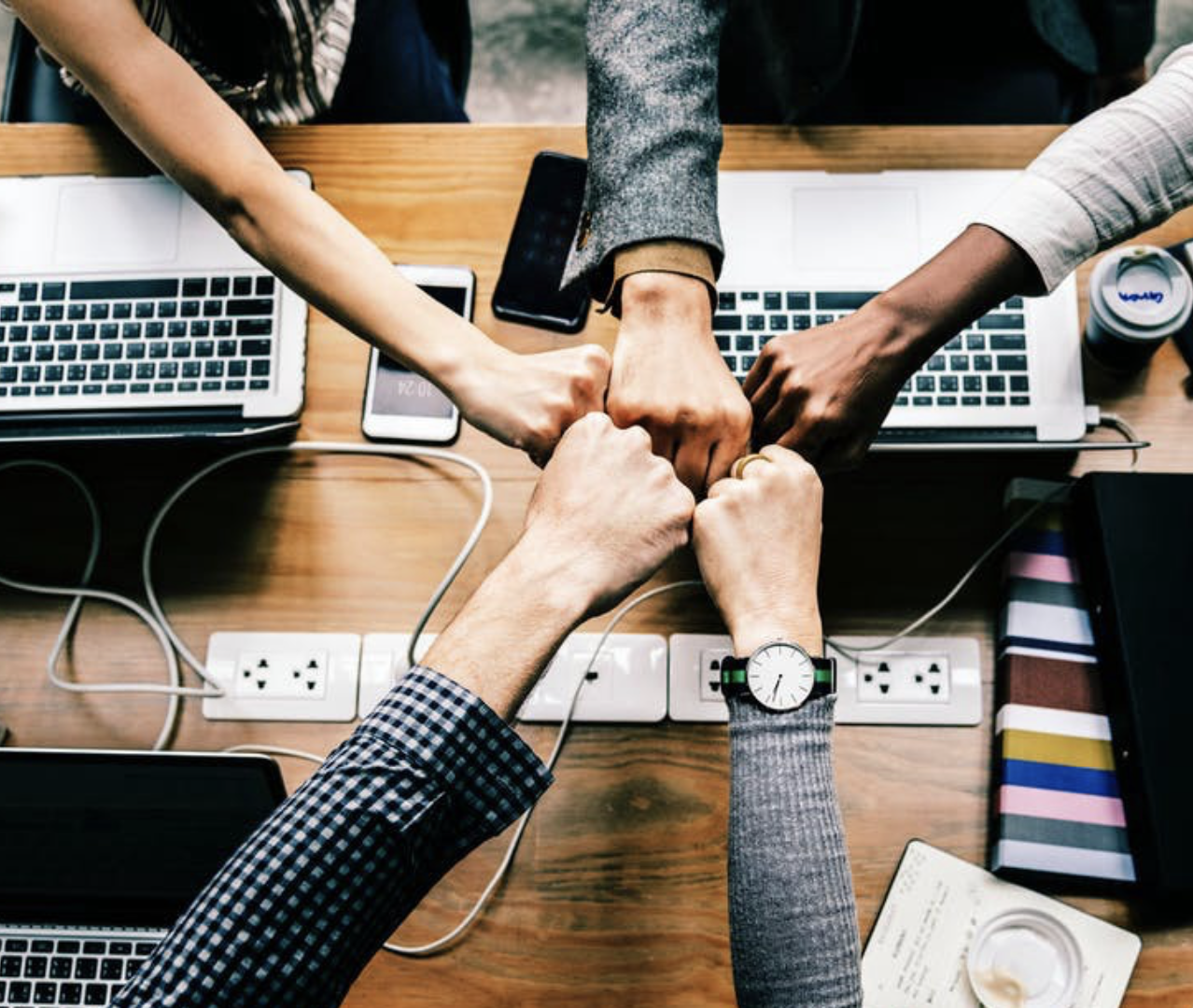 Hello everyone! We're Galussothemes content team, we love to write new blogs for WordPress everyday! Galusso Content Team is a part of IT4GO – The company houses talented young people who hold a strong passion for website development, designing, and marketing.