Currently, there are a lot of premium cache plugins in the market. Especially, the release of WP Rocket in 2013 brought plenty of positive feedback, in terms of advanced features to speed up your website's performance. And WP WP Rocket was definitely a revolution. But you don't know whether their's features overshadow other free WordPress cache plugins. In today's blog, we will provide you with a comprehensive and thorough WP Rocket review of what the plugin offers. Let's go over our WP Rocket review.
Why do you use the WordPress Caching plugin for your website?
In the 4.0 revolution, once time is one of the most important factors that should be always placed on top. As a result, your customers tend to leave your website immediately if the page loading speed of your website is very low regardless that your website contains a huge collection of valuable and useful information for readers. It is also the trend and habit of searching and reading information on PC, laptops, smartphones… of many readers around the world.
Therefore, it is necessary for you to use the WordPress Caching plugin to speed up your website and improve the user experience on your website. Once your website moves fasters, then they tend to want to browse and explore your website more. Thanks to that, you can effectively reduce bounce rates and keep your website's visitors staying longer on your website. In addition, making your website faster is also a crucial factor to improve your WordPress SEO and your website's ranking on the search engine results pages.
Introduction about WP Rocket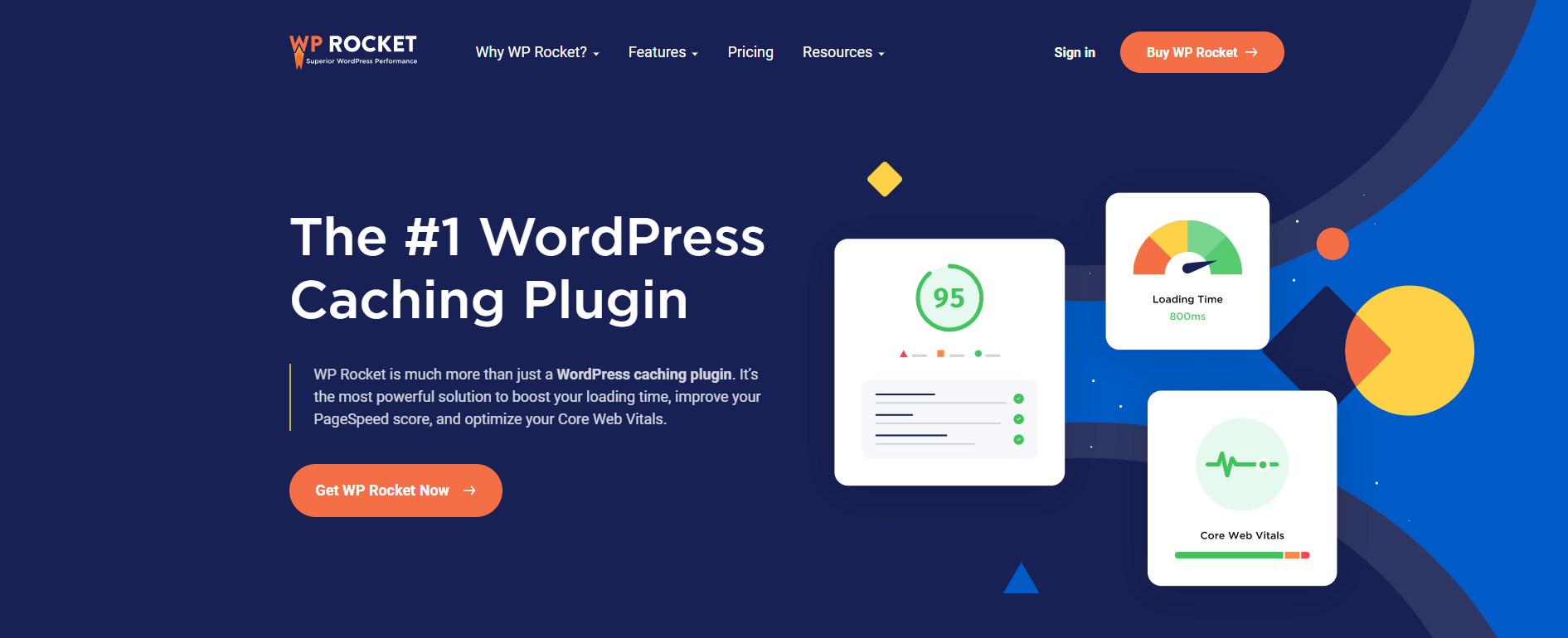 WP Rocket is well-known as one of the most excellent Premium WordPress Cache plugins in the market. It is packed with plenty of excellent performance optimization features such as database optimization, CDN integration, file minification, and much more. In addition, this plugin has received a lot of positive feedback for its quality. Plus, WP Rocket is very easy to use and install, so you can add it to your WordPress website with a few clicks. Moreover, the plugin also comes with a set of useful settings and options that permit you to customize it to suit your need such as Like Google Web Vitals.
Although it has a lot of good reviews, are they true its values? In today's blog, we will analyze different aspects of this plugin to give you equitable reviews. Now, let's dive into the following sections.
Main features of WP Rocket
Easy to use
Regardless of whether you are a web professional or not, you can still use WP Rocket easily. Since this plugin has a modern and intuitive user interface. Users can easily access a full range of options to enable caching according to the users' requirements directly from their WordPress dashboard. It is one of the outstanding advantages that attract a lot of users to install this tool.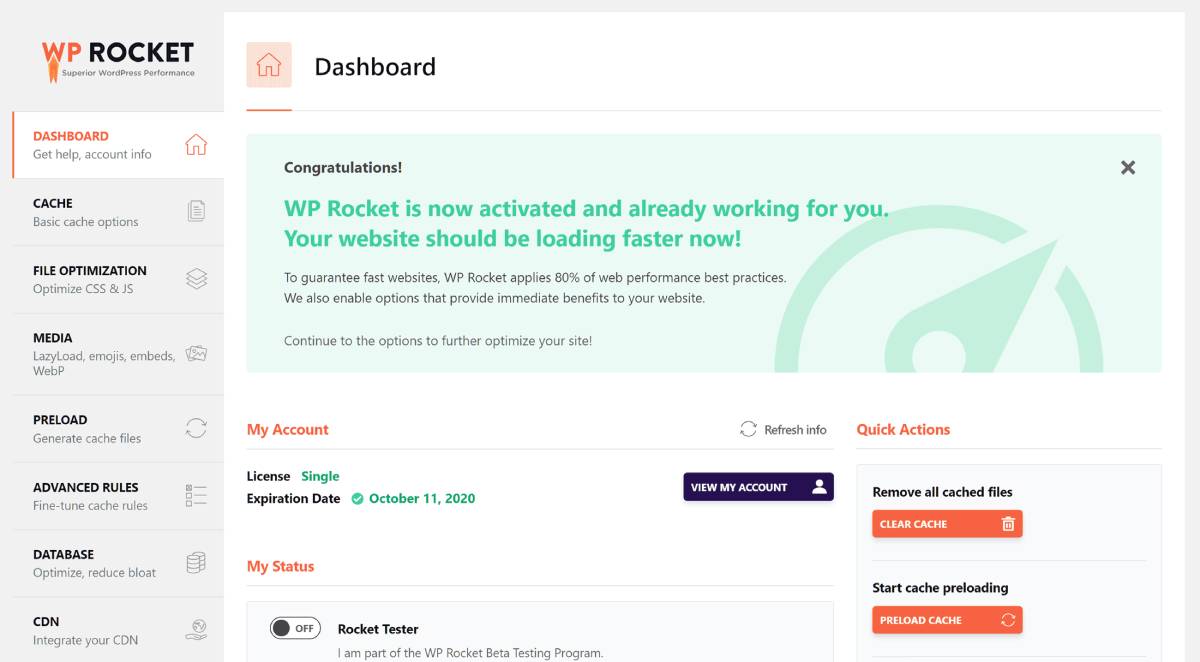 In addition, once you are on the setting page, you can view a clear explanation shown below each option which helps you effortlessly look for features within the user interface of the plugin.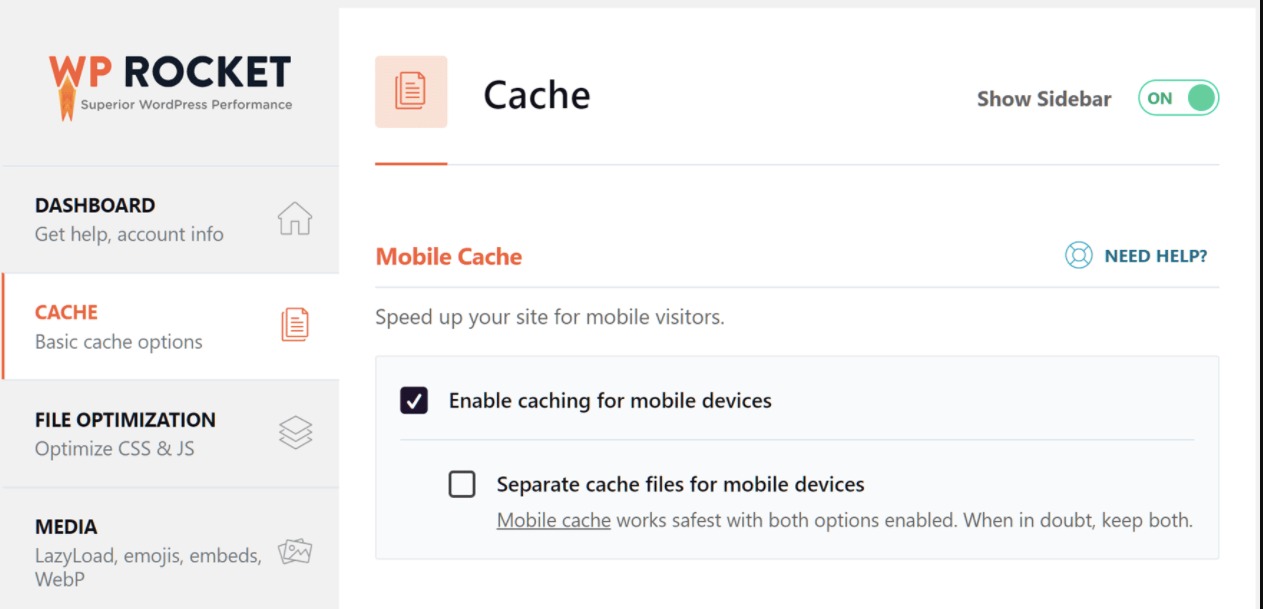 Especially, when configuring the plugin's settings, you do not need to worry. Because the plugin will display a lot of tutorial videos along with relevant support content to assist you to comprehend all features and how this plugin operates.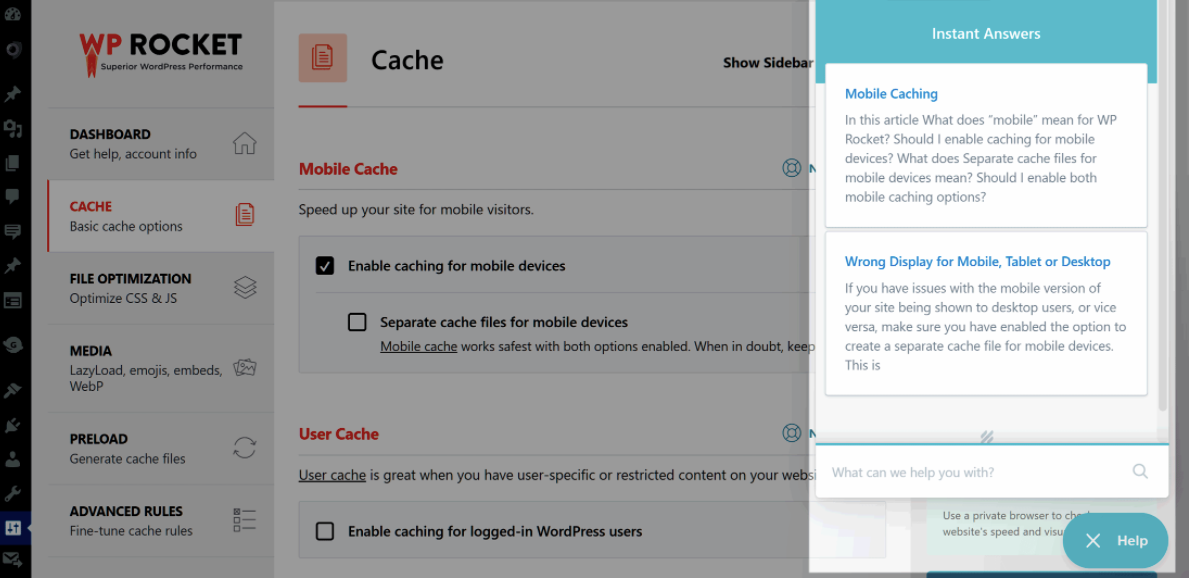 What's more, if you have any questions or need assistance, you directly send messages to support staff from your WordPress dashboard rather than visiting the plugin's website.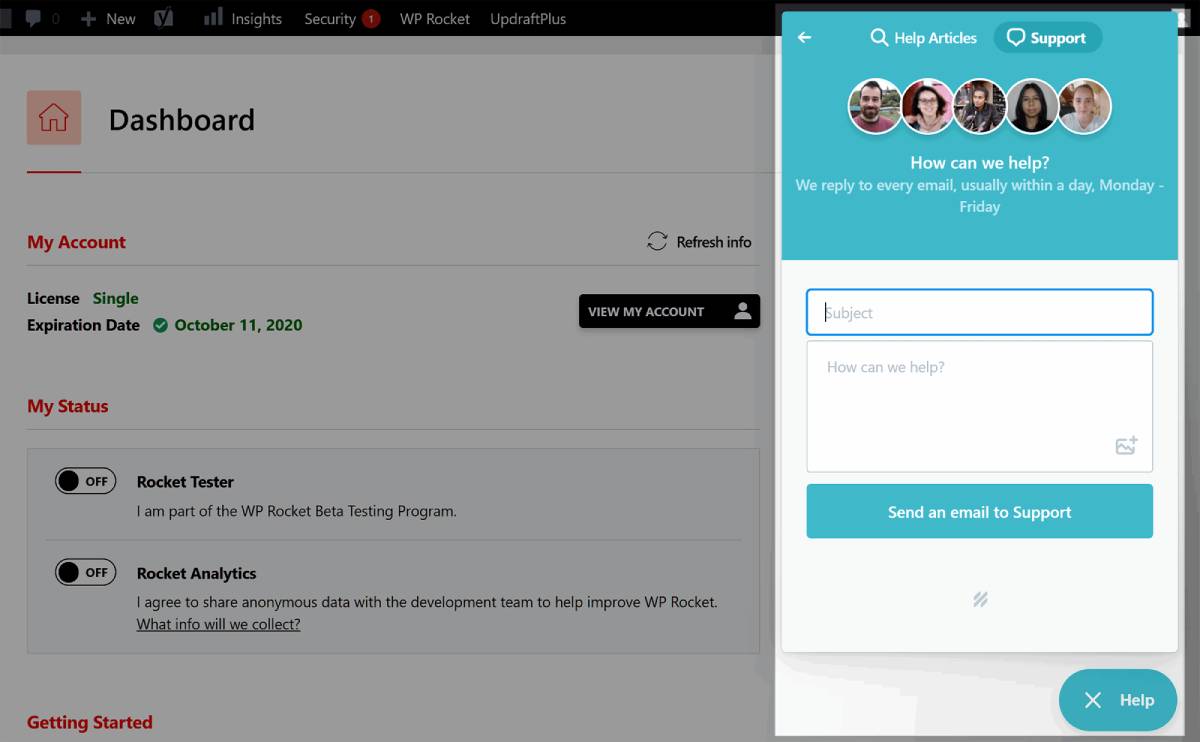 Database optimization
Over time, the increase of your futile database is the main reason that makes your website slow down. To help your website get rid of this disadvantage, WP Rocket was packed with a database optimization feature. This function will assist you to clean your useless database tables, comment, posts, transients, and much more in two clicks. Moreover, there are a dedicated set of options that allow you to automatically schedule database cleanup.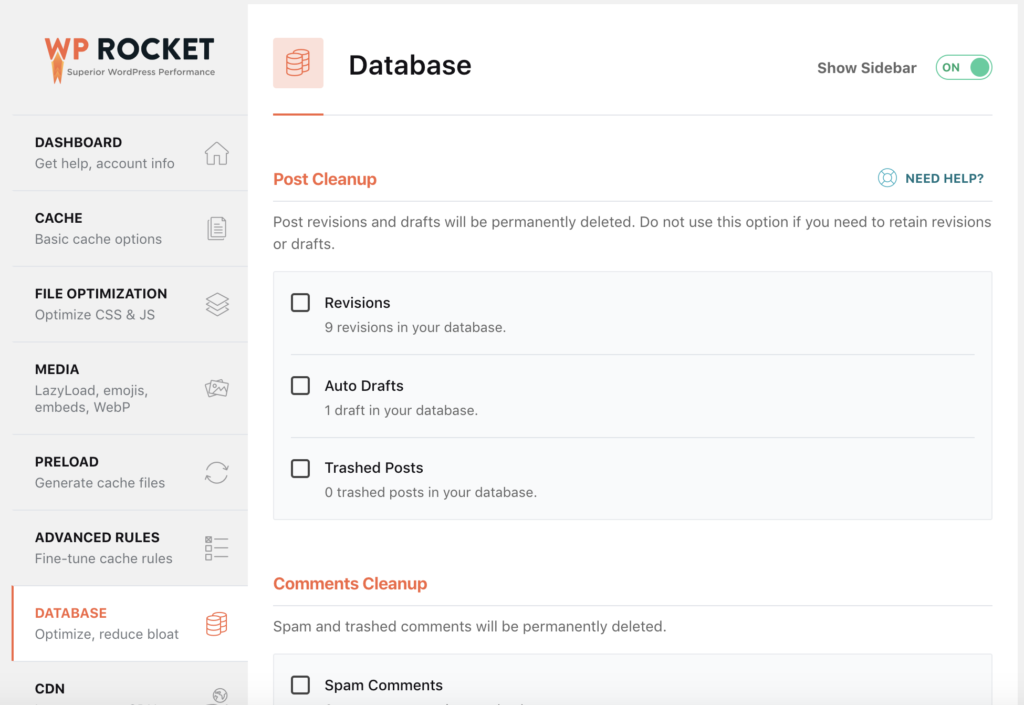 CDN compatibility
This is one of the most excellent WP Rocket features. A CDN is a perfect key to speed up your website so that your website's visitors will be satisfied with the user experience on your website. Luckily, WP Rocket is compatible with a lot of prevalent CDN providers.
Additionally, if you are using a CDN, you are able to integrate it with WP Rocket to strengthen the performance of your WordPress effectively.
Alternatively, you can use Rocket's custom CDN that will help your website visitors quickly access your content regardless of where they are located. If you want to use WP Rocket's custom CDN, it costs $7.99/month with unlimited bandwidth.
Media optimization
WP Rocket is packed with a list of handy options to control the display of images and iframes on your WordPress. Especially, with the Lazyloading function, you are able to postpone the loading of images or iframes until the readers reach that part of the page. It is really an excellent feature for optimizing both perceived and real performance. Moreover, this also helps your website's visitors save an amount of bandwidth since all media files on your website don't need to load at the same time.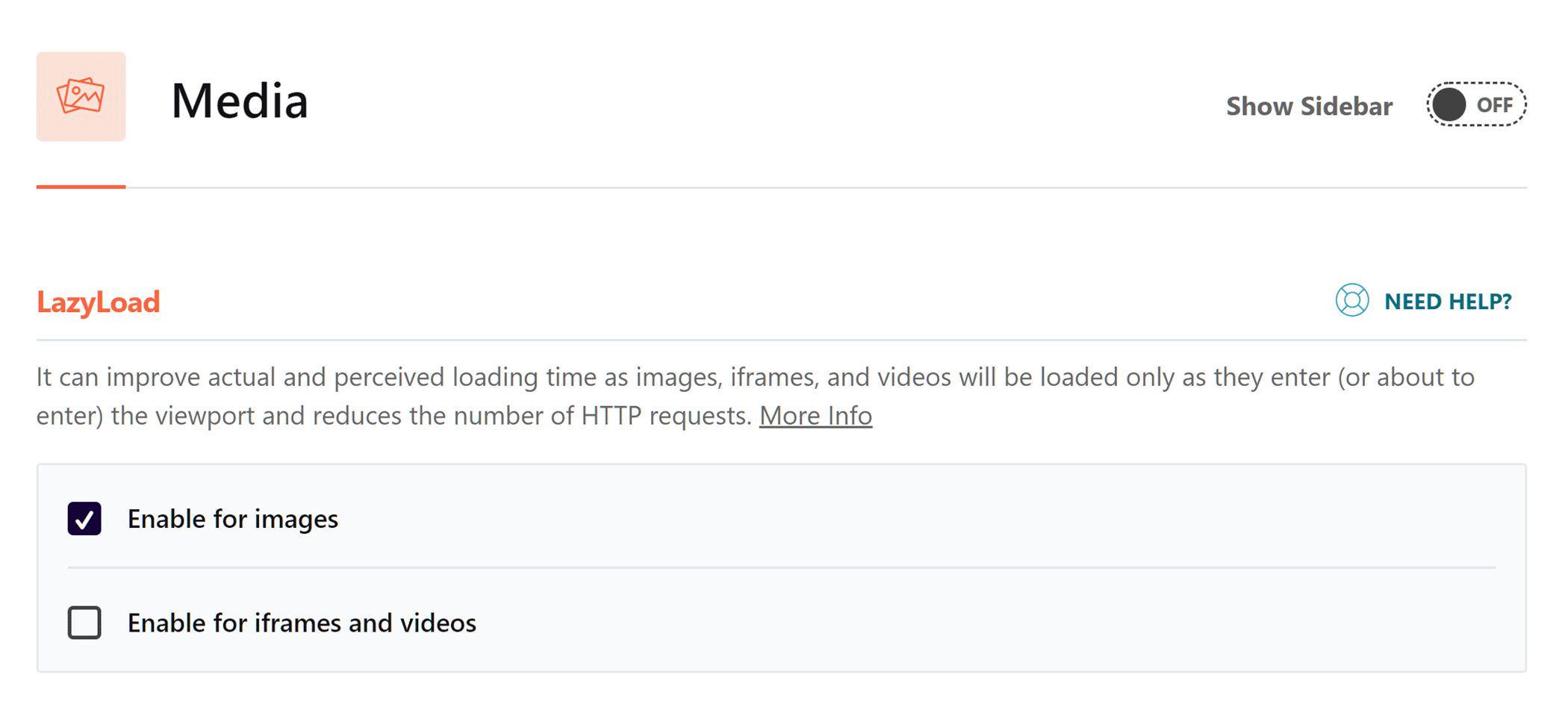 Moreover, there is an option to load the emojis on your website from the user's computer instead of downloading them from WordPress.org. Another good point is that the developers of WP Rocket have designed the Imagify plugin that has the ability to compress your website image. Thanks to that, it can improve loading times and lessen file sizes.
Cache Preloading
Preload cache is the most excellent feature to pick up your website speed. By default, this feature will be enabled in the plugin's settings, so your page will be preloaded without waiting until someone accesses the pages.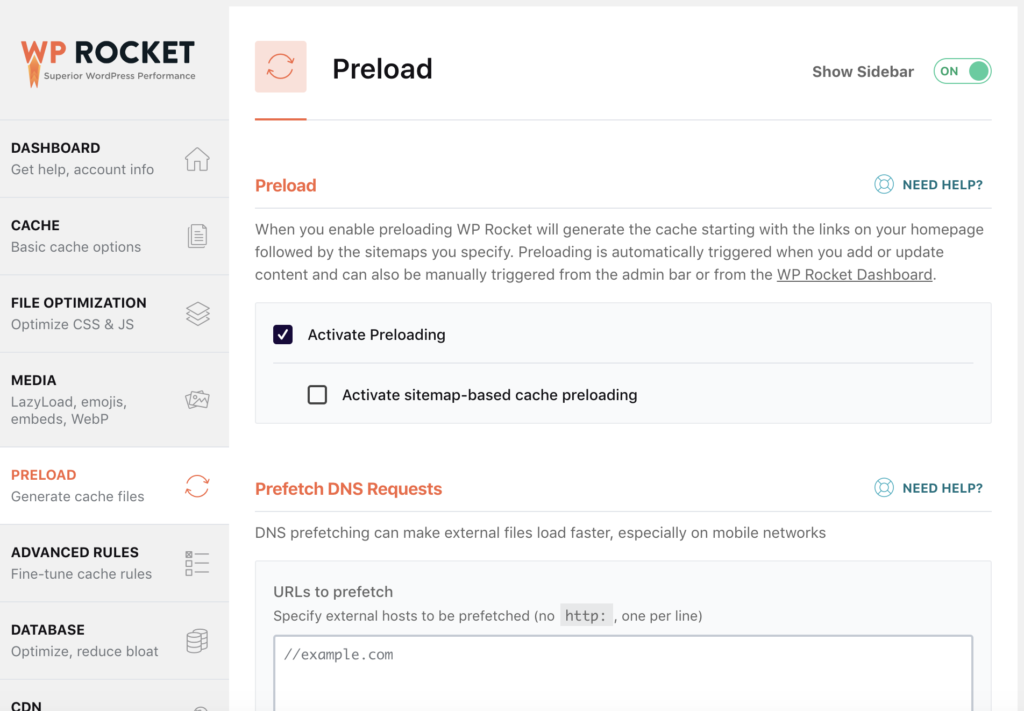 Ecommerce optimization
WP Rocket specially designs Ecommerce optimization features to help eCommerce stores run fast and smoothly. This feature has the ability to get rid of the view cart and checkout page of your eCommerce stores from the cache. As a result, you can give your customers a smooth purchasing process and boost your sales effectively once you are speeding up your WordPress site.
Excellent compatibility
If you are worried about whether WP Rocket is compatible with your current hosting provider, this feature will help increase your peace of mind. Currently, WP Rocket is compatible with 99% of hosting companies such as WP Engine, Dream Host, Blue Host, GoDaddy, Kinsta, and much more. Moreover, it also works well with the most prevalent themes and plugins. Hence, you can completely have a beautiful, powerful and fast website at the same time without any trouble.
Performance of WP Rocket
Even though WP Rocket is famous for a lot of advanced features to accelerate your WordPress speed, it is wondered whether their performance really makes you satisfied. To help you clearly see the speed and performance changes of your website once using WP Rocket, we have tested our test website with WP Rocket. Below is the table showing the changes in some common metrics after using WP Rocket.
| | | |
| --- | --- | --- |
| Some common metrics | No WP Rocket | Using WP Rocket |
| Largest Contentful Paint (LCP) | 2.518 s | 0.891 s |
| Total Page Size | 805 KB | 588 KB |
| Requests | 47 | 17 |
| Time to first byte (TTFB) | 1.516 s | 0.063 s |
| Fully Loaded Time | 2.552 s | 0.823 s |
As you can see in the table, all main metrics improve significantly. Without a doubt, WP Rocket is really a perfect tool to boost your website's speed and performance. Moreover, it will help you enhance user experience and improve your website's ranking.
WP Rocket Pricing plans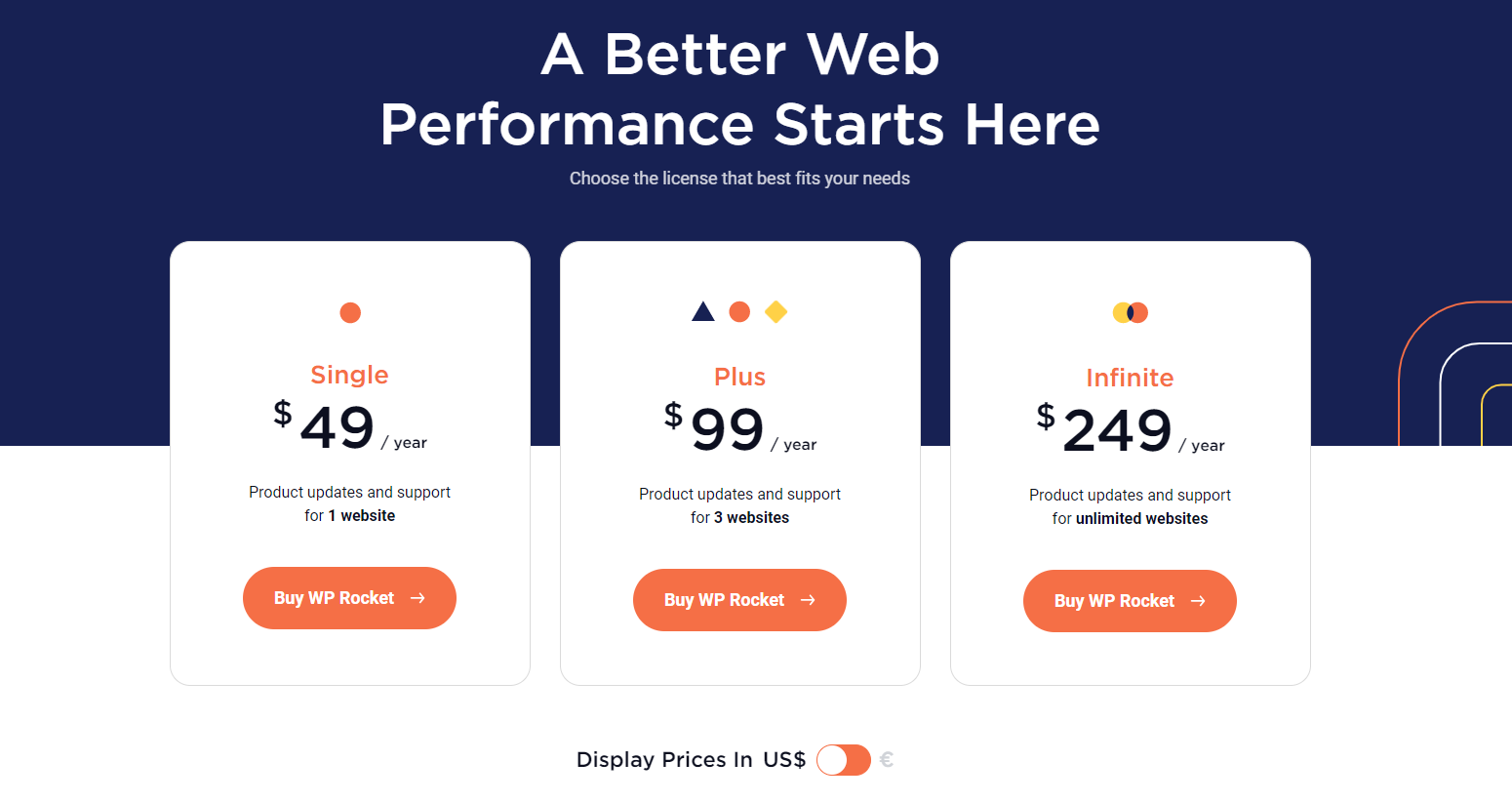 Compared to other premium WordPress caching plugins, WP Rocket's pricing plans are completely affordable. WP Rocket provides you with 3 flexible packages including:
Single: This plan starts at $39 for one year of updates and support and can be used for one website.
Plus: In order to use this package, you need to pay $99 for one year of support and updates and use it for 3 websites.
Infinite: This package costs $249 for one year of updates and support and can be used for unlimited websites.
In addition, WP Rocket provides you with a refund if you are not pleased with the plugin within 14 days of your purchase.
Pros and cons of WP Rocket
Pros
Cons

Friendly and easy to use
Intuitive interface
Constant updates and new functions
Excellent support and useful documentation
Multilingual compatibility
Ecommerce compatibility
Compatible with a lot of themes, plugins, hostings
Many advanced and powerful features

WP Rocket comes only in paid
WP Rocket Review: Final thoughts
In spite that in the market, there is a wide range of free WordPress caching plugins released and developed, WP Rocket completely overshadows those tools in terms of advanced features such as the ability to reduce the site lag and speed up your website quickly. In addition, there is no doubt that WP Rocket is really a good plugin since it regularly updates new features to improve the plugin, and fix bugs and issues that you can't find in other free WordPress caching plugins.
Therefore, we absolutely recommend using WP Rocket for your website. Because it is not only easy to use but also gives you many functionalities to improve your site performance as well as handle all problems that affect your page loading speed. However, depending on your purpose and your budget, if you want to only use a simple tool, then you can use other free cache tools to save a lot of money, for example, W3 Total Cache.
And what is your opinion? Are you pleased with what WP Rocket brings to your website? Let's share with us your point of view by leaving a comment below. Otherwise, you can refer to a list of the best WP Rocket alternatives. Finally, we hope that this blog will help you get clear information about this plugin to choose the right option for your website.
By the way, we would like to introduce a huge collection of bewitching, SEO-friendly, free WordPress Themes on our website. You can visit and choose a beautiful one to change your website's appearance.
30+ Free Free Joomla templates, support Visual Page Builder, compatible with Joomla! 4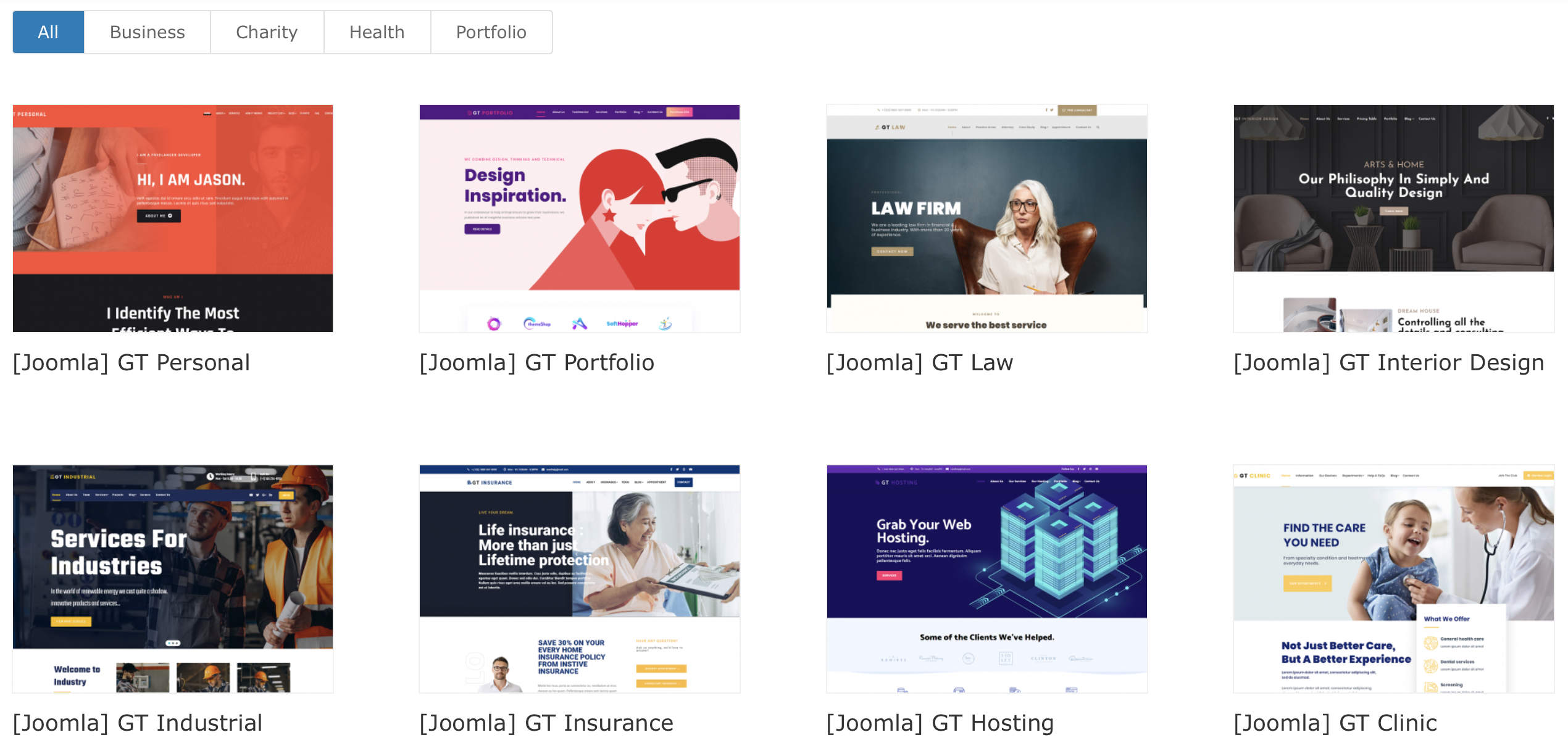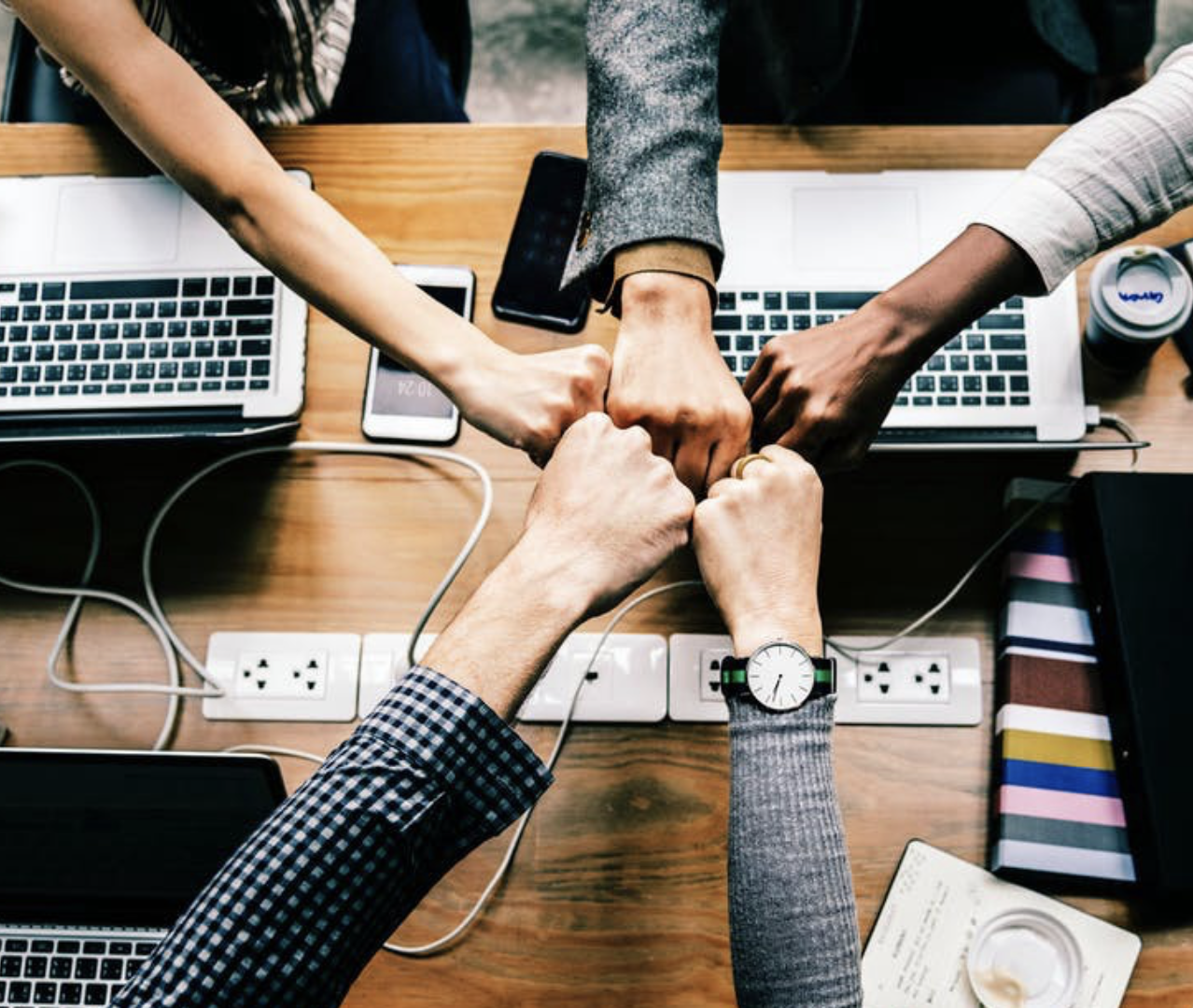 Hello everyone! We're Galussothemes content team, we love to write new blogs for WordPress everyday! Galusso Content Team is a part of IT4GO – The company houses talented young people who hold a strong passion for website development, designing, and marketing.