Are you going to install the Wordfence plugin for your website? But you are wondering whether this plugin is effective as you have heard about it. In today's blog, we will share with you a full Wordfence review about its main features, pricing, and much more. Now, let's check them out.
The necessity of using the WordPress Security plugin for your website
At present, WordPress is one of the most widely used open-source CMS platforms by plenty of users around the world. Because of its popularity, WordPress tends to be mostly targeted by many hackers. It is estimated that more than 13,000 websites are hacked per day. And this figure will increase dramatically if we don't provide our website with high security to protect our website from malware, backdoor, SEO spam, hack tool, Phishing, and much more.
In order to protect your WordPress websites from wanted threats, professional developers have released a lot of security plugins. With the assistance of these tools, you are able to strengthen the security of your website because most security plugins come with a wide range of comprehensive and advanced features such as file scanning, blocklist monitoring, security hardening, post-hack actions, firewalls, brute force attack protection and much more.
There is no denying that the diversity of security plugins brings you many choices. However, it also makes it difficult for you to choose the best one. Many users think that WordFence is the best tool in terms of protecting your website against cyber-attacks. But it is wondered whether this plugin is the best choice for your website.
If you are learning about this plugin, luckily in today's blog we will provide you with a detailed Wordfence review about different aspects of this plugin including remarkable features, pricing, customer support, pros, and cons. This useful information will help you make the right decision for your website. Now, let's check them out.
Introduction about Wordfence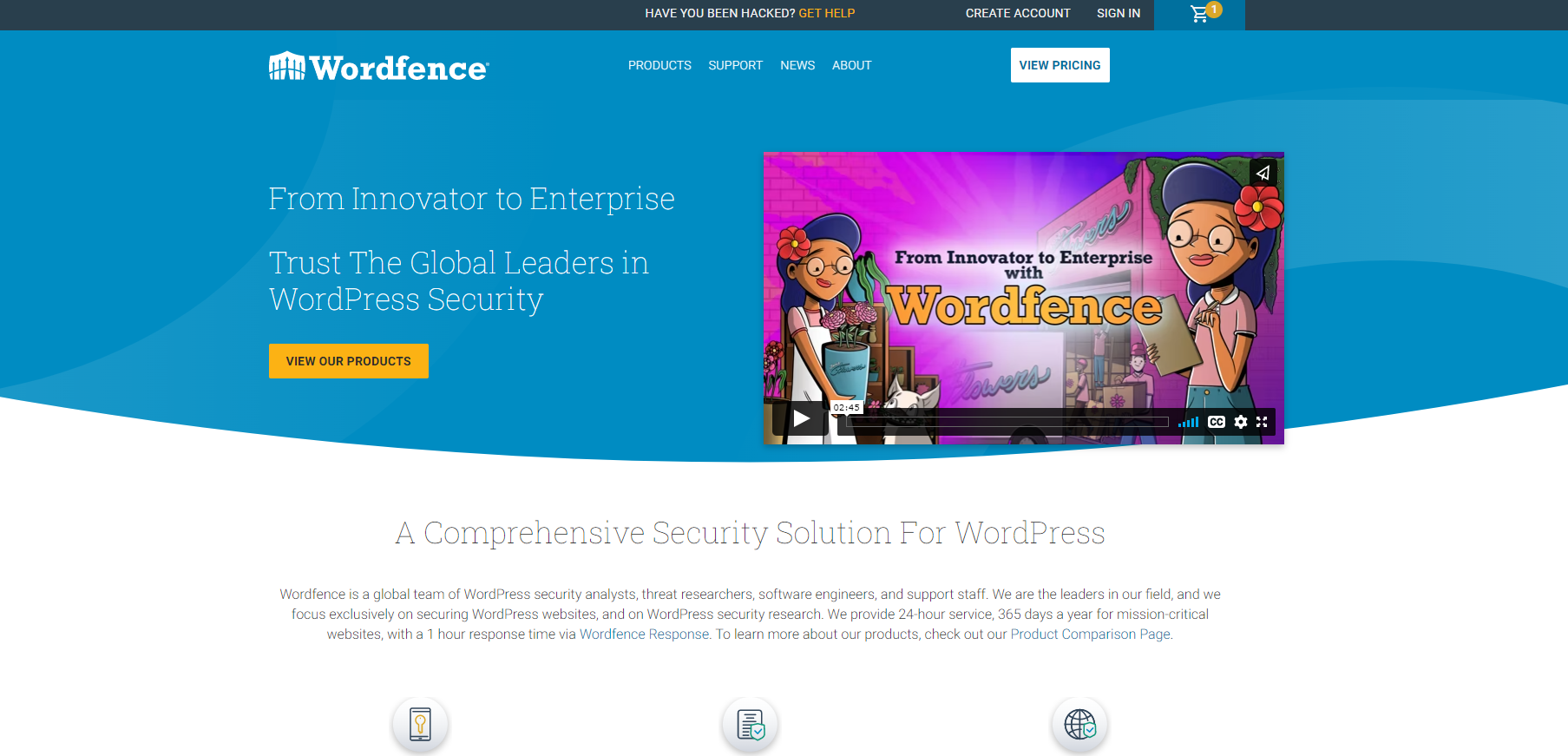 If you have used WordPress for many years, it is sure that you have heard about Wordfence. It is considered one of the most high-quality WordPress Security plugins in the market with over 4 million active installations. This plugin has protected numerous websites from unwanted threats and malware. In addition, it gives you a malware scanner that helps you check all your WordPress core files, themes, plugins, backdoors, SEO spam, and much more.
Wordfence-Remarkable features
Easy of use
The process of setting Wordfence is pretty straightforward. Because it is a free plugin, then you can completely install it directly from your WordPress dashboard. Once the plugin is installed, the plugin will display a popup window that requires you to provide an email address where you would like to get security notifications. In addition, you also need to agree with their License Terms and Conditions, the Services Subscription Agreement, and Terms of Services to complete the process of activating the plugin.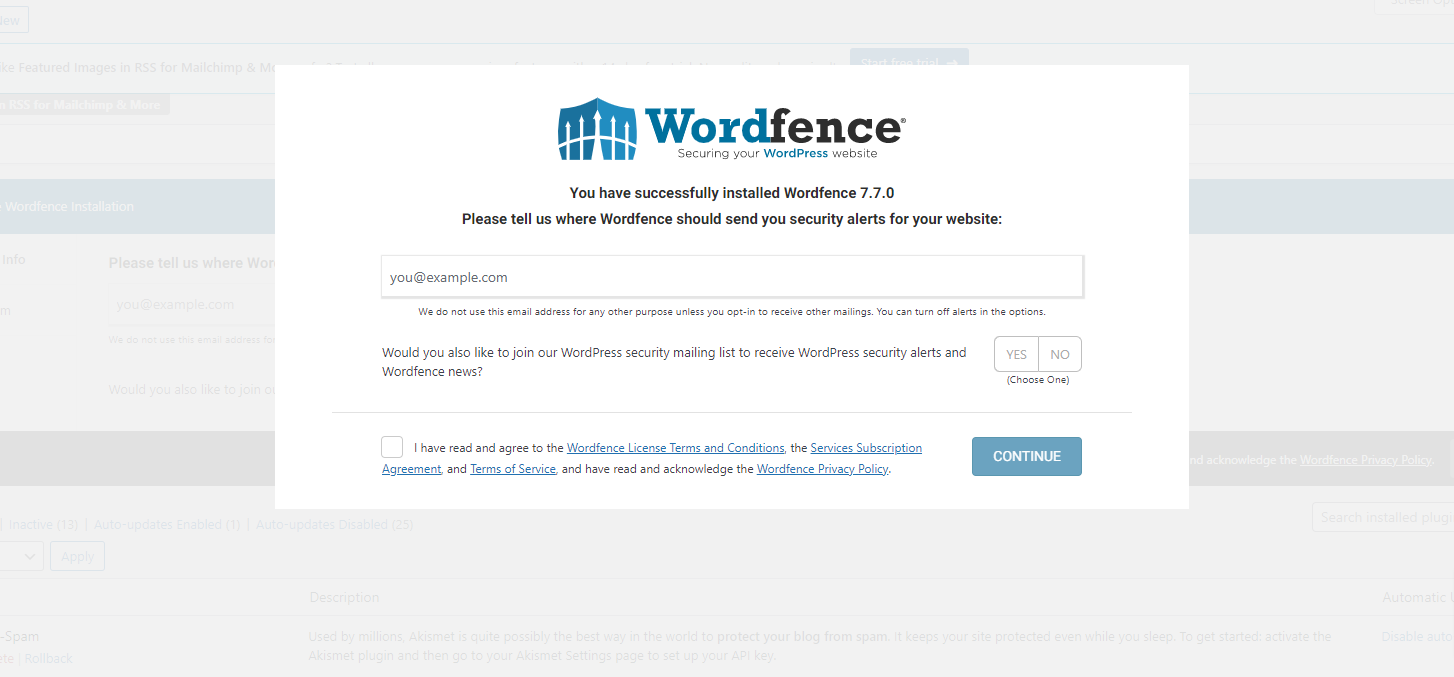 After you have completed the installation, you need to go to WordFence > Dashboard to see the Dashboard of the Wordfence plugin. Especially, the plugin also gives you an onboarding wizard that assists you to become familiar with the Wordfence dashboard.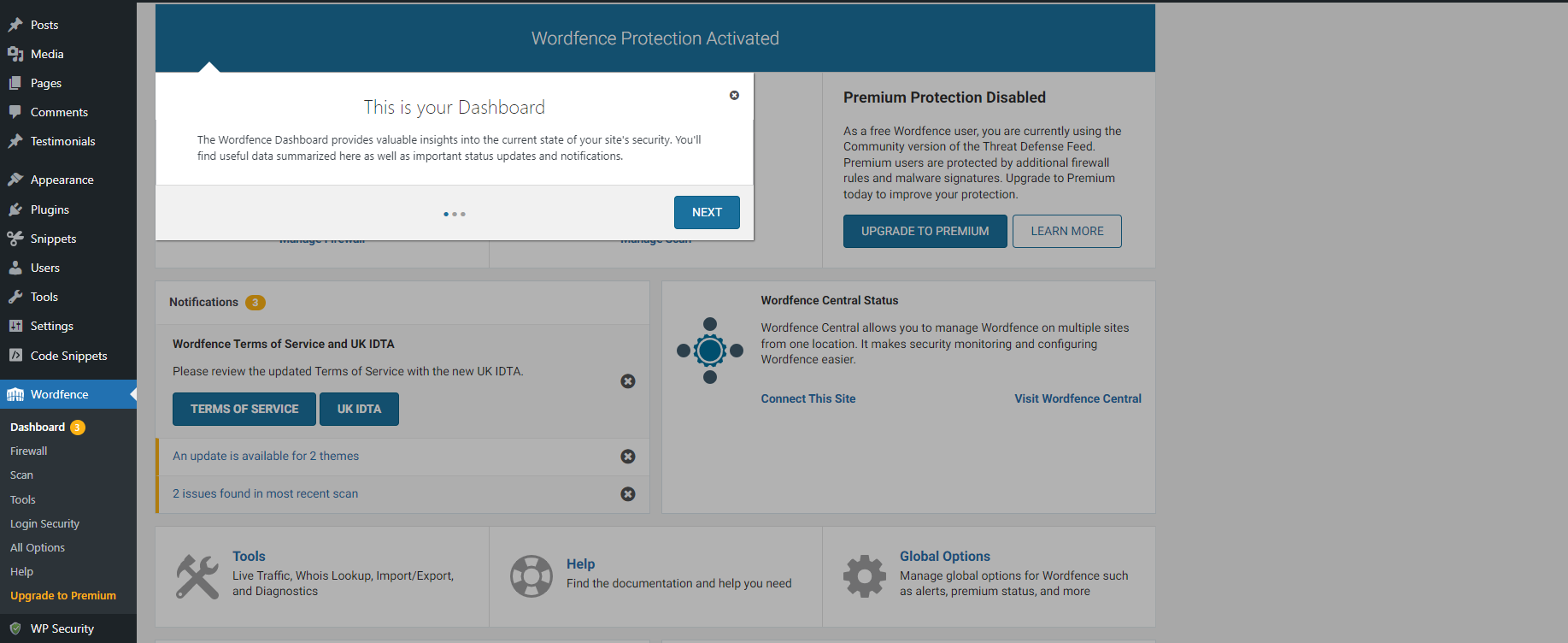 Wordfence has an intuitive dashboard that gives you a good overview of the current state of your WordPress at the point of the last scan you took. The "Firewall" and "Scan" status circles will show the level of protection of your website based on which features and options are enabled.
In addition, you will see all notifications including information about plugins that need to update or serious issues that you need to investigate. However, you should understand that these percentages of protection aren't almost as meaningful as the results of a scan in the Notifications box.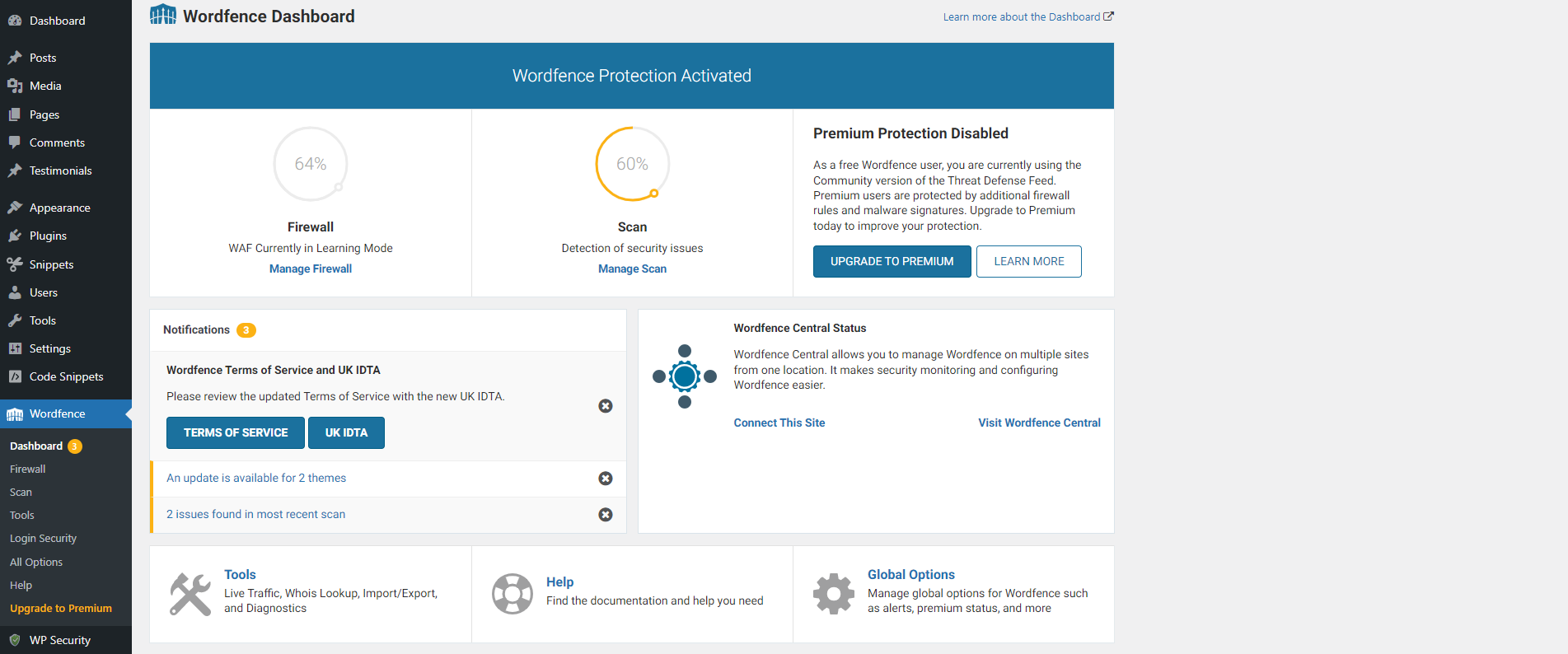 In general, Wordfence setup is quite simple but it is a little difficult for beginners to find certain settings options.
Website application firewall
Wordfence comes with a website application firewall which is one of the most significant features of this plugin. It helps you to protect your website against a number of prevalent web-based attacks along with other serious attacks on WordPress and WordPress themes/plugins such as SQL injection, Cross Site Scripting, Malicious File Upload, Directory Traversal, and so on. Moreover, the firewall also prevents hackers from exploiting vulnerabilities on your WordPress site.
By default, this feature will be activated in basic mode after you have installed WordPress on your website. In other words, the firewall will run as a WordPress plugin, so WordPress needs to load before an attack can be blocked. This process will take up a large number of server resources and doesn't bring many benefits to your website.
In order to make the firewall more effective, you need to optimize the firewall. Particularly, you need to enable "Extended Protection" which allows the firewall to run before WordPress starts. Thanks to that, it can protect your website against additional attacks.
Once Wordfence is activated first, you will see the status circles are grayed out. It means that the firewall can be disabled in "Learning mode". While in "Learning mode", firewall rules are not applied to ensure that legal website users are not blocked by chance.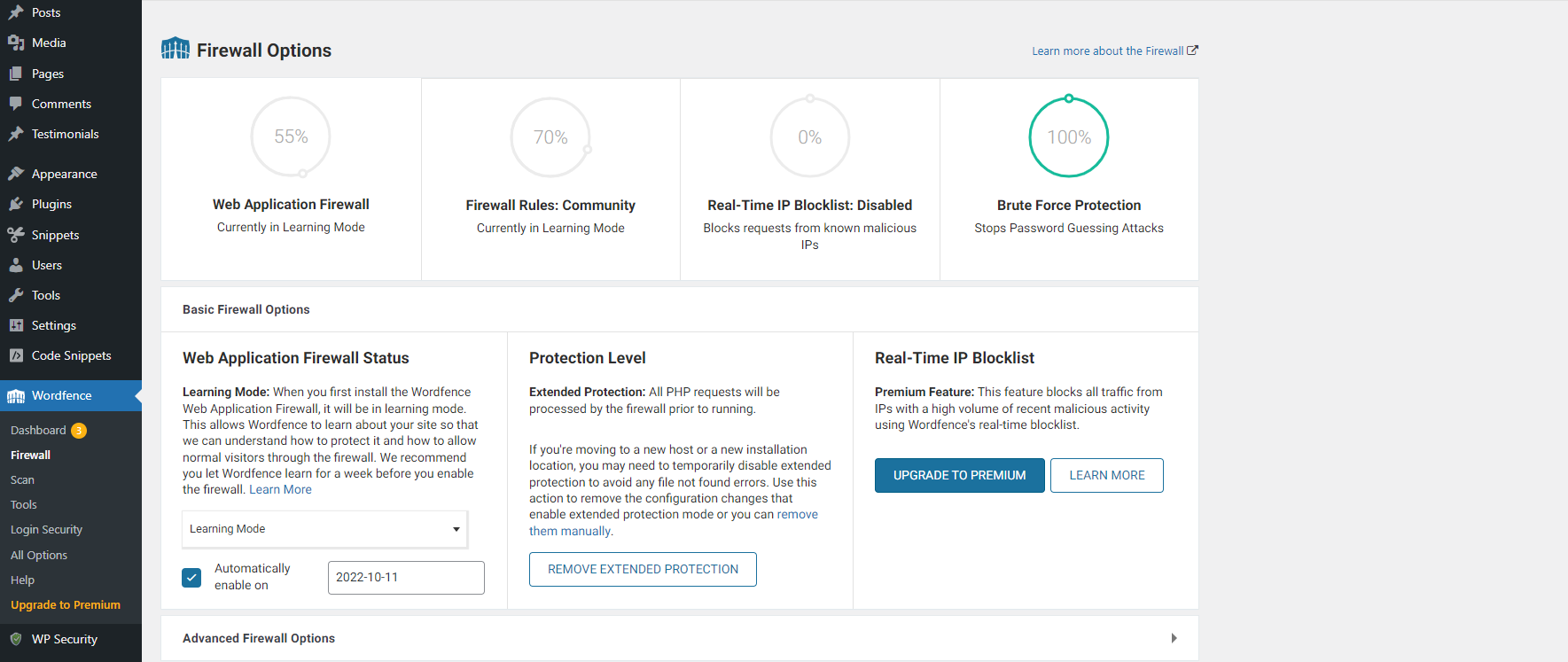 Monitoring and alerts
It is also a useful feature of the Wordfence free version. This function allows Wordfence to monitor all activities on your WordPress site and notification will be displayed directly in your WordPress dashboard.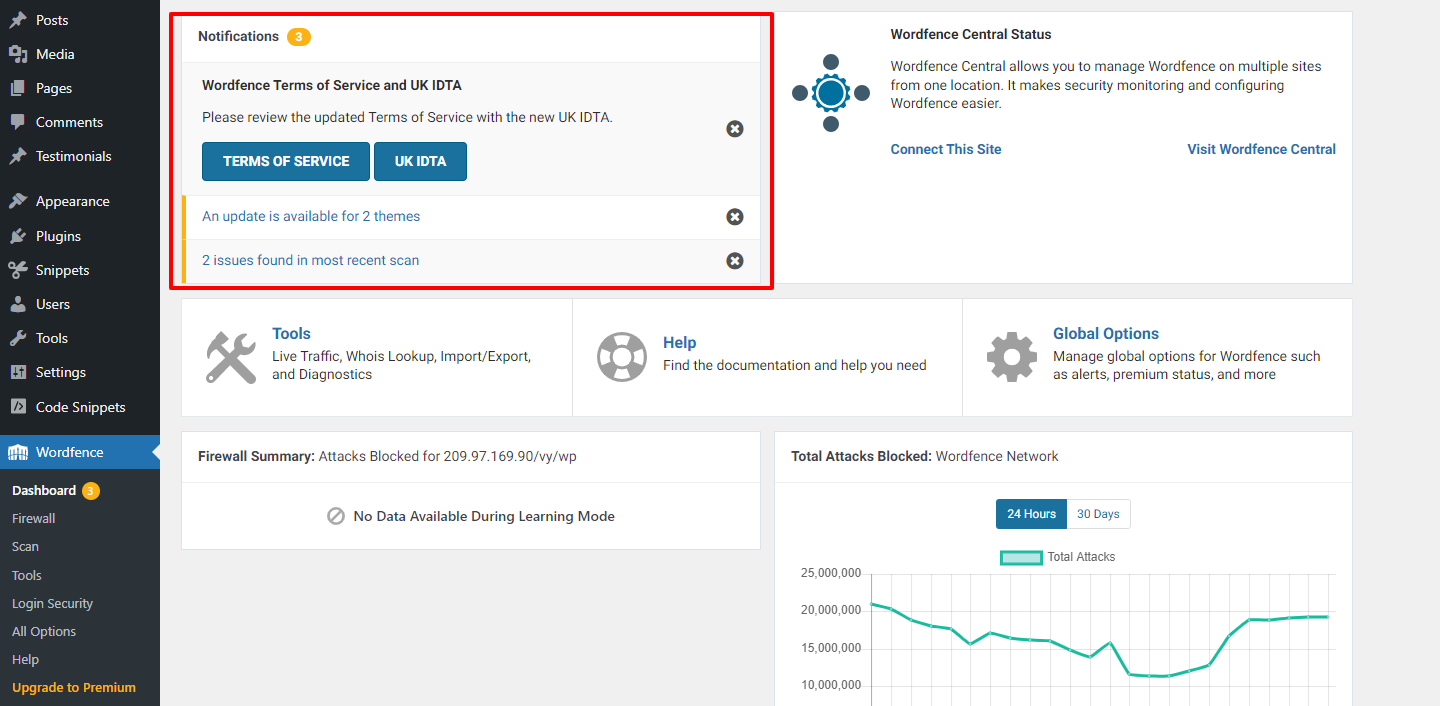 In addition, there is another option, if you want to get instant notification via email. The recipient email of these alerts is configured by going to Wordfence > All options and clicking on the "Email Alert preferences" section to expand more options.
From here, you are able to configure email alerts by choosing the lowest severity of alerts that you would like to be notified of. The plugin will automatically send a notification for each new problem of that severity that is found in the most recent scan.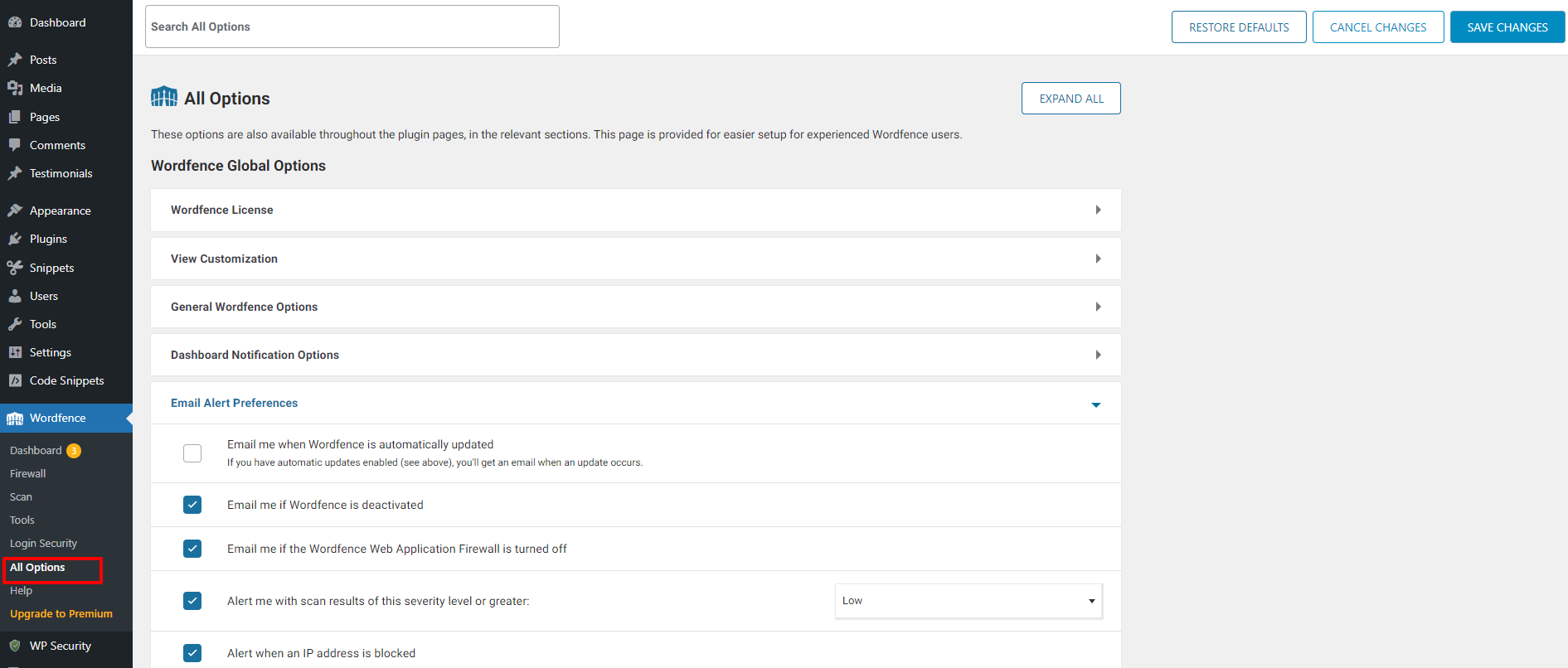 Malware scan
This function will help you scan all files, posts, and comments on your website to detect malware, malicious URLs, and patterns of infections. Besides that, this plugin also checks your server and monitors your site's online reputation.
A scan can be either a manual or a scheduled scan. However, for the free version, the plugin will automatically choose a scan schedule for your website. You can purchase their premium version to decide on their own scan schedule.
If the plugin detects any issues during your manual scan, then all issues will be shown in the scan results. For a scheduled scan, you will get the result the next time you log into your website. Or you can configure "Email Alert preferences" to receive an email whenever the plugin finds problems on your website.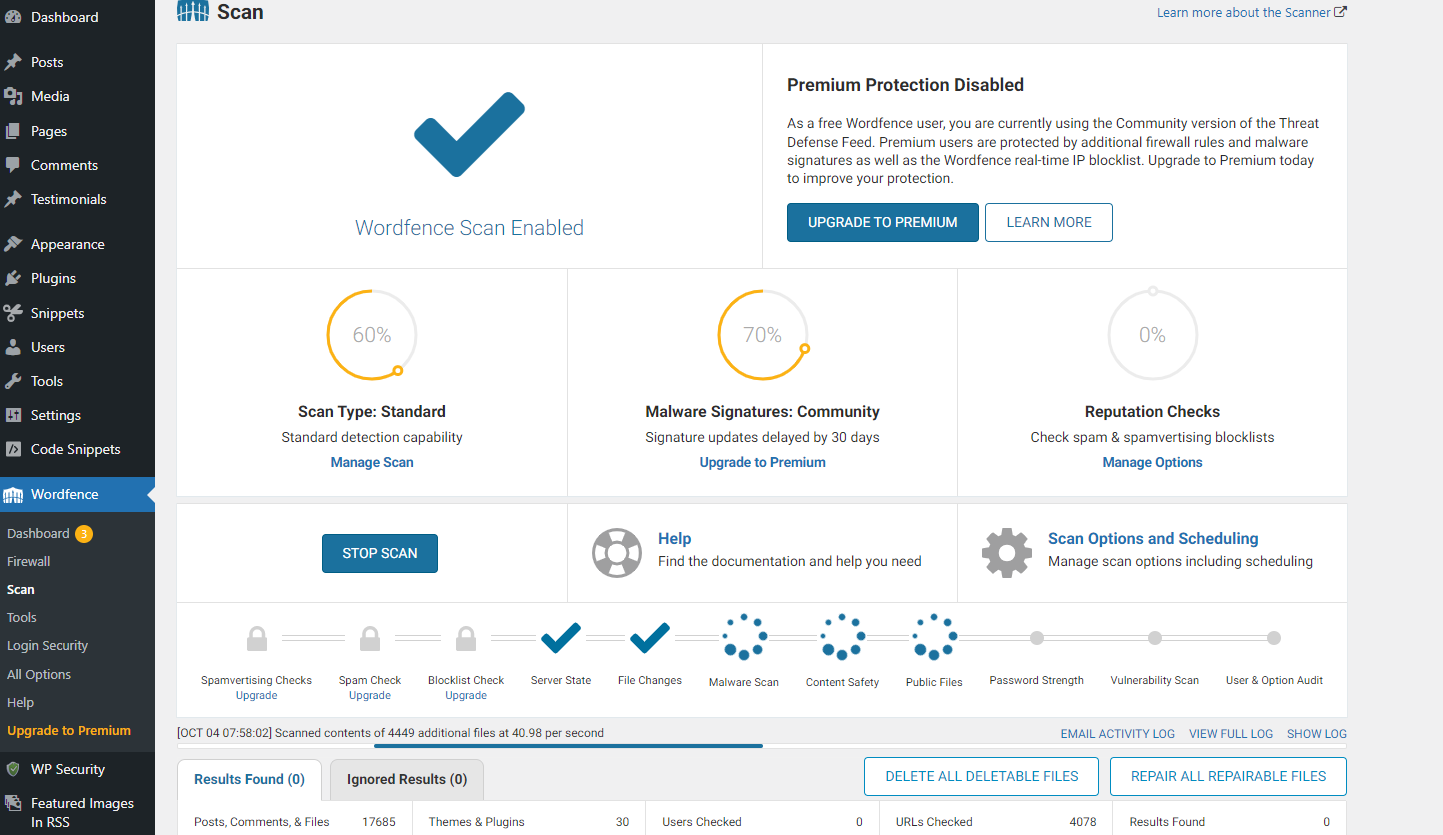 Blocking
Wordfence gives full control of protecting your website with plenty of useful blocking features. First of all, you are able to block users based on IP address. To do so, you simply click on the "IP Address" button next to the "Block Type" section. From there, you can enter the IP address and give your reason, and finally click on the "Block this IP address" button. This feature will help you actively block the IP address that is malicious to your website.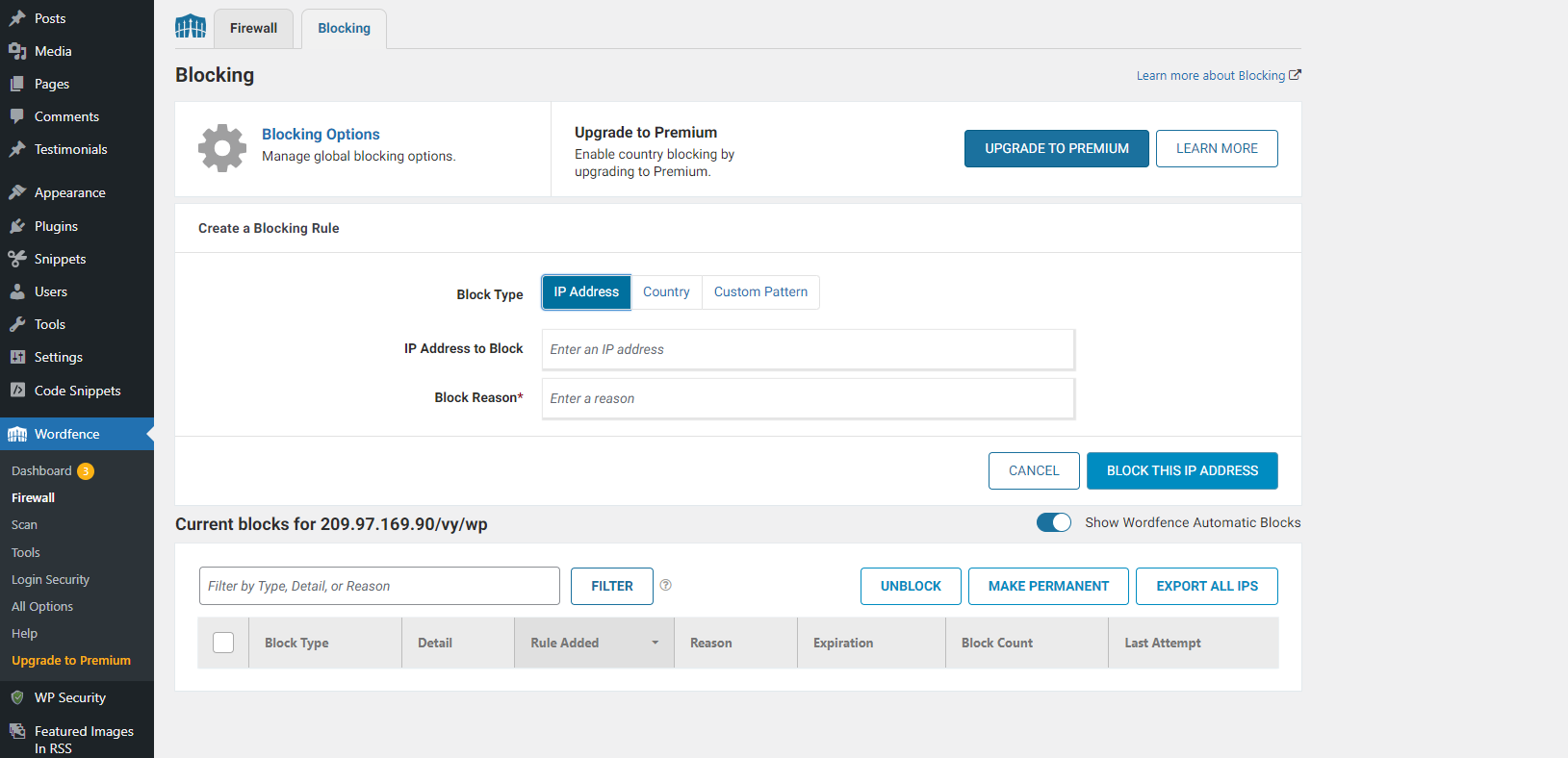 Further, Wordfence gives you a unique feature that allows you to stop cyber attacks, content thefts, and other malicious activities based on a geographic region. The country Blocking feature is really useful once you want to block visitors from a specific country who have many failed login into your website or have malicious activities on your website. However, this feature is only available for the paid Wordfence version.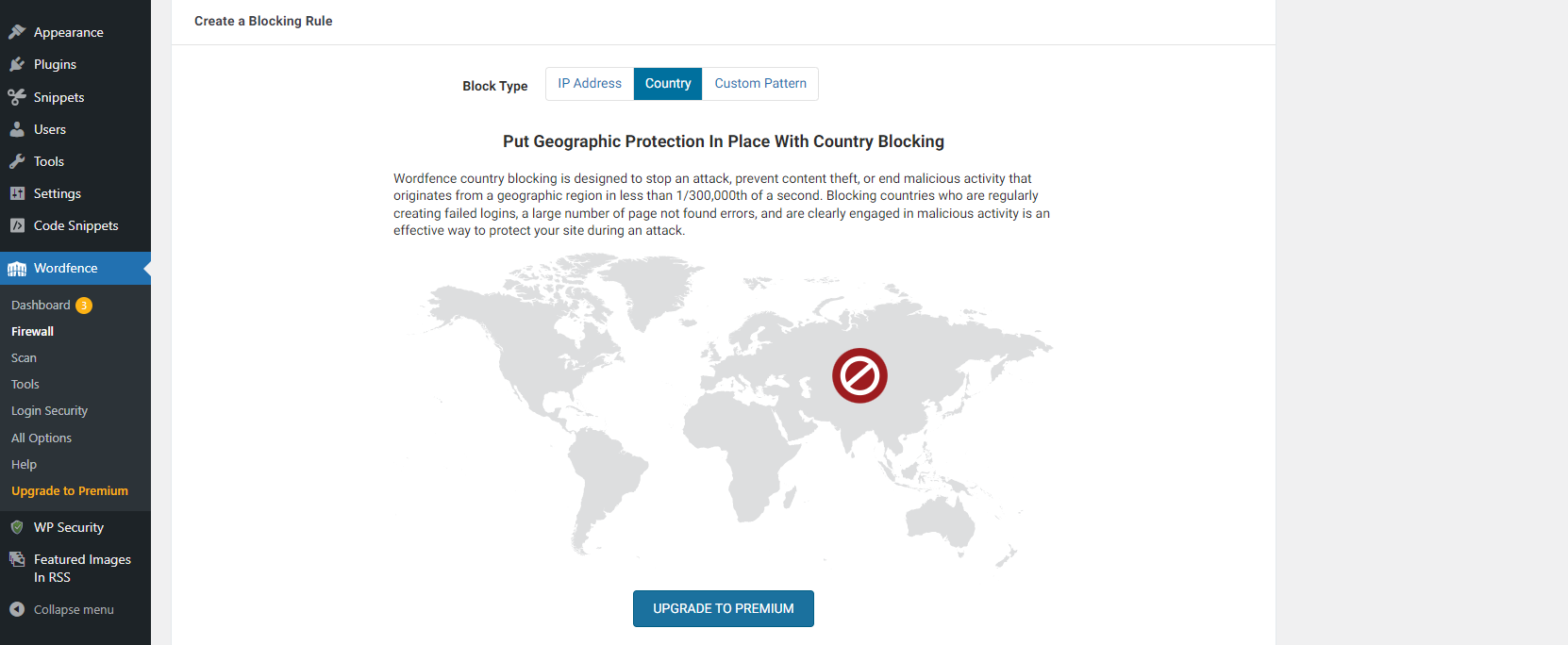 Wordfence-Customer support
It is highly appreciated that the customer service of Wordfence is very fast, and friendly. If you are going to use the free version, you can find their answers related to your issues in their community via the WordPress.org forum. In contrast, if you upgrade to the premium version, you will get priority support.
Wordfence provides premium support via the ticketing system only. Thanks to that, the support team can provide every support request with a detailed and comprehensive response that helps customers resolve their issues effectively.
Wordfence-Pricing
One of the best benefits is that WordFence is available in free and paid versions. Although the free version offers a wide range of comprehensive features, you still should update the plugin to the premium version to access more advanced features such as Real-time updates, Geoblocking, Reputation checks, Malware removal, Dedicated support, and much more.
Currently, the premium version of WordFence starts at $99/per year, and the price will decrease depending on the number of websites you have. It means that the more site you have, the lower the price. We will provide particular prices in the table below.
| | | |
| --- | --- | --- |
| The number of website licenses | Price for each license | Discount |
| 1 website | $99.00/Year | – |
| 2 – 4 websites | $89.10/Year | 10% |
| 5 – 9 websites | $84.15/Year | 15% |
| 10 – 14 websites | $79.20/Year | 20% |
| > 15 websites | $74.25/Year | 25% |
Besides that, there are two additional packages that are Wordfence Care and WordFence Response. For the Wordfence Care package, you should use this plan, if you are too busy and don't have much time to manage WordFence. Then using this package, Wordfence will help you handle multiple tasks including installing, configuring, optimizing, and monitoring Wordfence for you.
Especially, Wordfence Response will include the benefits of Wordfence Premium and Wordfence care. Additionally, it provides you with a rapid response team to help address security problems in time.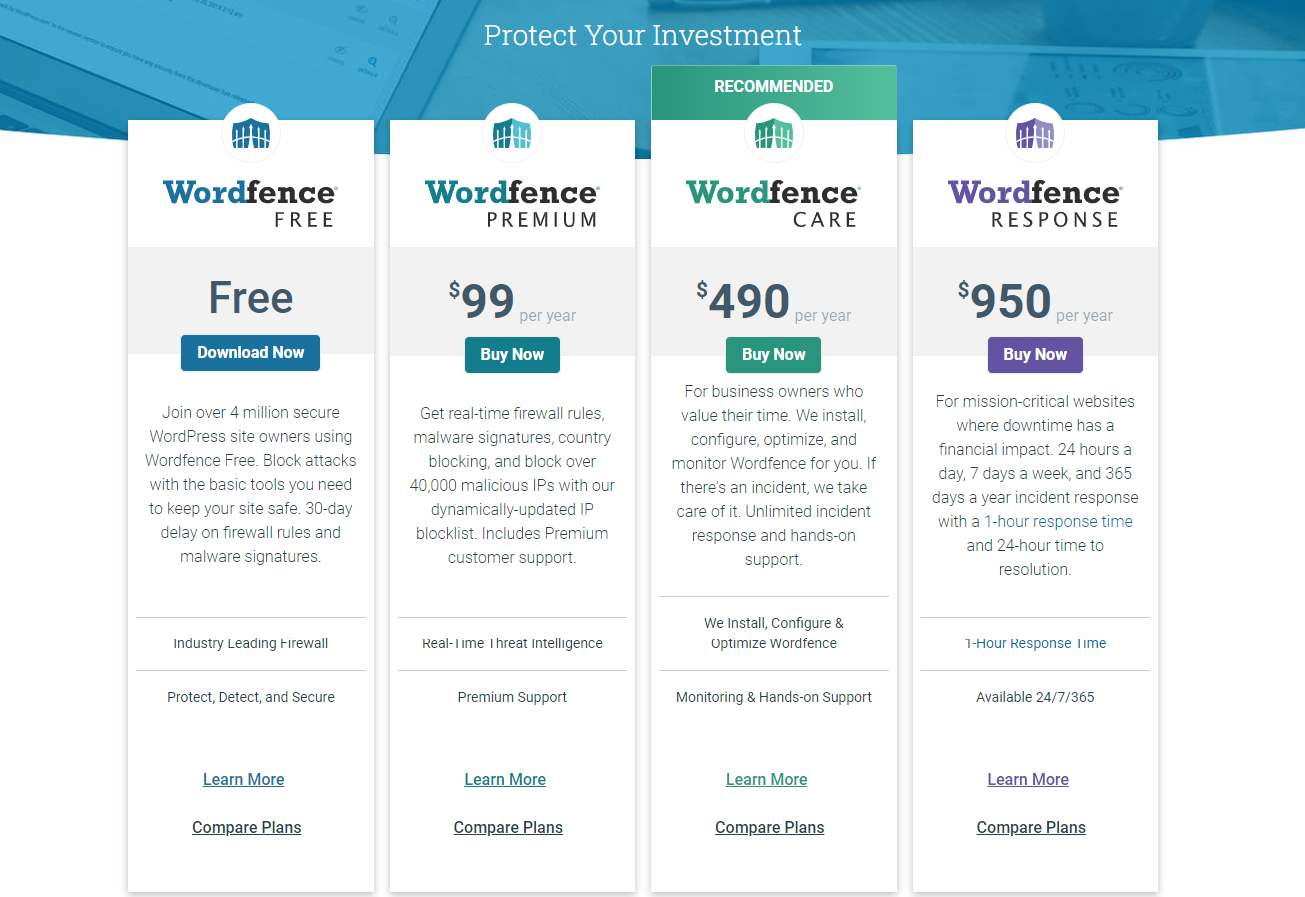 Wordfence-Pros and cons
Pros
Cons

Great support and defense
Easy-to-use and lightweight plugin
Intuitive dashboard to manage the security of multiple sites in one place
A free version comes with many comprehensive features
The integration with Wordfence Central to manage all of the sites
Great dashboard with quick access to some features and information

A bit complex
It is a little expensive for small businesses
It sometimes may cause some conflicts with other plugins
WordFence Review: Is Wordfence the best choice?
Overall, it is no exaggeration to say that WordPress is the most powerful WordPress security plugin. Their free features are good enough to protect your website from cyber-attacks effectively. Hence, there is no reason not to install this free plugin for your WordPress right now. Additionally, the premium version of Wordfence is really worth trying for your website. Since you will get more advanced features such as priority support for their tickets and real-time updates. Eventually, you also should choose a version that suits your requirement and long-term goals.
Hopefully, this WordFence review blog can help you have insight into the Wordfence plugin. If you are also interested in this plugin, don't forget to share with us your point of view by leaving a comment below.
By the way, we also would like to introduce a collection of many stunning, well-designed, free WordPress themes on our website that will help you build any professional website.
30+ Free Free Joomla templates, support Visual Page Builder, compatible with Joomla! 4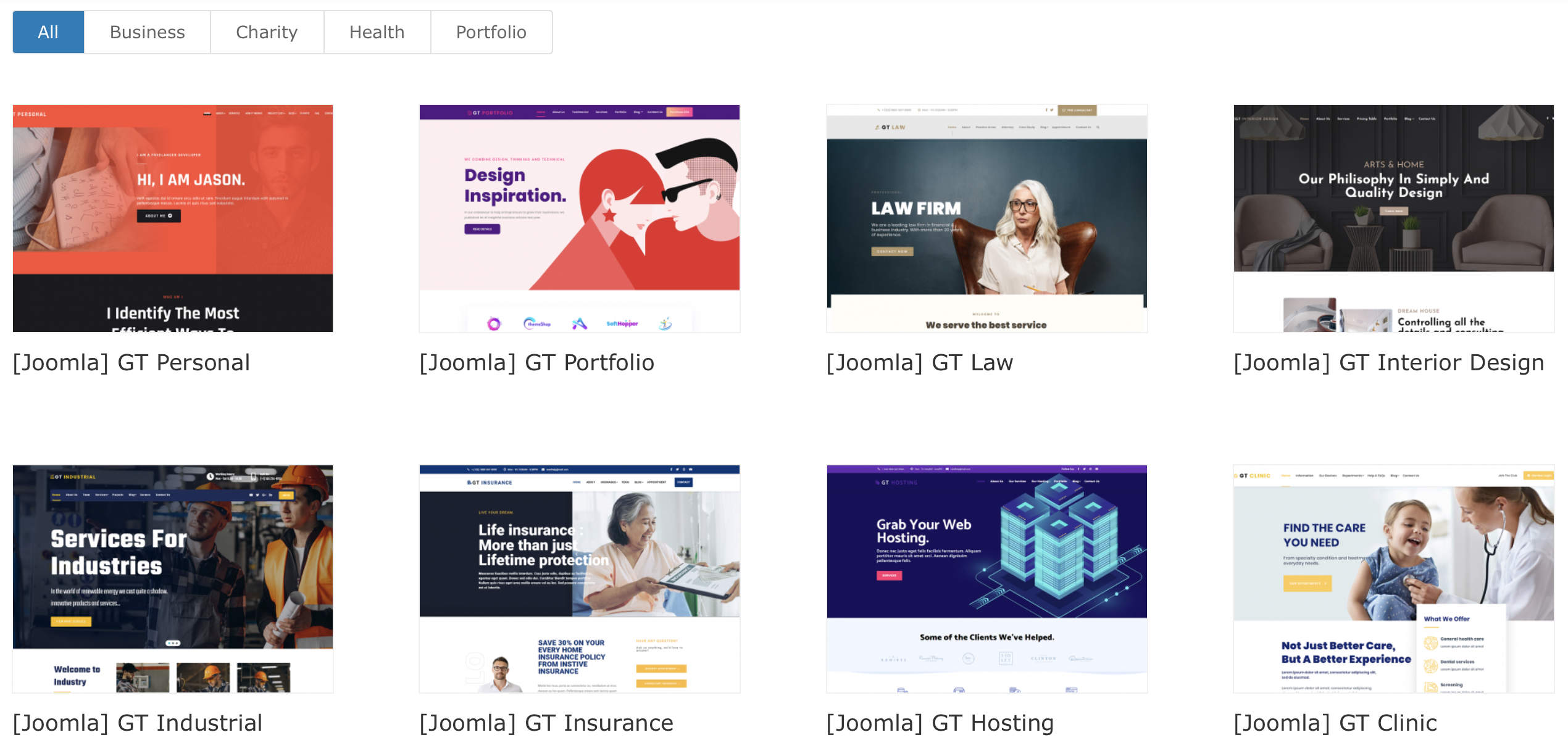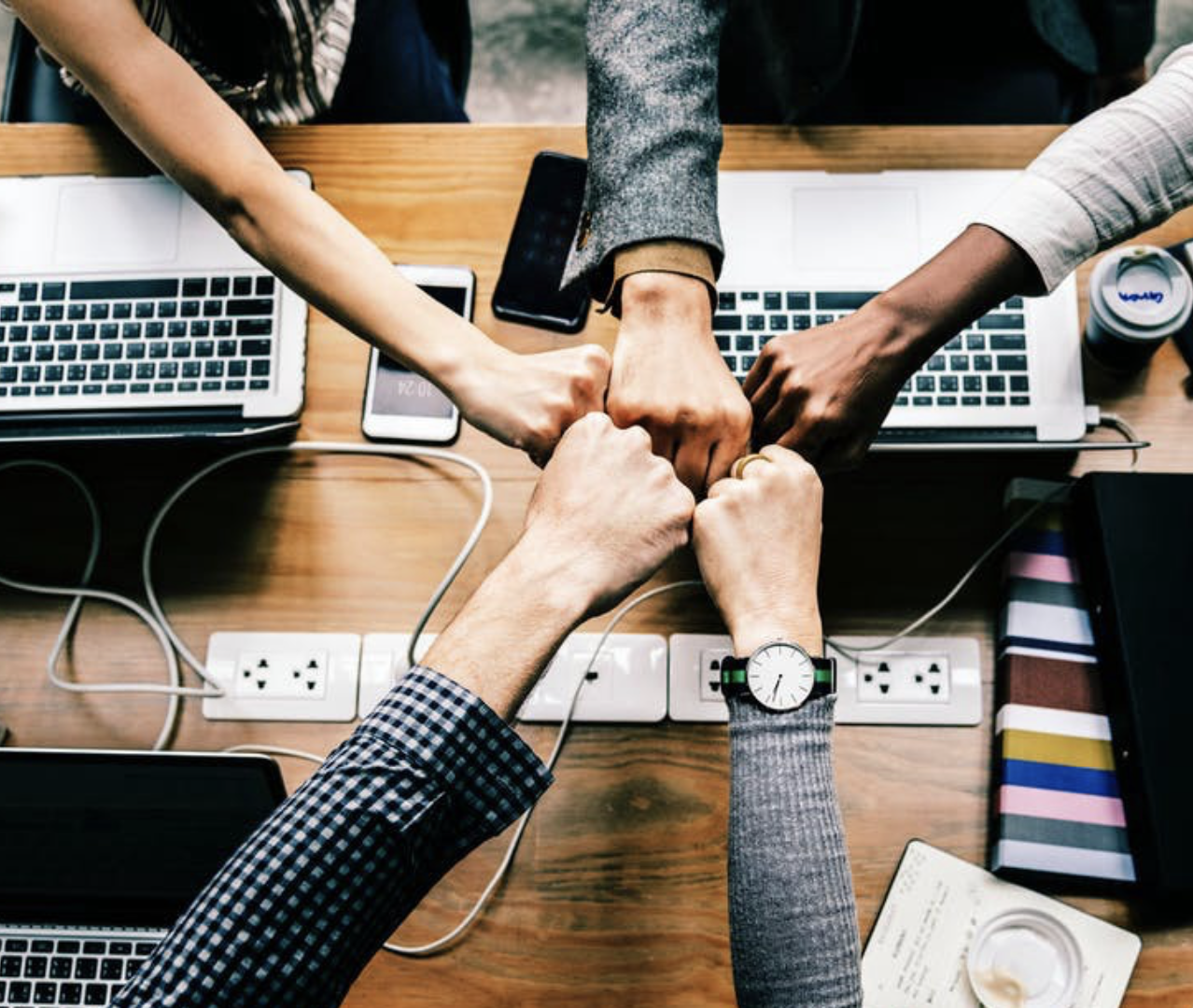 Hello everyone! We're Galussothemes content team, we love to write new blogs for WordPress everyday! Galusso Content Team is a part of IT4GO – The company houses talented young people who hold a strong passion for website development, designing, and marketing.