When it comes to running a successful B2B ecommerce business, having a reliable platform is essential. With the right platform, you can manage orders, inventory, payments, and customer relationships efficiently and effectively. If you are also looking for the best B2B ecommerce platform to manage your business, then you've come to the right place. In this blog post, we will be giving you a comprehensive list of the 10 most reliable B2B e-commerce platforms in the market. We'll also be providing you with an overview of each platform, so you can easily decide which one is the best fit for your business. So, let's get started!
What is the definition of a B2B ecommerce platform?
A B2B (business-to-business) e-commerce platform refers to an online marketplace or software solution that facilitates the buying and selling of products or services between businesses. It enables businesses to conduct transactions, manage orders, and communicate with other businesses electronically.
B2B e-commerce platforms often include features such as catalogue management, inventory tracking, pricing and quoting tools, payment processing, and integration with other business systems. Additionally, they are designed to streamline and automate the purchasing process for businesses, allowing them to efficiently connect and transact with their suppliers, distributors, or other business partners.
What are the factors that you need to consider to choose the right B2B ecommerce platform?
In order to choose the right B2B ecommerce platform is really a challenge for store owners. In addition to standard B2B functionality for your website, it's essential to think about a range of elements that could have a major influence on website performance and any additional support you might need down the line. Now, it's time to take a look at the following factors.
B2B Functionality: Of course, you need to assess the platform's features and functionality to ensure it aligns with your business needs. You need to choose a platform that includes major B2B features such as catalogue management, inventory tracking, order management, pricing and quoting tools, integration options, and customization capabilities. With these features, you can operate and handle any issues of your business smoothly.
Security: Security is crucial for B2B transactions. You have to select a platform that has robust security measures in place, such as data encryption, secure payment gateways, and compliance with industry standards (e.g., PCI-DSS).
Scalability: It is really vital to think about the platform's scalability to accommodate your business growth. Because it can handle increasing product volumes, customer base, and transaction volumes without compromising performance.
Integration capabilities: A good B2B ecommerce platform needs to support some useful integrations with your existing business systems, such as ERP (Enterprise Resource Planning), CRM (Customer Relationship Management), or inventory management systems. With the assistance of these integrations can streamline operations and data management. Thanks to that, you can save human resources and cost considerably.
Highly customization: No B2B ecommerce platform has everything you need, so you should make a move towards a platform with totally customizable features r youso you can tailor your website to fit your exact needs whenever you need a change.
Mobile responsiveness: With the increasing use of mobile devices, a B2B ecommerce platform should be mobile-friendly and offer a responsive design that adapts to different screen sizes. In addition, providing responsive design and great UI/UX is really essential for success and market domination.
Pricing: Money is also one of the key factors that need to be considered for most store owners. You should note that an expensive platform doesn't mean the best one, but it ensures it comes with a lot of handy features and excellent support. Besides that, you also consider other factors such as upfront costs, ongoing fees, transaction fees, and any additional costs for customization or integrations.
10 Reliable B2B Ecommerce Platforms
WooCommerce

Woocommerce is a familiar B2B ecommerce platform in the world. This platform has been used by a lot of users because it is completely free to download and use. In addition, it is highly customizable and extensible. By using Woocommerce, you are able to sell unlimited products and services on your website. Moreover, Woocommerce has an intuitive interface and plenty of customizable options, so businesses easily display their products, manage inventory, process orders, etc. Besides that, Woocommerce supports a wide range of payment gateways and robust reporting tools to help you track sales performance.
Another remarkable advantage is that Woocommerce is its seamless integration with WordPress, the most popular content management system (CMS) in the world. As an open-source plugin, WooCommerce can be easily installed and activated on any WordPress website, transforming it into a powerful e-commerce platform.
This integration allows businesses to leverage the flexibility and user-friendly interface of WordPress while benefiting from the extensive e-commerce capabilities of WooCommerce. You can effortlessly manage their online store, create product listings, customize the design and layout, and even add additional functionality through thousands of available WordPress plugins.
This integration not only makes it convenient for businesses to set up and maintain their B2B ecommerce platform but also provides access to a vast community of developers and resources for ongoing support and enhancements.
Shopify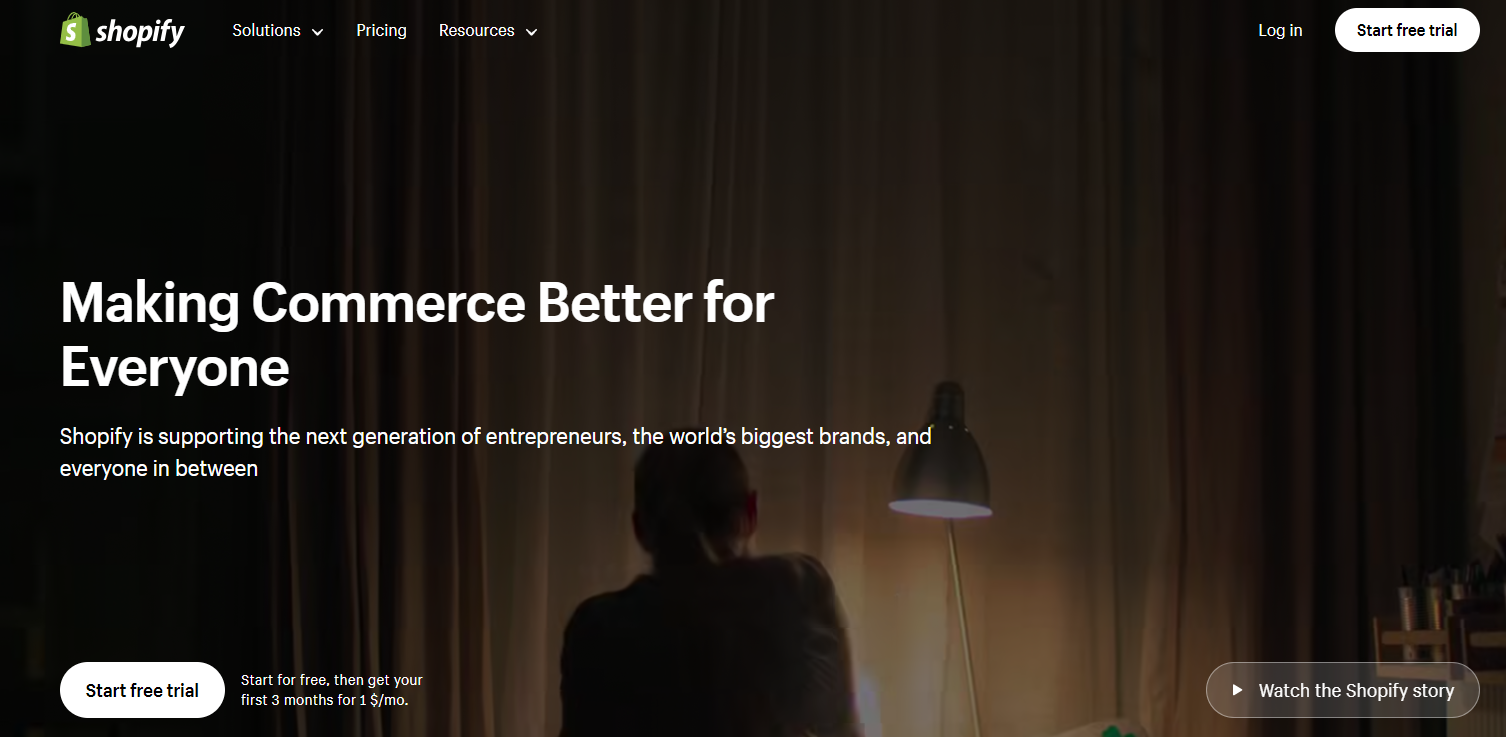 There is no denying that Shopify is also one of the most reliable B2B ecommerce platforms that you should consider. Similar to other popular B2B platforms, Shopify also has a user-friendly interface that allows users to easily create any beautiful online store without touching any line of code. In addition, it provides a collection of useful apps at the Shopify app store and premium themes, so you take advantage of them to extend the functionality of your professional online store.
What's more, it offers many powerful features that are necessary for online stores such as wholesale pricing, custom pricing and customer segmentation. Hence you can easily enable B2B businesses to cater to the unique requirements of their clients. Another reason why you should Shopify is that this platform has a very low start-up cost.
BigCommerce

The next prevalent B2B e-commerce platform is Bigcommerce. This platform is famous for its user-friendly interface and extensive range of features. It allows you to efficiently create, manage, and grow your B2B e-commerce operations. The first advantage is that it offers you from customizable templates to advanced product management tools.
Additionally, Bigcommerce gives you a list of robust integration options with prevalent business tools, payment gateways, and shipping providers. Another good point of Bigcommerce is that it integrates with other B2B software solutions such as CRM platforms and ERP systems to streamline your business operations. With its robust features and scalability, Bigcommerce is a reliable choice for businesses looking to establish a strong B2B e-commerce presence website.
Orocommerce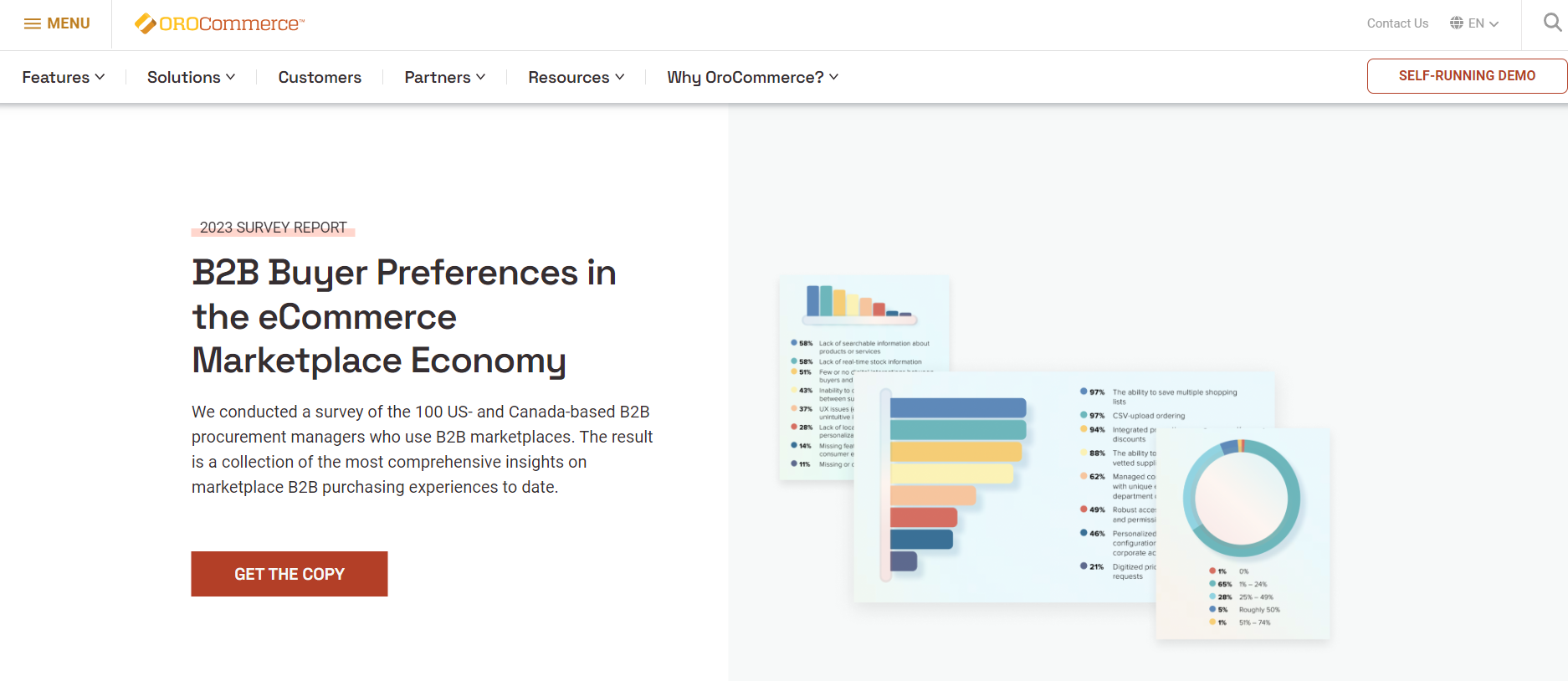 OROCommerce is the perfect eCommerce platform for B2B businesses. It's designed to meet the unique demands of wholesale vendors, giving you comprehensive features to help you reach new markets online and on mobile. Plus, you get both e-commerce and CRM in one solution, so you can boost sales, manage vendors, and get the info your teams need. And, being open-source, OROCommerce has code transparency, product reliability, and tested security, so developers and the community can make improvements.
OroCommerce is truly impressive in its implementation – it's organized and structured in a way that makes it easy to work with. When it comes to business-to-business transactions, the situation is unique and OroCommerce really shines here. It's been designed to handle these transactions with ease.
Magento

Magento is specially designed to be intuitive and user-friendly so that those with no technical experience can quickly learn how to use it. It is also an open-source e-commerce platform, so it is a great choice for various businesses of any size from small and medium-sized businesses to large corporations.
Another significant benefit is that it is completely free with plenty of helpful features for your business. Plus, Magento allows you to effortlessly integrate your e-commerce store with other useful services such as accounting, inventory management systems, and customer relationship management (CRM). Thanks to that, you can manage your store and keep track of your customers smoothly. Although it's free to install, it may have an extra cost in the future.
Hikashop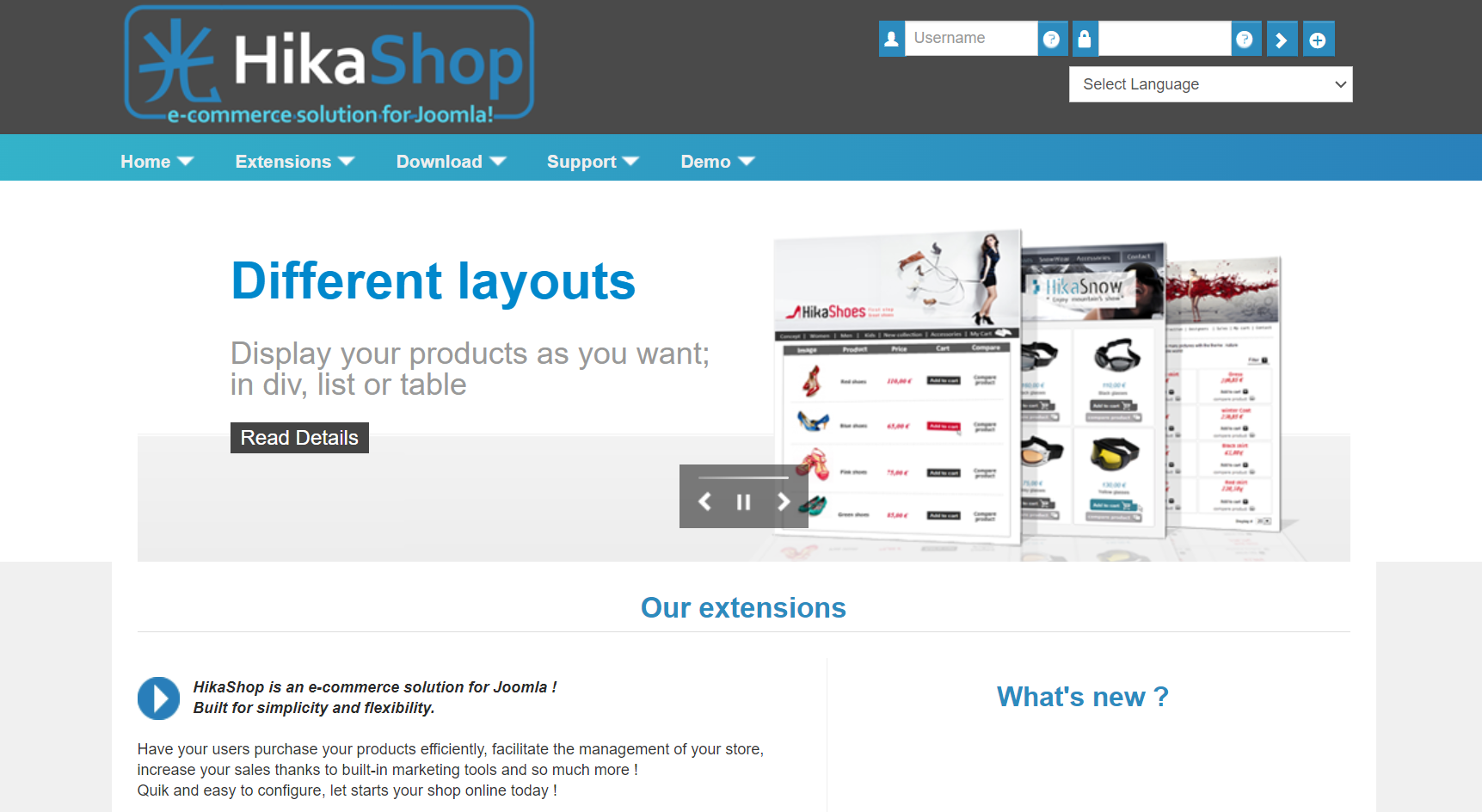 If you prefer to use Joomla for your website, then using Hikashop is a perfect choice. Because Hikashop is built specifically for Joomla and seamlessly integrates with it. As a result, Hikashop provides you with a unified experience. Its intuitive interface makes it easy for you to navigate and manage your store.
Even more, Hikashop is packed with a powerful set of features for B2B e-commerce such as order processing, customer management, shipping and payment integrations, and marketing tools. Especially, it supports multilingual capabilities, which allows you to create a localized experience for customers in different regions. Moreover, its multi-currency support enables you to sell products in various currencies as well as cater to international customers. The notable part is that HiksShop is compatible with a vast of beautiful Joomla templates that allow you to customize the design and layout according to your desires.
OpenCart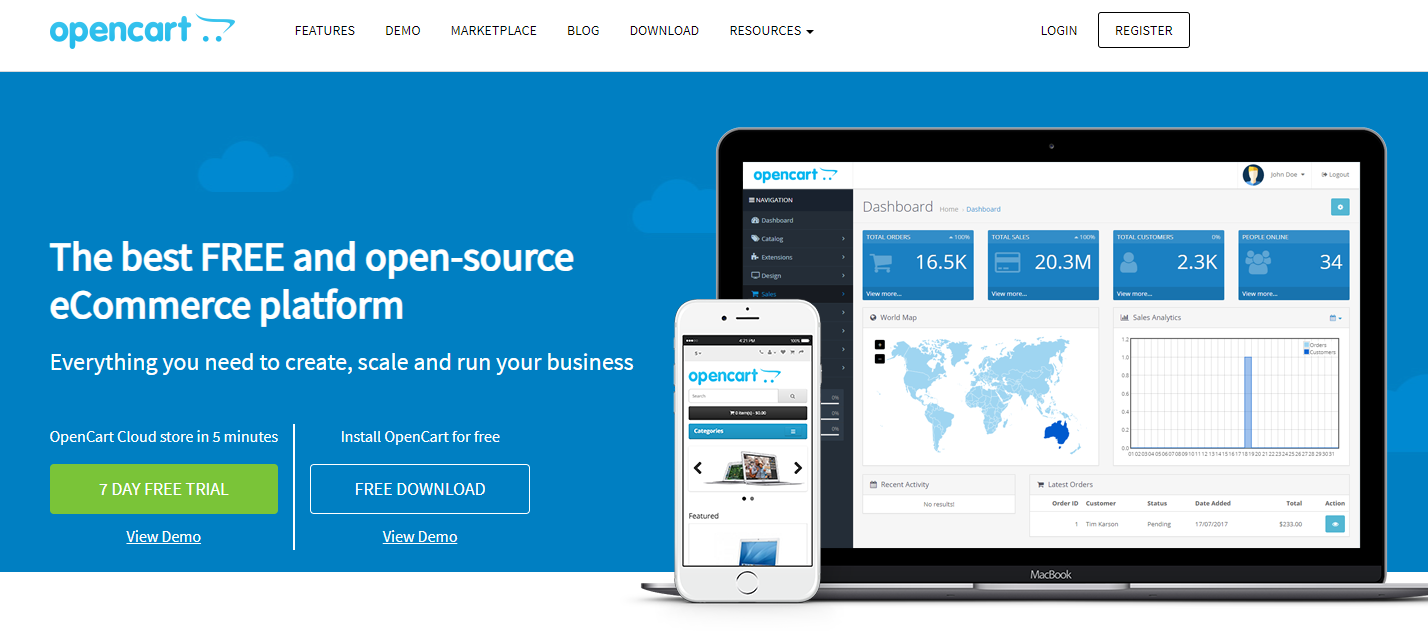 OpenCart is also a notable candidate in this list. By using this B2B ecommerce platform, you can streamline your online store management process. It has a wide range of crucial features for your online store like SEO tools, unlimited extensions and themes, and integrated store management. In other words, OpenCart provides you with all the standard functionality that you need for your online store.
The best strength of OpenCart is that it doesn't have to charge fees for platform usage monthly/yearly. Whereas other platforms like Shopify or Bigcommerce require you to charge fees of 1.5% to 2% per transaction. Besides that, by using OpenCart, you have an opportunity to get lifetime free support as well as free software updates. To sum up, OpenCart is really a complete e-commerce solution that allows you to easily launch your online store, add and manage your products, allow your customers to get a smooth shopping experience on your website and then process their orders.
CS-Cart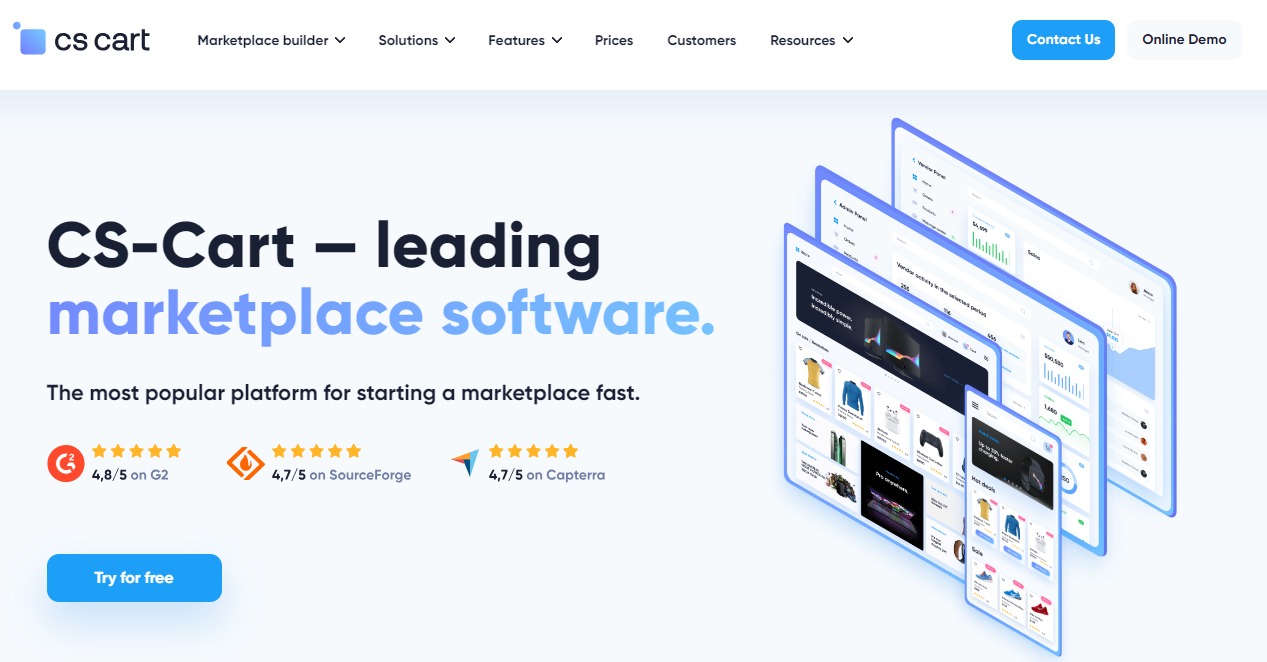 CS-Cart is also a ready-to-go choice for those who are seeking a high-quality B2B ecommerce platform. It is packed with over 500 features that allow you to simplify the process of creating and managing your store without effort. Further, if you want to add more functionality to your store, then you can choose from 2,000 add-ons and themes from CS-Cart Marketplace.
Besides that, CS-Cart provides all essential tools and features to help you smoothly run your online stores including payment and shipping options, product management, order processing, and customization options. Additionally, CS-Cart is a totally open-source tool, so it is easy for you to get access to updates, advanced development capabilities, and fixes from other experts in the field.
Although CS-Cart is less customizable and editable compared to other B2B ecommerce platforms, its comprehensive design is detailed and helpful enough to overshadow its disadvantages.
3DCart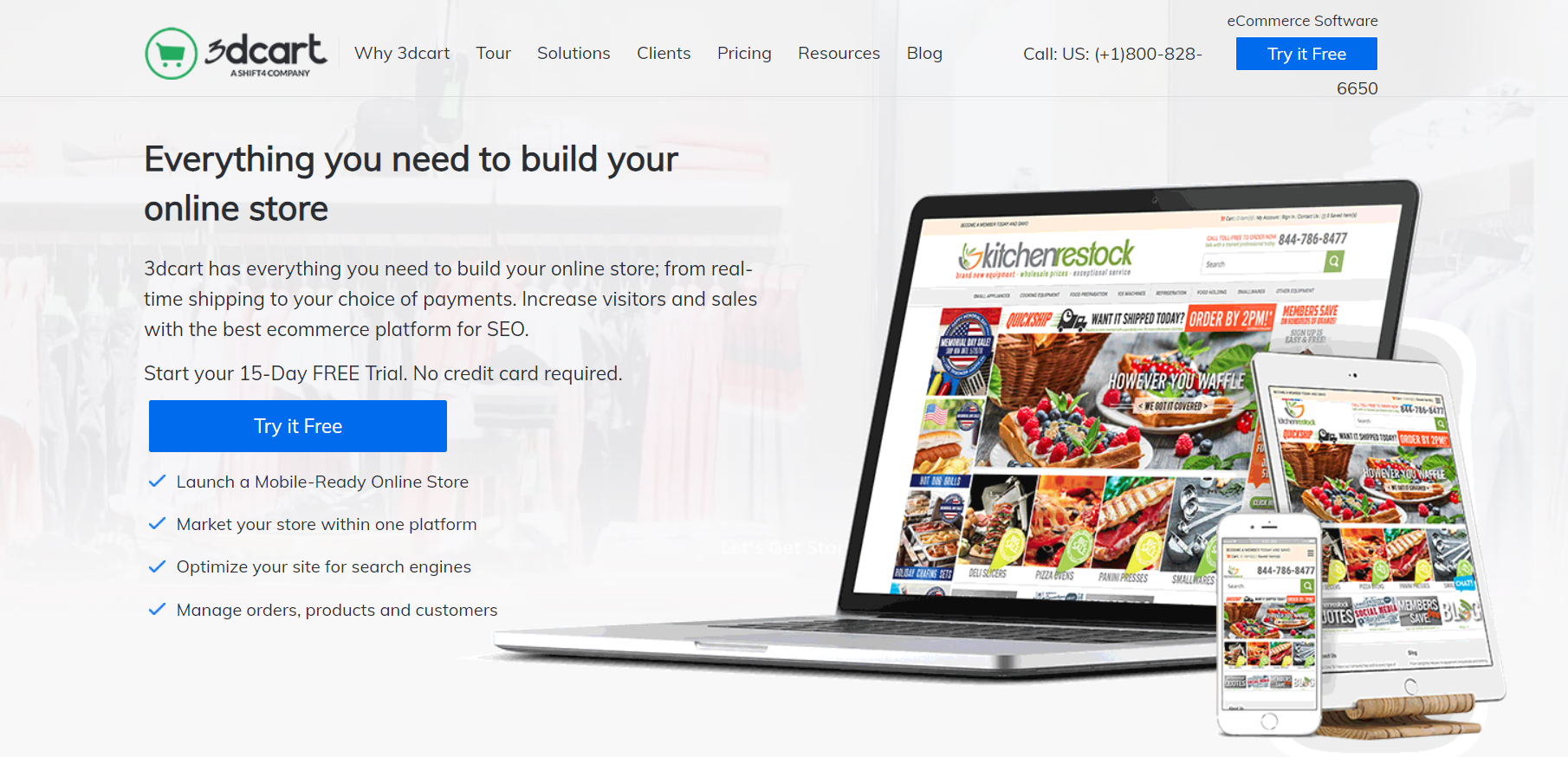 It is admitted that 3DCart is a robust B2B e-commerce platform that comes with a range array of features to help you build a beautiful online store easily. 3DCart understands every need of B2B customers, so it provides a lot of necessary functions to meet their requirements. This platform has all must-have shopping cart functionality along with a rich suite of business management tools for marketing, inventory, customer support, etc.
Moreover, this platform uses a mobile-ready responsive design and intuitive navigation that make your products easy to find through plenty of categorization and product variants. It also is fully equipped with tons of tools that you need to set up your wholesale pricing. What's more, it offers wholesale pricing with minimum order quantity requirements and even multiple pricing levels based on quantity, and customer type. Last but not least, 3DCart doesn't require you to charge fees monthly like other solutions.
PrestaShop
If you're looking to create a B2B website, PrestaShop is the way to go. It's intuitive and user-friendly, making it a breeze to set up and manage. Plus, it has loads of great features like automated emails, coupon codes, stock and inventory management, shipping methods, and discounts, so you can really customize your store. And with its comprehensive reporting and supplier inventory management, you'll always have the data you need to generate more sales.
As an open-source platform, PrestaShop allows you to access all of their themes' code, so you are able to change anything you want. If you are not a coding expert, you can also take advantage of over 3,000 templates of PrestaShop to use as a starting point and customize them depending on your store's requirements. Plus, this solution supports a wide array of major payment gateways such as Amazon Pay and Paypal. Notably, PrestaShop provides an awesome free SSL certificate that's totally PCI-compliant, so your customers can shop your site without worrying about their data being insecure.
The bottom line
We hope this article gave you some insight into the world of B2B ecommerce platforms and helped you find the perfect fit for your business. With the right platform, you can make your wholesale business go online, reach more customers, and increase your revenue.
Which platform do you think is the best on this list? Don't forget to share with us your favourite option in the comments. Besides, you can suggest other useful B2B platforms that we may have missed in our blog.
Moreover, you can visit our website to discover tons of beautiful e-commerce WordPress Themes for your website. They completely meet all the necessary features for e-commerce sites.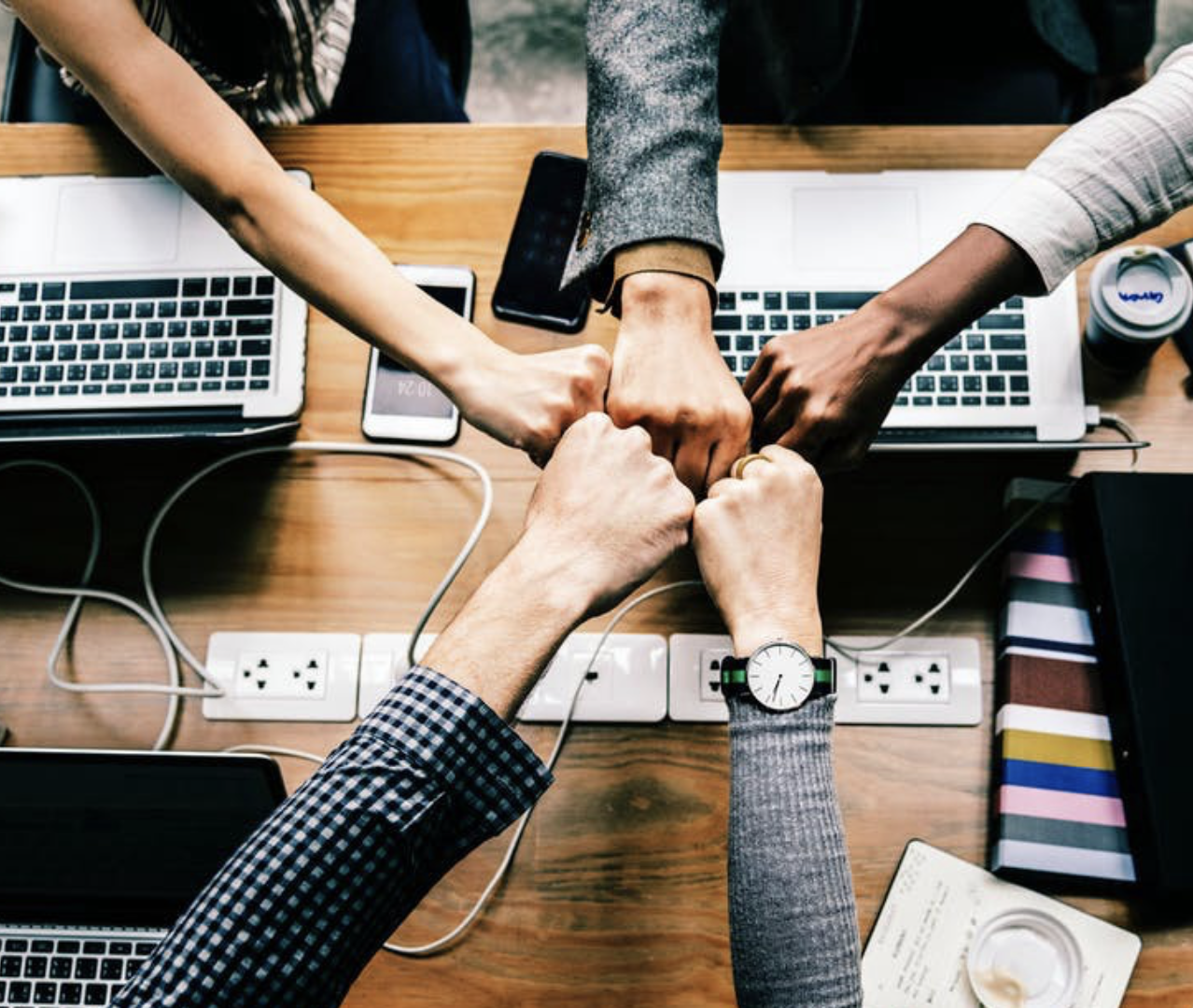 Hello everyone! We're Galussothemes content team, we love to write new blogs for WordPress everyday! Galusso Content Team is a part of IT4GO – The company houses talented young people who hold a strong passion for website development, designing, and marketing.