Do you own an online store that operates on the powerful WooCommerce platform? If so, you're probably always on the lookout for ways to enhance the experience of your customers. One of the best ways to do this is by utilizing WooCommerce Customer History plugins. These plugins can help you track customer behavior and tailor your marketing strategies to increase customer loyalty and revenue. In this post, we'll introduce you to some of the best WooCommerce Customer History plugins available, so you can start taking your online business to the next level.
Why should you install Woocommerce Customer History Plugins?
Installing WooCommerce Customer History plugins can provide you with several insights into customer behavior, preferences, and purchasing patterns.
First of all, these plugins track customer interactions, including order history, browsing behavior, and cart abandonment. By analyzing this data, businesses can gain a deeper understanding of their customers, identify trends, and make informed decisions regarding marketing, product offerings, and customer service.
With access to customer history, personalized shopping experiences become possible, as businesses can offer targeted product recommendations, personalized discounts, and promotions. This level of personalization enhances customer satisfaction, increases engagement, and encourages repeat sales.
Moreover, leveraging customer history data allows businesses to develop retention strategies, reward loyal customers, and implement personalized marketing campaigns to improve conversion rates and drive revenue growth. It also aids in optimizing inventory management and empowering customer service teams to provide efficient and personalized support.
List of best Woocommerce Customer History Plugins

WooCommerce Customers Order History has emerged as a popular and versatile e-commerce solution for businesses, and its customer order history feature is crucial for store owners. This plugin allows customers to view their previous orders, so it is easy for them to make repeat purchases. In turn, businesses benefit from increased customer loyalty and more efficient ordering processes.
Moreover, this plugin provides an easy-to-use interface for customers to view all their previous orders. Plus, it generates a detailed order history report so that businesses easily track their orders. This plugin is highly customizable and can be integrated into your e-commerce store without any hassle.
Key features:
Easy-to-use, no unnecessary Setup Wizard for perfect configuration
No hidden menu or option, everything is crystal clear
Show all kinds of orders in their respective Panel
Show orders Status Colour
Status Colour is Customizable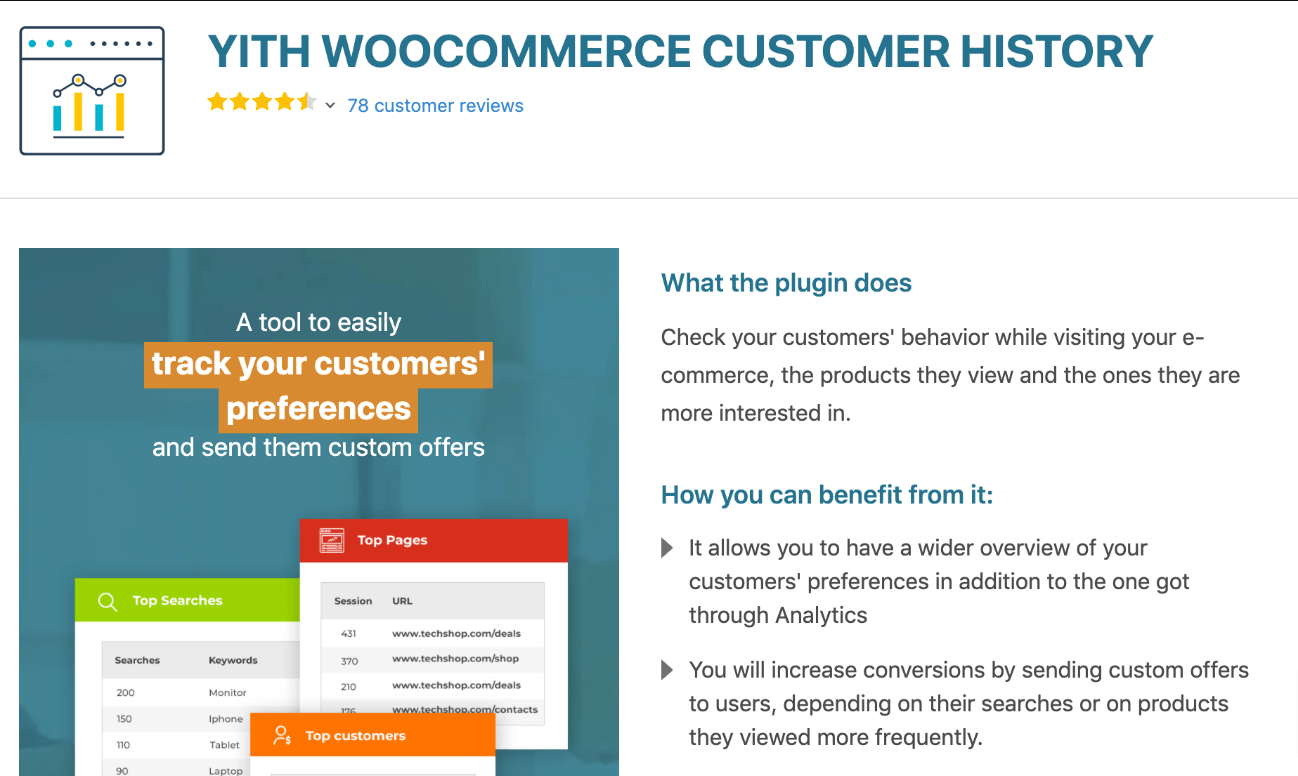 YITH Woocommerce Customer History is considered one of the top-notch Woocommerce customer history plugins in the market. This plugin has the ability to keep track of all customer activities on your website including an overview of the users, users' behavior, users' purchases, and much more. With the assistance of this plugin, you completely view each customer's entire purchase history. For example, you can see the products that your customers have purchased and the dates they made the purchases. This information can be especially helpful to gain insight into your customers' buying behavior and preferences.
Additionally, this plugin also sends personalized emails to each customer based on their purchase history. This feature can help you to foster better relationships with your customers and encourage repeat business.
Key features:
Have an overview of the users
Analyze the users' behavior
Understand your users' need
Contact the users in an easy way
Get important statistics
Track the visits generated by the BOTs
Filter the information by user
Export sessions, searches, emails, and statistics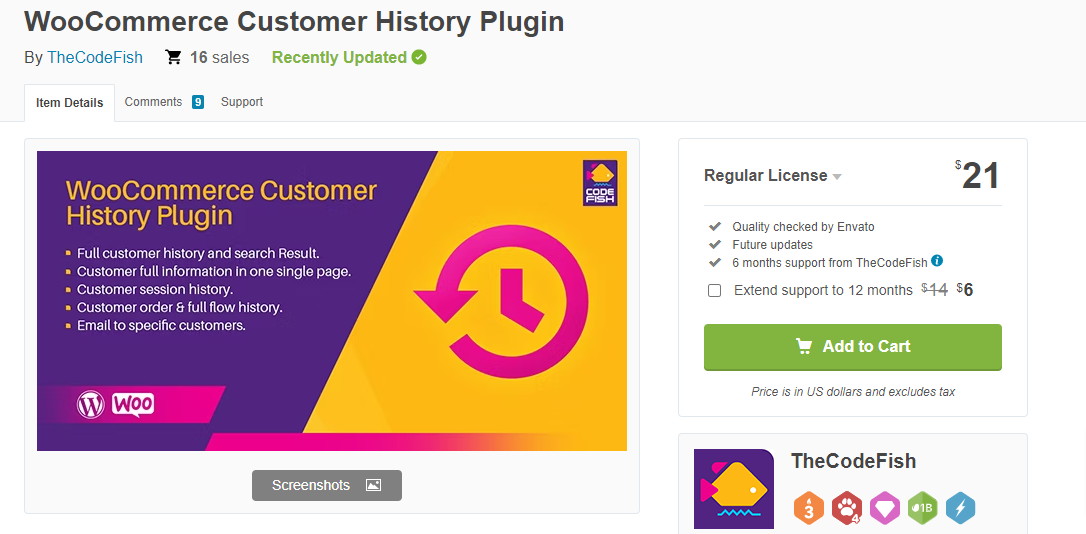 If you are looking for the best Woocommerce customer history plugin that helps you analyze your customer' behavior, then using the Woocommerce Customer History plugin by TheCodeFish is a great idea for your website. This plugin provides a detailed overview of each customer's purchases, including order ID, date of order, order status, total sales, and much more. Hence, you can take advantage of this information to improve your marketing strategies and provide personalized offers and recommendations to your customers.
Besides that, you can filter customer data by date range, customer name, or order status. Further, it lets you export customer purchase history data in CSV format for further analysis and reporting. This plugin is easy to install and customize, and it is fully compatible with WooCommerce's latest version.
Key features:
Display the total and average amount of the purchase made by each user in your shop
Save all the steps that users make during their sessions
Customer visited pages
Customer search keys used in your site
Customer completed orders
Check the complete list of orders associated with a specific user
Dedicated statistics to check
How many times the page has been visited
How many times the search key has been typed on the site
Verify the user's purchase total amount New
Track the visits generated by the BOTs
Save the IP address used by the user to access the site New
Track user's source URL New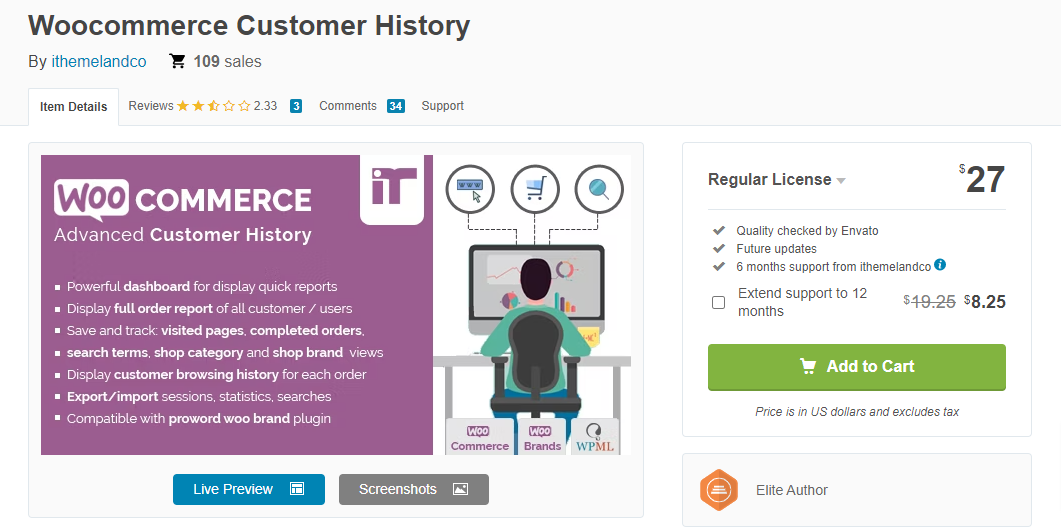 Why don't you use this woocommerce customer history plugin to track your customer's history? By installing this plugin, you can have a comprehensive view of the ecommerce store's customers behavior by collecting purchase history data. Besides that, merchants can access data related to customers' orders, refunds, and even credit notes. This data can be exported to spread-sheets or used to generate reports. Moreover, merchants can use it to understand their customers' behavior. This plugin is really a perfect choice for ecommerce stores.
Key features:
Powerful dashboard for display quick reports
Display full order report of all customer / users
Display how your customers browse your store
Track the total customer lifetime value for each customer
View insights about your customer's browsing habits on your website
Save and track users
Track the visits generated by the BOTs
Export/import sessions, statistics, searches
much more
WooCommerce Customer History Plugin is a vital tool for tracking a full purchase history log of your customers and calculating the total customer lifetime value. It offers insight into customers' preferences, including pages viewed, orders placed, products browsed, and products ordered. The plugin enables e-commerce vendors to make informed decisions and stay ahead of the competition. Apart from allowing customers to view their purchase history, the plugin provides valuable data on canceled orders, completed orders, and orders on hold. This helps vendors track customer behavior and make necessary adjustments to increase sales.
Key features:
Observe how your customers browse your store and which screens they visit before they purchase
Track the total customer lifetime value for each customer
View insights about your customer's browsing habits on your website, to see which screens work best for targeted conversions
Wrap up
To sum up, by understanding your customers' preferences, you can make sound judgments when interacting with clients, offer them unique discounts, and improve your store's overall performance. Thankfully, there are many WooCommerce customer history plugins to choose from that offer various features and prices, both free and paid. Hopefully, you can consider and choose the best plugin from the mentioned plugins above.
Moreover, you can visit our website and get plenty of excellent, free WordPress Themes that are specially designed for e-commerce stores.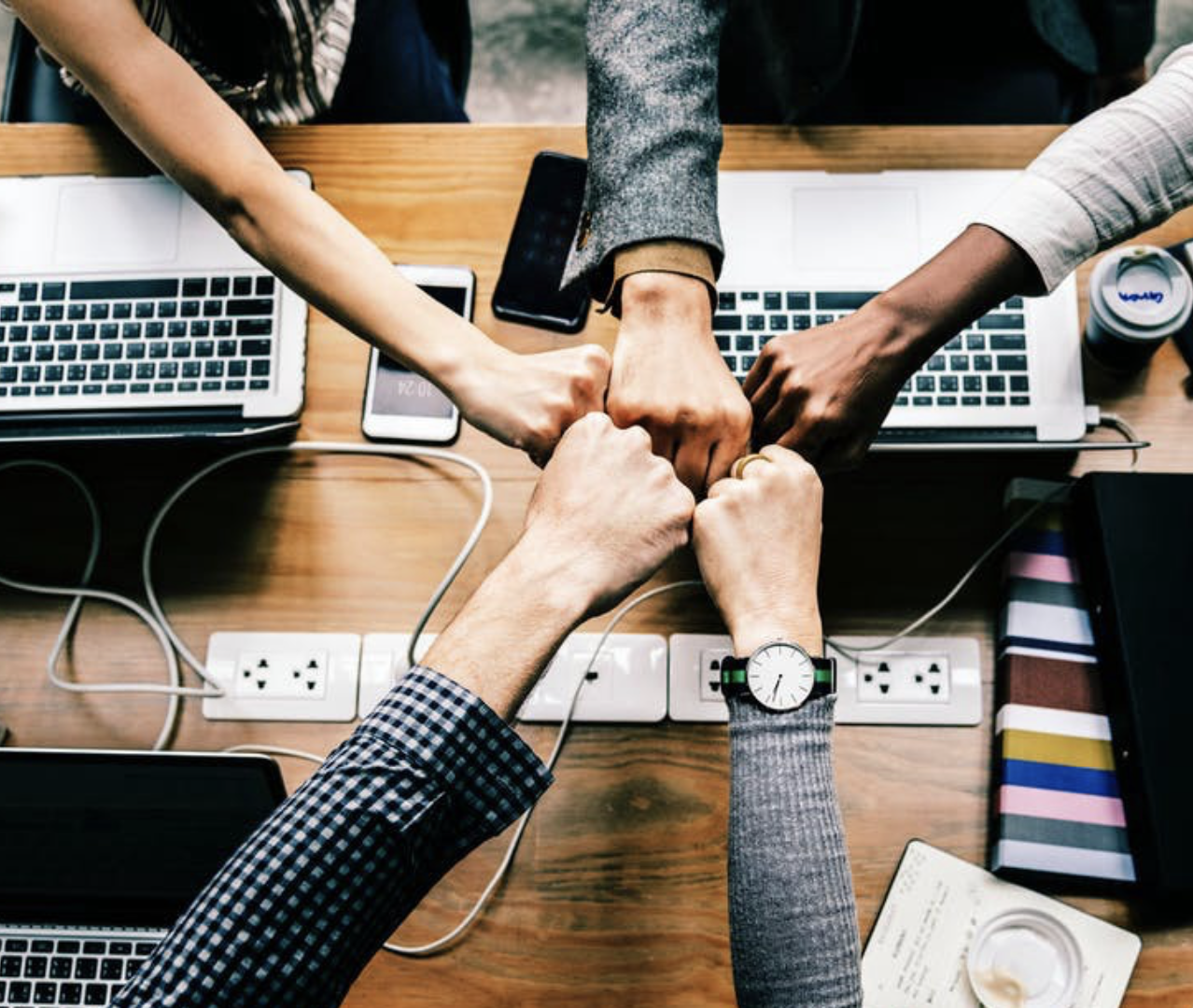 Hello everyone! We're Galussothemes content team, we love to write new blogs for WordPress everyday! Galusso Content Team is a part of IT4GO – The company houses talented young people who hold a strong passion for website development, designing, and marketing.