Ecommerce business is on the rise and it's only going up. With more and more traditional stores turning to online platforms for sales, e-commerce is becoming the norm. To make sure your e-commerce website is up to scratch, picking the right Content Management System (CMS) is key. To help you out, we've put together a list of the best free CMS for eCommerce – so you can get your online store up and running in no time. Now, let's check them out.
How to choose the right free CMS for ecommerce websites?
When it comes to setting up an online store, choosing the right eCommerce CMS (Content Management System) is essential. A good eCommerce CMS should provide you with the tools to create a powerful, user-friendly website that can easily handle a large number of products and customers. There are a few features you should look out for when selecting an eCommerce CMS that will best suit your business needs.
One of the most important features of an eCommerce CMS is its product management capabilities. You should look for a CMS that allows you to easily add, edit, and delete products, as well as manage product options, images, and descriptions. It should also provide you with the ability to create product categories, so customers can easily find the items they're looking for.
Another important feature to consider is the ability to process payments. Your eCommerce CMS should be able to integrate with a variety of payment gateways, so you can accept payments from customers using a variety of methods. You should also look for a CMS that offers fraud protection, so you can be sure your customers' data is secure.
Having a good customer management system is essential for any eCommerce business. A good eCommerce CMS should allow you to easily create customer accounts, manage customer information, and track customer orders. It should also provide you with the ability to send out promotional emails and newsletters to keep customers informed about new products and discounts.
Marketing Tool Integrations
A good eCommerce CMS should also provide you with the tools to effectively market your products and services. Look for a CMS that offers features such as SEO optimization, social media integration, and analytics so you can track the performance of your campaigns.
It is necessary to look for a CMS that doesn't require coding knowledge. If you have limited or no coding knowledge, there are CMS platforms available that offer user-friendly interfaces and drag-and-drop functionality, allowing you to create and manage websites without writing code.
Finally, it's important to make sure your eCommerce CMS is secure. Look for a CMS that offers multiple layers of security, such as SSL encryption, to ensure your customers' data is safe. You should also look for a CMS that is regularly updated to protect against the latest security threats.
Now, it's time to explore the following free CMS for ecommerce.
7 Best Free CMS For Ecommerce Websites
Woocommerce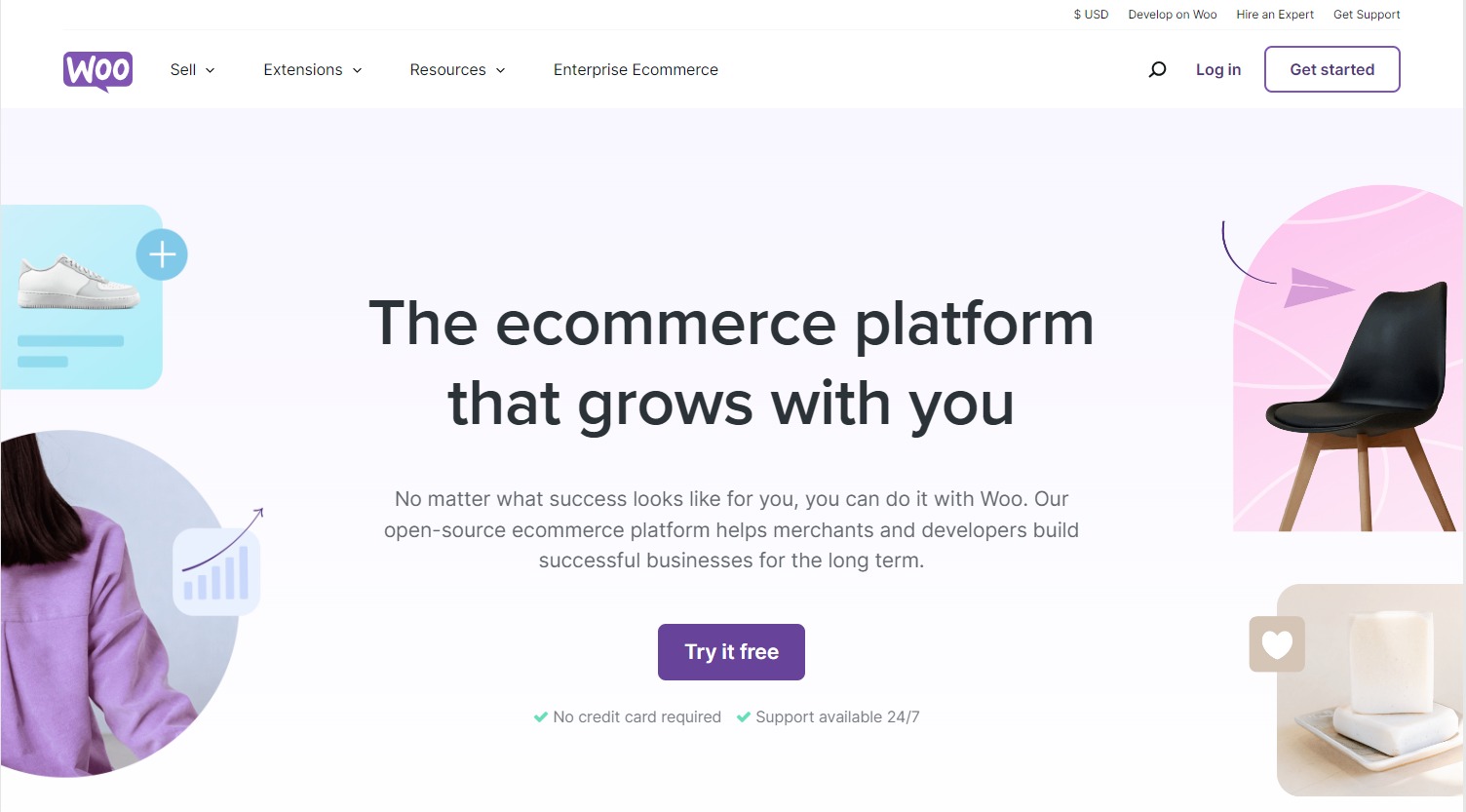 Woocommerce is one of the leading CMS for e-commerce websites in the market. The best advantage is that this platform is completely free to download because Woocommerce itself is a free plugin for WordPress. However, you also need to pay extra fees to enhance your website's ability including domain name, hosting, SSL certificate, premium themes and plugins, etc.
This platform is specially designed to help you create and manage your e-commerce website efficiently. Another benefit is that Woocommerce provides you with plenty of payment options such as PayPal, Stripe and Amazon Pay. Also, Woocommerce is SEO-friendly and provides users with access to analytics and reporting tools. Moreover, Woocommerce integrates with a collection of powerful plugins and extensions, which gives you the opportunity to extend its capabilities.
If you are familiar with WordPress's interface, then it is extremely easy for you to use Woocommerce. Since WooCommerce is a plugin built for WordPress, it seamlessly integrates with the existing WordPress dashboard and inherits its user-friendly interface
Pros
Cons

Easy to use
Large community and support
Be optimized for SEO
Highly scalable
Seamless integration with WordPress Ecosystem
Provide you with a lot of useful customization options

Need to pay for additional costs
Require you to have technical knowledge
Have to regularly update and maintain to ensure security and compatibility
Depend on WordPress
Limited support
Wix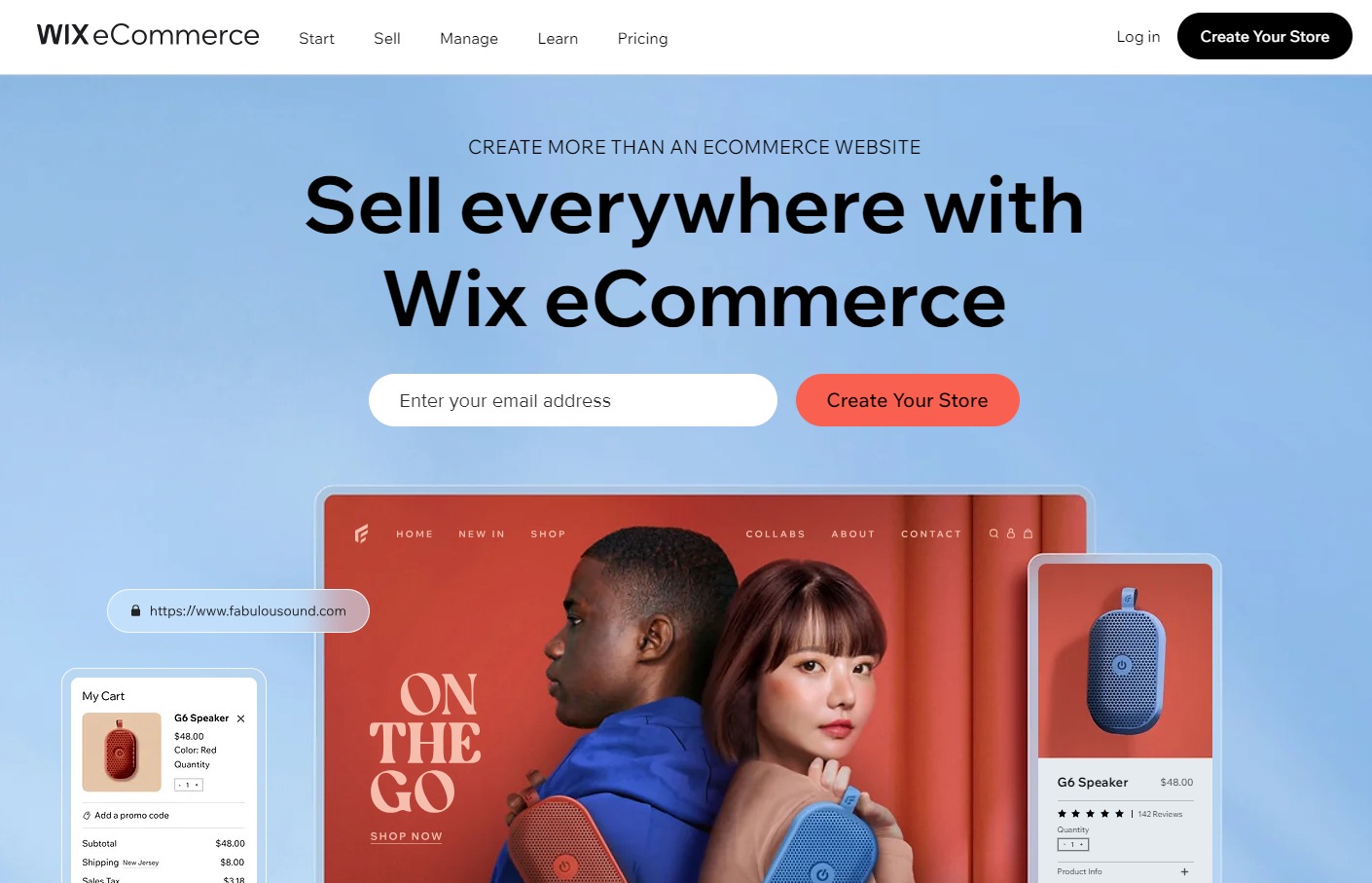 Another CMS for e-commerce is Wix which is a familiar website-building platform among a lot of users. While Wix is not completely a free CMS for ecommerce, it still gives you a 14-day free trial for any of Wix's premium plans. This platform provides you with a drag-and-drop interface that enables you to easily create websites without touching any line of code. Notably, the Wix ADI feature makes it super easy for Wix users to craft their own website in a flash. All you need to do is provide some basic info about what you'd like to include, and the Wix will help you do the rest.
Additionally, it has a wide selection of beautiful templates and design options. Hence, if you are a beginner, you take advantage of these templates to quickly create your own online store. There is an extensive app market that has many add-ons and integrations in order to enhance your website's functionality. such as marketing tools, shipping solutions, etc.
Although Wix might not be as robust or scalable as other e-commerce platforms like Woocommerce, it is still a perfect choice for small to medium-sized online stores.
Pros
Cons

User-friendly interface
Have a vast selection of pre-built templates
Have an extensive app market
Automatically optimized for mobile devices
Excellent support via various channels

Limited design flexibility
Be difficult to switch to another template
Be challenging to modify certain elements or layouts
A lot of limitations in terms of optimizing your site for SEO
Maybe not suitable for large-scale ecommerce websites
OpenCart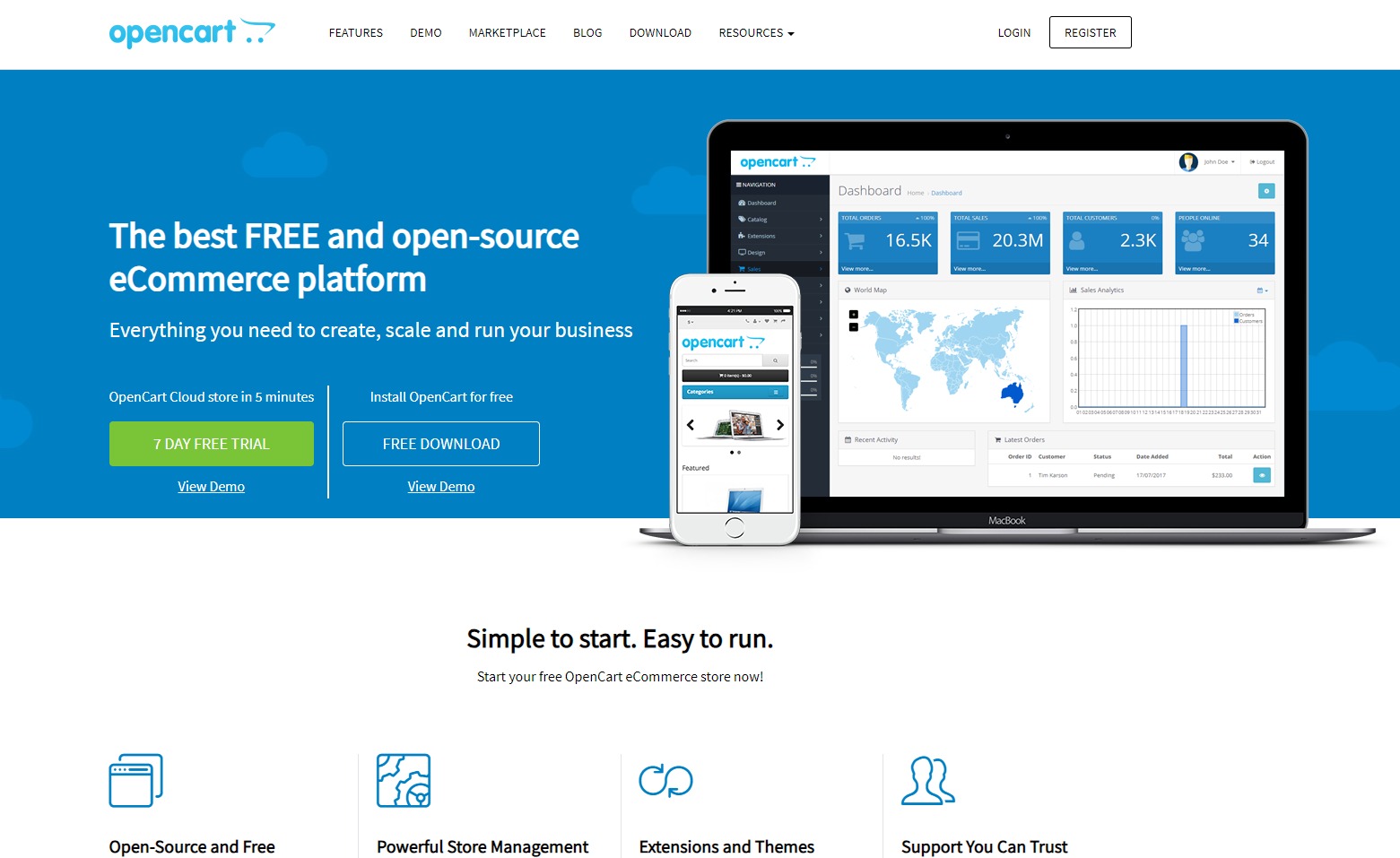 Opencart is an Open-source and free CMS for ecommerce that lets you create and run your online website in a professional way. It is packed with a large number of stunning templates for your online stores and a thriving marketplace with over 13,000 extensions. Besides that, this platform integrates with over 36 payment gateways and 7 most prevalent methods.
Another remarkable good point is that it offers robust product management capabilities that let you easily add, edit, and organize products easily. Opencart is really a perfect choice for those who want an easy-to-use and cost-effective CMS for ecommerce, but it may not be the right option for those who need more advanced features.
Pros
Cons

Being an open source
Completely free to install
Multilingual and multi-currency support
Does not come with large ongoing development costs
Plenty of helpful integrations with extensions & modules

Limited default features
Require some technical knowledge of HTML
Drupal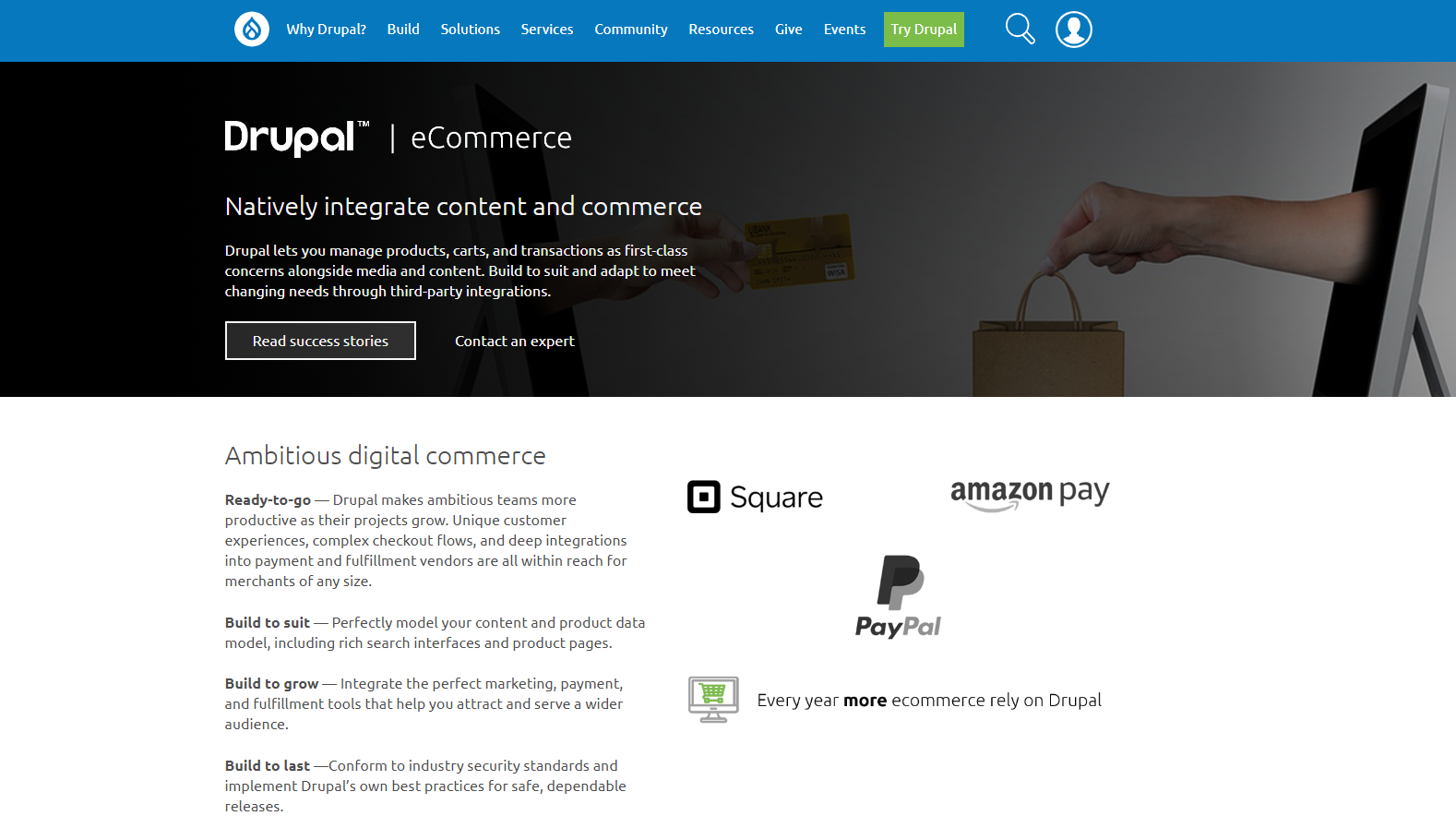 Drupal is a significant candidate among numerous free CMS for ecommerce websites. This platform is utilized to create ecommerce websites and applications of any complexity. Drupal is famous for its flexibility and scalability and it provides you with a robust framework that enables users to build dynamic websites with advanced functionality.
Besides that, there are many valuable integrations with modules and themes, so you can easily use them to extend the functionality of your website. It also boasts a strong community of developers and contributors who constantly enhance the platform's features and security. Whether you need a simple blog or a complex enterprise-level website, Drupal offers the tools and capabilities to meet your unique requirements and deliver a seamless user experience.
Pros
Cons

Seamless integration with various third-party systems and services
Regularly updated to address vulnerabilities
Highly flexible and customizable

Limited Out-of-the-Box E-commerce Functionality
A steeper learning curve compared to some other CMS platforms
Difficult to customize
Lack of support
Not so scalable
PrestaShop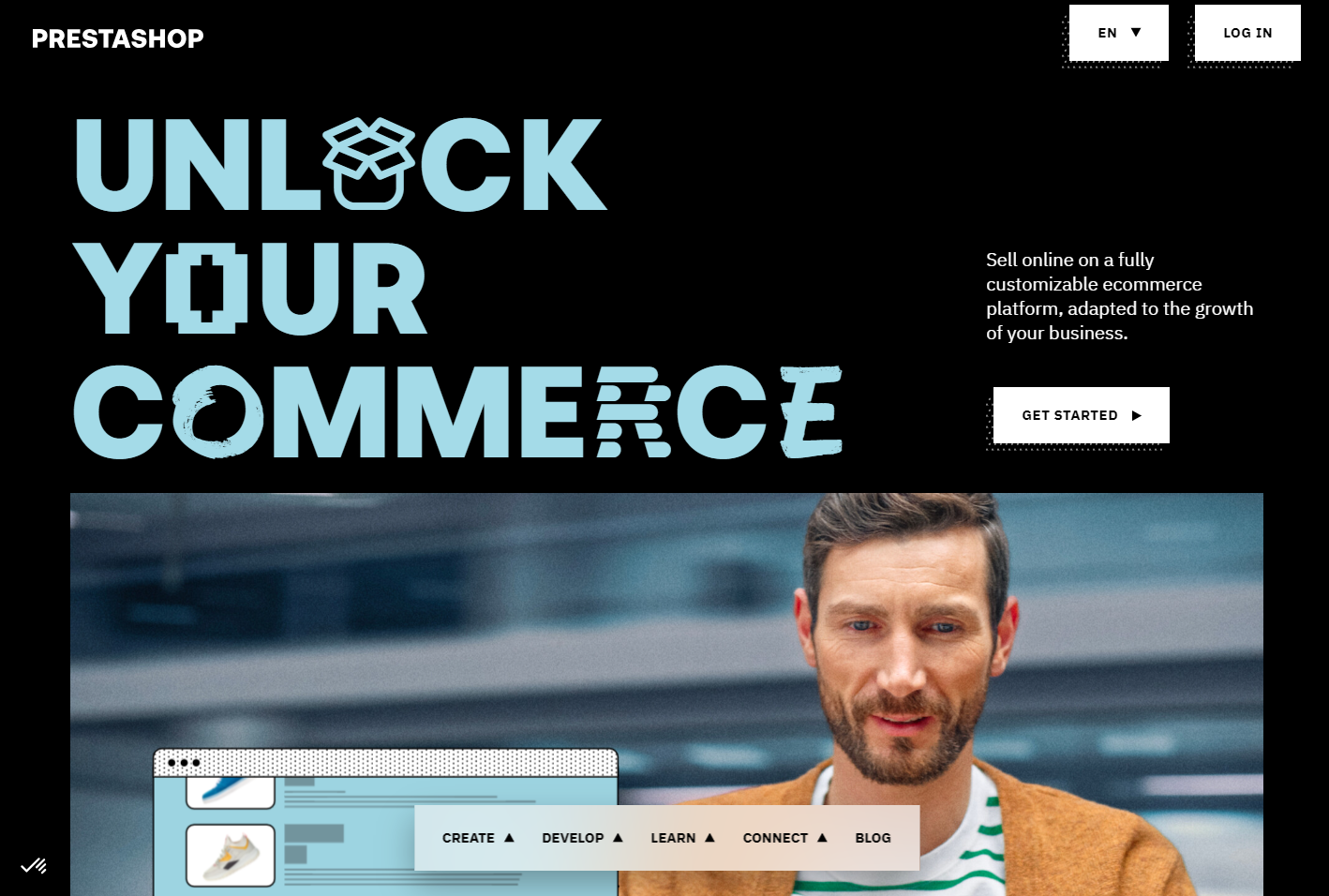 The next free CMS for ecommerce that we would like to suggest is PrestaShop which allows you to create a beautiful and well-organized online store with unlimited functionality. However, it has a bit of difficulty to use for beginners due to its a lot of functionalities. PrestaShop is 100% free to download, but it will cost more in the long run.
This platform allows you to access all of their themes' code, so you are able to change anything you want. Its customizability also helps you set your shop apart from all others. It helps you create a truly unique layout and better UX. Moreover, it offers over 3,000 templates that you can utilize and customize based on your shop's requirements.
The good point is that it supports a lot of major payment gateways such as Paypal, and Amazon Pay. It allows you to choose from over 200 different providers via add-ons. What's more, it has loads of useful marketing features such as discounts and coupon codes, email marketing, limited-time offers, and free shipping.
Pros
Cons

A large collection of payment options
Offer unlimited product listings
100% free to download
Provide over 3000 templates
Provides a comprehensive set of features out-of-the-box
Supports multiple languages and currencies

Require some coding capability to customize your site
Need to pay extra costs for additional plugins
Ecwid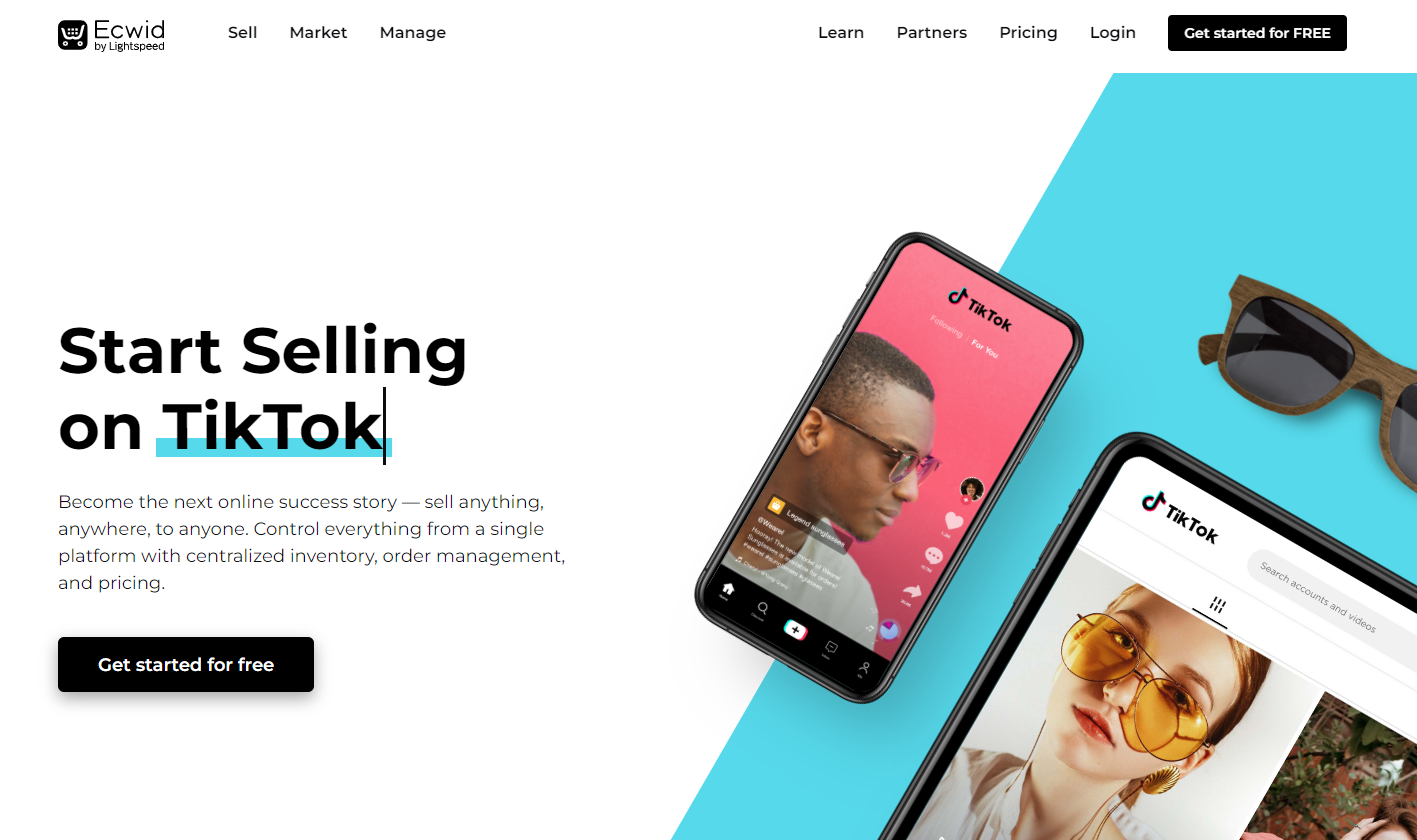 Ecwid stands out from the likes of Shopify, and BigCommerce, as it's not designed to let you build a standalone e-commerce website from scratch. Rather, it's made to let you add an online store to an already existing website or online presence. It is built with POS features that allow you to sell your products in both online stores and physical locations. Additionally, it has many powerful SEO features that help you create and change key elements such as page titles, meta descriptions and alt text.
What's more, Ecwid supports a lot of languages, so you can translate your store into different languages. Another strength is that it offers a bunch of integrations with well-known services ( there are over 279 available). Plus, it lets you add tons of products from hundreds of dropshipping suppliers to your Ecwid online store. To sum up, by using this online shopping platform, you are able to easily add ecommerce functionality to an existing site or to put an online ecommerce site on a Facebook page.
Pros
Cons

Offer a seamless and straightforward setup process
Allow you to sell your products across multiple channels
Offers robust inventory management features
Have Secure and PCI DSS-compliant

Limited customization options
Dependency on third-party platforms
Limited reporting and analytics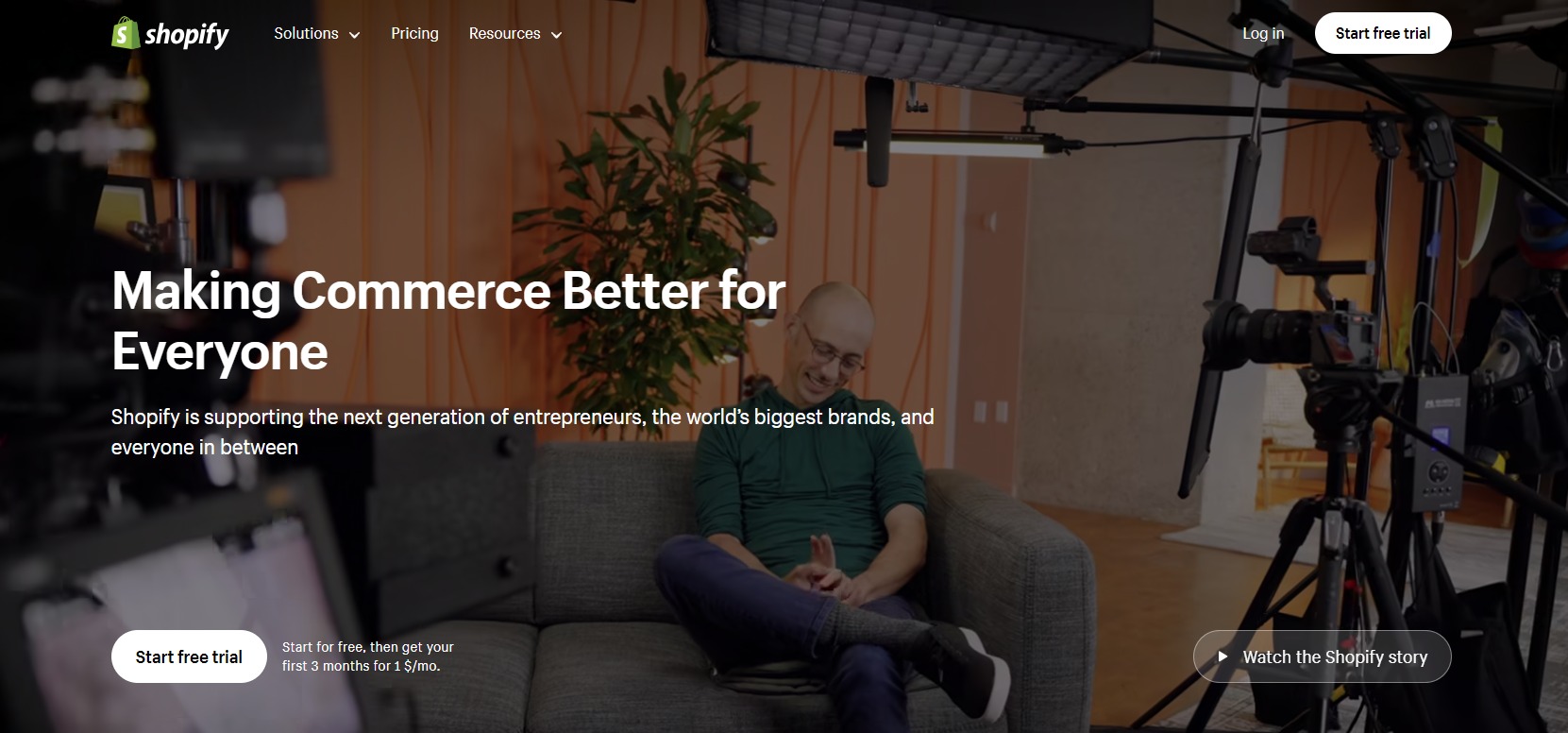 Shopify is another great CMS for ecommerce that you should try. This platform doesn't offer a free plan, but it still offers a 14-day free trial and doesn't require a credit card. You can use this platform to design any type of online store and manage it effectively with a simple and intuitive dashboard. It also comes with a library of attractive themes, both free and paid to choose from. Further, it has a Shopify app store where you can discover a wide range of types of apps to meet your requirements.
What's more, when using Shopify, you don't have to worry about hosting your website. Since It provides secure and reliable hosting, ensuring that your online store is always available and protected. Another advantage is that it integrates with loads of payment gateways so that you can offer multiple payment methods to your customers.
Pros
Cons

User-friendly and intuitive interface
Extensive app store
Secure and reliable
Offer a lot of payment and shipping options
Be designed with SEO best practices in mind
Offer 24/7 customer support

Need to pay a monthly free
Limited design customization
Transaction fees
Depend on app stores
The learning curve for advanced features
Summary
In conclusion, the right CMS can be the difference between an online store that succeeds and one that fails. With the right CMS, you can build an eCommerce website that is user-friendly, secure, and efficient. We hope that our list of the top 7 best free CMS for eCommerce has been helpful in helping you decide which one is the best for your business.
Besides that, don't miss a collection of beautiful, free WordPress Themes on our site. There are a lot of eye-catching ecommerce templates that will help you build an online store quickly.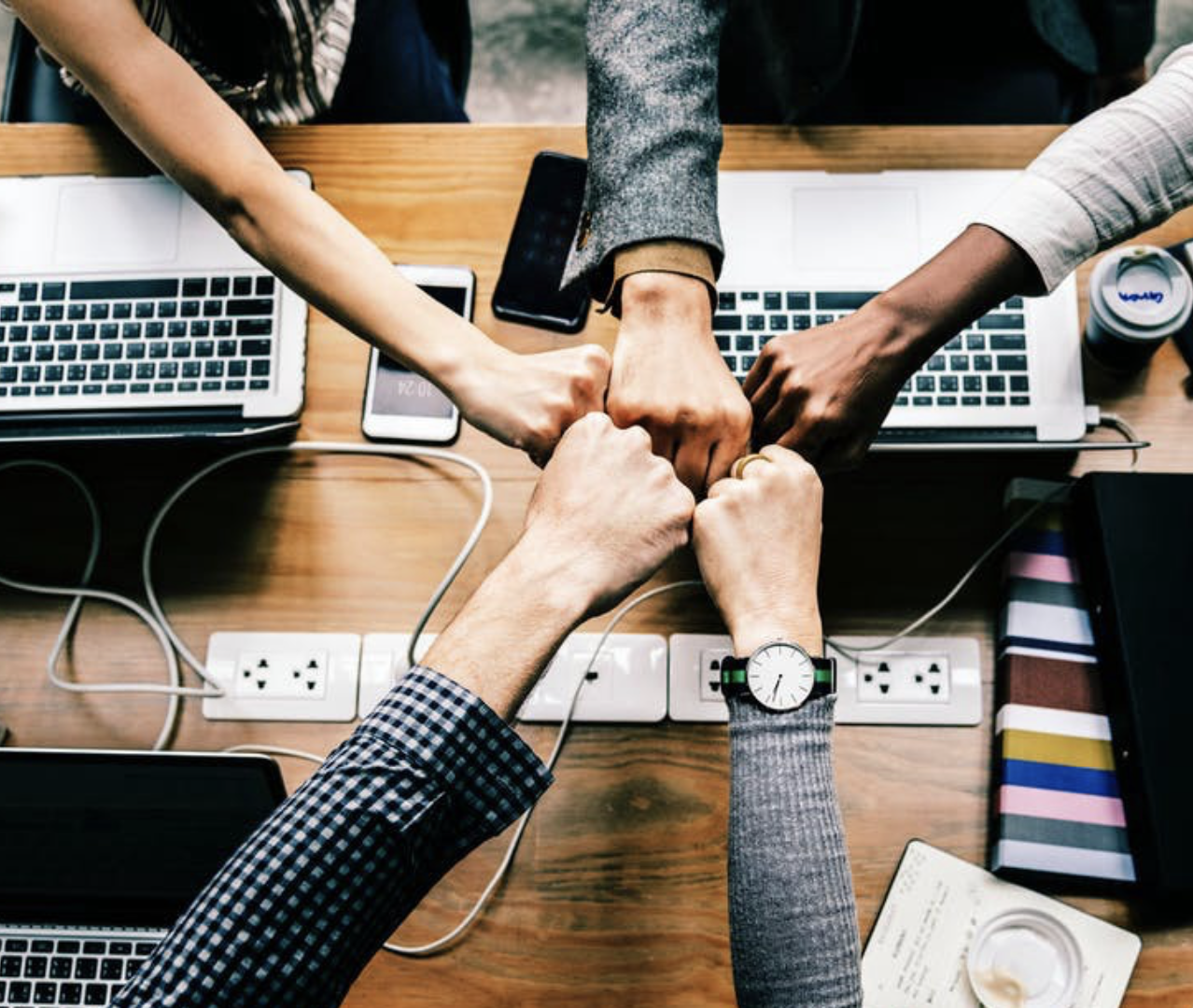 Hello everyone! We're Galussothemes content team, we love to write new blogs for WordPress everyday! Galusso Content Team is a part of IT4GO – The company houses talented young people who hold a strong passion for website development, designing, and marketing.