Are looking to translate your website into multiple languages? If so, you're not alone. With the ever-increasing globalization of business, having a multilingual website has become a necessity for many companies. And, to achieve this goal, you might have come across two popular WordPress translation plugins – Weglot vs WPML. But, which one is better for your website? In this blog post, we'll be doing a detailed comparison between Weglot vs WPML so that you can make an informed decision about which one to choose. So, keep reading to find out more!
Introduction about the importance of WordPress Translation plugins
WordPress translation plugins are crucial for building multilingual websites and expanding the reach of content across different languages and cultures. These plugins simplify the translation process, making it easy for website owners to manage multilingual versions of their sites. By offering content in multiple languages, website owners can engage with a wider audience, increase traffic, and improve user experience.
Additionally, these translation plugins also facilitate collaboration among international teams and allow for customization to match language requirements and cultural nuances. Additionally, these plugins offer SEO features to optimize translated pages for search engines, driving organic traffic and improving overall performance. Overall, WordPress translation plugins are vital tools for effective communication and success in a globalized digital landscape.
Currently, Weglot vs WPML are the two most popular multilingual plugins in the market. Each plugin comes with different features and advantages, so it is difficult for you to choose the best one. Now, we will provide you with the differences between them via our comparison blog below. Now, let's check them out.
Weglot Vs WPML: General Information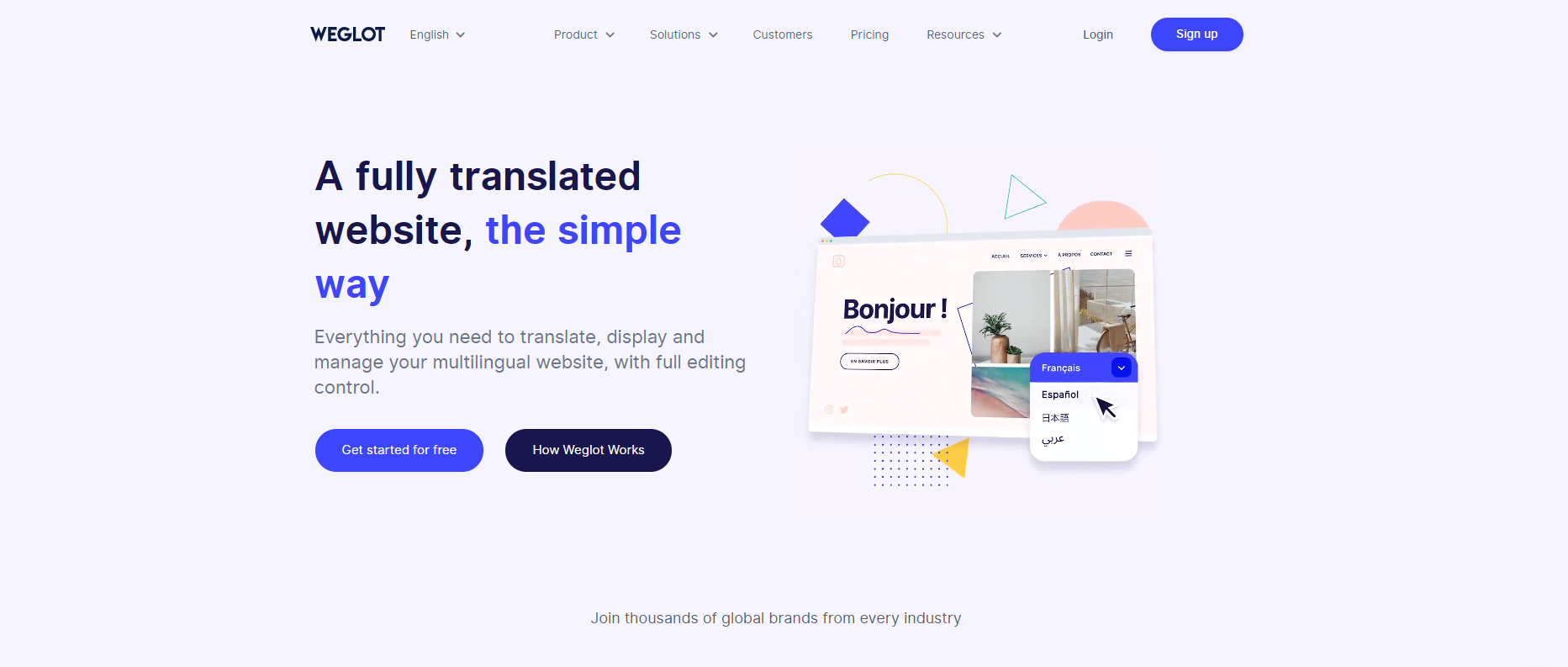 Weglot is a prevalent multilingual plugin that allows website owners to make their content available in multiple languages. This plugin can be used with various web pages platforms such as Wix, Shopify, Bigcommerce, and more, so it becomes one of the perfect choices for companies that have websites outside of the WordPress platform. Weglot's automatic machine translation and user-friendly interface make it easy for users to manage all their translations efficiently. Additionally, Weglot has a high-quality and accurate translation, with minimal effect on website speed.
Additionally, Weglot provides a visual editor that allows users to make real-time edits to the translations directly on their website. This feature simplifies the editing process and makes it easy to refine the translations for accuracy and clarity. What's more, Weglot is also compatible with different WordPress Themes and plugins. Hence, It seamlessly integrates with your existing website and ensures that the translation process doesn't interfere with the functionality or design of your site.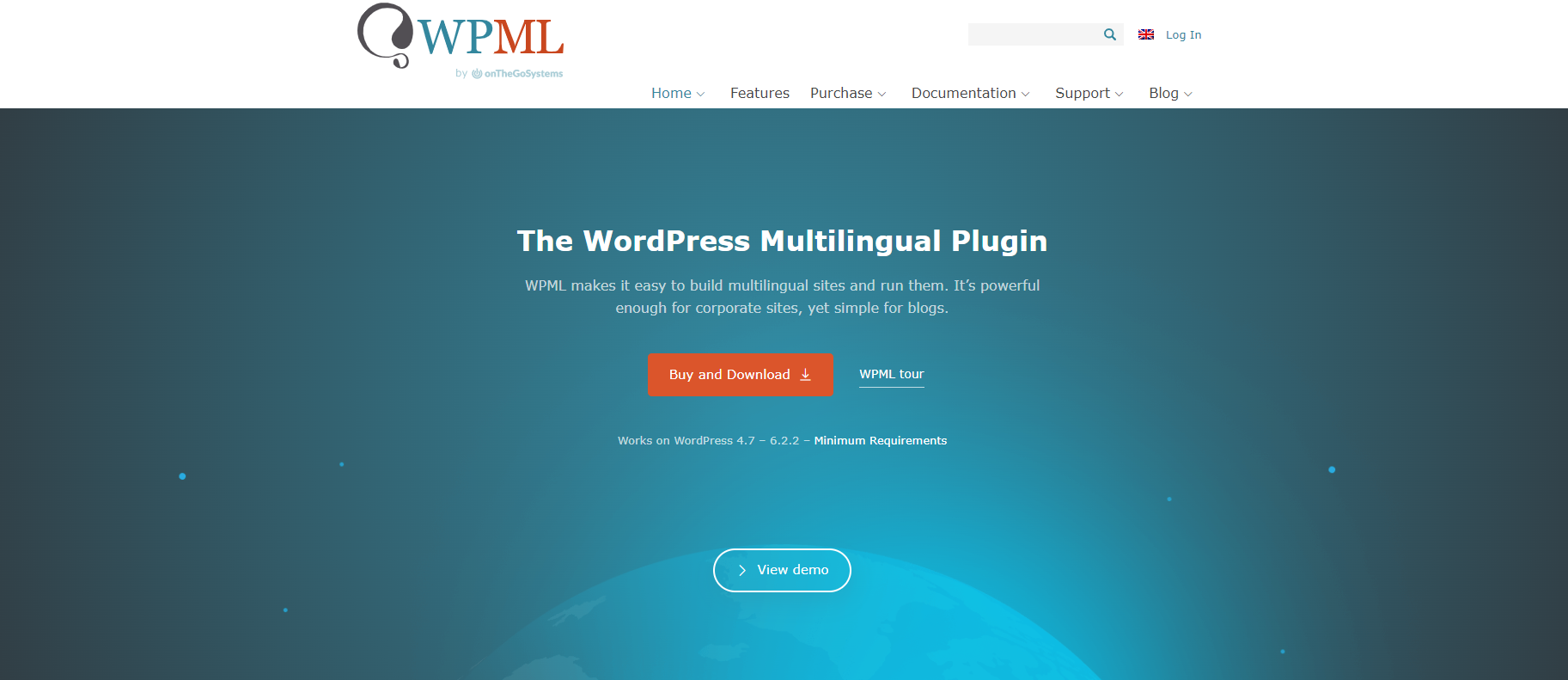 WPML is also regarded as the top-notch WordPress translation plugin primarily used for WordPress websites. It provides a comprehensive solution for creating and managing multilingual websites with ease. With WPML, website owners can effortlessly translate their content into multiple languages, ensuring a seamless user experience for visitors from different regions and language backgrounds.
Additionally, it offers a user-friendly interface and plenty of translation management tools. Thanks to that, you can easily manage a multilingual version of your website. Further, you can create language-specific versions of your pages, posts, menus, and widgets, by using different translation methods.
Another benefit is that WPML is compatible with various themes and plugins, and provides multilingual SEO capabilities. Hence, it allows website owners to reach a global audience and offer a seamless user experience in multiple languages.
Weglot Vs WPML: features comparison
User interface
Weglot and WPML both strive to provide user-friendly interfaces, but there are differences in terms of simplicity and depth of control. While Weglot focuses on a streamlined and intuitive approach, it allows users to easily navigate, configure as well as activate the translation functionality. In addition, the visual editor of Weglot allows you to make manual adjustments to a translation directly on your website, making it convenient for real-time modifications.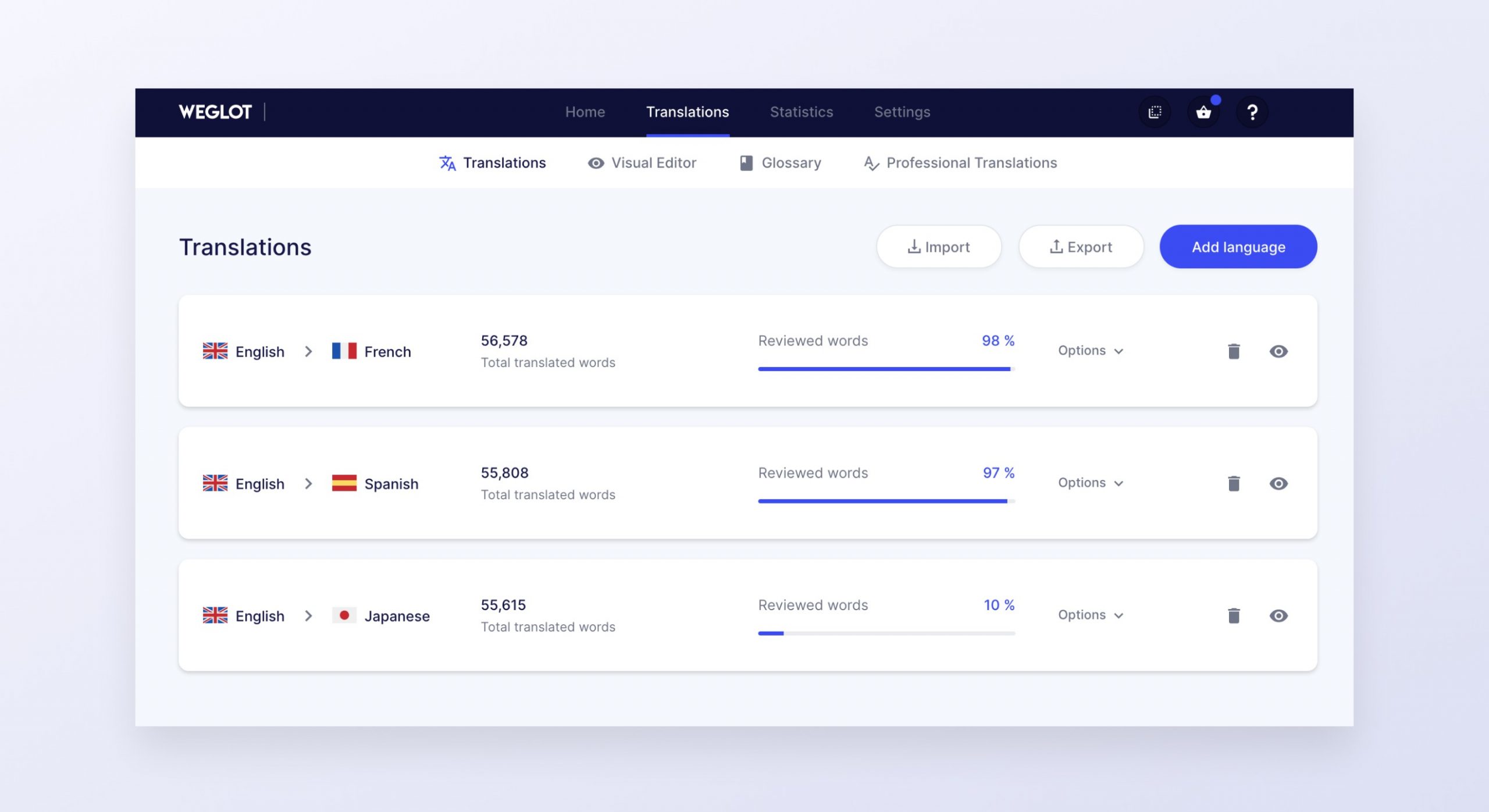 WPML, on the other hand, offers a comprehensive interface with robust translation management features and advanced customization options that offer extensive control over the translation process. The WPML plugin integrates seamlessly into the WordPress dashboard. As a result, users will get a cohesive user experience with this plugin. From here, you can also customize translation settings, and implement other language configurations to suit your specific requirements.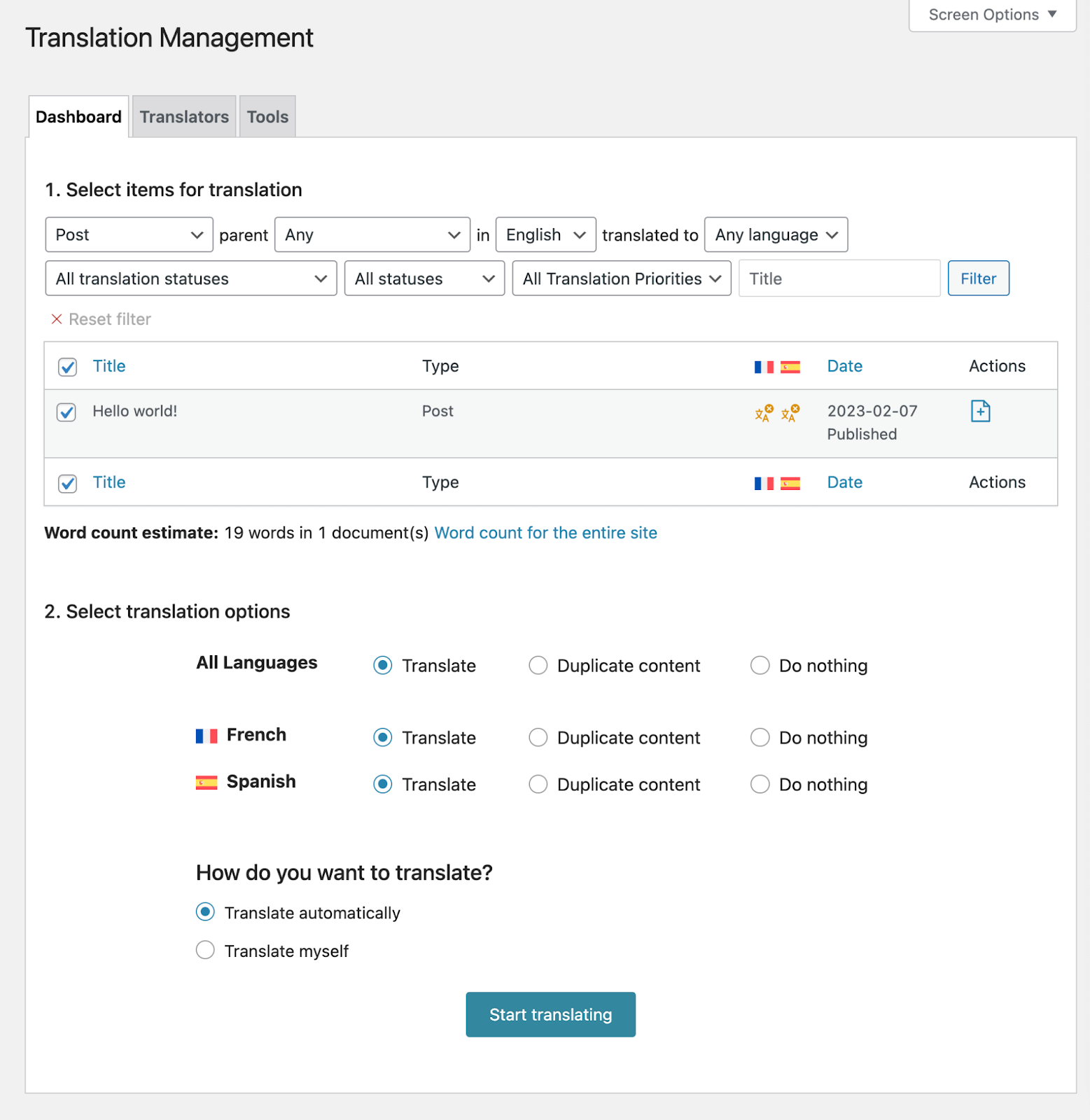 Besides that, there is no denying that the user interface of WPML has a more traditional or familiar design compared to Weglot. Because WPML has been in the market for a long time. Whereas Weglot is a new plugin, it may have a more modern and visually appealing interface that reflects current design trends. However, WPML's traditional interface can be seen as an advantage by users who prefer a familiar interface that aligns with the overall WordPress dashboard.
Language switcher
When comparing Weglot vs WPML in terms of language switcher functionality, there are notable differences to consider.
On the one side, Weglot provides a customizable language switcher that can be automatically added to your website once the plugin is activated. In addition, there are a lot of useful options that allow you to customize your language switcher without any technical knowledge or any code. Further, the language switcher is specially designed to be user-friendly, so it helps your website's visitors easily switch between different language versions.
On the other hand, WPML offers a wide range of different language switcher options that give you more choices for displaying language options on your websites. With the WPML plugin, you can choose different language switcher styles including dropdown menus, flags, or custom HTML to match your website's design.
Besides that, you are able to select the order of languages that you want to display in your language switcher. Even more, you can select where you want to display it, either in the menu, widget, footer, or link on your website using shortcodes. If you have coding knowledge, you can customize the appearance of the language switcher by adding a CSS class.
Translation quality
Regarding translation quality, we have to admit that WPML offers more comprehensive options for achieving higher-quality translations compared to Weglot. WPML supports different translation methods including manual and automatic translation services. In addition, WPML's translation management system enables efficient assignment of translators, review, editing of translations, and rigorous quality control. Hence, by using the WPML plugin, you can get greater control, accuracy, and consistency in the translation process.
Whereas, Weglot primarily relies on automatic machine translation, which may not always provide the same level of accuracy or context as human translations. As a result, this may result in some inaccuracies or awkward phrasing in the translation process. However, Weglot offers a user-friendly visual editor that allows you to manually review and edit your translation.
SEO Capabilities
Weglot and WPML offer different capabilities when it comes to SEO for multilingual websites.
Weglot has built-in support for multilingual SEO practices. It automatically generates hreflang tags, which are crucial for indicating language and regional targeting to search engines. By incorporating hreflang tags, Weglot helps search engines understand that your website has different language versions and directs users to the appropriate language based on their location or language preference. This helps improve the visibility of your website in search results.
However, it's important to note that the quality of translations provided by Weglot's automatic machine translation or professional translation services can impact the SEO performance of your website. It's recommended to review and edit the translations to ensure they are optimized for search engines and maintain the integrity of your website's SEO.
On the contrary, WPML is well-known for its strong focus on multilingual SEO. It offers comprehensive features to enhance the SEO performance of your multilingual website. WPML allows you to create separate URLs or subdomains for each language version, which can be beneficial for targeting specific regions or language markets. Additionally, it also automatically generates hreflang tags to indicate language and regional targeting, improving the visibility of your website in search results.
Especially, WPML integrates seamlessly with popular SEO plugins like Yoast SEO, so you can easily optimize each language version individually. You have the flexibility to customize page titles, meta descriptions, and URL slugs for different language versions, giving you greater control over the SEO aspects of your multilingual website.
Overall, it's evident that WPML provides more extensive options for customizing and optimizing your multilingual website for search engines. With features like separate URLs, integration with popular SEO plugins, and the ability to customize SEO elements for each language, WPML offers greater control over your website's SEO performance.
Number of available languages
In this section, Weglot completely overshadows WPML. Because Weglot offers over 100 languages that allow you to create multilingual websites targeting various regions and language markets.
On the other hand, WPML supports about 65 prevalent languages such as English, Spanish, French, and much more. In addition, it also allows you to add your own custom languages. While the exact number of languages supported by WPML may not be as extensive as Weglot, it still covers a broad range of languages to accommodate diverse website needs.
Weglot vs WPML: Pricing plans
Both Weglot vs WPML are two popular translation plugins for WordPress websites. The pricing and usage options for each plugin are important considerations for users, which will help you choose the best option that meets your requirements and budget. Now, let's check the pricing plans of each plugin below.
Weglot offers both a free version and a paid version. With the free version of Weglot, you can translate up to 2,000 words of your website into other languages before upgrading to the paid version, while WPML is only available in the paid version. This is one of the biggest differences between Weglot vs WPML.
At present, Weglot offers 5 different paid packages from a basic plan for small websites up to enterprise plans for larger websites including Starter, Business, Pro, Advanced, and Extended. The subscription pricing of Weglot starts at $17/month and varies depending on the number of translated words and additional features required.
You can refer to the pricing plans of Weglot in the screenshot below and find a plan that works best for your requirements.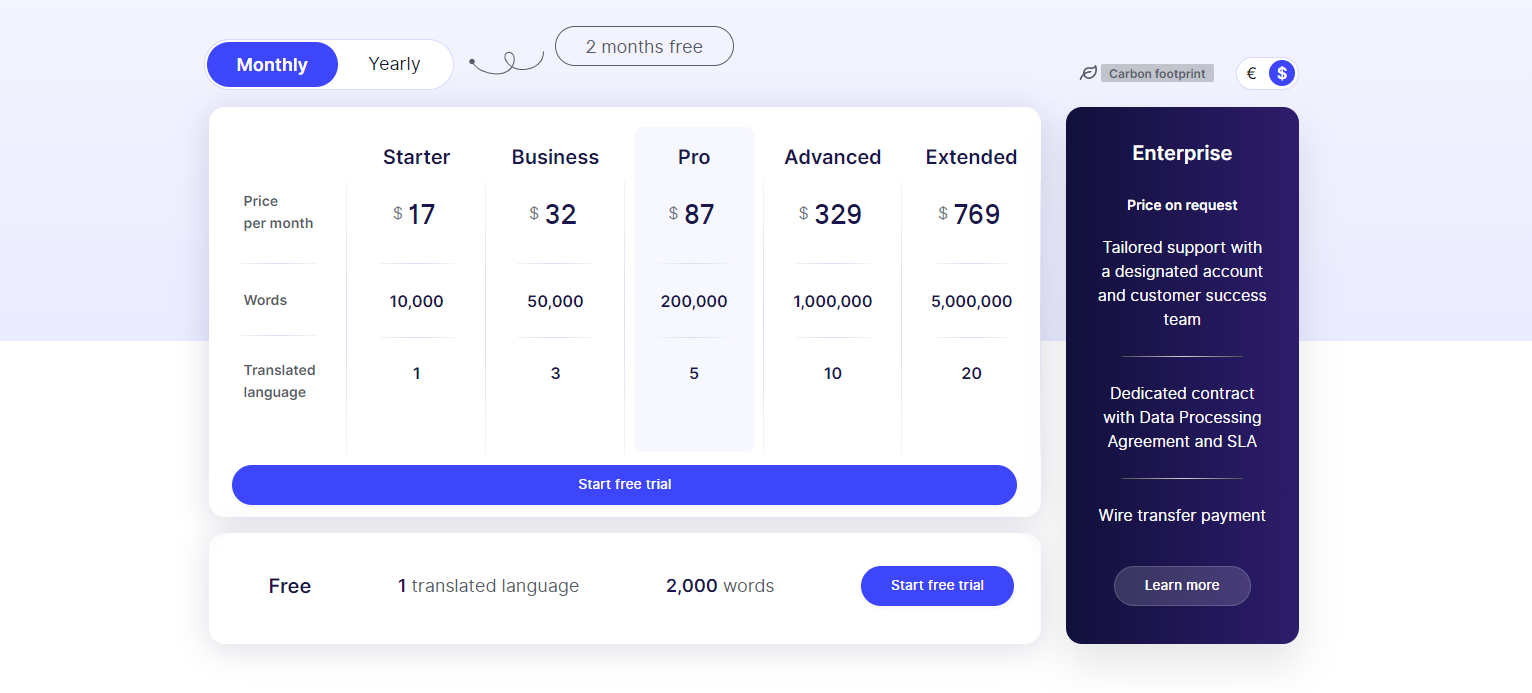 As we mentioned below, WPML only offers the paid version and there is no free trial period. Nevertheless, WPML offers a 30-day money-back guarantee if you don't satisfy the performance of WMPL. At the time of writing, WPML provides 3 different packages including Multilingual Blog, Multilingual CMS, and Multilingual Agency. The pricing is based on different plans with varying levels of support and advanced features.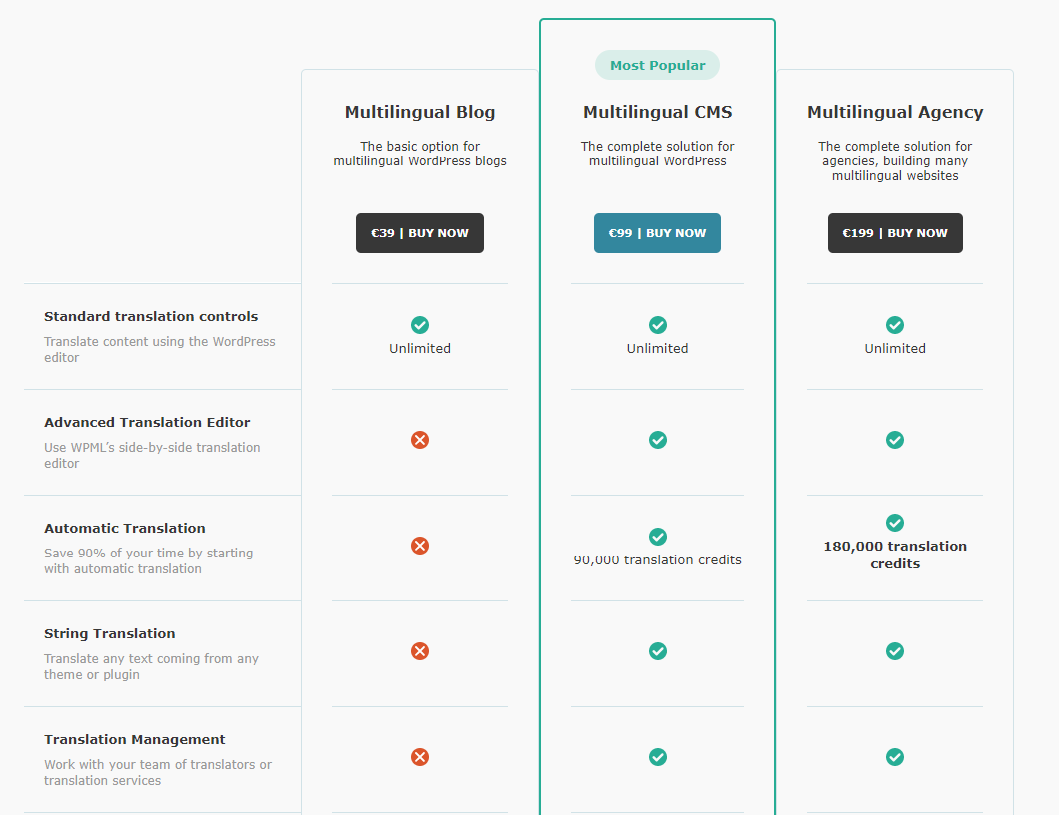 For automatic machine translation, WPML integrates with third-party translation services such as Microsoft Translate, Google Translate, and DeepL. Hence, WPML also costs you based on your usage via a credit system. The number of credits required for machine translation may vary based on the word count or specific pricing structure of the chosen service.
Microsoft Translate: 1 credit per word
Google Translate – 2 credits per word
DeepL – 3 credits per word
You'll get 2,000 free credits for each month you're a paying WPML customer. If you exceed that, you'll have to pay the following: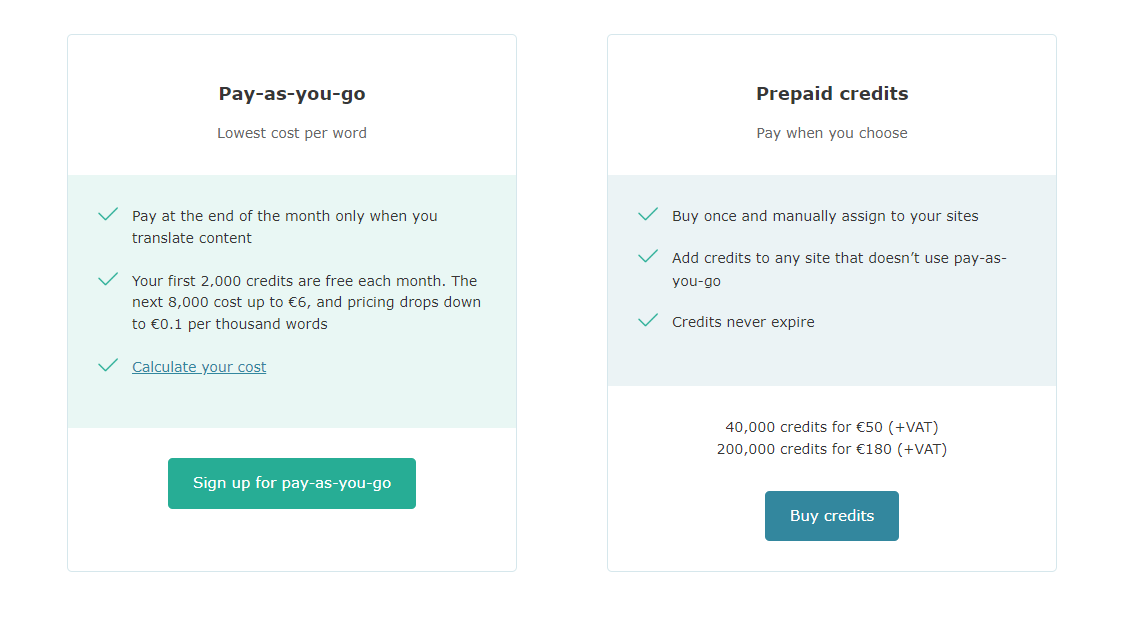 To sum up, Weglot's subscription-based pricing may be more suitable for smaller websites or those with fluctuating translation needs, as you pay based on the number of translated words. In contrast, WPML's credit-based pricing offers flexibility that allows you to customize your translation budget based on your specific requirements and the chosen translation services.
Pros and cons
Weglot
Pros
Cons

Offer an intuitive drag-and-drop editor
Support over 100 languages
Multi-language functionality on a single storefront
Automatically translates most of the elements of the website
Easy to install and set up
The support team is excellent

The price is comparatively expensive, but the quality has its price
Limited Translation Control
If your site has more languages, you quickly reach the word count limit
WPML
Pros
Cons

Comprehensive translation capabilities
Have multiple translation methods
Translation control and customization
Especially good for a WordPress site's SEO performance
Dedicated Support and Documentation

Outdated interface
Compatibility issues with some plugins
The price is pretty expensive for smaller-sized businesses
Don't include the free version
Weglot vs WPML: Who is the winner?
To conclude, both Weglot vs WPML are capable multilingual plugins for WordPress. They allow users to effectively translate their website content into multiple languages, creating opportunities to reach a wider audience. Moreover, both plugins offer automatic translation features that make the translation process quicker and easier.
That being said, Weglot seems to have an edge over WPML due to its ease of installation and affordable pricing. If you prioritize simplicity, ease of use, and quick setup, Weglot may be the winner for you. Moreover, its user-friendly interface, automatic machine translation, and visual editor make it a convenient option for translating your website. Additionally, Weglot's extensive language support and ability to reach a global audience are noteworthy.
In contrast, if you value advanced customization options, control over the translation process, and robust SEO capabilities, then using WPML is a perfect choice. WPML's emphasis on translation quality and SEO optimization makes it suitable for websites with complex content and specific SEO requirements.
All in all, the winner between Weglot vs WPML ultimately depends on the specific needs and goals of the website owner. It is recommended that users carefully consider the features and pricing of each plugin before making a decision.
What is your point of view? Don't hesitate to leave your selection in the comment below.
Further, our website provides you with a wide range of stunning, eye-catching, free WordPress Themes that are completely compatible with WMPL and Weglot. Let's check them out.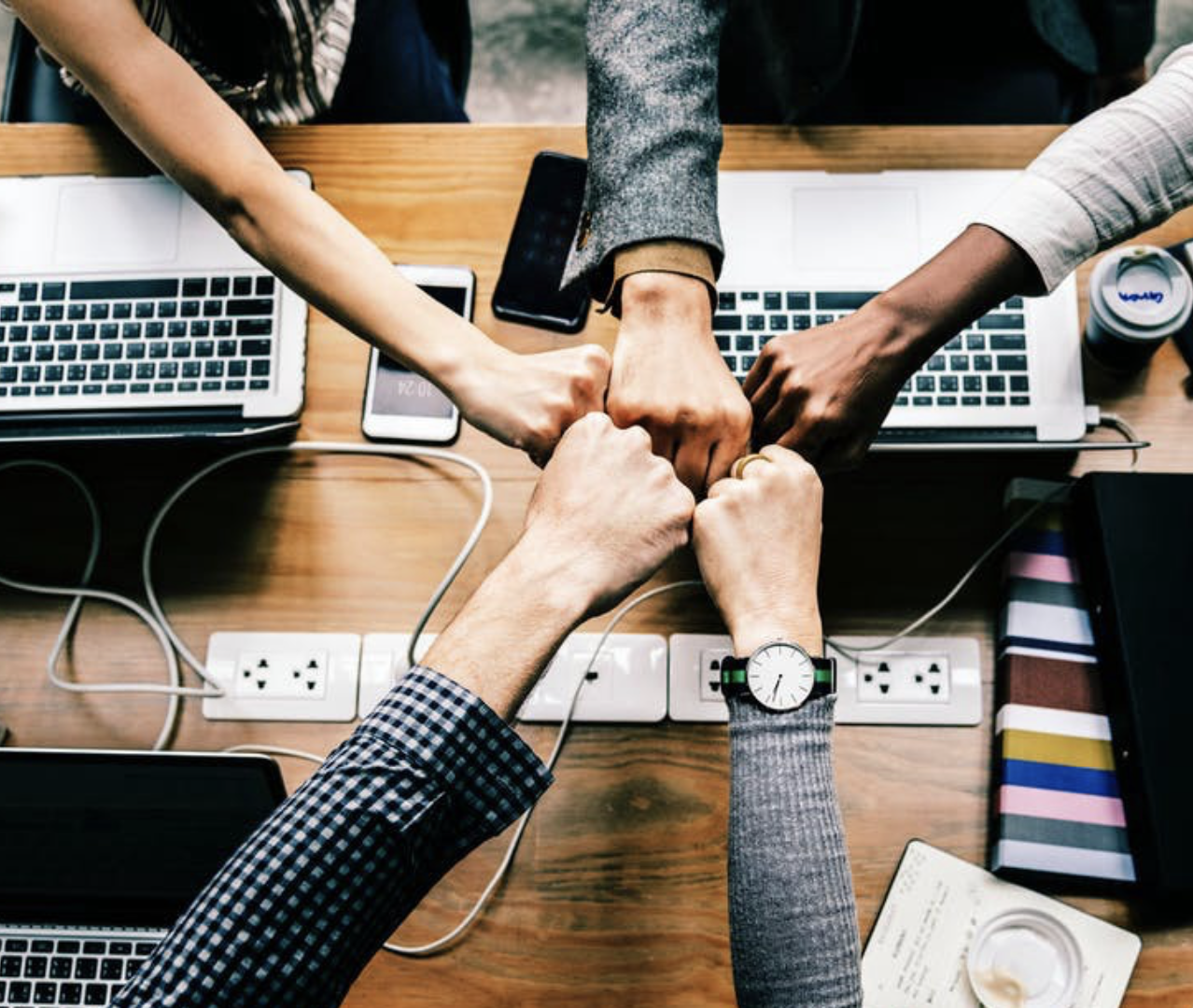 Hello everyone! We're Galussothemes content team, we love to write new blogs for WordPress everyday! Galusso Content Team is a part of IT4GO – The company houses talented young people who hold a strong passion for website development, designing, and marketing.