In today's digital age, email newsletters have become an essential part of any successful marketing strategy. It allows businesses to connect with their target audience and keep them informed about the latest products, services, and updates. To make the process of sending newsletters easier, many email marketing tools have emerged in the market.
One such tool is Mailpoet – a popular email marketing plugin for WordPress that offers impressive features to create and send professional-looking newsletters effortlessly. In this Mailpoet review in the English language, we will take a closer look at its features, and pricing plans, customer support. So whether you're a blogger, online store owner, or marketer looking for an easy-to-use email platform, read on to find out if Mailpoet is right for you!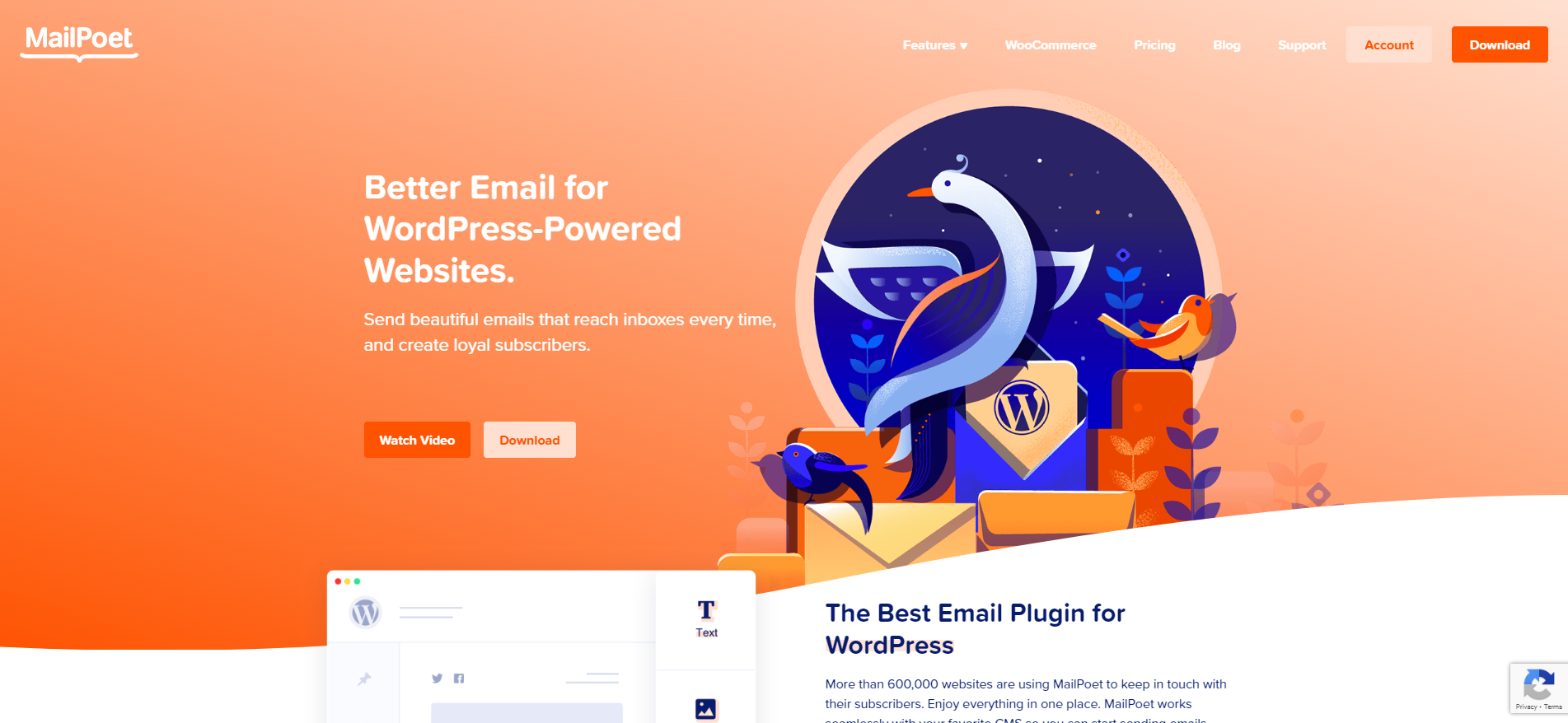 MailPoet is one of the most outstanding subscription plugins for WordPress websites that enables website owners to create, send, and manage newsletters and email campaigns directly from their WordPress dashboards. It offers an easy-to-use drag-and-drop email editor that allows users to design beautiful and professional-looking emails without any coding knowledge.
MailPoet also provides pre-designed templates to help users get started quickly, and it is integrated with the WordPress user database, so users can easily import subscribers from their websites. It also offers advanced features such as automated email campaigns, segmentation, and A/B testing to help users optimize their email marketing campaigns.
One of the main advantages of MailPoet is that it is a fully self-hosted solution, which means that users do not have to rely on third-party email marketing services to send their emails. This provides greater control and flexibility over the email marketing process and allows users to maintain complete ownership of their email lists.
Overall, MailPoet is a powerful and user-friendly email marketing solution for WordPress users who want to create and manage effective email campaigns directly from their websites.
Outstanding features
Drag-and-drop email editor
MailPoet's drag-and-drop email editor is one of its standout features. It allows users to create and customize beautiful email templates without needing any coding knowledge. This feature is especially useful for those who may not have design experience and want to create professional-looking emails quickly and easily.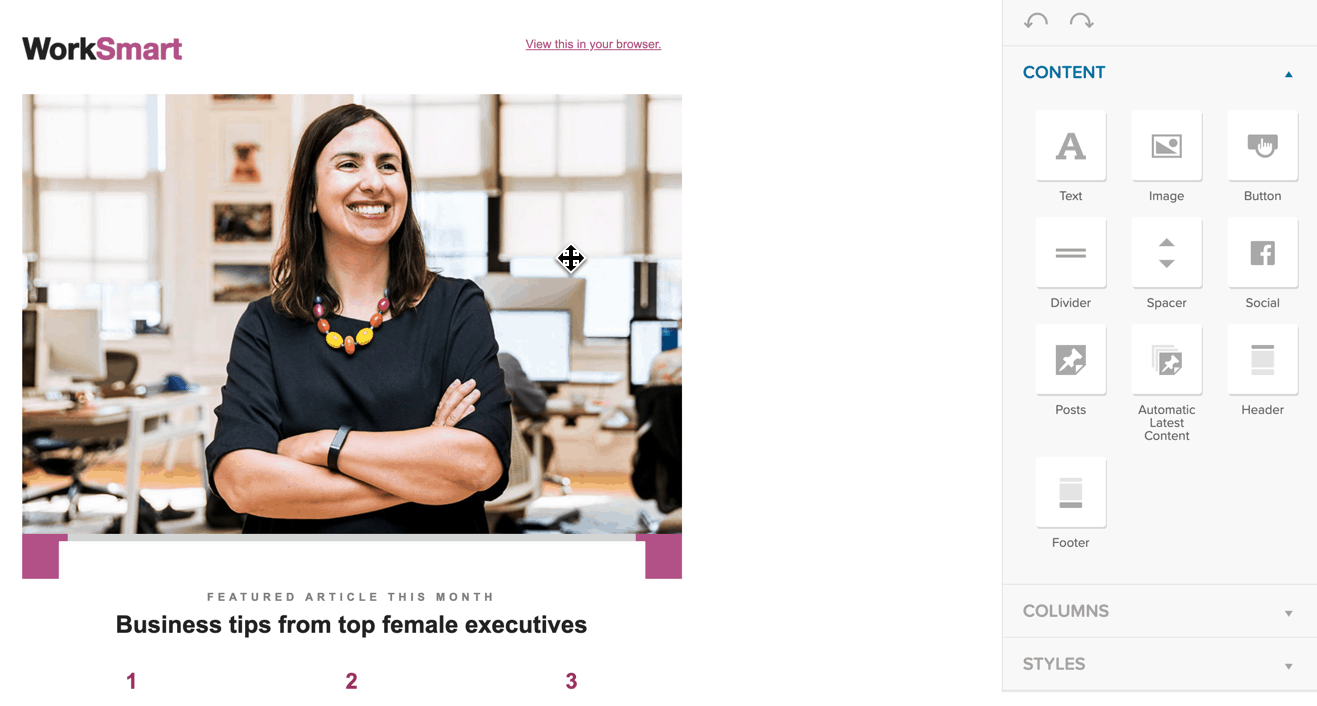 Pre-designed email templates
MailPoet offers 50+ pre-designed email templates that users can use as a starting point for their email campaigns. These templates are mobile-responsive and can be easily customized to fit a user's specific branding and content needs. This feature is particularly helpful for users who want to get started with email marketing quickly and do not have design resources available.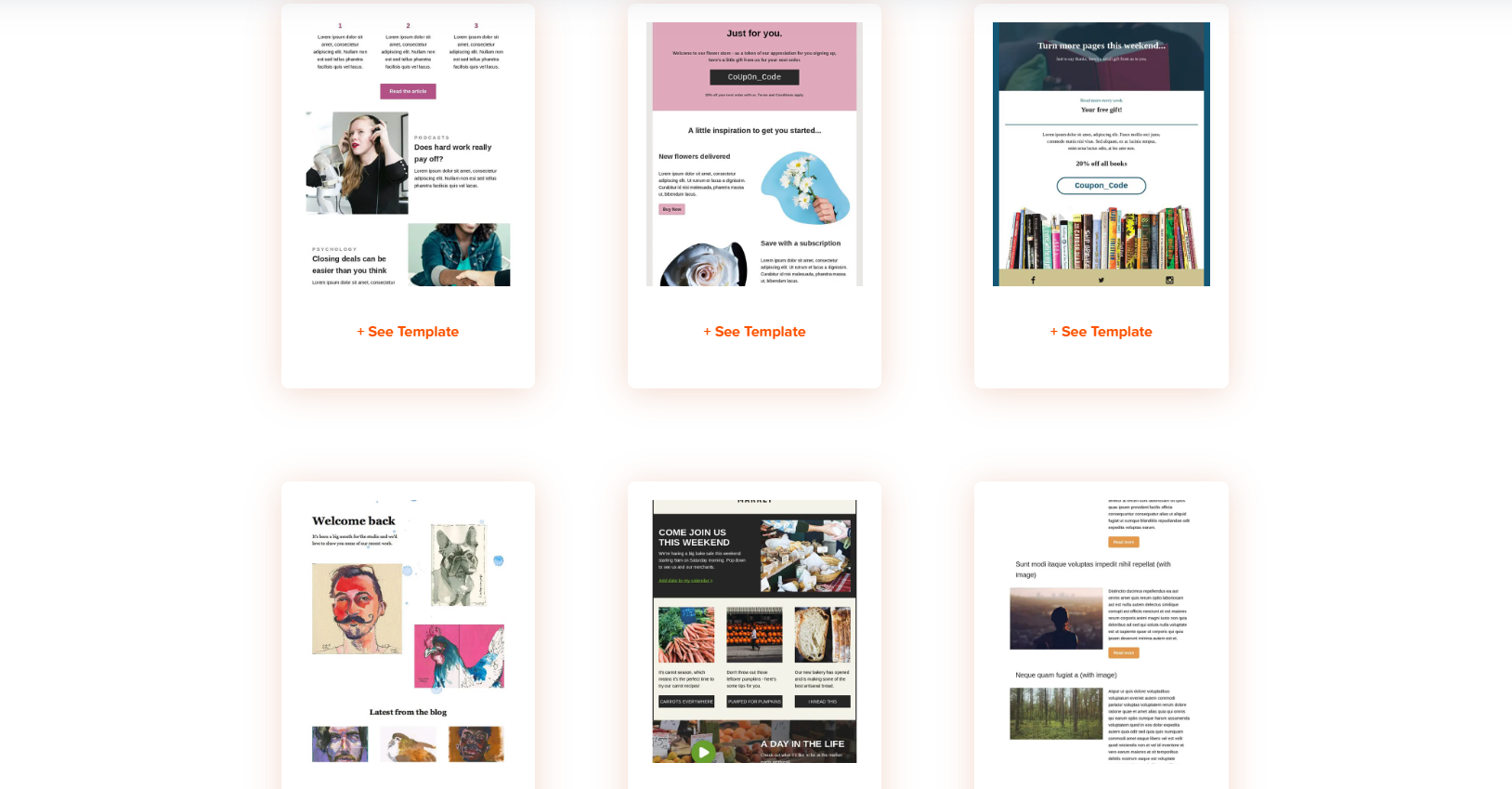 Various types of emails
MailPoet's different types of email provide users with a range of options to create and send personalized and relevant emails to their subscribers, helping to engage and retain their audience. Let's take a look at the following different types of emails that Mailpoet supports.
Newsletter: A newsletter is a regularly scheduled email that provides subscribers with updates, news, or information about a business or organization. MailPoet's newsletter feature allows users to create visually appealing newsletters with customizable templates, images, and links.
Welcome email: A welcome email is typically the first email that a new subscriber receives after signing up for a newsletter or making a purchase. MailPoet's welcome email feature allows users to create and send personalized welcome emails that help to engage and retain new subscribers.
Notification Email: Notification emails are sent to subscribers to inform them about updates or changes to their accounts, such as a change in password or subscription renewal. MailPoet's notification email feature allows users to create and send automated notification emails that are relevant and timely.
Re-engagement Emails: MailPoet's re-engagement email feature allows users to create and send targeted re-engagement emails to subscribers who have not engaged with their emails for a certain period of time. These emails can include special offers or incentives, personalized messaging, and calls to action to encourage subscribers to engage with the business or organization again.

WooCommerce Integration
MailPoet's integration with WooCommerce allows users to send automated emails to customers based on their purchase history. This feature is particularly useful for e-commerce businesses that want to follow up with customers and encourage repeat purchases.
There are available five WooCommerce options in the plugin's dashboard including Abandoned Shopping Cart, First Purchase, Purchased In This Category, Purchased This Product, and WooCommerce Emails Customizer.

Segmentation
MailPoet's segmentation feature is a valuable tool that enables users to create targeted and relevant email campaigns. Its custom segments, automated segmentation, dynamic segments, personalized content, and targeted campaign features make it easy for users to send highly targeted emails to their subscribers based on their behavior, interests, or demographics. This can help improve engagement and conversion rates, as well as increase subscriber loyalty and retention.
SMTP for WordPress
By using MailPoet's SMTP for WordPress feature, website owners can improve the reliability and security of their email communication. This feature allows users to set up custom email settings that are tailored to their specific needs, including the use of different SMTP servers for different email campaigns and the ability to encrypt email content for added security.
MailPoet's SMTP for WordPress feature can be a valuable tool for any website owner who relies on email for communication with their customers or subscribers. It can help to ensure that emails are delivered reliably and securely, and can help to protect sensitive information from unauthorized access.
In addition, it is a built-in feature of Mailpoet, so you no longer need to rely on any additional plugin to ensure delivery of those core communication emails sent by WordPress and WooCommerce.
WordPress Users List
With the assistance of this feature, you don't need to add your website users' email addresses manually. Because Mailpoet allows you to access the list of registered WordPress users and automatically add them to their email list. Furthermore, if a user updates their contact information in their WordPress user profile, this will automatically be updated in MailPoet too.
What's more, the Mailpoet plugin provides options for users to segment their subscriber list based on specific criteria such as location, age, interests, etc. This makes it easier to target specific groups of users with relevant content.
WordPress Signup Forms
The WordPress Signup Forms feature of the Mailpoet plugin allows users to create custom signup forms for their websites. These forms can be used to collect email addresses from visitors who are interested in receiving newsletters and promotional emails.
Especially, users can create different types of signup forms, including pop-ups, slide-ins, a fixed bar, add to a widget area, and place at the bottom of the pages. The forms can be customized to match the website's design, and users can add custom fields to collect additional information from subscribers.
The Mailpoet plugin also provides options for users to segment their subscriber list based on the form they used to sign up. This makes it easier to target specific groups of users with relevant content.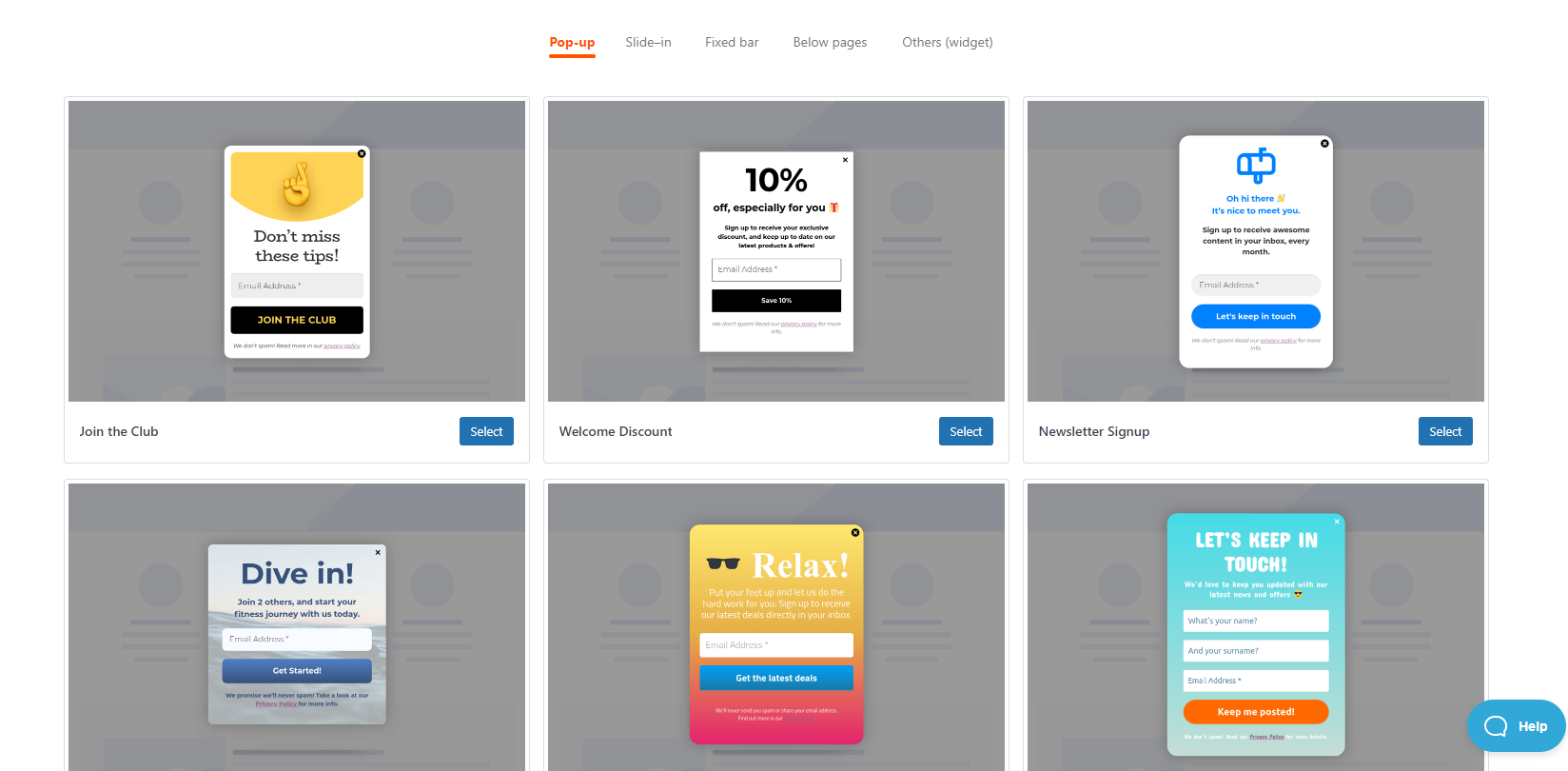 Mailpoet Integration
The MailPoet Plugin is designed to integrate with a variety of third-party tools and services, including e-commerce platforms, page builders, form builders, and much more . This allows users to easily sync their email marketing efforts with their existing business processes.
Here is a list of Mailpoet integrations:
Form plugins:
HappyForms
Gravity Forms
Gutenberg Forms
eForm
Lead Generation Tools:
Bloom
Convert Plus
Popup Maker
Thrive Leads
Ice Gram
Page builders:
Beaver Builder
Divi Theme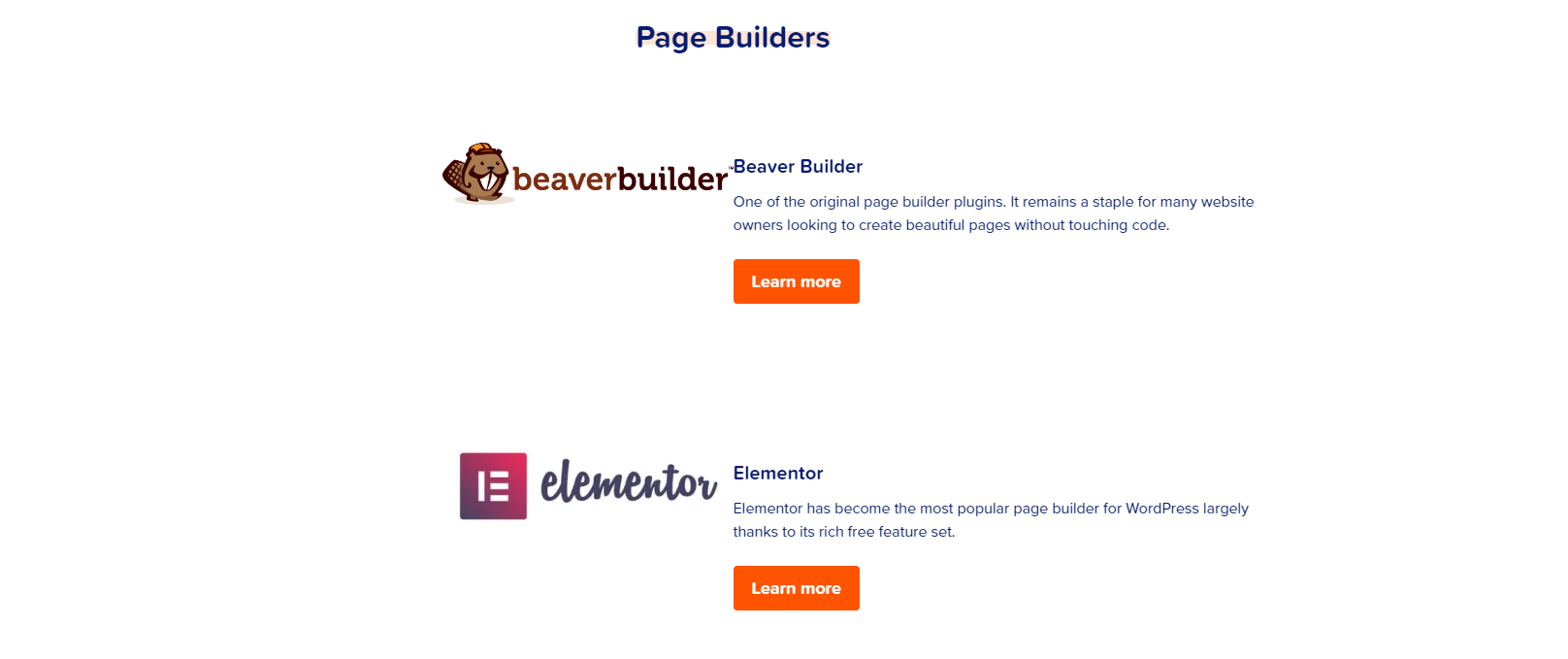 Membership Plugins:
Pricing prices
MailPoet offers plenty of pricing plans for its email marketing plugin, each with different features and capabilities. Here's a breakdown of the pricing plans on their value:
Free plan: MailPoet's free plan allows users to send up to 5,000 emails per month to a maximum of 1,000 subscribers. This plan includes access to basic email marketing features, such as email templates, list management, and analytics. The free plan is a great option for small businesses or individuals who are just starting with email marketing and want to test out the MailPoet platform before committing to a paid plan.
Business plan: This plan starts at $10 per month and allows users to send unlimited emails to 500 subscribers. This plan includes all the features of the free plan, as well as advanced email automation features, such as welcome emails, abandoned cart emails, and post-purchase follow-ups. The business plan is a great option for small businesses or individuals who want to take their email marketing to the next level.
Agency: Mailpoet's agency plan starts at $30 per month and allows users to send unlimited emails to 500 subscribers. This plan involves all the features of the business plan. In addition, you can use the plugin on 50 websites. This plan is a perfect choice for those who need more advanced email marketing capabilities and want to target their subscribers more effectively.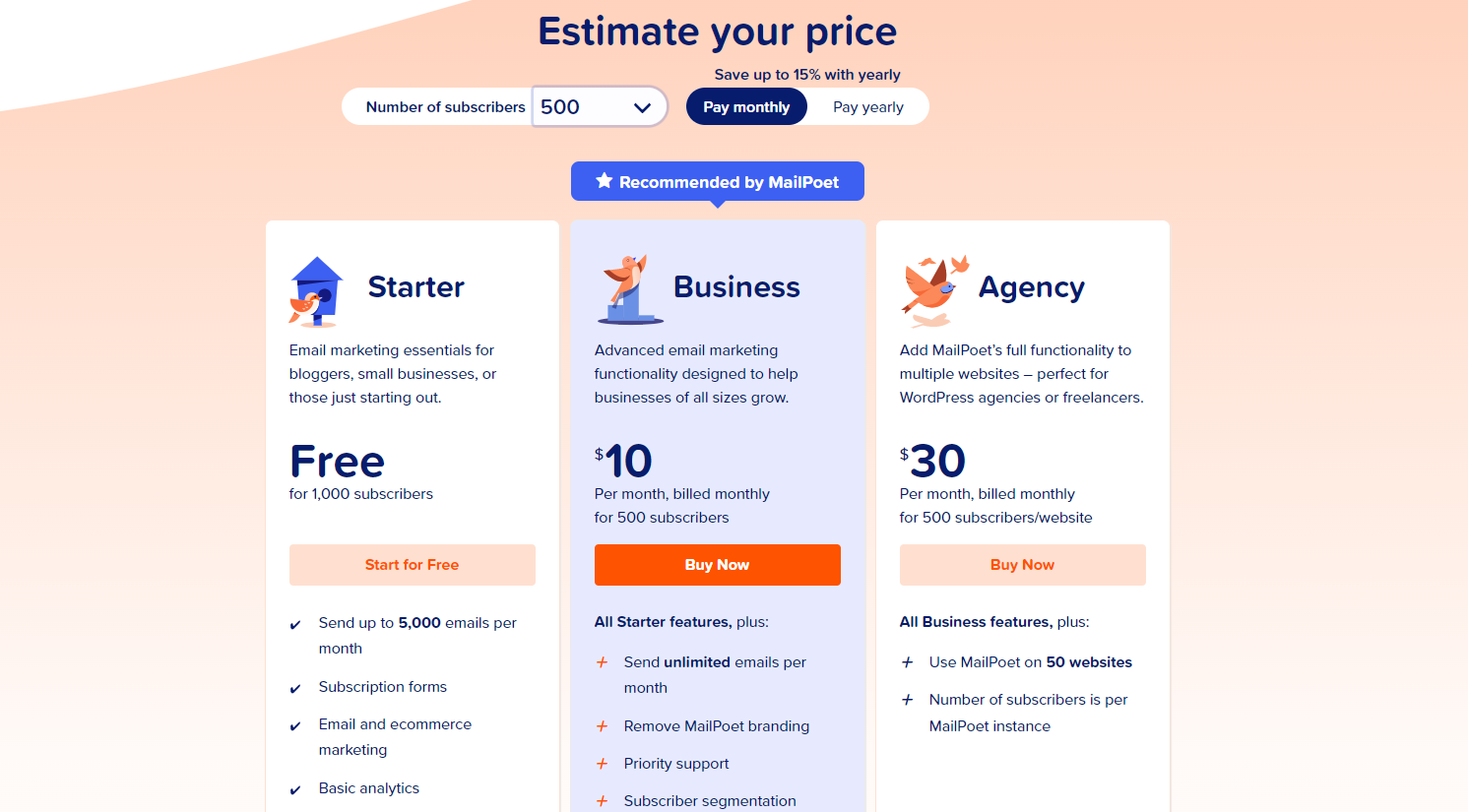 Overall, MailPoet's pricing plans are affordable, and businesses of any size can find the right plan that suits their needs.
Customer support
From customer reviews and reports, it seems that Mailpoet provides excellent customer support. They offer support through various channels, including email, live chat, and a knowledge base with helpful articles and tutorials.
Most customers have reported that Mailpoet's support team is knowledgeable, friendly, and responsive. They are quick to address any issues or concerns that customers may have, and they work diligently to resolve any technical problems.
Mailpoet also offers a paid support service called MailPoet Premium Support, which provides additional assistance to customers who need help with more complex issues or customizations. This service offers priority support and access to a dedicated support team, among other benefits.
Mailpoet review: Should you consider investing in Mailpoet?
Overall, Mailpoet is a reliable and powerful tool that provides excellent customer support and integration options. It's a great choice for businesses and individuals who want to take their email marketing to the next level and communicate effectively with their subscribers. It's also great for users who want to create attractive emails quickly and easily, but it may not be the best choice for those who need more advanced features. Ultimately, it's up to you to decide if Mailpoet is the right email marketing tool for your needs.
How do you feel about this plugin? Let's write down your point of view by leaving a comment below. Besides, if you have any queries, don't mention them below.
Further, if you are going to change your website's appearance, it is a great chance to visit our website and discover a wide array of stunning, eye-catching, free WordPress Themes.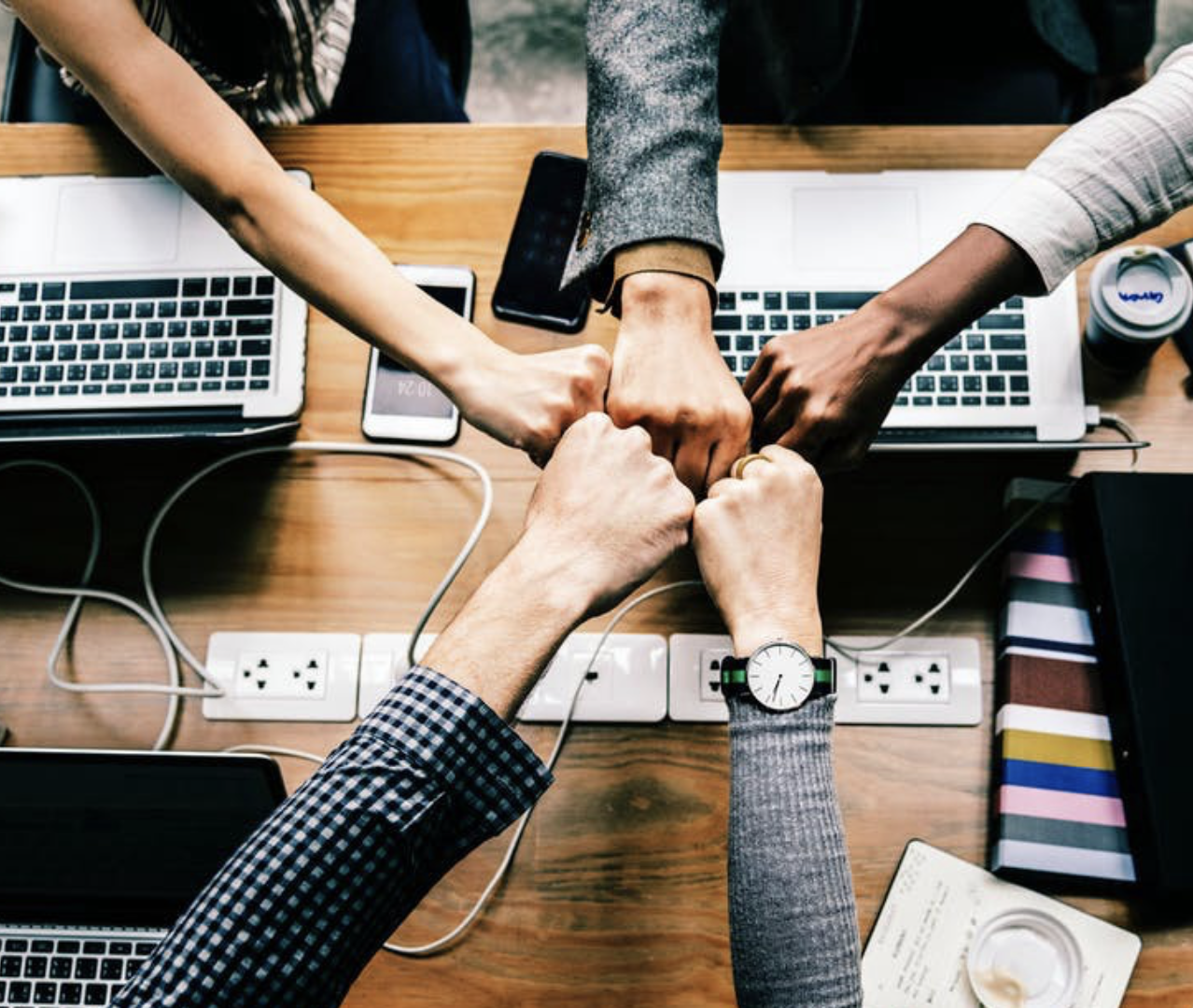 Hello everyone! We're Galussothemes content team, we love to write new blogs for WordPress everyday! Galusso Content Team is a part of IT4GO – The company houses talented young people who hold a strong passion for website development, designing, and marketing.