Website security is a major concern for any website owner. With the increasing number of cyber threats, it has become essential to take all possible measures to protect your website against malicious attacks. Sucuri is one such security plugin that promises to keep your website safe from hackers and malware such as Wordfence, ithemes security, and much more. In this Sucuri review, we will take an in-depth look at this security plugin and determine if it lives up to its promise of being a powerful security solution for your website.
Introduction
Nowadays, there are several tools that help you protect your website from unwanted threats, and it can be overwhelming to know which plugin to choose. However, Sucuri stands out as a trustworthy and solid option. As mentioned in the previous sections, Sucuri offers a free version of its plugin that provides a scan for potential security vulnerabilities. Additionally, their paid firewall service can be integrated with the free plugin for even more robust protection. While there may be competing plugins available, Sucuri's reputation as a managed security service provider for websites and its cloud-based tools make them a top contender for website security.
In today's blog, we will provide you with detailed information about this plugin so that you can consider it carefully before using it for your website. Now, let's check them out.
Sucuri: General Information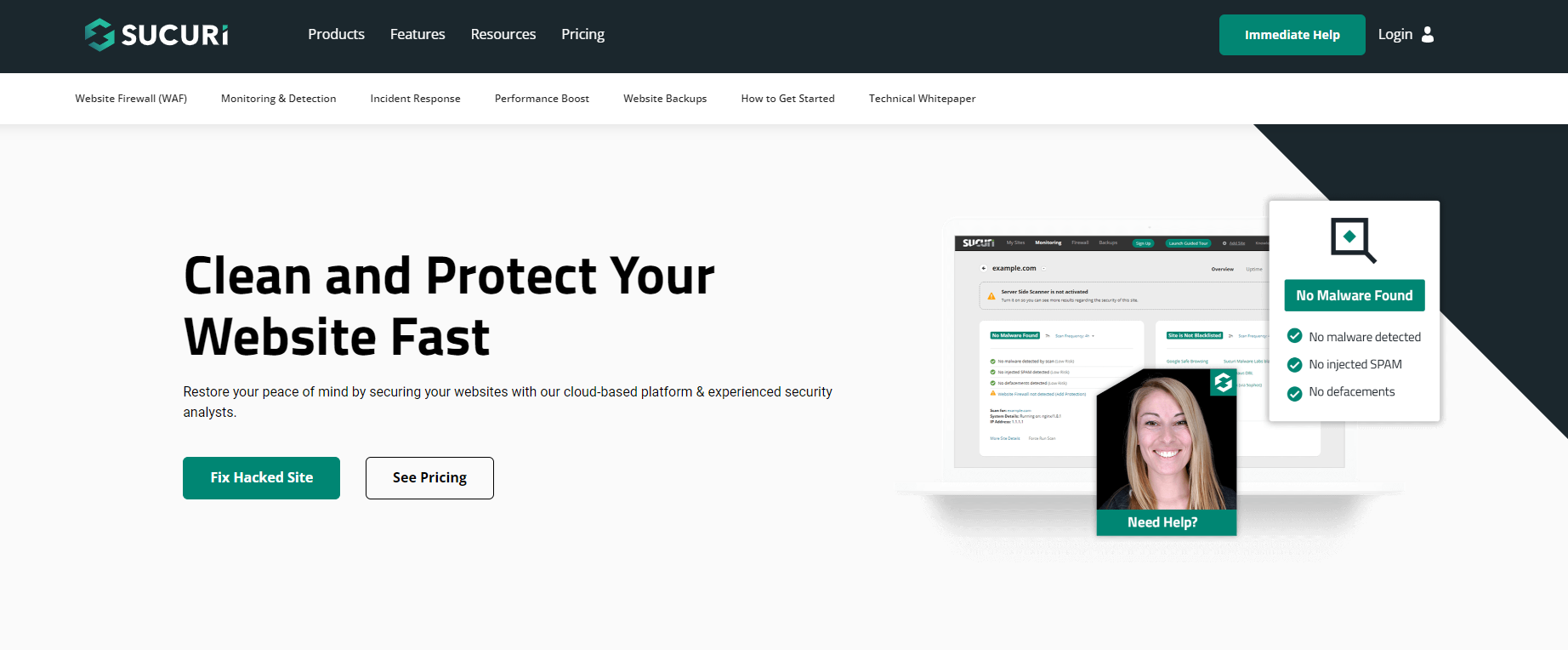 Sucuri is a well-known WordPress security plugin that provides peace of mind to website owners. As a managed security service provider, their cloud-based tools deliver a complete website security solution, including performance optimization, access control, and malware removal. With a free Sucuri plugin, you have the ability blocks any unauthorized access and stops website security threats in their tracks.
Furthermore, it is packed with a set of powerful security toolsets including integrity monitoring, malware detection, and security hardening to keep your website safe from hackers and malware attacks. Sucuri Security is widely regarded as the best WordPress security tool available, as it provides a robust and unparalleled security solution to prevent unauthorized access to your website. In short, Sucuri is an excellent investment for any website owner who wants to protect their website from cyber threats.
Main features
The Sucuri plugin provides a comprehensive range of features to help protect your website from a variety of cyber threats. Whether you are a small business or a large enterprise, Sucuri's plugin can help you to safeguard your website and your user's data and is highly recommended for anyone who takes website security seriously.
Malware Scanning: Sucuri's malware scanning feature scans your website for malware, viruses, and other malicious code. The scanner checks your website's core files, theme, and plugins to ensure that there are no malicious files or code that could be harmful to your site or your users.
Firewall Protection: Sucuri's firewall provides robust protection against a variety of attacks, including DDoS attacks, SQL injection attacks, and XSS attacks. The firewall uses advanced algorithms to detect and block malicious traffic, ensuring that your website stays online and available to your users.
Security Hardening: Sucuri's security hardening feature provides a range of security improvements to your website, such as securing your website's file permissions, removing the generator tag from your website's source code, and preventing file execution in certain directories.
Blacklist Monitoring: Sucuri's blacklist monitoring feature checks major blacklists, such as Google Safe Browsing and Norton Safe Web, to ensure that your website is not flagged as malicious or dangerous.
Post-Hack Security Actions: If your website is hacked, Sucuri provides a range of post-hack security actions to help you recover your site and prevent future attacks. These actions include malware removal, file restoration, and security auditing to identify vulnerabilities and weaknesses in your website's security.
Website Integrity Monitoring: Sucuri's website integrity monitoring feature tracks changes to your website's files and notifies you if any unauthorized changes are made. This helps you to quickly identify and respond to any security breaches or other unauthorized access to your website.
Two-Factor Authentication: Sucuri's two-factor authentication feature adds an extra layer of security to your website login process. With two-factor authentication, users must provide a unique code, in addition to their username and password, to access your website's dashboard.
Performance Optimization: Sucuri's performance optimization feature improves your website's speed and performance by optimizing your website's code and assets, such as images and scripts. This helps to ensure that your website loads quickly and provides a smooth user experience.
Pricing plans
After discussing some of the impressive features that Sucuri provides, it's important to note the pricing plans that come along with it.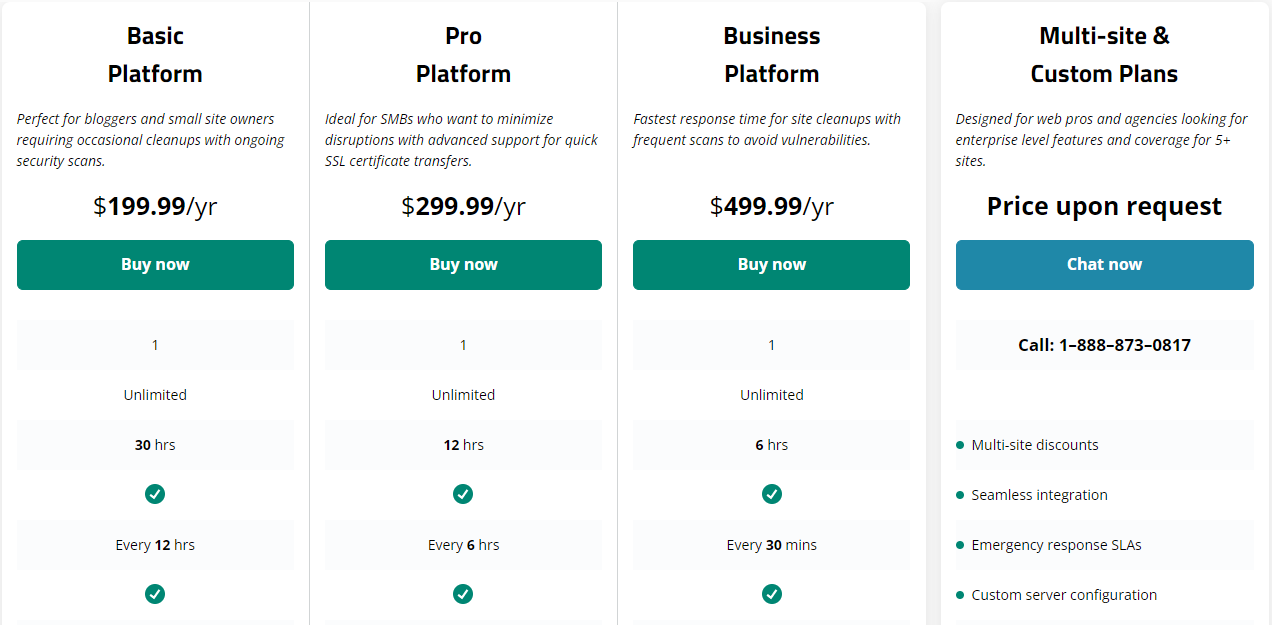 Basic Plan: The Basic Plan costs $199.99 per year, and it provides essential website security features, such as malware scanning and cleanup, blacklist monitoring, and DDoS protection. This plan is suitable for small websites and blogs.
Pro Plan: The Pro Plan costs $299.99 per year, and it includes all features of the Basic Plan plus advanced features like website firewall, security hardening, and post-hack security actions. This plan is suitable for medium-sized businesses and e-commerce websites.
Business Plan: The Business Plan costs $499.99 per year, and it includes all features of the Pro Plan plus additional features like website uptime monitoring, content delivery network (CDN), and SSL certificate management. This plan is suitable for large enterprises and mission-critical websites.
Custom Plan: Sucuri also offers a Custom Plan, which is tailored to your specific website security needs. You can contact Sucuri's sales team to get a quote based on your website's size, complexity, and security requirements.
All plans come with a 30-day money-back guarantee, and Sucuri offers a free website security audit for all users. Additionally, all plans include unlimited malware removal and technical support, 24/7 monitoring, and a dashboard for managing your website security settings.
Generally, Sucuri offers flexible pricing plans that cater to different types of websites and businesses. The plans are competitively priced and offer a range of essential and advanced security features to keep your site safe.
Customer support
Sucuri is known for its high-quality customer support. Currently, it offers various types of customer support including:
24/7 Technical Support: Sucuri offers 24/7 technical support through live chat, phone, and email. Their support team is highly responsive and knowledgeable, and they can help you with any website security issues or questions you may have.
Dedicated Support Team: Sucuri has a dedicated support team that specializes in website security. Their team consists of experienced security experts who can provide customized solutions for your website's security needs.
Site Cleanup Guarantee: If your website is hacked while using Sucuri's service, they will clean up your website for free. This site cleanup guarantee provides peace of mind and ensures that you're not left alone to deal with the consequences of a hack.
Knowledge Base and Resources: Sucuri provides a comprehensive knowledge base and resources to help you learn more about website security and how to use their security products. They also have a blog that provides insights and updates on the latest security threats and best practices.
Partner Program: Sucuri has a partner program for web developers and agencies that provides exclusive benefits, including priority support, custom branding, and discounted pricing.
Generally, Sucuri's customer support is top-notch. Their customer support is one of the main reasons why Sucuri is a popular choice among website owners who want to protect their websites from cyber threats.
However, in addition to positive reviews for its high-quality customer support, there have been some instances where users have left negative feedback in this regard. For example, some users have reported long wait times when contacting Sucuri's customer support. While Sucuri does offer 24/7 support, some users have felt that the response times were slower than they expected. Moreover, other users have reported that Sucuri's customer support can feel impersonal and scripted.
It's worth noting that these complaints are not representative of all users' experiences with Sucuri's customer support. The majority of users have reported positive interactions with the support team, and Sucuri has a reputation for providing high-quality customer service.
Advantages and disadvantages
Advantages
Disadvantages

Security toolset for integrity monitoring, malware detection, and security hardening
Free security scanner plugin available
Automatically installed with every Managed WordPress site
Built by a team known for its proactive approach to security
Uses intelligence gathered from malware and hack cleanup operations
Standard WordPress security hardening features are included in free plugin

Some features may only be available in the premium version of the plugin
May require technical knowledge to properly configure and use the plugin
Limited support options for free version users
Expensive
Sucuri review:Is Sucuri Worth the Investment?
After delving into the many features and benefits of Sucuri, the question remains: is it worth the investment? A cost-benefit analysis can help answer that question. While Sucuri offers a free plugin, their premium plans are definitely worth considering for those who need a full security solution or have larger websites. The added benefits of a Website Application Firewall (WAF) and faster incident response times can make a significant difference in the safety and functionality of your website.
Additionally, the trust factor of Sucuri, as evidenced by many hosting companies and websites relying on their service, adds value to the investment. Lastly, the quality of their customer support can offer peace of mind and save valuable time in the event of an attack. In the end, if website security is a priority, the benefits of Sucuri will likely outweigh the cost.
Are you satisfied with this plugin? Let's leave your perspective in the comment section below. We highly welcome your point of view. Moreover, you can visit our website and discover a gallery of stunning, eye-catching, free WordPress Themes.
30+ Free Free Joomla templates, support Visual Page Builder, compatible with Joomla! 4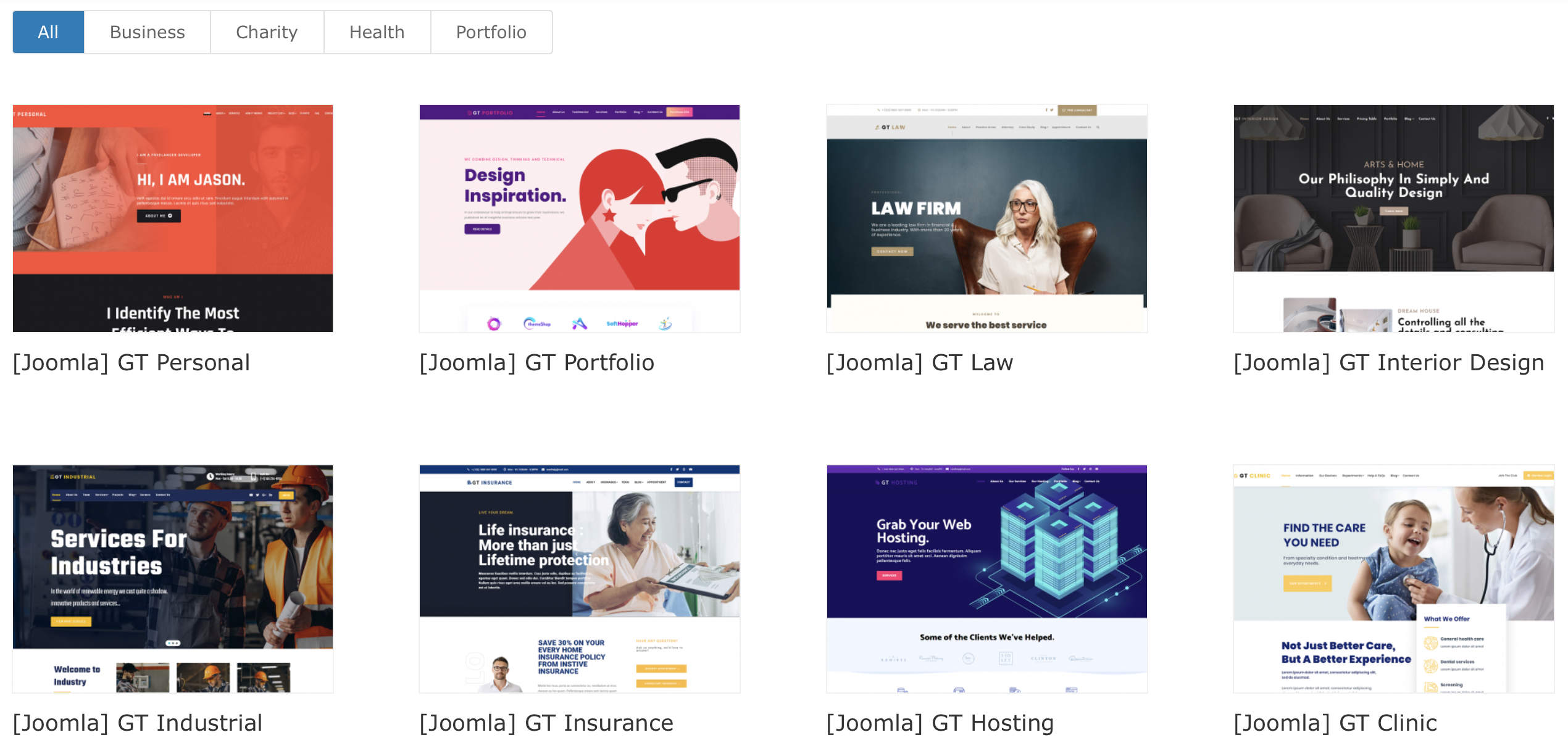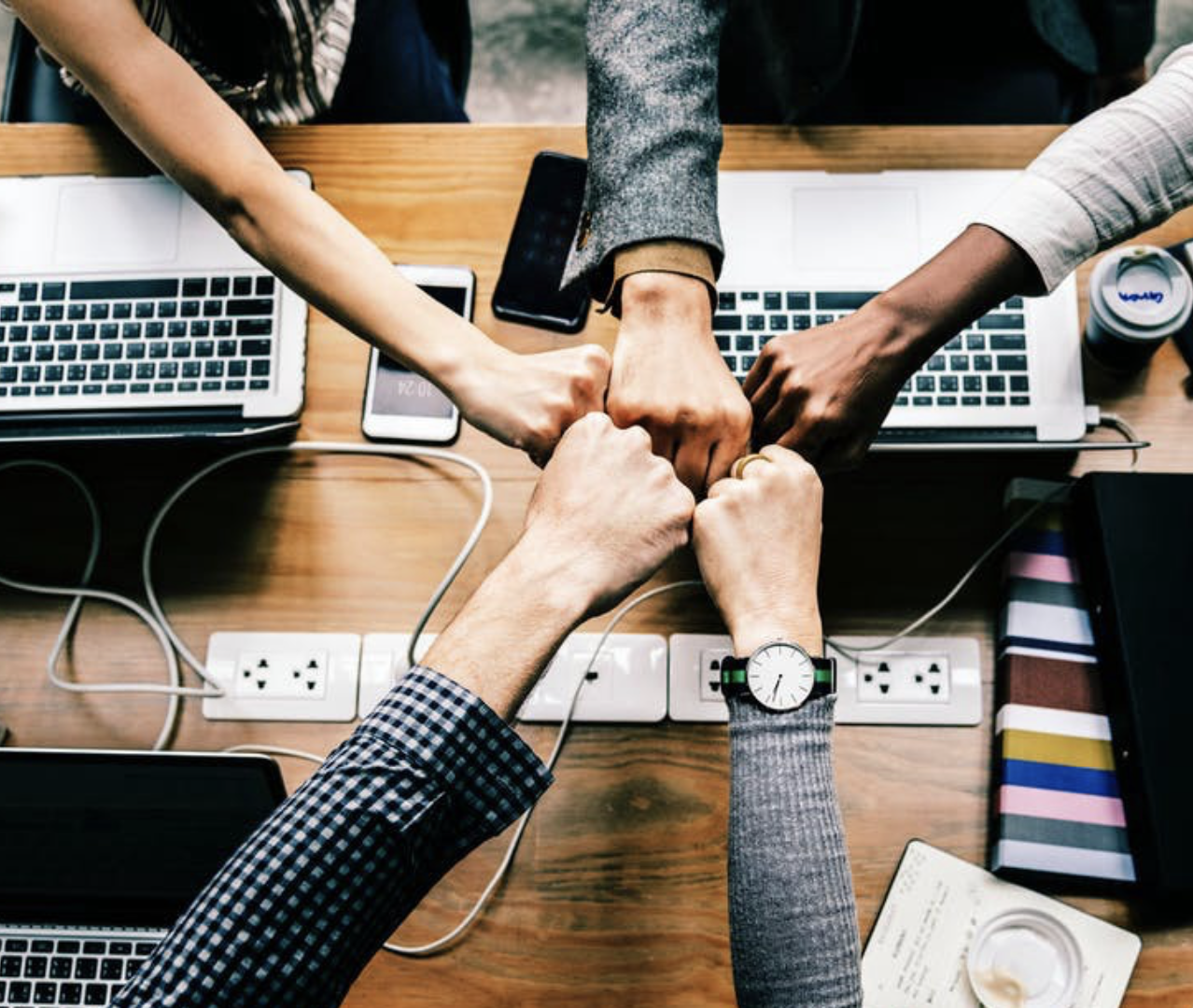 Hello everyone! We're Galussothemes content team, we love to write new blogs for WordPress everyday! Galusso Content Team is a part of IT4GO – The company houses talented young people who hold a strong passion for website development, designing, and marketing.